I love Portugal but one of its great faults is the icy temperatures of the Atlantic Ocean. This year I was craving to swim in warm ocean water. Pair that desire with an overdue need to see cousins in Croatia and off I went.
From the moment I landed in Split I was spoilt with the love of family. My uncle and cousin picked me up, ready for the rather long drive back to Makarska, a cosy coastal town popular with families in the summer. I got to meet my cousin's new little baby (sweet as sweet could be) and relive my own memories of being here first as 14-year-old (*plays Euro summer hits of 2006*).
Makarska, Croatia
Makarska smells like salty pine trees. It sounds like kids splashing in the shallows, and beach vendors yelling "kukuros" (corn). It feels both exotic and nostalgic. This was my fourth visit here, and the four slow days were only just enough for a family-induced sugar overdose before it was time to jet off to the islands.
I arrived about a week into September, avoiding the summer crush but also opening myself up to questionable weather. The summer season certainly has an expiry. I spent my time eating at my aunty and uncle's house, playing with little Lara, taking dips in the sea and drinking coffee in the old square.
One of the days, we took the boat out for a few refreshing dips in deep water, and on another we crossed over the imposing Biokovo mountain range to reach a tiny town fair with a slingshot competition and not much else. My uncle's a champion, but on this day he only ranked fourth.
If you find yourself here…
The best things to do in Makarska
Hvar, Hvar Island
Naturally, I wanted to explore somewhere new while visiting Croatia and somehow in all my visits I've never spent any time on the islands. My trips to Croatia have usually been for weeks and weeks at a time, so with a car we'd stick to the mainland – but travelling solo and carless this was my time to board a ferry. A new service took me directly from Makarska to the town of Hvar. From the second I disembarked onto the palm-tree-lined promenade of the old port I was charmed. Hvar instantly felt like a mini Dubrovnik, but without the hoards of Game of Thrones tourists.
The old town, constructed entirely with shiny white stone and filled with staircase streets leading up to the hill-topping Spanish Fortress, really feels quite like the bigger Croatian city. I made my way out of town to our guesthouse, a retro apartment under the house of Marta (a 90-something-year-old who knows how to use Airbnb) to drop my bags and refresh. Not one to sit still for long, I was soon out exploring the quiet bays and beaches on my way back to the centre.
My friend Alice joined later that evening. The following day we were hoping to rent a tiny 8hp boat and putt around the stunning Pakleni Islands. With big ferries and fast boats whizzing by, and word of police checks even for these tiny no-licence boats, we instead boarded a shuttle taxi for Mlini Beach. No regrets as we spent the better part of the day lazing about in paradise, and then enjoying a couple of lavender G&Ts at Mamato Bar before heading back to town.
We had to get back in time for a special dinner. The family-run Konoba Stori Komin is the only restaurant in an old abandoned village called Malo Grablje. Apparently, for economic reasons, the villagers moved out of the hills to the sea and became fishermen, leaving the old family homes behind. Here I'd emailed ahead and ordered a "peka", which is a style of cooking with a big metal bell. The lamb or other meat is placed in a dish with potatoes and goes under the bell, which is then covered with hot charcoal ash. At the advice of my Croatian friend Leonarda, we arrived early to explore the village at dusk before finding our table overlooking the village. Magic.
The following morning, we got up, grabbed the homemade strudel my cousin had thrown at me when I left Makarska and hiked up to the old fortress. We were hoping to go inside the castle itself, but seeing the $14 entry fee, we realised the views we wanted we could enjoy from the outside too so instead we enjoyed breakfast overlooking Hvar town from a park bench.
We opted for a slow morning wandering the old town, especially after I cracked my head into a tree branch really hard. Nothing that paracetamol, food, a market visit and ice-cream couldn't solve. One final dip in the sea, and then we were on the ferry to Vis.
Where to eat and drink in Hvar
Komiža, Vis Island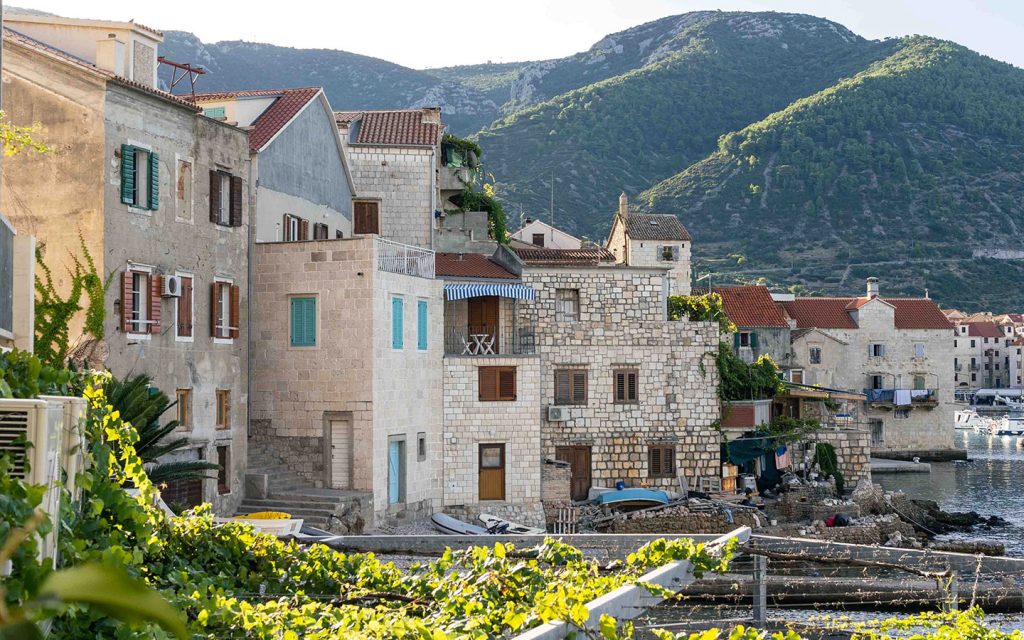 I pictured myself and Alice zipping around the Croatian island of Vis on a moped scooter, dashing from beach to bay with the wind in our hair. While on the bus, taking us from Vis town to Komiža town, it became clear that I didn't have the confidence to safely traverse the rocky, wild and mountainous terrain near Komiža. A feeling further confirmed when a gift shop attendant said "No, it's wonderful! You just have to floor it so you don't roll backwards."
We arrived just in time for sunset, so quickly dumped our things and rolled down to the waterfront to catch the charming town aglow. The deal was to have a light, lazy dinner – maybe share a pizza – then return home. But we stumbled upon three spectacular restaurants set right on the water, and soon enough we had a table at the first with the sea and a sea of cats lapping at our feet.
We'd organised to spend our one full day in Komiža doing a boat trip that would take us along the southern edge of Vis, exploring some famous and lesser known sights. Sadly the weather gods decided autumn was early and "Jugo" had arrived. The Croatians have two winds with names – the Bura and Jugo. Jugo comes from the south, so he's warm but brings the storms. It wasn't safe to boat.
Instead, we had a slow day embracing island life. I went for a solo photo walk through the village in the morning light and fell madly in love with the town. I picked up something called komiška pogača from the local bakery, a sort of bread filled with herby tomato sugo and anchovies. Then we discovered a brilliant world-class patisserie called Cukar, which blends traditional Croatian flavours and recipes with modern techniques. I'd be impressed with this place in Lisbon, let along a small, remote island town.
The best things to do in Komiza
Split, the underrated old town
Most people hop, skip and jump over Split on the way to the southern Croatian islands, but for me it's one of the most interesting little cities to explore. Walking through Split is stepping through ancient Roman history.
Diocletian, the first Roman emperor to abdicate voluntarily, had a massive and magnificent palace built here in time for his retirement in AD 305. Apparently, Diocletian spared no expense, mostly building with white stone from Brač island, and importing marble from Italy and Greece, and columns and 12 sphinxes from Egypt. You can still spot one.
Some 1,700 years later there have been plenty of alterations to the palace as locals and families build more modest manor houses and homes within the palace walls. Now the labyrinth of streets lined in shiny white marble are filled with restaurants, bars, shops and 21st-century life. But the essence of the palace is still there. Wander in via one of four ancient gates – Gold, Silver, Iron or Bronze. The last one takes you underground beneath the palace where goods were loaded directly off ships.
It's extraordinary to walk through. As you explore keep an eye out for grand arches and remnants from the AD 305 construction that have been repurposed.
The best things to do in Split
So, that's how I spent 10 September days on the coast of Dalmatia in Croatia. Leave me a comment if you're thinking of visiting Croatia or if you have any questions…