Second-hand or vintage shopping is always fun in Lisbon. There's the thrill of not knowing what you'll find, the highs and lows of finding something does (or doesn't) fit, the feel-good fact that you're stopping an item from going to landfill, and that you're filling your wardrobe with ethical options over fast fashion.
There are at least a dozen reasons why I love second-hand shopping, and Lisbon is a great place to be if you're looking for vintage clothing and second-hand accessories. Here's my comprehensive guide to vintage and second-hand shopping in Lisbon.
Just want vintage clothing? Jump to Lisbon's best vintage clothing shops further down the page, or read on to explore Lisbon's thrift shops and consignment stores first.
Thrift shops and charity stores in Lisbon
Locations across Lisbon (and Porto)
Looking for a classic thrift shop or charity in Lisbon? Head to Humana. There are a dozen stores across the city selling second-hand clothing, shoes, accessories and home textiles. On the racks you'll mostly find high-street brands, but they do have a section with quality labels, usually near the counter. Humana also has a couple of separate Humana Vintage stores, which offer lower prices than traditional vintage clothing shops. Humana dedicates 100% of its store profits to its social mission. I've pinned all the Humana stores as green int he map at the bottom.
Tip: also look for Humana Vintage stores. The stock is not cheap, but usually cheaper than vintage stores and all profits go back to Humana's projects.
Note: Charity shops are a limited concept in Portugal. There is another charity called Remar, but they mostly deal with furniture – I can't recommend them for clothing.
Second-hand consignment and clothing stores
Chiado
Buy, sell and trade your clothes at POP Closet. This sustainable fashion project and store offers a curated selection of second-hand clothing and accessories from the 80s on at its small store in Chiado. The shop brands itself as a second-hand fashion consignment store, and on the door it lists labels like Adidas, Burberry, Carhartt, Prada, Nike, Marc Jacobs, Kenzo and Gucci. What you'll find within the slow fashion store really depends on the day, but it's a great space to browse with items for all budgets.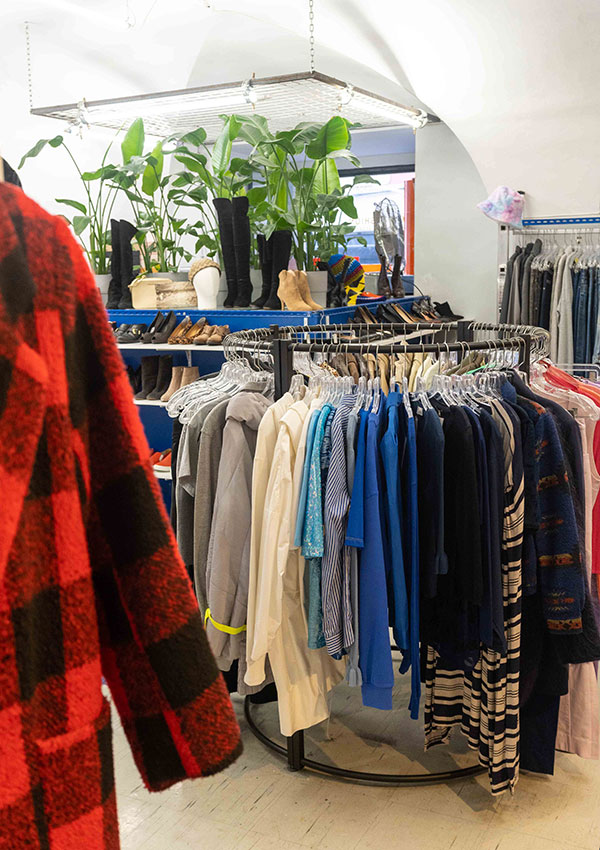 Campo de Ourique
This small second-hand thrift shop in the upmarket Campo de Ourique neighbourhood is filled with high-quality and classic pieces from brand names and high street labels. Drop in to find timeless pieces and give unwanted clothing another chance at decent prices. A percentage of sales goes to the Rotary charity.
Online
Du Chic has another target in mind – second-hand luxury bags. This store's goal is to be the destination for pre-loved luxury goods – in particular hand bags – from Chanel, Gucci, Prada, Valentino and the like. Sadly the pandemic shuttered the physical shop, but you can reach them via their site or socials.
Alameda
Hidden at the back of a bag shop, Awesome Vintage sells mostly high-end and luxury brand handbags along with a limited selection of high-end vintage clothing. Step inside a shop called Jarda and head towards the back room….
Flea markets in Lisbon
Feira da Ladra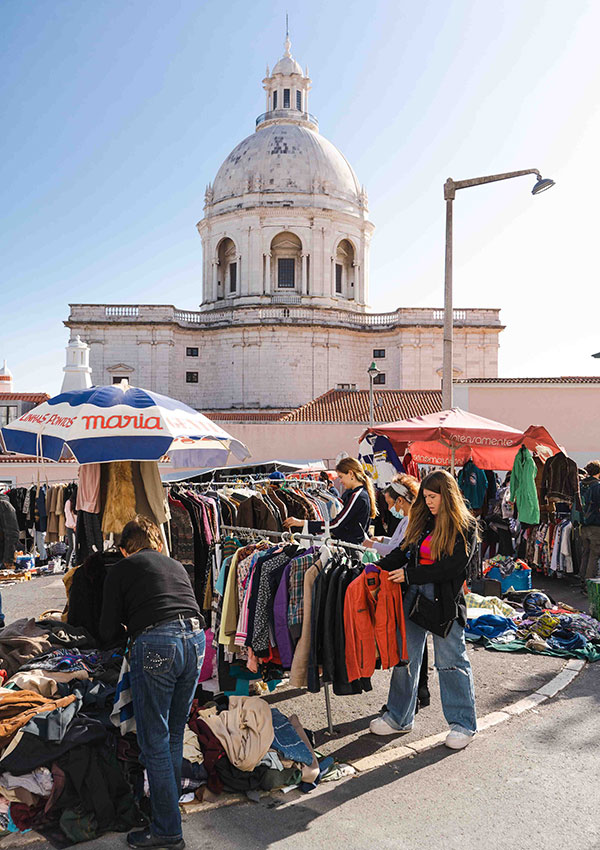 Where else in Lisbon but Feira da Ladra? This flea market pops up in Campo de Santa Clara every Tuesday and Saturday with an eclectic array of everything from antique coins to vintage clothing and collectibles, retro vinyl and books. There is usually a large selection of vintage and second-hand clothing of varying quality.
Vintage clothing stores in Lisbon
Baixa
A Outra Face da Lua might just be my favourite vintage shop in Lisbon. I always love coming in here – the shop is big and spacious, the clothing is organised and rainbow coordinated. The displays are cute and the selection of clothing from the 60s to 90s is wide. The store, which has been open in the downtown area since 2005, often gets shipments of certain clothing, so sometimes you'll walk in to find 50 vintage kilts, while another time it will be all about vintage sports blazers.
Estrela
At this gem of a Lisbon vintage store most things are sold by weight. From feminine and frilly 80s dresses to loud Hawaiian shirts and leather jackets, this vintage clothing boutique has it all – and charges by weight. Each item is tagged with a colour so you can guess the price. At the back you'll find knick-knacks and collectables too.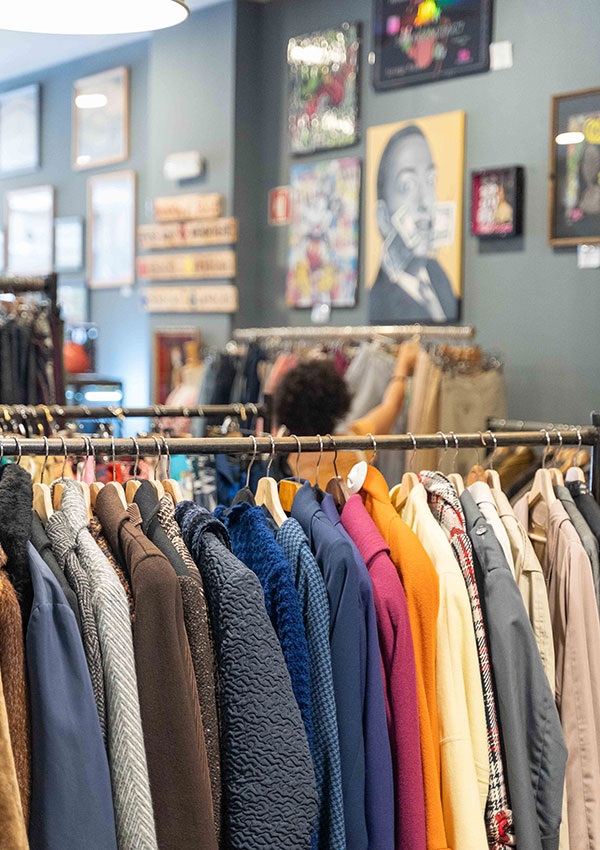 Baixa & Chiado
The owners behind this shop, Tiago Andrade and Bruno Lopes, have been in the vintage game for more than a decade. One of the first to open in Lisbon, there are now two Ás de Espadas (Ace of Spades) and they also run Heartcore, Zip Gum, newJester and Sons of the Silent Age (more on those below). A super passionate shop attendant showed me some of the beautiful snakeskin and crocodile vintage handbags in stock and went into detail about how each piece in their shops get meticulously cleaned, a process that sometimes takes months.
The original Ás de Espadas is focused on fashion from the 60s and 70s. Inside find busts holding vintages hats, scarves and accessories alongside floaty feminine dresses, velvet shirts, leather everything and plenty of puffs and frills. There are two locations – the one on Calçada do Carmo is just women's clothing, while the Rua da Conceição vintage boutique has men's and women's items.
Chiado
Venture upstairs into a rabbit warren of rooms all neatly packed with high-quality, clean vintage clothing from the 70s, 80s and 90s. Expect to find a huge selection of Hawaiian shirts, sporting jerseys, blazers and sports jackets, plaid shirts, denim jeans and military items.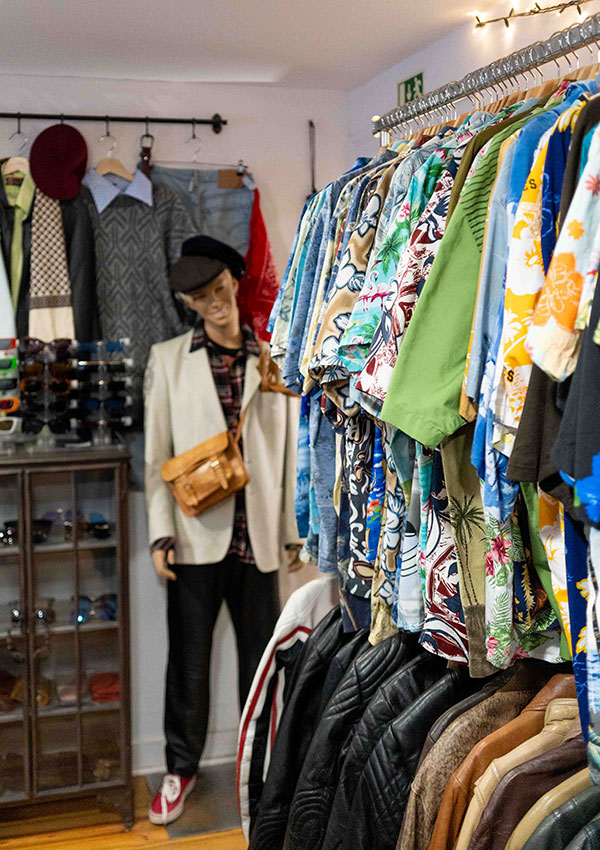 Chiado
This vintage clothing store is the only one in Lisbon 100 percent dedicated to quality men's fashion. There is always new stock dropping, so pass by to see what's new, from western shirts and cowboy boots to Levi's denim and leather vests. This shop is on the same street as the women's clothing Ás de Espadas, and the Zip Gum Boogie accessories shop.
Chiado
Opposite newJester, step into this haven for vintage and urban accessories. Here you'll find the finishing pieces to top off your rock 'n' rolls look, or your Y2K vibe. Think everything from hats and scarves to sunglasses and jewellery.
Chiado
This is the fifth and most recent vintage concept store from owners Bruno Lopes and Tiago Andrade. Within the Sons of the Silent Age vintage boutique expect to find more high-end labels, such as Chanel and Dior, alongside pieces customised by the owners. At this Lisbon shop you'll find mostly 1980s vintage designer fashion.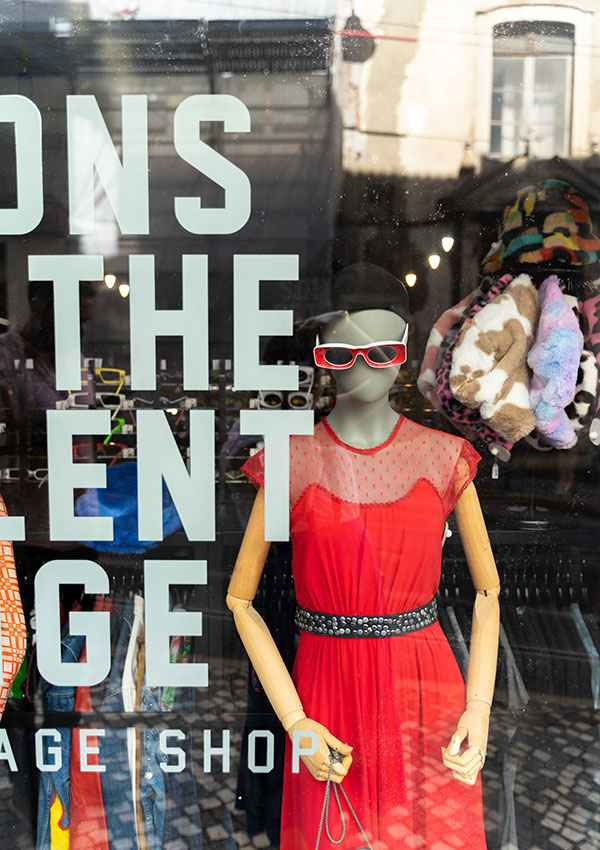 Baixa
If you like to shop vintage clothing by the kilo, you'll love rummaging through this little Lisbon shop tucked away on a downtown backstreet in Baixa. Prices seem to vary between €13 and €39 per kilo, and you can find the usual unusual mix of vintage and second-hand streetwear, denim, coats, pleated dresses, colourful sweaters and accessories.
Baixa
Inside Tropical Bairro find a fun mix of vintage fashion and old vinyl. The owner is a DJ and hand selects everything in the Lisbon vintage store, so have a browse through stacks of records then find a funky shirt or retro sports jacket to take home.
Alcântara
Tucked within the LX Factory precinct, this small vintage shop was founded by a Portuguese-Argentinian couple and within you can find a colourful array of shirts and skirts, jackets and accessories from the 70s to 90s. There's also a range of remade and edited vintage clothing, plus sustainably made bags.
Alameda
As the name suggests, this vintage clothing store specialises in undergarments and erotica. Expect to find silky slips and satin robes, second-hand corsets and lace gloves. Beyond intimates and underwear, since its opening in 2021 this vintage boutique has held a range of regular clothing and accessories too. Plus you'll find old novels, vintage bedroom homewares and new boudoir items. It shares the space with Françoise Tattoo.
São Bento
More than just a vintage shop, this creative destination also offers regular creative workshops and live music. Drop in to browse a limited range of vintage and second-hand clothing, and stay for a drink. Check out its Instagram for upcoming workshops on things like visible mending and crochet.
Anjos
Since 2016 this retro and vintage clothing destination has been fueling 80s aesthetics across the city. Started by a British-Spanish couple, the duo fell for Lisbon and moved their successful vintage brand here. Inside find hundreds of pieces of clothing, from belts and hats to coats and footwear.
That's a complete guide on where to go shopping for vintage and second-hand clothing in Lisbon. Leave me a comment if you found this useful or discovered somewhere new…
More shopping in Portugal