The sound of a gaita (bagpipe), drums, accordions and chatter emanates from the centre of Aigra Nova, a tiny one-resident schist village near Coimbra, in central Portugal. It's 8.30am on a sunny winter Sunday and the usually quiet streets are a hive of activity. A stream of villagers starts rolling down a steep cobbled street towards us. Men dressed in women's clothing, women dressed as men. Many have underwear on the outside, or bras stuffed with oranges. All are wearing homemade masks made of raw cork bark, embellished with horns, moss and other natural features.
Invisible, my friends and I quietly follow a haphazard procession down the only road into the village to where a trio of mini buses awaits. A few dozen cork-masked foliões are too engrossed in the moment to see us. A group of young men, one in a wedding dress, are already three-quarters of the way through what might be their second bottle of wine, dancing to the tunes of an accordion. Another more serious group with three loud gaitas and two drummers are standing in a circle tuning up for a big day. Some foliões are snapping photos of themselves all dressed up, others are making last-minute adjustments to their thick cork mask with a pocket knife.
At this point there are more masked villagers than spectators and it honestly feels like we've crashed a private party. The engines start and it's time to crawl between five villages. Bora!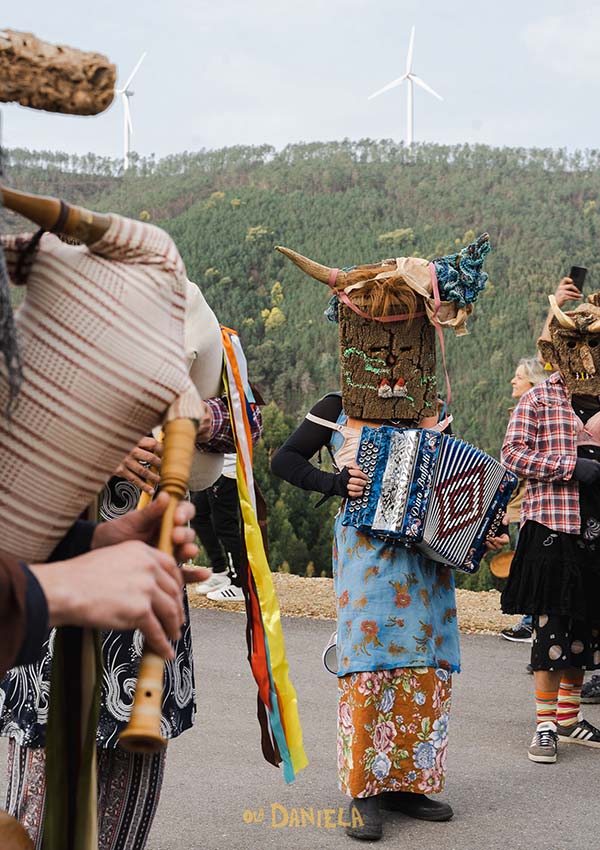 Where on earth are we?
About 2.5 hours north of Lisbon lies a handful of quaint Schist Villages (Aldeias de Xisto) of Góis. There's a problem with these remote, hard-to-reach stone villages – they've been slowly depopulating. Almost two decades ago the area restarted old carnival traditions based on interviews with elderly residents to bring back some of the magic, chaos and charm of the old days.
What happens during the traditional carnival in the Aldeias do Xisto?
Starting early in Aigra Nova, we piled into a mini bus and followed about 40 cork-masked villagers on a "rally" to four other schist villages before returning to Aigra Nova for lunch, dancing and to burn a pagan effigy. Hell yes!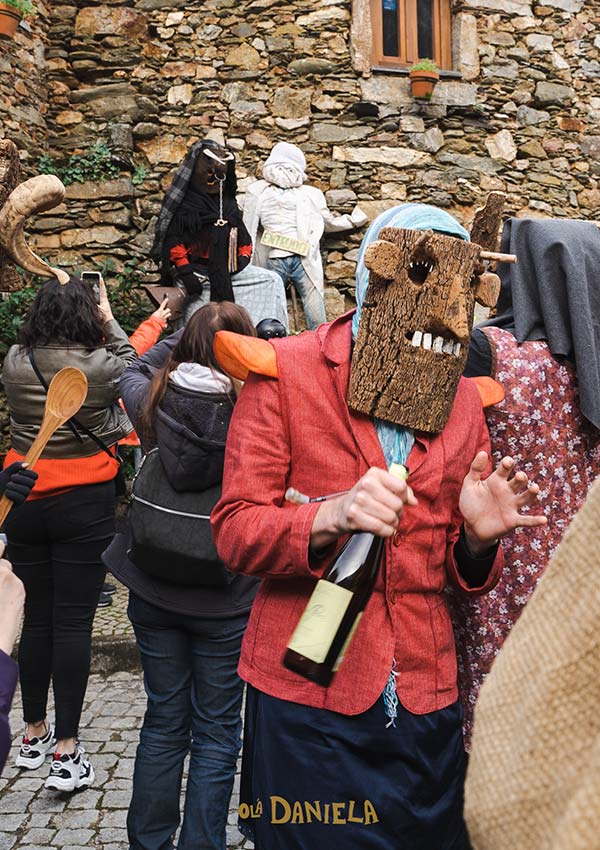 The second village: Pena
The road soon gave way to a dirt track as we reached what might be the most remote village I've ever been to in Portugal. In the dewy morning light Pena looked absolutely magical. We piled out of the buses and joined a procession toward the centre of the village. The noisy, cheeky, masked foliões had pockets filled with conkers and started throwing them at each other and the growing mass of bystanders. At some other traditional carnivals in Portugal the villagers act like the devil but these characters are just cheeky. They run amuck moving pot plants and bins – harmless, naughty fun.
The leader stood up on a wall and started shouting into an oversized tin funnel. Even if I was a native Portuguese speaker I would have struggled to understand him through the battered metal cone. The gist was that he was throwing insults and spreading gossip about all the bad things the local villagers did over the past 12 months.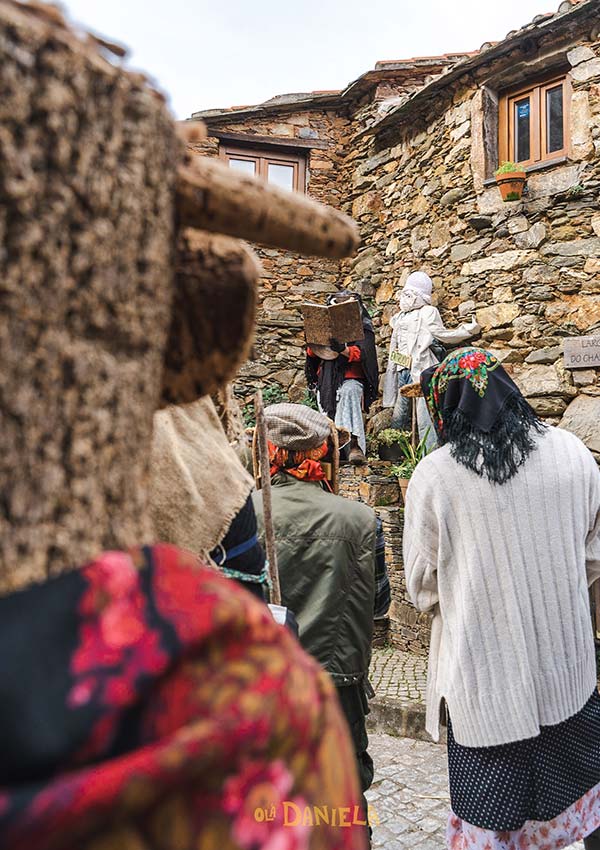 The fun continues, we moved through the village and down alongside a verdant bubbling creek to where the foliões climbed into an oversized cork tree for a dramatic photo moment. Then it was back in the buses, which is easier said than done.
Villages three, four and five: Cerdeira, Esporão and Ponte do Sótão
The rest of the morning was a blur – we pulled up in three more villages, piling out to run amuck, have a laugh and cause some chaos. At village three there was a long table loaded with cheese, prosciutto, homemade fried doughnuts and snacks. We drank the village bar dry of its 70-cent beers at 10am before moving onto the next one.
Village four had another long table of help-yourself snacks prepared by the locals, plus free-flowing wine. Yippee! We entered the town hall, ate and danced before piling back into the vans.
At the final village some of the foliões started to become braver, grabbing at the door handles of cars passing by, flicking up windscreen wipers and moving wheelie bins onto the roads. At each village our procession picked up more and more spectators, growing in size as we reached lunch.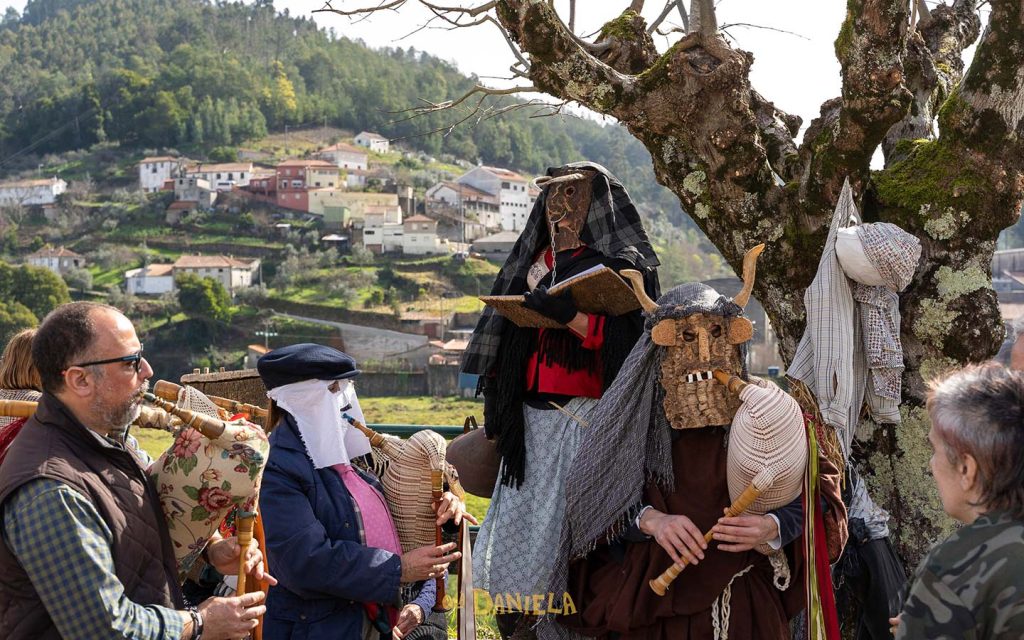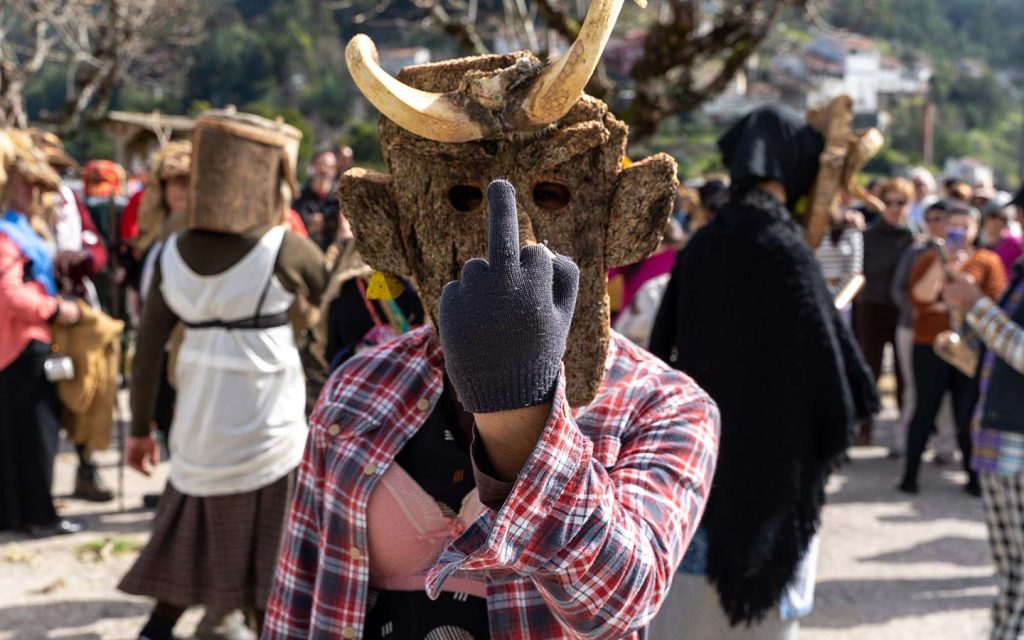 Back in Aigra Nova for lunch
Finally, we returned to the first village – Aigra Nova – for lunch at about 1.30pm. We'd prepaid for lunch and the bus, a total of €11 in 2023. When we arrived the village was surprisingly full. Two big tents filled with wooden pop-up benches and tables were heaving with Portuguese families and friends tucking into a feast of roast pork sandwiches and a hearty stew.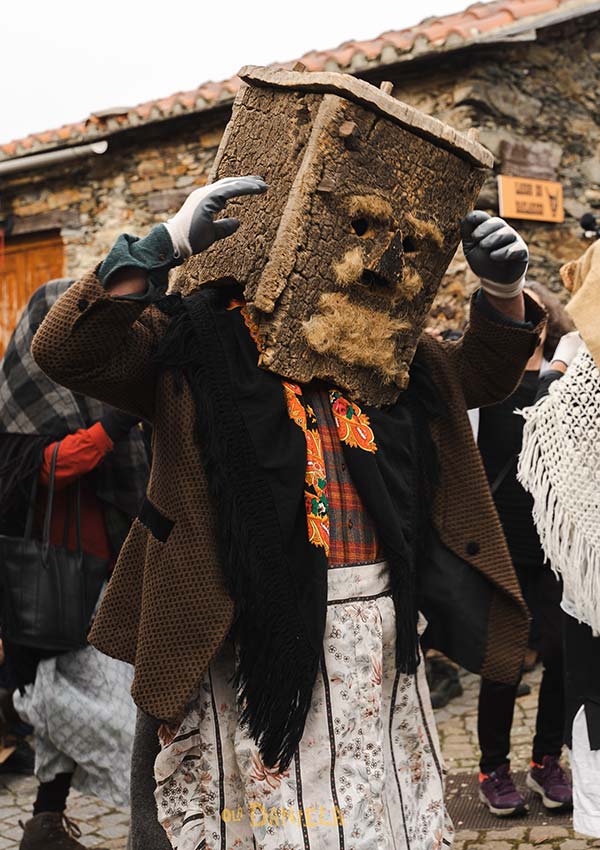 The small, stone village square was the centre of the universe that afternoon. Just when you thought the tired foliões would drop dead after a huge morning, a back-up band arrived with six (yes, six) accordions to keep the jovial vibe and dancing going until dusk.
The cod and ham challenge
In the centre of the village, an entire salted cod (bacalhau) and whole leg of prosciutto were hanging from the top of a tall wooden pole. In the mid-afternoon, people start cheering as some athletic young men try their hand at reaching the riches at the top. It's meant to be a great challenge, but the man who won made it look easy.
Burning of the effigy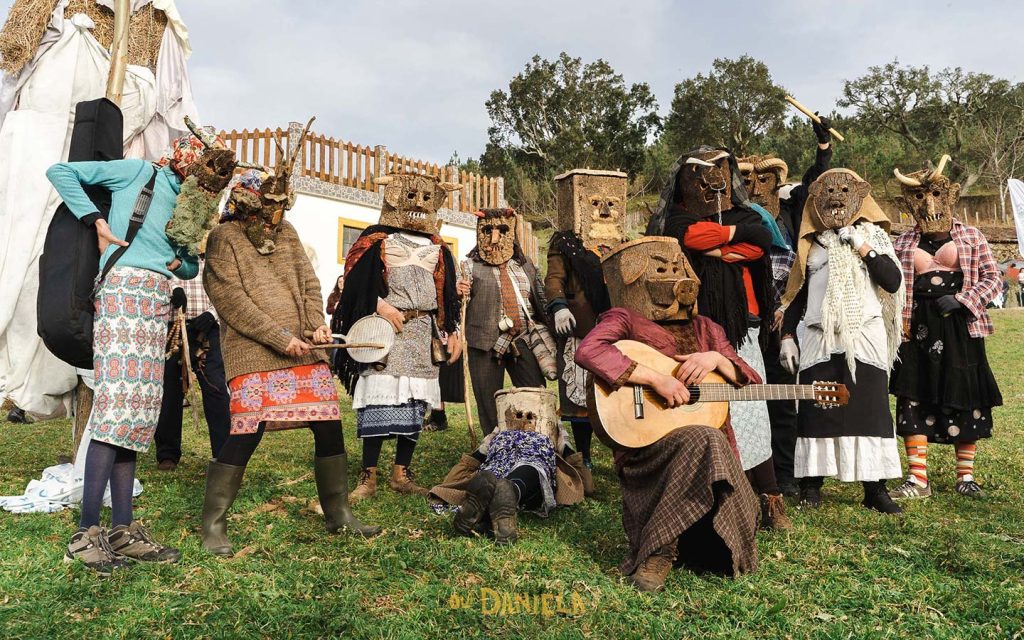 The best part of a traditional pagan carnival experience in Portugal? About 5pm the tired, quite drunk cork-masked foliões piled into the nearby field where a tall, very rustic effigy stood – with its own oversized cork mask and vintage floral bedsheets for clothing – ready to burn.
I didn't see them light the anthropomorphised stack of hay and bed sheets as I was too busy watching one of the volunteer organisers try to pull away some of the more inebriated masked locals who were rolling on the grass all too close to the rapidly-burning pole.
In the end, all that's left is a burnt cork mask.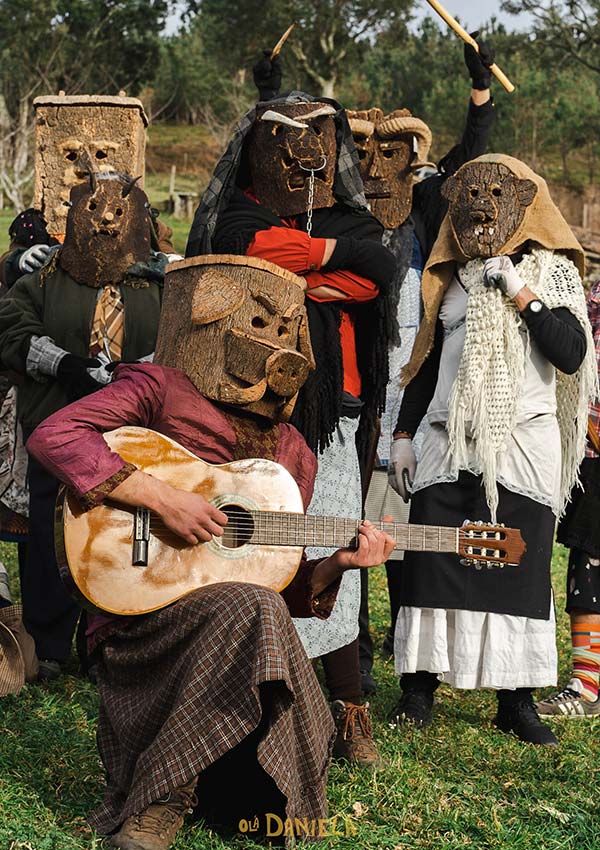 How to attend
It seems you could just show up to Aigra Nova for lunch if that's your vibe, but if you're committed to the village rally I've discussed here then you'll need to email to secure a place on the bus. You can find out more on the Aldeias de Xisto website.
The Entrudo Tradicional das Aldeias do Xisto de Góis always falls in February during carnival (or carnaval) weekend.
Where to stay
We stayed at a small and humble guesthouse, Casa D'Avó Mila, in the village of Vila Nova do Ceira, which was close enough to the action. We only stayed one night and drove home on the Sunday back to Lisbon.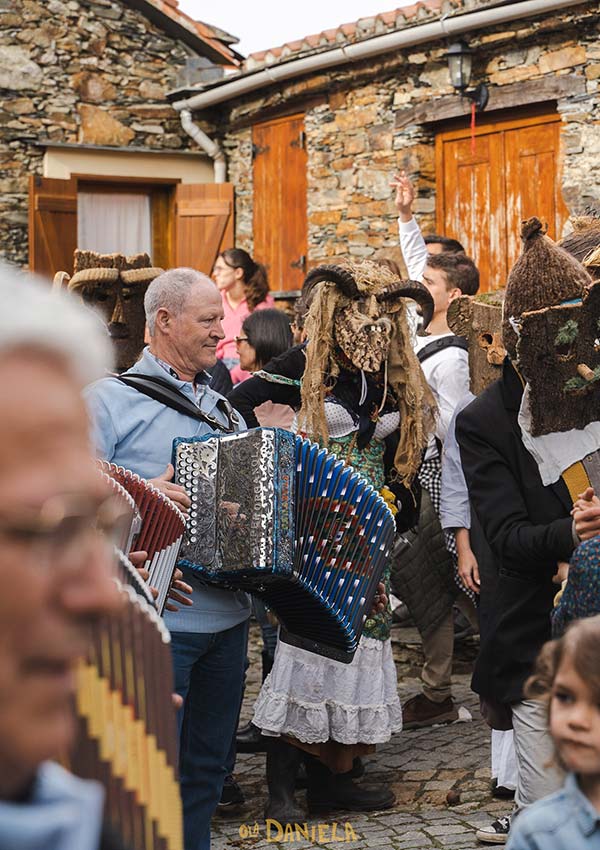 What else to do nearby
The largest nearby village we saw was Góis. It has a supermarket, shops, bars, a beautiful riverfront, and everything you could need.
The day we arrived we stopped for lunch in Lousã, and then walked the beautiful Passadiços do Cerro da Candosa (Cerro da Candosa Walkways) as the light changed at sunset.
If you're eager to visit this traditional pagan festival in Portugal or have been to another one I should know about… leave me a comment!