From celebrating sausages and sweet potatoes to Michelin-starred chefs cooking with fire, Portugal honours its rich gastronomic heritage with dozens of food festivals, wine fairs and events.
Food is closely intertwined with culture in Portugal so it's no surprise the small country puts on more than its fair share of food events. Each village has a specific and special cuisine or locally grown product to celebrate, so why not throw a huge party?
I've scoured the country to find the best Portuguese food festivals that celebrate traditional dishes, top chefs and Portuguese culture. Read on to discover more than 40 food festivals across Portugal.
Music lover? Check out this article with best music festivals in 2023. Medieval minstrel? Step this way. Culture vulture? Check out these traditional events..
Have you heard the term "confrarias"?
Portuguese confrarias, also known as brotherhoods, are an intriguing part of Portugal's living cultural and culinary heritage. Each brotherhood is made up of people with a passion for a certain type of food or drink. Sometimes it's broad, like the Confraria Gastronómica do Bacalhau (salted cod), while other times it's more specific, like the Confraria da Caldeirada, which exists in support of a seafood stew. Funnily enough, they wear matching cloaks and have badges like boy scouts. Many of these clubs can trace their roots back to medieval times, and throughout the year they host festivals, contests and events to celebrate their chosen food or drink.
Note: I've done my best to ensure the information in this article is accurate at the time of publishing. Be sure to check the website or links in case anything changes closer to the date.
Throughout the year
RESIDÊNCIA by João Rodrigues
When: Usually third weekend of every month throughout 2023
Where: Across Portugal, a different place each month
Over 12 months, one of Portugal's top chefs is exploring regional cuisine with a series of pop-up weekend lunches and cultural experiences. Each month João explores the gastronomic culture of a new destination, inviting diners along for the ride. Alongside delicious meals with guest chefs, you're invited to visit farms and meet local producers.
More information
Ordem da Cabidela
When: Random dates across 2023
Where: Across Portugal, a different place each month
Half a dozen times across 2023 the "Order of the Cabidela" is popping up at restaurants across Portugal. Each special evening a handful of chefs are invited to create a multi-course meal inspired by the traditional chicken blood rice dish that many Portuguese laud as a comfort food. If you attend, you will knighted by a giant chicken and become a "Knight of the Order of the Cabidela", receiving a symbolic silver feather.
More information
September
Festa das Vindimas
When: 31 August – 5 September 2023
Where: Palmela, 30-minute drive from Lisbon
Each year this festival celebrates the local wine harvest and Palmela's winemaking traditions. A huge party takes place over many days with many events, including the crowning of a festival Queen. Join in grape picking, wine tasting, traditional dancing, and concerts. Taste local traditional dishes and, of course, sample local wines.
More information
Chefs on Fire
When: 8-10 September 2023
Where: FIARTIL, Estoril, about 30-minutes west from Lisbon
Chefs on Fire is the jewel in the crown of Portugal's food festivals. Set in a beautiful park, beneath towering pine trees, some of Portugal's most highly regarded and Michelin-starred chefs cook up a feast using only fire. Each day chefs and food changes, along with a line-up of great bands and musicians too. Unmissable.
More information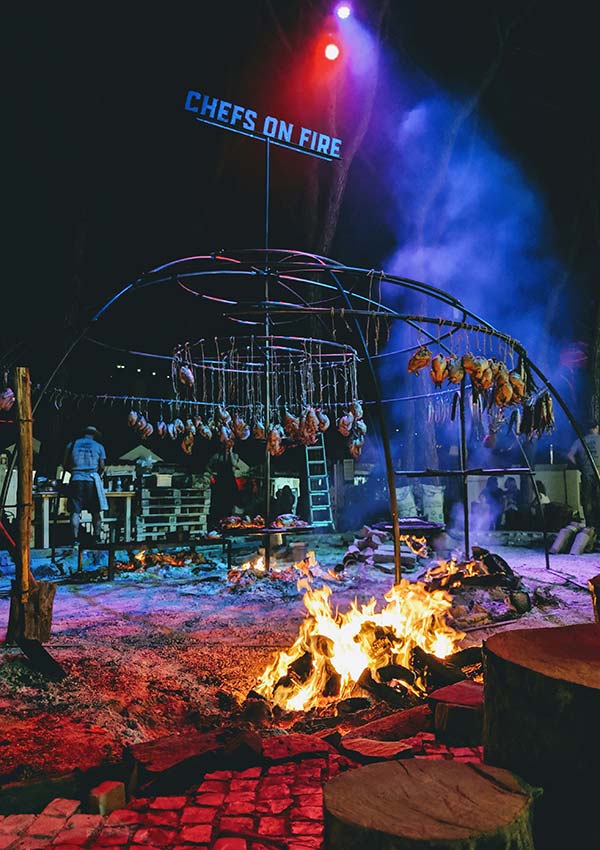 Festival da Cerveja Artesanal com Lúpulo Feirense (Artisan Beer Festival)
When: September/October 2023
Where: Santa Maria da Feira, between Porto and Aveiro
Curious about how hops is grown? Sometime usually in August you can participate in the harvesting and drying of 20 varieties of hops grown on the banks of the Cáster River. Then return a couple of months later to taste special editions crafted with the same hops. Each year the Festival da Cerveja Artesanal com Lúpulo Feirense (craft beer festival) in Santa Maria da Feira challenges artisanal breweries to create special brews. The three-day festival program features tastings, beer pairings and workshops, plus music, DJ sets and markets.
More information
October
Festival Nacional de Gastronomia (National Gastronomic Festival)
When: 21 October – 1 November 2023
Where: Santarém
The smaller city of Santarém tries to represent all of Portugal's rich regional cuisines in one big showcase. Held for more than 40 years, you'll find a bit of everything at this food festival, with cuisine from the north to south to the islands of Azores and Madeira. Expect food stalls, cooking demonstrations, wine tastings and more, plus confrarias from across Portugal.
More information
November
São Martinho or Magusto
When: 11 November 2023
Speaking of Saint Martin (or São Martinho), November 11 is a favourite day to celebrate in Portugal. Saint Martin was a Roman soldier who cut his cloak in half to share with a cold beggar. Afterwards the sun came out – and it's why warm winter days in early November are called Saint Martin's Summer. This time of year the Portuguese enjoy Magusto, a celebration that involves bonfires, wine and chestnuts, especially in the Trás-os-Montes and Beira Baixa areas.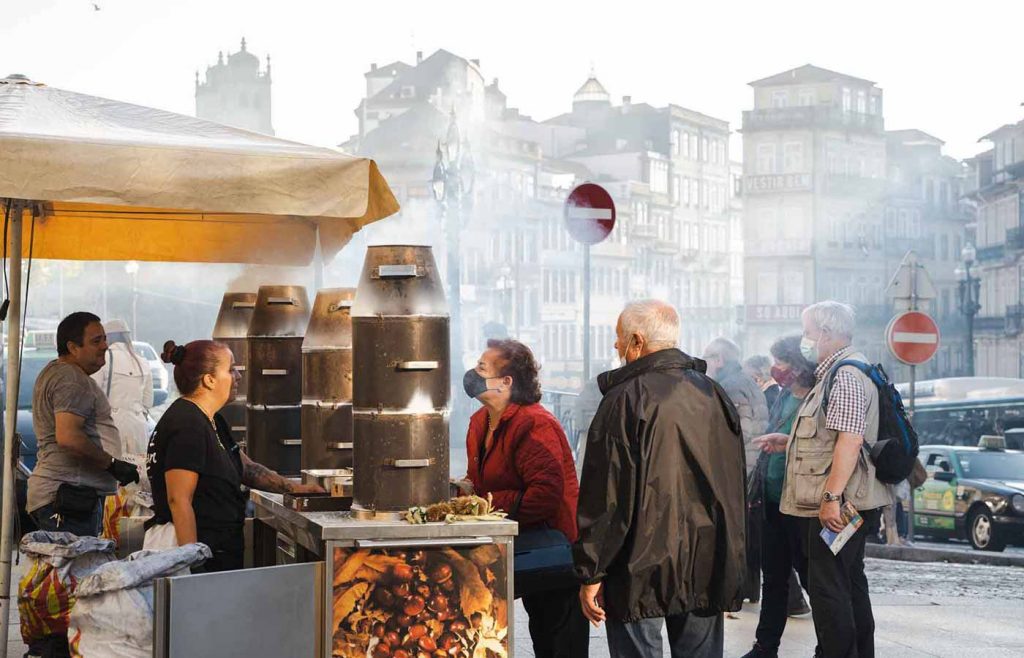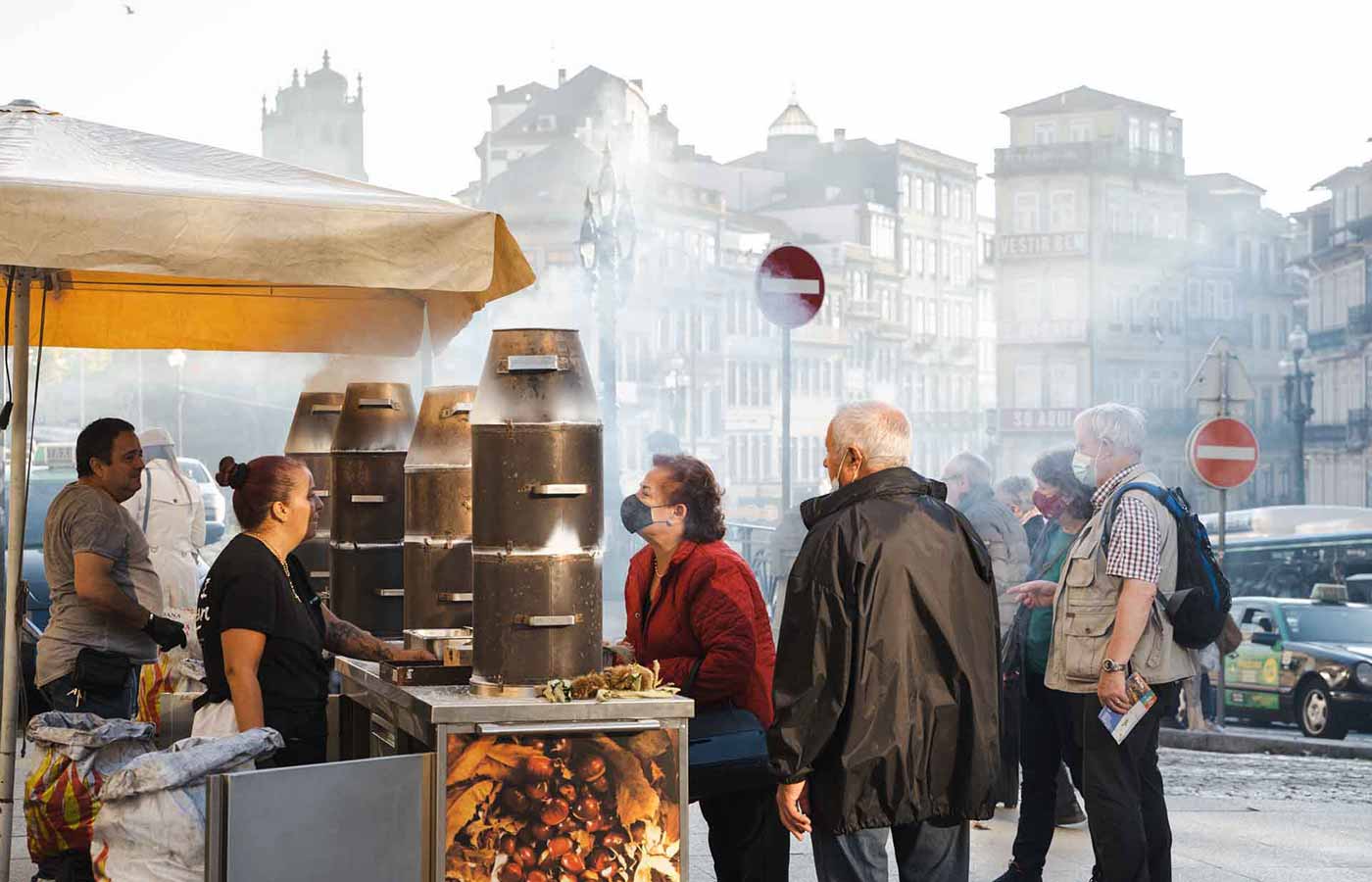 Feira da Castanha (Chestnut Fair)
When: 11-12 November 2023
Where: Marvão, on the border with Spain east of Lisbon
There's nothing better than hot chestnuts in autumn, and it's the focus at this cultural festival in the ancient village of Marvão. Apparently 4,500 kilograms of chestnuts are consumed, along with 1,500 litres of wine. In existence for more than 40 years, it celebrates the local culture and traditions too with an artisan market, folk singing and entertainment.
More information
Xira Wine Fest
When: 17-19 November
Where: Vila Franca de Xira, 30-minutes north of Lisbon
Held at a big pavilion, the Xira Wine Fest celebrates World Tourism Day with a showcase of local gastronomy. Sample the goods from local wine and food producers at this party.
More information
Festival da Batata-Doce (Sweet Potato Festival)
When: 25-27 November 2023
Where: Aljezur, one-hour from Faro or three from Lisbon
The humble sweet potato is in the spotlight at this special western Algarve festival. Expect to find plenty of food stalls making the most of the star ingredient, dozens and dozens of exhibitors, and a stage with music and fun kicking on until 2am some nights. How late would you party for a potato?
More information
January 2024
Festa das Chouriças (Sausage Festival)
When: Late January
Where: Querença, near Loulé. About 30 minutes from Faro, or 2.5 hours from Lisbon
Ready to chow down a few top chouriços? Each January this sausage festival takes over the town of Querença, near Loulé. Held every year in honour of São Luís, the local patron saint of animals, you'll get to sample and buy top quality gourmet chorizo and other smoked sausages plus watch a local procession.
More information to come
February 2024
Feira do Fumeiro de Vinhais (Smoked Meats Fair)
When: February 2024
Where: Vinhais,
Vinhais is a tiny town in the far north-east of Portugal. Having tried the smoked chorizos and meats from Tras-os-Montes, I won't argue with their self-declared title as the "capital of smoked meats". They just do it better up there! Expect to find a fair with a huge range of artisanal charcuterie, cold cuts and smoked sausages.
More information
Feira do Queijo Serra da Estrela – Seia (Cheese Fair)
When: February 2024
Where: Seia, Serra de Estrela Mountain
Love cheese? So do the Portuguese. Search "Feira do Queijo" in Google and you'll find dozens of cheese fairs popping up across the country, usually in the cooler months. One of Portugal's most famous cheeses is the gooey, pungent and buttery Serra da Estrela cheese. As you'd expect, this food festival in Portugal will be full of them.
More information
Festival do Butelo e das Casulas (Sausage & Bean Festival)
When: February 2024
Where: Bragança, two hours east of Porto
Over five days Bragança, the capital of the far north-west Trás-os-Montes, celebrates this hyper-local dish. I've not seen butelo or casulas available in Portugal outside this area. Butelo is a very bulbous smoked sausage made with meat, cartilage and even bones. Casulas are dried bean husks or shells that are rehydrated and cooked. Naturally, this fair is organised by the Confraria of Butelo & Casulas. Expect to taste this special dish alongside other regional delicacies, and you'll get to see the local caretos running amuck — plus, it sounds like there will be fire.
More information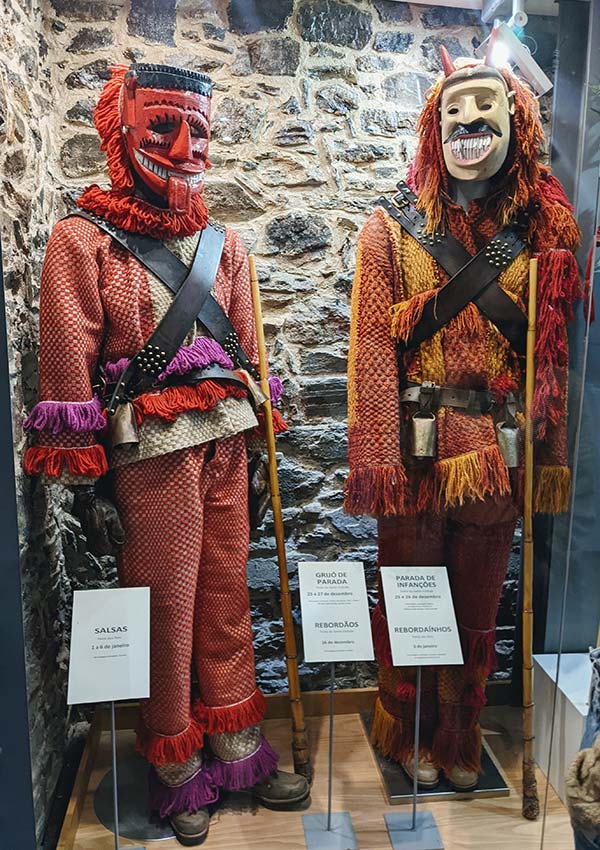 Feira do Queijo do Alentejo (Cheese Fair)
When: February 2024
Where: Serpa, 3-hour drive from Lisbon
Another cheese fair, this one features the great cheeses of the agriculture-focused Alentejo region. Taking up more than a third of the country, there is a good range of mostly sheep and goat cheeses from this land to try and take home.
More information
Simplesmente Vinho
When: 23 February 2024
Where: Porto
This alternative wine fair brings together vignerons focused on artisan, low-intervention wines that respect the terroir and traditions. Expect a big tasting hall with plenty of intriguing drops to sample, a food court, live music and talks. Catch the next edition of the annual tasting event in Porto in February 2024.
More information
March 2024
Pura Sede (Natural Wine Fair)
When: late March 2024 (TBC)
Where: Lisbon
Each year this natural wine fair focuses on what nature provides, perfect for those with a thirst for purity. A ticket gains you access to a huge fair where you can taste wine directly from the producers themselves.
More information
Festival do Ouriço-do-Mar (Sea Urchin Festival)
When: March 2024
Where: Ericeira, 45 minutes from Lisbon.
The 2023 edition of this food festival in Portugal evolved beyond restaurant doors and into the main market. You could drop in to try the raw, natural sea delicacy on certain days of the week. On weekends there were cooking demonstrations with top Portuguese chefs and other entertainment. Local restaurants were also using sea urchins in special dishes.
More information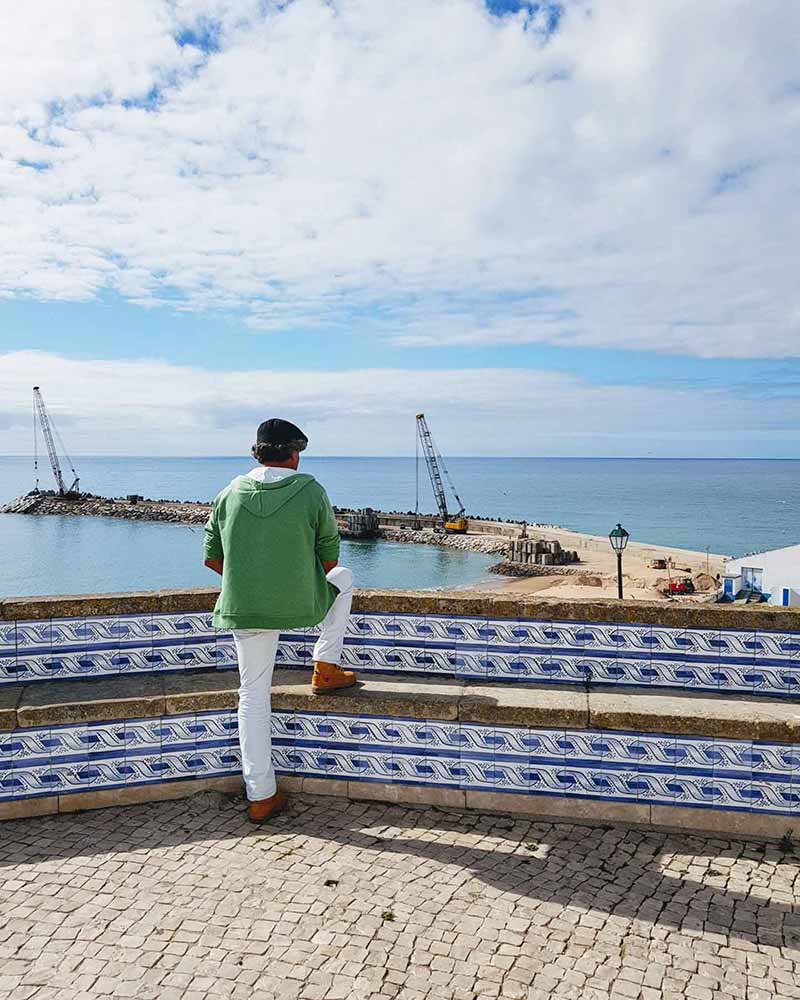 Tasquinhas, Rio Maior
When: March/April 2024
Where: Rio Maior, 1-hour north of Lisbon.
If you love Portuguese food then you surely love tascas, the homely canteens and diners that dish up rustic Portuguese food. The 38th edition of Tasquinhas is popping up in Rio Maior, about 70 minutes north of Lisbon, in late March. Get to know the traditions and food of the region with a huge pavilion filled with pop-up tascas and markets selling sweets, liquors and local artisan goods.
More information
April 2024
Queijo, Pão e Vinho
When: A weekend in late March/April
Where: São Gonçalo, Palmela – about 30 minutes south of Lisbon
Cheese, bread, wine – what more could you want? I attended this fun local food festival south of Lisbon in 2023 and it was a brilliant day out. Entry was €1 and gave us access to more than a dozen hyper-local wine producers and almost as many cheesemakers. The star is the famous DOP Queijo do Azeitão, a gooey, stinky sheep's cheese that I adore. Bring cash (and a plastic cup if you already have one).
More information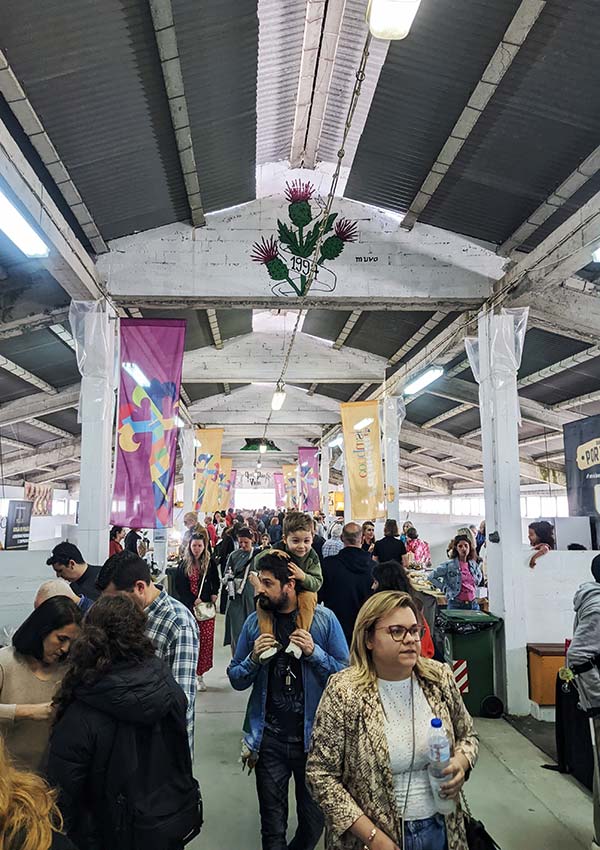 April
Expobarrancos – Feira do Presunto e dos Enchidos (Smoked Meats Festival)
When: 21-23 April 2023 (TBC 2024 dates)
Where: Barrancos, on the border with Spain almost three hours west of Lisbon
Expect a showcase of presunto (prosciutto), chouriço (chorizo), alheira (a game bird sausage with a fascinating history), blood sausage and other Portuguese enchidos at this three-day party. There will be concerts into the night, markets and food.
More information
Festa do Vinho do Cartaxo
When: Late April (TBC 2024 dates)
Where: Cartaxo, one-hour north of Lisbon
Join the 33rd edition of the Cartaxo Wine Festival, where dozens of local wineries bring their top drops to taste alongside artisan markets and local taverns. Expect traditional music and concerts, plus a traditional parade and entertainment until midnight each evening.
More information
May
Mercado á Moda Antiga (Old-style Market)
When: TBC May 2024
Where: Pinhal Novo, south of Lisbon
Venture back in time with the 8th edition of this old-fashioned market. Try local traditions, like sopa caramela and pudim de abóbora, and buy produce direct from farmers.
More information
Festival do Arroz Carolino das Lezírias Ribatejanas (Rice Festival)
When: TBC May 2024
Where: Benavente, a 45-minute drive from Lisbon
Love rice? Don't miss the festival celebrating Carolino rice, the native grain of this most rice-loving of all European countries. The fifth edition will be held in Benavente and features a program with cooking demonstrations, stages, music, entertainment and, of course, plenty of delicious Portuguese rice.
More information
Feira da Bifana (Pork Sandwiches)
When: TBC May 2024
Where: Vendas Novas, one-hour from Lisbon
A bifana is a reliable staple, so what makes this pork-steak sandwich better in Vendas Novas? Apparently the municipality registered its bifanas as a trademark in 2011, so perhaps it's worth attending the annual fair to find out why. Vendas Novas bifana steaks are fried in a secret sauce and served on bread with garlic and paprika. Expect concerts, artisan markets and entertainment.
More information
June
Santos Populares
When: All of June, but especially June 12
Where: Lisbon
The Santos Populares celebrations that take over Lisbon's oldest neighbourhoods each June are more of a cultural affair than a food festival, but like any good party the fun revolves around good food and drink. Sometimes in English it's nicknamed Lisbon's Sardine Festival, and you can always find the fun by following the fishy scent or billowing charcoal smoke.
More information – read my guide to Saint Antonio festival in Lisbon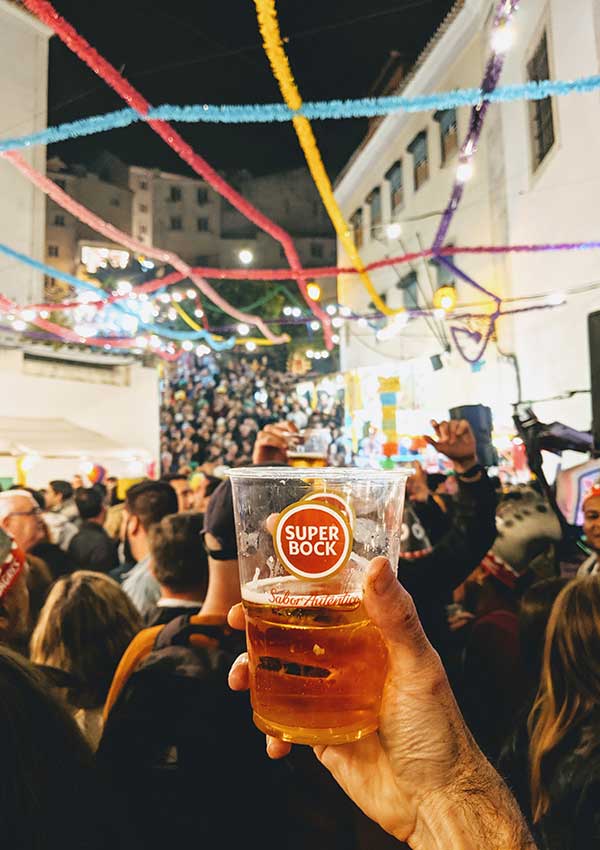 Festa da Cereja (Cherry Festival)
When: 9-11 June 2023 (2024 dates TBC)
Where: Fundão, almost three hours from both Porto and Lisbon
One doesn't need an excuse to visit Fundão, a historic mountain village considered one of the most beautiful in the country. It's just a bonus that you can find excellent cherries. Of course, a great crop is reason to celebrate – expect three days of markets, entertainment, concerts and even a tourist train through the cherry orchards.
More information
Feira do Vinho Verde (Green Wine Fair)
When: 30 June – 2 July 2023 (2024 dates TBC)
Where: Castelo de Paiva, one-hour from Porto
Over three huge days taste award-winning vinho verde region wines along with traditional snacks and local sweets. Many people think vinho verde is simply a zesty, slightly effervescent white wine, but it is actually a region that produces juicy fresh reds too. Expect a program of folk dance and music too.
More information
July
XXVII Festival do Caracol (Snail Festival)
When: 28 June to 2 July 2023
Where: Porches, Algarve.
Portugal's summer hero is the snail. And in the Algarve locals celebrate the favourite post-beach snack with a full three-day festival. Expect plenty of delicious snails, along with traditional sweets, and a music and cultural program, and river views.
More information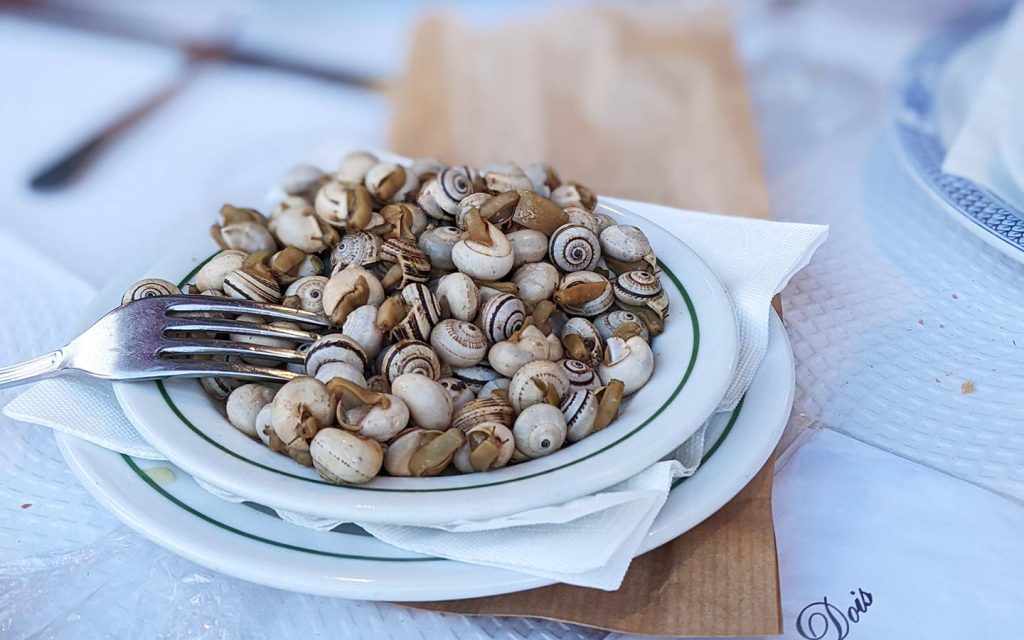 Festival da Sardinha (Sardine Festival)
When: 6-9, 13-16 July 2023
Where: Praia do Pedrógão in Leiria, halfway between Lisbon and Porto
Summer means sardines and here they take it seriously. In the middle of July, Praia do Pedrógão becomes the centre of all things sardinha, with around 5 tonnes consumed during the festival. You'll find a big party atmosphere with stalls peddling sardines, huge stages with music and plenty of beachside fun.
More information
Guarda Wine Fest
When: 14-16 July 2023
Where: Alameda de Santo André
Sip, swirl and sample wines from the Douro and Dão regions at this festival bringing together about 40 producers. Taste famous drops and new experiments, hear from the winemakers and learn more about the landscapes of this region. Pair tastings with cooking demonstrations and jazz for a great few days in the Beira region. Entry is free and tastings are possible with the purchase of an official tasting glass.
More information to come
Chefs on Fire Pop-Up, Aveiro
When: 14-16 July 2023
Where: Aveiro, 1-hour south of Porto
Joining forces with Aveiro's Festival dos Canais arts festival, this pop-up version of my favourite Portuguese food event is heading north. Usually held in September, Chefs on Fire is a magical weekend food and music festival where the country's top chefs are invited to cook over fire. Details for the pop-up are yet to be announced, but I suspect it will be like the mini fest from 2022 in Almada, where there was a set four-course menu with a handful of chefs and musicians changing each day.
More information
Festival de Gastronomia do Maranho
When: 13-16 July 2023
Where: Alameda da Carvalha, Sertã – two hours from both Lisbon and Porto
This huge festival – with big concerts, fun run events and more – celebrates an unusual rice sausage. This local delicacy is said to have emerged more than 200 years ago, and was popular on feast days last century. Basically a large sausage is stuffed with goat or sheep meat, plus ham, chorizo, mint, parsley, dry rice, salt, spices and white wine. It's boiled, sliced, served and a good excuse for a party.
More information
Festival do Caldo de Peixe (Fish Soup Festival)
When: 21-22 July 2023
Where: Rabo do Peixe, on São Miguel Island in the Azores.
Historically connected to the sea, Rabo do Peixe celebrates its heritage with a party starring a traditional fish soup. The delicious rich broth features big chunks of fish and bread, making it more a meal than a starter. Learn about the lives of local fishermen and enjoy warm hospitality you can only get on a remote island.
More information
XXXII Feira de Enchidos, Queijo e Mel – (Smoked Meats, Cheese & Honey Fair)
When: 29 July – 6 August 2023
Where: Vila De Rei
In 2023 we can expect the 32nd edition of Vila de Rei's fair dedicated to local smoked meats, cheese and honey. It's said thousands attend this nine-day event, which includes big Portuguese names in music and entertainment plus around 100 stalls with produce, regional cuisine and artisans.
More information
August
Festival da Sardinha (Sardine Festival)
When: 1-6 August 2023
Where: Portimão, Algarve – 50 minutes west from Faro
Sardines are the summer star of this big Algarve festival. Follow the salty, smokey wafts from the barbecues to find the festival where some 2,000 seats fill up fast. Once you've had your feast of fish, venture towards the stage where big name Portuguese acts take the mic each night.
More information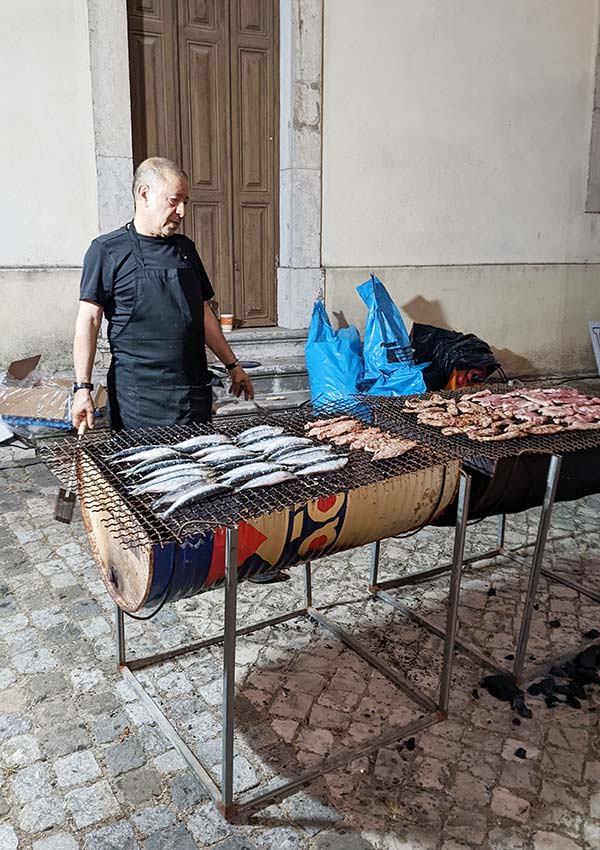 Festival do Marisco (Seafood Festival)
When: 10-14 August 2023
Where: Olhão, 15-minute drive from Faro in the Algarve
Olhão is one of my favourite Algarve towns, mostly thanks to the brilliant waterfront twin market halls. A huge tent gets set up nearby for the annual Marisco festival, a mega celebration of all things shellfish. You can taste traditional dishes, such as Arroz de Marisco (seafood rice), Cataplana (seafood steamed in special copper pan) and Feijoada de Búzios (whelk and bean stew), and admire fresh spider crab, whelks and cockles.
More information
Festival do Bacalhau (Salted Cod Festival)
When: 9- 13 August 2023
Where: Jardim Oudinot in Gafanha da Nazaré, about 50 minutes south of Porto
Where better to celebrate Portugal's favourite ingredient than in the bacalhau capital? Courageous sailors left Portugal for the cold seas of Newfoundland and Greenland to fish for cod, a beloved staple in the Portuguese diet. For five days in August try bacalhau cooked in various ways, taste wines from Bairrada, and enjoy entertainment, music and markets.
More information
Festival da Sopa da Pedra (Rock Soup Festival)
When: 30 August – 3 September 2023
Where: Almeirim, 70-minute drive from Lisbon
Only Portugal could host a festival dedicated to a single soup (and this isn't the only one). Sopa da Pedra (rock soup) is a bit like a minestrone and has a special legend attached, as well as a literal stone. Chase down this local soup festival at Almeririm's Parque das Tilias to try the dish along with other petiscos (snacks/tapas). You can expect to find a big festival atmosphere with concerts, market stalls and more.
More information
Festa da Broa de Avintes (Corn Bread Festival)
When: Late August TBC
Where: Avintes, near Porto
This year will be the 34th cornbread festival in the town of Avintes, just south of Porto. More than just a celebration of this regional bread, the festival includes concerts, trail running and cooking demonstrations too.
More information
FYI in my best food festivals and events list I've chosen to only included proper food festivals, pop-up markets and gastronomic events across Portugal. I have not to included "food festivals" that don't have a festival heart, fair or central stage. While living here I've noticed lots of local councils throw "festivals" that are more a marketing exercise. While they involve all the branding of a festival, the fun exists only as dishes at participating local restaurants. A nice idea, but not the Portuguese food party we're looking for!
Am I missing any great food festivals or event in Portugal? Leave me a comment…