Portugal knows how to throw a brilliant party, and in 2023 these will be the biggest and best festivals and events to attend. Each year cities, towns and villages across Portugal play host to traditional celebrations, food-focused events and huge music festivals.
From celebrations with sardines and world-class street theatre, to medieval fairs and international music stars, I've rounded up some of the top festivals and traditional events across Portugal worth attending in 2023.
Music lover? Check out this article with best music festivals in 2023. Medieval minstrel? Step this way. Food is life? It sure is in Portugal. I have included a few of the events in this festivals guide, but if you want to go deep, check out those articles.
September
Chefs on Fire
When: 8-10 September 2023
Where: FIARTIL, Estoril, about 30 minutes west from Lisbon
Chefs on Fire is the jewel in the crown of Portugal's food festivals. Set in a beautiful park, beneath towering pine trees, some of Portugal's most highly regarded and Michelin-starred chefs cook up a feast using only fire. Each day chefs and food changes, along with a line-up of great bands and musicians too. Unmissable.
More information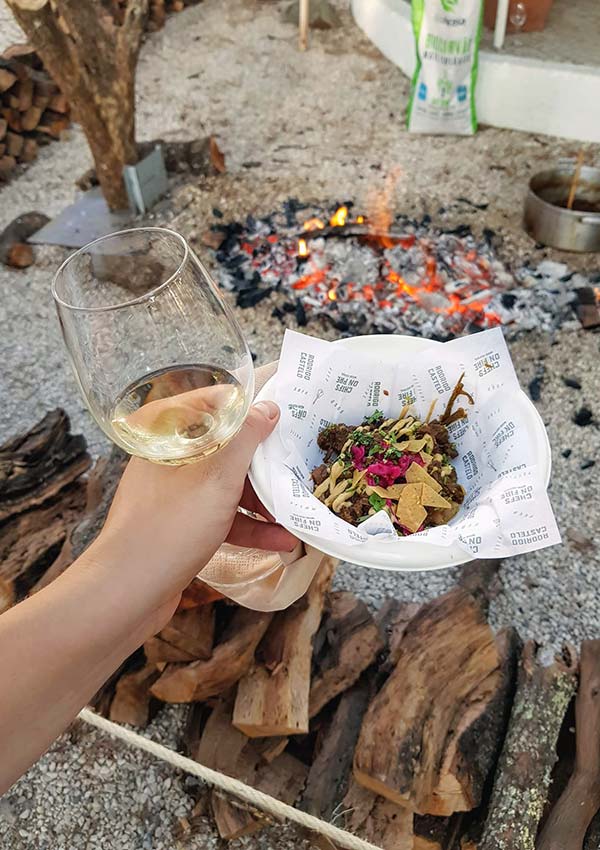 Feira de São Mateus
When: 10 August – 21 September 2023
Where: Viseu
This year will be the 631st edition of Viseu's main festival. Yes, the 631st annual fair! Wild. This year the feira features 43 days packed with big concerts, delicious food, carnival rides and folk culture.
More information
Terras da Transumância
When: Various dates between June – September 2023
Where: Castro Daira, Fundão, Gouveia & Seia – four mountain towns near Serra da Estrela
This series of events celebrates the seasonal pastoral traditions and heritage of these four towns. Essentially shepherds move their flocks to the higher pastures in summer, then back to the valleys for winter. This is a big deal and a big celebration with sheep and goats dressed up. You will need to dive into the details, but on some days you can follow the herd to the sound of marching drums and cowbells. On others expect workshops, markets, food and even bonfires.
More information
October
Feira de Santa Iria
When: Mid-late October 2023
Where: Faro, central Algarve
In the Algarve, the city of Faro celebrates St Irene every October with a brilliant fair. It's thought to have been around since 1596 and the fun lasts nine days with a spectacle of food, artisan crafts and fairground rides.
More information
Festival Nacional de Gastronomia (National Gastronomic Festival)
When: late October 2023
Where: Santarém
The smaller city of Santarém tries to represent all of Portugal's rich regional cuisines in one big showcase. Held for more than 40 years, you'll find a bit of everything here from the north to south to the islands of Azores and Madeira. Expect food stalls, cooking demonstrations, wine tastings and more.
More information
November
Feira Nacional do Cavalo Golegã (National Horse Fair)
When: Early November 2023
Where: Golegã, north of Lisbon
Each November the Feira de São Martinho (or the Feira Nacional do Cavalo slash National Horse Fair) brings bullfighting, horse parades and traditional fun to the town of Golegã. Located in the Ribatejo north of Lisbon, the town is known as the horse capital of Portugal and is famous for the renowned Lusitano breed. Each year around Saint Martin's Day (11 November) people descend on the town for fun, food and wine (and to buy horses).
More information
Festival Internacional Balões de Ar Quente (Hot Air Balloon Festival)
When: Early November 2023
Where: Alentejo town, east of Lisbon
A spectacle of hot air balloons takes over about eight towns each November for this nine-day festival. Beyond being visually magical to see all the balloons go up, the Festival Internacional Balões de Ar Quente (FIBAQ) usually offers free mini flights (with a charity donation) and attracts balloons from Portugal, Spain, Belgium, France, Luxembourg, the Netherlands and more.
More information
São Martinho or Magusto
When: 11 November 2023
Speaking of Saint Martin (or São Martinho), November 11 is a favourite day to celebrate in Portugal. Saint Martin was a Roman soldier who cut his cloak in half to share with a cold beggar. Afterwards the sun came out – and it's why warm winter days in early November are called Saint Martin's Summer. This time of year the Portuguese enjoy Magusto, a celebration that involves bonfires, wine and chestnuts, especially in the Trás-os-Montes and Beira Baixa areas.
December
Vinhos de Altitude, Serra de São Mamede
When: 1-2 December 2023
Where: Portalegre, 2.5 hours east of Lisbon
A wine fair in a huge church? Naturally. Vinhos de Altitude celebrates winemaking in the higher Alentejo region, specifically in the Serra de São Mamede park on the border with Spain. Taste your way through a dozen or so producers in the Convent of São Francisco.
More information to come
Every town in Portugal seems to have Christmas events. I will add details about the best Christmas markets and events closer to December.
January 2024
Festa das Fogaceiras
When: 20 January
Where: Santa Maria da Feira, between Porto and Aveiro
A vow made five centuries ago to São Sebastião (Saint Sebastian) to rid the region of plague continues on January 20 each year. Apparently for four years the tradition stopped and the plague returned – so the locals continue this ancient tradition. Children dressed entirely in white with coloured belts carry a cake/loaf of bread on their head, crowned with paper cut in castle shapes, in a procession. There is also a mass, and the modern version has concerts and cultural events all January long.
More information
February
Carnival 2024
When: Mid Feb 2024
Where: Across Portugal
Carnaval is celebrated with bright and colourful parades all over Portugal, from the north to the south. Most locals tend to gravitate towards the Rio-style carnivals and celebrations that are all spandex and sequins, but there are rich carnaval traditions in Portugal that go back to pagan roots. I prefer to chase the strange, quirky pagan carnivals across Portugal. The best falls in the village of Podence where caretos channel the devil in the name of spring fertility. You could also try Lamego or the Xiste Villages. For modern carnivals with floats, feathers and a touch of Disney, look up Torres Vedras, Sesimbra, Ovar, and Loulé to name a few. The date changes each year as carnival falls on the last Friday before Lent and ends on Shrove Tuesday. Usually the Saturday evening and Sunday day are the most active in Portugal.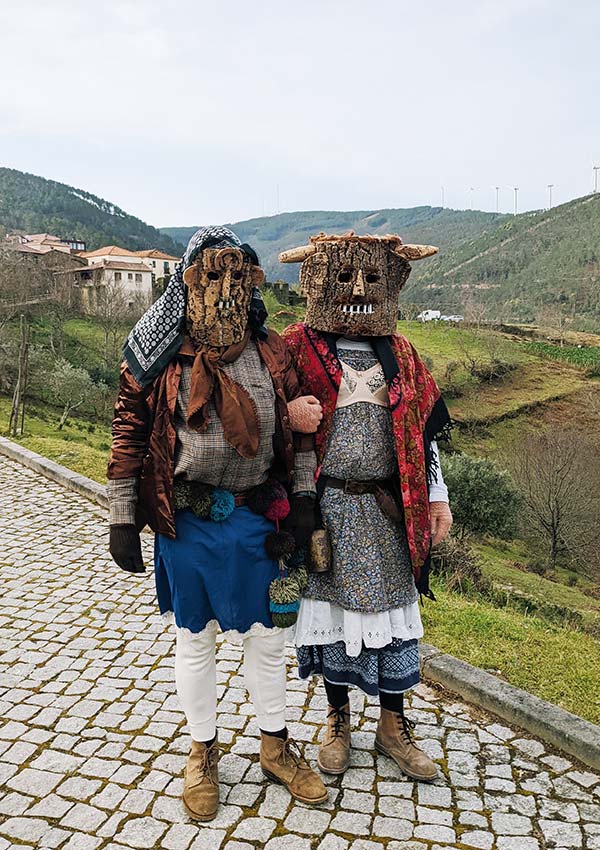 March
Primavera Festival da Flore (Spring Flower Festival)
When: 4-25 March
Where: Paredes, east of Porto
This floral spring festival celebrates all things flowers in Portugal. Expect streets filled with colourful banners, carriage rides, floral workshops, concerts, a parade and a market.
More information to come
April
Ovar em Jazz
When: 19-22 April 2023 (TBC 2024 dates)
Where: Ovar, south of Porto
Learn, experiment, celebrate and listen to jazz for four days this April with concerts, improv workshops, conversations and more in this eclectic program.
More information
Feira de São Marcos
When: 21-25 April 2023 (TBC 2024 dates)
Where: Alter Do Chão, Alto Alentejo
Combining traditions with modern Portuguese culture, this local fair brings horses, handicrafts, regional products and agriculture into the spotlight. There are also concerts featuring big Portuguese names in music, like Os Quatro e Meia.
More information
Ovibeja
When: 27 April – 1 May 2023 (TBC 2024 dates)
Where: Beja, lower Alentejo
Agriculture is the focus at the 39th edition of this fair that attracts more than 150,000 people each year and features more than 1,000 exhibitors. Explore themed pavilions, admire livestock and tractors, learn about rural life and enjoy big concerts.
More information
Festa das Cruzes
When: 28 April – 3 May 2023 (TBC 2024 dates)
Where: Barcelos, north of Porto
Expect a feast of colour, culture and Christ at the "Feast of the Crosses" in Barcelos. North of Porto, this festival is considered the first great romaria (basically a big outdoor party) of the northern Minho region and dates back to the 16th century. It's linked to a legend: apparently in 1504 local shoemaker João Pires was returning from mass when he saw a black cross in the middle of Campo da Feira. While it still has religious roots, there is also traditional folk performances, carpets made of petals, concerts and a procession. It's a party!
More information
VI Festival Internacional de Balonismo (Hot Air Balloon Festival)
When: 27 April – 1 May 2023 (TBC 2024 dates)
Where: Coruche, 70-minute drive from Lisbon
This hot air balloon festival in Coruche aims to raise awareness of the Montado territory, considered one of the 35 most important ecosystems in the world for the conservation of biodiversity (according to the WWF). Take a hot air balloon ride, watch the colourful balloons rise above the landscape, wander an artisan market, or enjoy street food, concerts and entertainment.
More information
May 2024
Madeira Festival of Flowers
When: May 2024 TBC
Where: Funchal, Madeira Island
The best spring festival in Portugal isn't on the mainland at all. The annual flower festival brings three weeks of celebrations to the island of Madeira, with the city of Funchal at the heart of all. Expect exuberant parades, old car shows, folk dance performances, a rare orchard house, pop-up markets and more.
More information
Setecentista
When: May 2024
Where: Vila Real de Santo Antonio, eastern Algarve
Go back in time to 18th-century life in the Algarve town of Vila Real de Santo António. Expect markets, banquets, parades, shows historical recreations — all true to the years 1774-1776 — marking the anniversary of the founding of the town. The program ends with a grand masquerade ball, in honour of D. José I, with a lesson in etiquette and dance. Free entry.
More information
Islamic Festival
When: May 2024
Where: Mértola, southern Alentejo
The Alentejo town of Mértola recalls its Arab past during its Islamic festival each May. Return to a time between the 8th and 13th centuries when Mértola was the capital of a Taifa kingdom and connected trade with the Iberian Peninsula and North Africa. Expect Arab dancers, musicians, artisans, couscous and tea.
More information
Queima das Fitas – Burning of the Ribbons
When: 19-26 May 2023 (2024 dates to come)
Where: Coimbra
Coimbra, Portugal's ancient university city, throws a massive party each May for its new graduates. Old students also descend on the city for reunions and it's a spectacle of parades, dances and serenades to celebrate the end of the academic year. It starts with a traditional serenade in front of the Sé Velha (Old Cathedral), then rolls into a week of madness, cultural events and hangovers. The most important event to attend is the burning of the ribbons in Largo da Feira.
More information
Imaginarius – International Street Theatre Festival
When: May TBC
Where: Santa Maria da Feira, between Porto and Aveiro
Circus, theatre and music descend when Imaginarius arrives each May. Portugal's largest street arts event attracts cabaret, theatre and comedy troupes from across Europe and the world to this Portuguese town. Best of all, it's free.
More information
Beja Romana
When: May 2024
Where: Beja, lower Alentejo
Step back 2,000 years to when Beja was Pax Iulia, thought to be the most important city in the south-west of the Iberian Peninsula. Back then the city had not quite shaken off the Iron Age but was fast progressing. Learn about Portugal's Roman heritage while enjoying street entertainment, music, markets and fun.
More information
IX Cruzeiro Religioso e Cultural do Tejo
When: May/June 2024
Where: Rosmaninhal to Oeiras, along the Tejo River
Over a month this religious pilgrimage makes its way down the Tejo River, from the Spanish border town of Santiago de Alcántara to Oeiras (just west of Lisbon). This is a journey of almost 300 km, and makes many stops along the way.
More information
June 2024
Festival do Atlântico
When: 2-24 June 2023
Where: Madeira
This brilliant fireworks festival takes place in Madeira over the month of June. Expect several spectacular displays taking place on different dates, with fireworks set to a curated soundtrack let off from different locations including the harbour, beach and ocean. Beyond fireworks, expect concerts, dance performances and exhibits too.
More information
NOS Primavera Sound
When: 7-10 June 2023
Where: Parque da Cidade, Porto
This major music festival takes over Porto each June, bringing a killer line-up of national and international artists to multiple stages within the Parque da Cidade (City Park). The year 2023 brings Kendrick Lamar, Pet Shop Boys, Rosalia, FKA Twigs and more to Portugal.
More information
Good to know: As one of Porto's biggest summer festivals, you want to plan ahead. If you need accommodation, book early. This festival is held near the coast, so it would be better to stay in Matosinhos or Foz do Douro than the city centre (if you can).
O Tapete Está na Rua
When: 7-11 June 2023
Where: Arraiolos, 80-minute drive from Lisbon
Arraiolos is a village in the Alentejo that's famous for its beautiful carpets or rugs. "The Rug is on the Street" brings the artisans and their work out from behind closed doors, transforming the town into a gallery. Expect to see many examples of the local tapestry spread across the streets and squares, and hung on doors, windows and balconies with women working away. Naturally, there will also be concerts in the evening and plenty of food.
More information
Arraial Pride
When: June, TBC
Where: Praça do Comercio in Lisbon
Since 1997 the Arraial Pride has been Portugal's largest LGBTI+ community and gay pride event – more than 75,000 attended in 2019! June is already a party in Lisbon, and the Arraial Pride steps it up another notch with even more music, food, drink and dancing towards the end of June. The date for 2023 is still TBC, but it's usually held in the main square, Praça do Comercio.
More information
June
Santos Populares
When: June 12, but really all of June
Where: Lisbon's oldest neighbourhoods
Every June the smell of sardines and sound of pimba music ricochets through the narrow cobbled streets of the city's most traditional neighbourhoods during a month-long party. The Santos Populares Festival, sometimes called the Festival of Sardines, peaks with the so-called longest night of the year in Lisbon on June 12. That night we celebrate Santo António with an all-night street party – think drinking, dancing and grilled sardines. I've written a guide covering everything you need to know if you find yourself in Lisbon in June during the Santos Populares or Santo António Festival.
More information – read my guide to Santos in Lisbon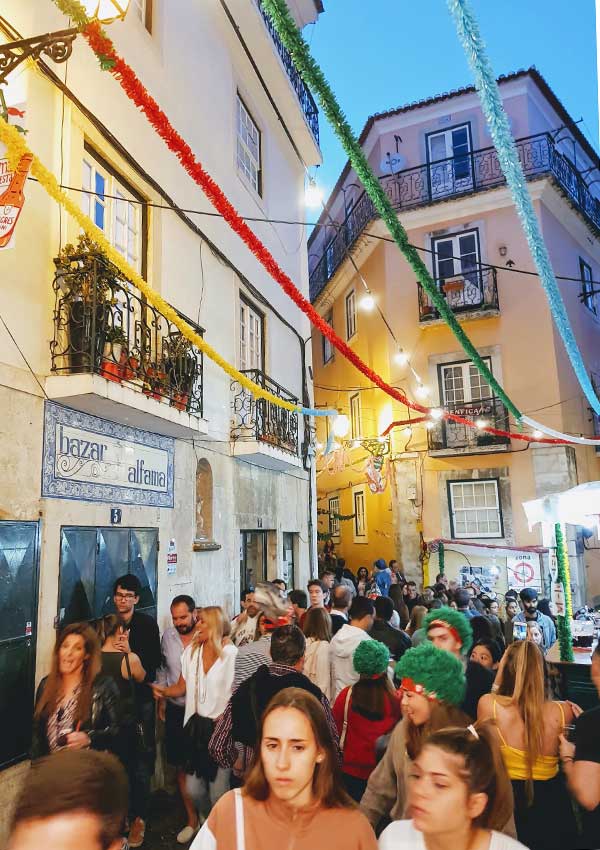 Festa de São João
When: June 23 and 24
Where: Porto
For more than 600 years the people of Porto have been celebrating the "Feast of Saint John" on June 23 and 24. Similar to Lisbon's celebration of St Anthony, in Porto expect a massive street party with traditional music, drinking, dancing and grilled sardines. But Porto's festivities have a few differences. People walk around hitting each other on the head with plastic hammers (originally leeks), they jump over bonfires, release lanterns into the sky, and there's a fireworks show at midnight. But the party doesn't stop there – they go until the sun comes up, with some even walking some 6km Ribeira to Foz do Douro to watch the sunrise from the beach.
Porto isn't the only place to celebrate São João – the nearby city of Braga also parties on.
Festa do Colete Encarnado
When: 30 June – 2 July (2024 dates TBC)
Where: Vila Franca de Xira, north of Lisbon
About 20 minutes north of Lisbon, the biggest event in Vila Franca de Xira feels a world away from city life. Festa do Colete Encarnado (or Festival of the Red Waistcoat) is a three-day festival that takes its name from the traditional red waistcoats worn by campinos or cowboys/bull fighters. Day one features a parade celebrating the campino, then the bulls are let loose on the streets and silly young men try to avoid the carnage – there have been casualties in the past.
More information
Festas Populares São Pedro, Montijo
When: 27 June – 3 July 2023 (2024 dates TBC)
Where: Montijo, south of Lisbon
Eat, drink and be merry late into the night is the vibe of Portugal's popular saints festivals – and the same happens in Montijo. Here the streets are decorated with balloons, flowers and basil with a number of events during the festivities. On June 29 there's a religious procession on the river with decorated fishing boats, and another at night.
More information
July
Festival Med
When: 29 June – 2 July 2023 (2024 dates TBC)
Where: Loulé, Algarve
This world music festival takes over the historic centre of Loulé, bringing the sound and vibe of several countries to Portugal. Expect well-known world music names plus street theatre, artisan markets, dance and an international street food market.
More information
NOS Alive
When: 6-8 July 2023 (2024 dates TBC)
Where: Passeio Marítimo de Algés, Lisbon
The Arctic Monkeys, Red Hot Chilli Peppers, Sam Smith, Lizzo, Lil Nas X, The Black Keys and Queens of the Stone Age are all headlining this major music festival in Portugal in 2023. I find NOS Alive is always super well organised and great to attend (Ladies, I'm talking next to no bathroom queues at a really, really big festival. Awesome).
More information
Good to know: You can easily stay in Lisbon and take a short train, tram or taxi to the festival grounds on the riverbank west of the city. To be closer to the action, stay in Alges – but know that the music doesn't really start until 5pm.
Festival dos Canais
When: 12-16 July 2023 (2024 dates TBC)
Where: Aveiro, one-hour south of Porto
In 2022, this festival welcomed about 400 artists from 16 countries to 25 locations across Aveiro. This community and culture event will return for five days this July, bringing the coastal university city to life.
More information
Super Bock Super Rock
When: 13-15 July 2023 (2024 dates TBC)
Where: Meco Beach, south of Lisbon
The 1975, Franz Ferdinand, Steve Lacy and more will descend on Meco, south of Lisbon and close to the beach. Choose to camp or take direct transport to Lisbon and enjoy this major Portuguese music festival. Super Bock Super Rock always delivers a brilliant international line-up and is one of the best music festivals in Portugal.
More information
Good to know: This major festival near Lisbon is a little hard to reach. Make a plan to camp at the festival, take the coach or organise accommodation close by Aldeia do Meco.
August
Viagem Medieval
When: 2-13 August 2023
Where: Santa Maria da Feira, between Porto and Aveiro
Viagem Medieval (Medieval Journey) is Europe's largest medieval recreation event, held annually in Santa Maria da Feira. More than 1,600 performers bring the Middle Ages to life over 12 days of festivities. Each year has a different theme and tells a new story of Portugal's history. There is a small entry fee, plus you can book costumes.
More information
Festas Gualterianas
When: first weekend of August, 4-7 August 2023
Where: Guimarães, north of Porto
This grand fair in celebration of São Gualter (St. Walter) has taken place in the "birthplace of Portugal" since 1906. The most unusual event on the line-up of parades, markets, dancing, music and entertainment is the "Battle of Flowers".
More information
Romaria de Nossa Senhora da Agonia
When: 14-22 August 2023
Where: Viana do Castelo, north of Porto
If you're a fan of filigree jewellery, fishermen and feasts don't miss the biggest event of the year in Viana do Castelo. There are stacks of events, parades, concerts and celebrations to choose from with everything focused around August 20, a religious day. In 2023 I'm planning to venture up on the Thursday to catch the Mordomia Parade where thousands of local women wear beautiful folklore costumes (trajes) and march down the streets with huge quantities of gold around their necks. These are mostly heirlooms dating back centuries, but together it makes the largest outdoor showcase of gold in the world.
More information
Silves Medieval Fair
When: 10-20 August 2023
Where: Silves, west Algarve
Step back into the Middle Ages with this medieval fair that returns Silves to its golden age. Over nine days see how the Moors and Christians lived in this old city, once the capital of the Algarve during the Arab occupation. We attended pre-pandemic and I was so impressed by the dedication to detail – no plastic cups or plates, all locally made terracotta ceramics – plus there was loads of entertainment including jousting, jugglers, acrobats, dancers and snake charmers.
More information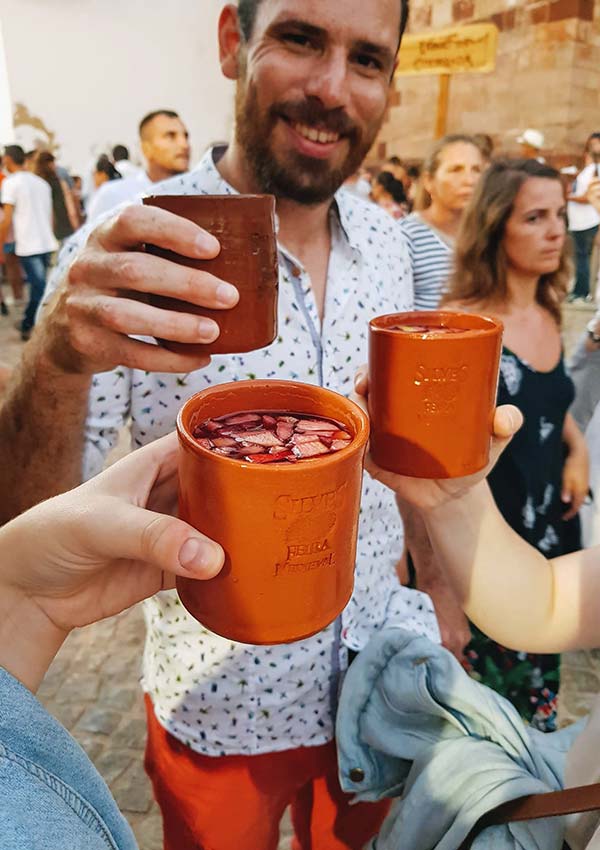 Cerco de Almeida (Seige reenactment)
When: 25-27 August 2023
Where: Almeida, near Serra da Estrela
Located on the border with Spain, Almeida is an ancient fortified town with a long history. Venture back to 1810 during the third French invasion and the Siege of Almeida (Cerco de Almeida). This historical recreation takes place each August with three days of battles, combat and military activities between the Allied Troops and Napoleon's Army. Plus expect entertainment, workshops and a 19th-century ball.
More information
Portugal has so many cool events that showcase the country's vibrant culture, music and food. Have I missed something worth talking about? Let me know in the comments….
Don't forget to read my specific events guides covering the best music festivals, food festivals, and medieval events across Portugal in 2023.