Thirty 400-gram bread rolls are weaved into a human-size, paper flower-covered tower balanced precariously atop the 748 women marching by. Hundreds of these flowery 1.5-metre high piles bob through the enchanting Central Portuguese riverside town of Tomar on the shoulders of strong local ladies. The bearers range in age from 20-something to their 80s. Some look relaxed and joyful, while others are clearly struggling under the weight of their awkward 16-kilogram-plus burden. It's a never-ending tide of bread, flowers, colourful-sashes and applause as the ladies in white dresses parade for five kilometres around Tomar, making this spectacle more like a marathon and physical feat.
This isn't your average small town Portuguese festival. The Festa dos Tabuleiros happens just once every four years, with the next event in July 2027. It's a special occasion that transforms the town into a sea of colour. Locals decorate every balcony with drapes, every street with intricate crepe paper designs and, of course, the classic festival vibes that Portugal does so well.
What is Tomar's Festa dos Tabuleiros (Festival of Trays)?
The Festa dos Tabuleiros is believed to be one of the oldest and largest festivals in Portugal, nowadays seeing over half a million attendees each year. From what I can gather, its roots date back to pagan traditions celebrating the harvest, hence all the bread and flowers. But as with all old things, it's a lot more complicated than that. Over time the festival has become wrapped in with the Catholic cult of the Holy Spirit and in particular Saint Isabel and the miracle of the roses. Legend has it that Queen Isabel was helping the poor behind her husband's back, and one night snuck out with bread in her dress when her husband followed and confronted her. Miraculously, she lifted her dress and revealed only flowers – "they're roses, senhor!". In line with the Catholic cult influences, the bread represents the 30 coins over which Judah is said to have betrayed Jesus.
What's a tabuleiro?
The tabuleiro (usually translated as tray) is a wicker basket draped in white cloth, that holds a giant bread and flower tower made from five canes and topped off with a crown. The tabuleiro tower is made up of 30 loaves of bread, weighing 400 grams each and is supposed to be the same height as the carrier. The top of the structure is generally decked out with a cross or pigeon (yes, that's right) of the Holy Spirit.
When we visited on the biggest day – the Sunday – in July 2019, there were 748 women carrying the tabuleiros, which are made by hand in the months leading up to the procession. Interestingly, the bread is just normal bread and the people making the tabuleiros generally eat a few that "accidentally" break with cheese and presunto (prosciutto) when they finish working. This article is in Portuguese but it has a tonne of beautiful pictures and video of the preparations.
Preparations start almost a year out and the celebrations begin just after Easter, stretching all the way until early July, which is when the real party happens.
The main parade of the Festa dos Tabuleiros
There are a few parades as part of the 10-day Festival of Trays in Tomar, but the main one you want to see is on the Sunday. The parade begins in the town's central square with a blessing of the Cortejo dos Tabuleiros (the main procession). The women then all rise as one (this is meant to be magical to see, but sadly we couldn't see it from where we were standing!) and proceed to weave their way through the town, covering upwards of 5km.
Picture this: hours of walking around balancing a 1.5-metre (or more) tower weighing anywhere between 16 and 18kg….you'd want to have done some decent training in preparation.
We were there for the main procession, but there are so many other events as part of the festival, including the exceedingly cute children's procession – which is just the same thing but scaled down for kids as young as three. If you arrive on the Saturday before the main parade on Sunday, in the afternoon there are traditional games including a donkey race, wood cutting, quoits, a cart race and more.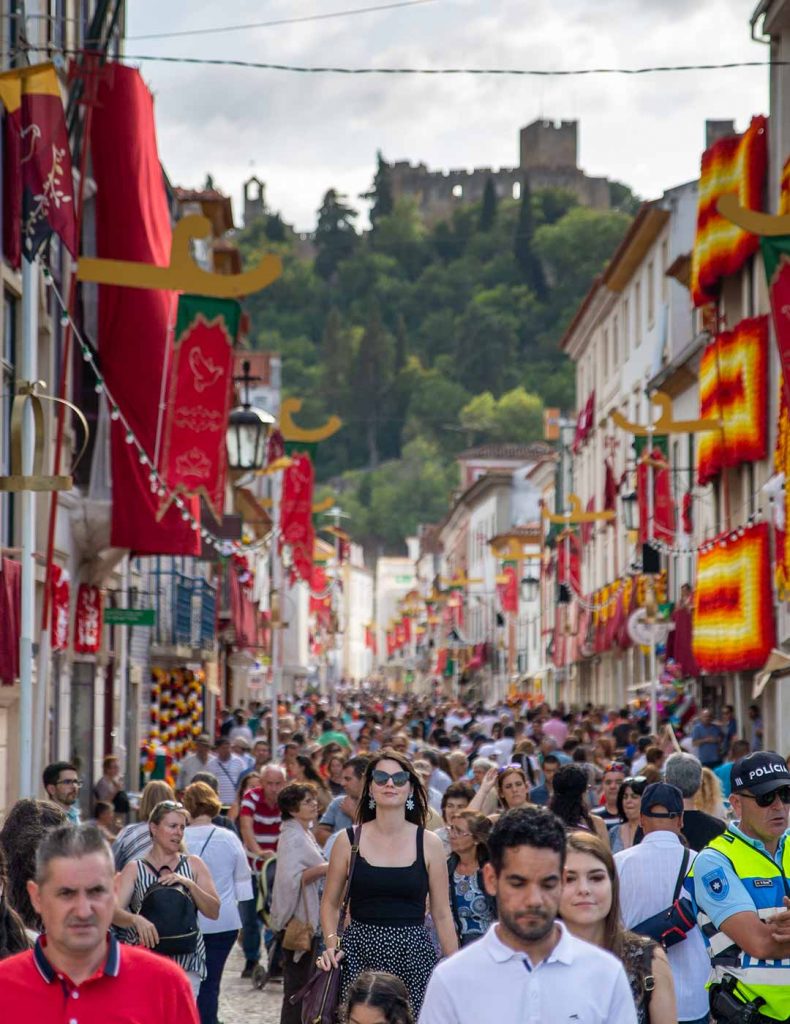 A vida é uma festa (life is a party) in Tomar during the Festa dos Tabuleiros
Outside of the procession itself, the whole town is decked out in a breathtaking display of crepe paper flowers, leaves and intricate decorations. Whole streets transform from residential alleyways to Alice in Wonderland-like colourful floral paper landscapes. Being a Portuguese cultural festival, there's also music and marching bands, plus beer, wine and food spilling from every alleyway, corner and doorway all day and night.
Getting to Tomar
It's a two-hour train ride north from Lisbon to Tomar's Festa dos Tabuleiros. Regular trains run from Santa Apolonia station to Tomar and take approximately two hours. Since it is outside the greater Lisbon region you'll need a ticket from CP and it's cheaper if you purchase online a few weeks in advance.
By car, Tomar is just a 90-minute drive from Lisbon or just under two-hours from Porto.
We almost didn't make the trip when we went in 2019 as I had a work shift that day. In hindsight, I'm so thankful we made the effort as otherwise we would have missed out on one of the most visually overwhelming cultural festivals I've ever seen.
Where to stay in Tomar
Tomar is a beautiful town that is most famous for its Templar history, with a practically intact castle and church. To squeeze in festival fun and sightseeing, you might like to stay overnight or for a couple of days. If there are still rooms available, Hotel República is gorgeous and on the central square, or try Casa dos Oficios nearby. Arcos 61 rents cute little apartments in town, as does Flattered to be in Tomar. Find more Tomar accommodation here.
The next Festa dos Tabuleiros will fall in July 2027. Find out more information on the official website.