When it comes to where to eat in medieval Guimarães, the answer feels like it should be snacks at a tavern, a homely bistro or an old-man bar. This surprising smaller Portuguese city serves up all three, along with a few dining gems, from a chic French-inspired bistro to a Michelin-starred diner.
Eating out in the north of Portugal is always a joy. Up here the traditional Portuguese cuisine is heartier and heavier, and you'll taste the best enchidos (smoked sausages) of your life. Surrounded by valleys and mountains, and in close proximity to the coast, you're guaranteed to eat well in Guimarães.
Make sure you order a glass of vinho verde with each meal. While you can find this fresh, zesty and slightly effervescent white wine across the country, it's only up here in the Minho region that it's common to find a red (or vinho verde tinto). It's served in small, white porcelain bowls, which makes the experience all the more fun. Just watch out for sediment and red teeth.
From MIchelin-stars to five-star sweets, read on to discover my pick of restaurants, bars and cafes in Guimarães. Here is a guide on where to eat in Guimarães.
Related Blog: Weekend guide to Guimarães
There's nothing I love more than snacks. At Taberna Trovador the menu is based around petiscos (small plates) so you can order widely, sample lots and pay little. My favourite dishes were the rojões, a dish from the north that is pork with cumin and other spices, and cordoniz (fried quail). Since we're in the heart of Vinho Verde country, we opted for a bottle of local vinho verde tinto da casa (red wine from the vinho verde region), served in little bowls. I would recommend booking a table for this tiny tavern to avoid disappointment.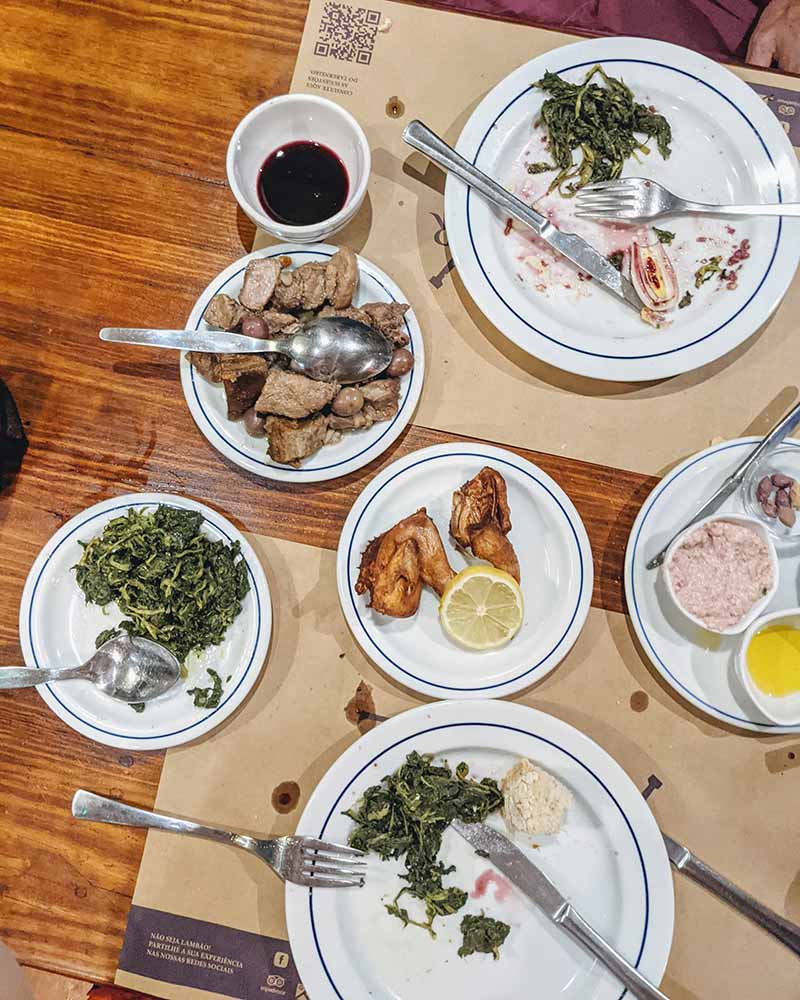 Tasquinha do Tio Julio €
The doors at Tio Julio have been open since 1981. Drop in for a fino (small beer), caldo verde (cabbage soup) and prego (steak sandwich). Apparently there are no opening hours, but Tio Julio is almost always there to welcome you. On a sunny day, there's no better seats than the ones scattered outdoors in the small square.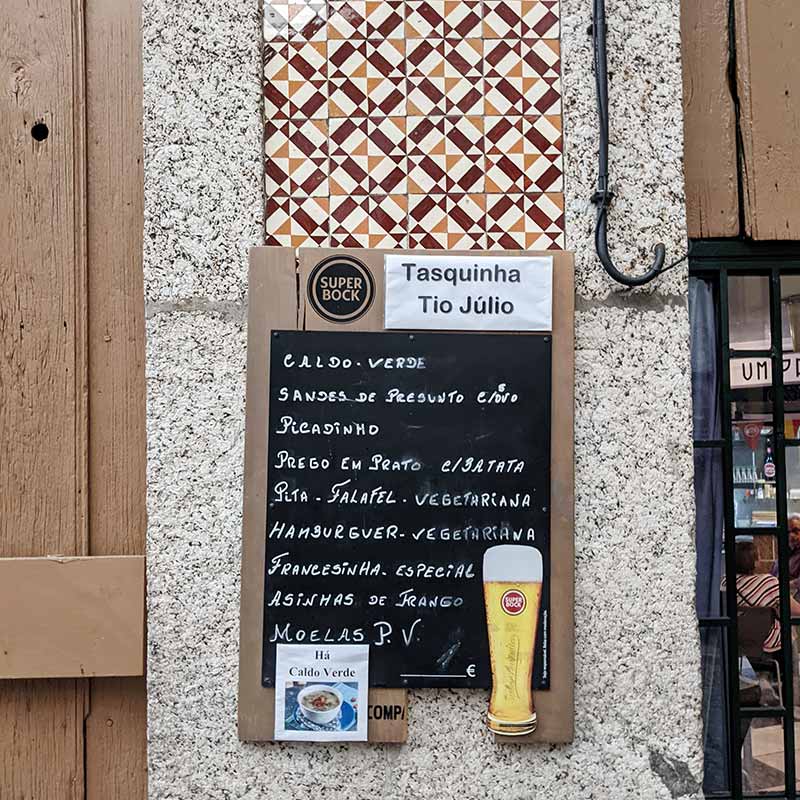 It's been a long time since I stepped into a fine diner and chef Antonio Loureiro reminded me about what a joy they can be. A Cozinha is a neat little Michelin one-star restaurant tucked in the old town. Loureiro pays respect to Portuguese flavours, using local and seasonal produce. Being a smaller destination, this is one of Portugal's more affordable Michelin dining experiences. Definitely get the wine pairing.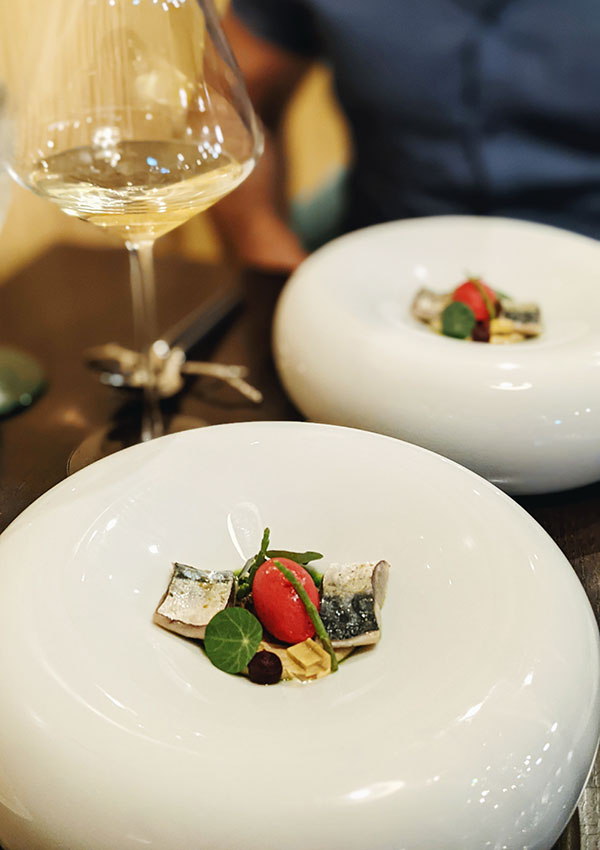 This little slice of Paris in Guimarães offers a great value three-course lunch menu. French chef Christian Rullán changes up the menu every couple of weeks and the standard is high, earning Le Babachris a Michelin Bib Gourmand stamp.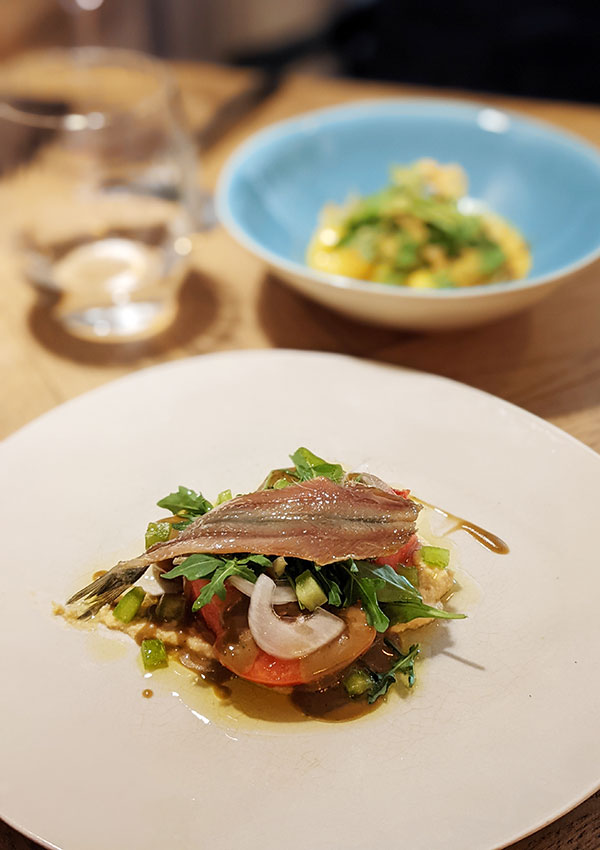 Unique is the word to describe Adega de Ermitão. Set within the forest park of Monte da Penha, the giant rock boulders shape this canteen. In the kitchen is a family affair with the senior matriarch creating flatbreads and managing the wood-fired oven, set in a rock under a tent structure. Order flat bread and fried sardines, really excellent rissois (savoury pastries) and pork ribs. To order wine, you have to visit the bar, tucked in a different cave between a couple of boulders. Bring cash.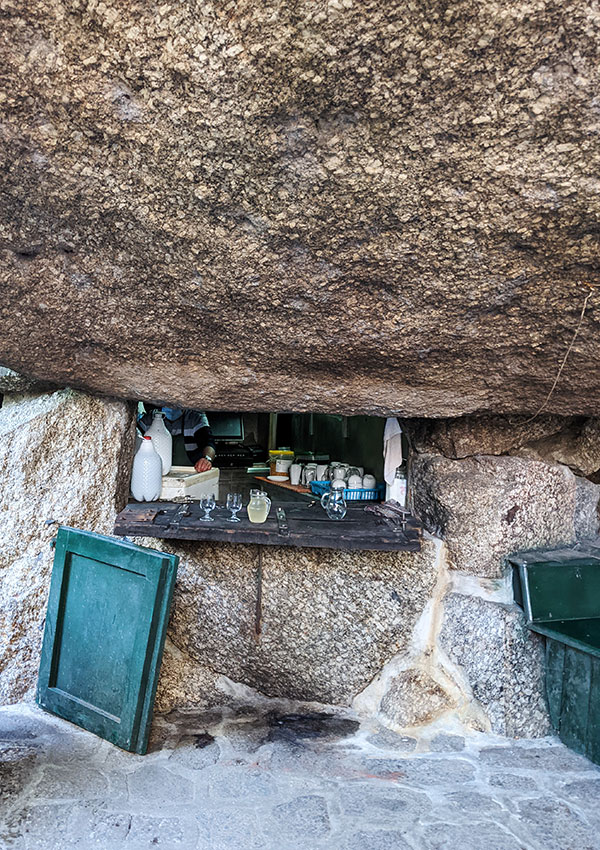 Tasca Expresso €
If you want a unique spot to snack, go back in time at Tasca Expresso. Here antiques hang from the ceiling of this rustic bar. Senhor Clemente the owner pours white or red wines from the local vinho verde region into bowls. Knock a couple back with homemade bread and smoked meats or cheeses.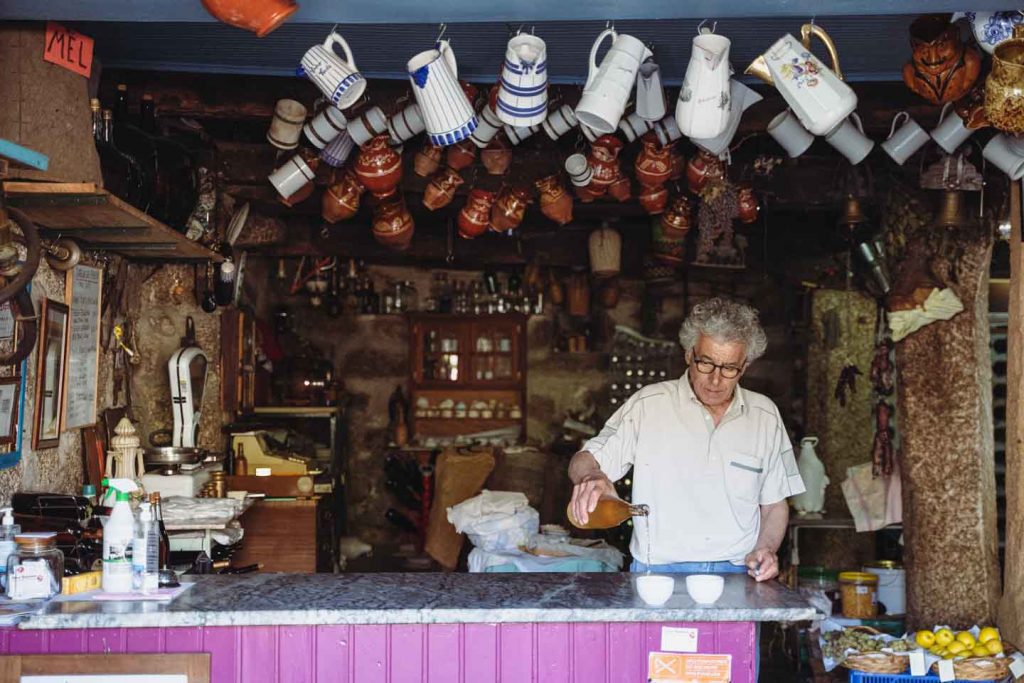 Every town in Portugal is proud of its doces conventuais (convent sweets). Essentially, it seems the nuns had access to sugar, leftover egg yolks and ingredients like cinnamon, lemon and almonds. With that and some imagination, each village, town and region has celebrated local sweets with an eggy side. In Guimarães we have Toucinho do Céu and Torta de Guimarães. I prefer the latter, a crunchy slightly savoury half-moon pastry with buttery layers and a stringy, rich egg and almond centre. Turns out the savoury note isn't butter, but pork fat. Vegetarians – you've been warned.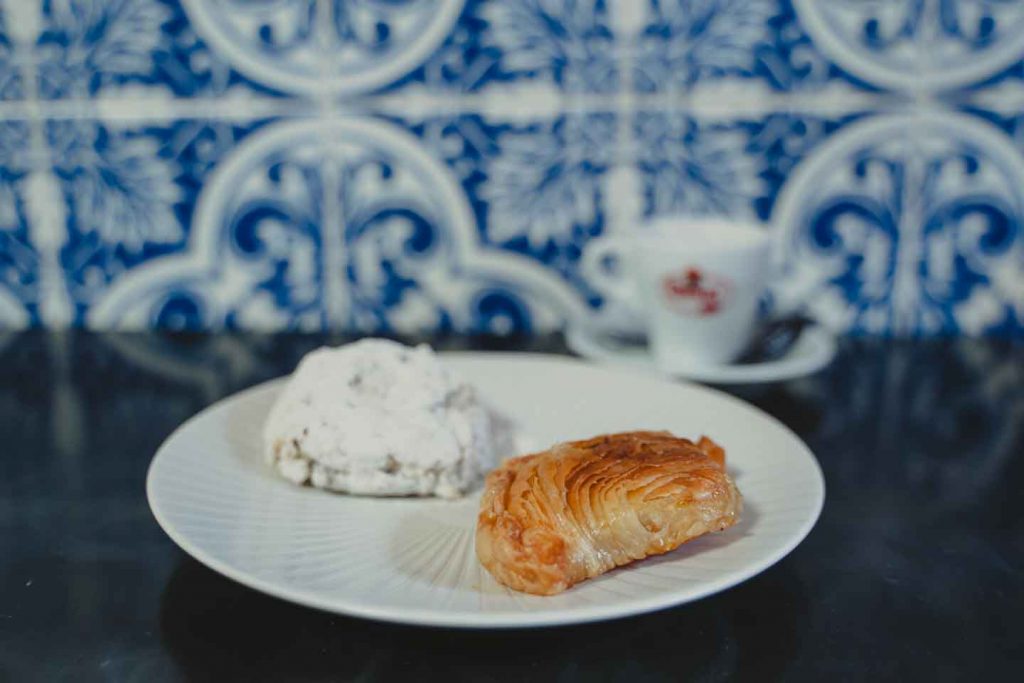 The best place to try both sweets is at the original Casa Costinhas. Legend has it that a nun from the Convent of Santa Clara took in two orphan nieces. The establishment of the Republic meant they were no longer allowed to live in the convent with their aunt. So they found a house close to the convent and the three women started baking sweets to make a living.
I always visit the mercado municipal when travelling throughout Portugal. It's a chance to pick up locally-grown produce, discover regional products and spy on cute old ladies. The Guimarães market hall was actually incredible – full with vendors selling fruit and vegetables, meat, fish, baskets, flowers and more.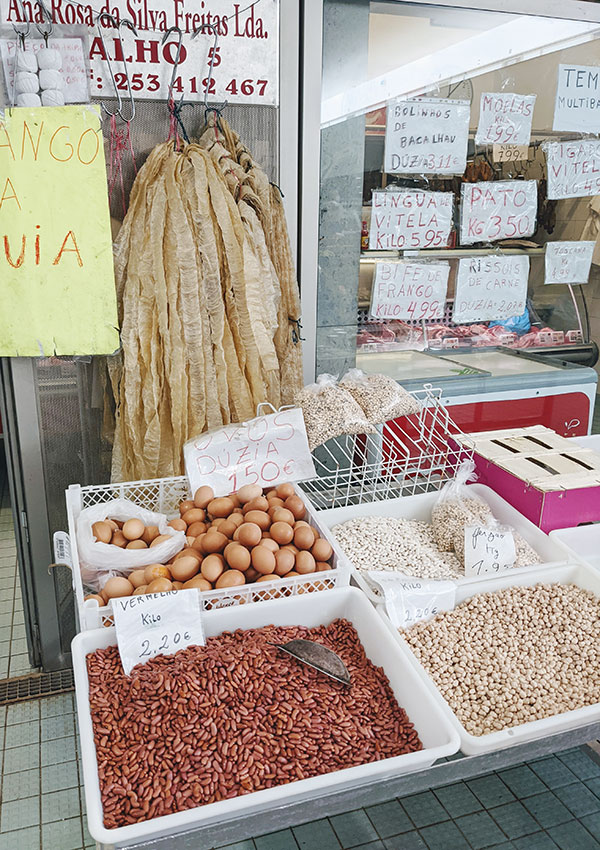 What I found most interesting were the temporary vendors – as it was Feira day. In the giant enclosed balcony off the market people didn't have stalls, just a couple of metres of floor space and a few buckets of goods. You know the food miles are low when you're buying seasonal plums off a lady who only has half a dozen cabbages, a bucket of lemons and some fresh flowers to sell. It takes farm-to-table to a whole other level.
More restaurants to try in Guimarães
São Gião – for game meat or fish
O Talento – for cabrito (goat)
Outeiro – traditional cuisine
Restaurante 34 – chic Asian fusion
For coffee, simply choose somewhere on one of the central squares and enjoy the atmosphere.
Related Blog: 14 best things to do in Viana do Castelo
Is there anywhere else I should eat and drink in Guimarães next time I visit? Let me know in the comments….