Golden hour seems infinite in Monsaraz, a medieval village perched on the highest hill for as far as the eye can see. The sun dawdles downward almost painfully slowly, drenching lakes, fields and ant-like cars in its gilded light from the horizon all the way to Spain in the east.
Incredible scenery stretches endlessly in every direction beyond the preserved village walls. The worst thing about this place is choosing which side of the village to look at the view from. Half a dozen streets are lined with wonky white walls, oversized doors and thick, hand-made iron handles. The sunset bounces off the white before being swallowed up by dark slate cobblestones that pave the way to the ancient castle.
Standing at the top of our own private turret we watched the glow slowly drift into darkness over a patchwork of cork fields, vineyards, olive groves and quintas.
On one side an enormous lake is a blue mirage in the dusty Mediterranean landscape. The only sounds are bells — the chorus of cows grazing kilometres away — and the clock tower in the village.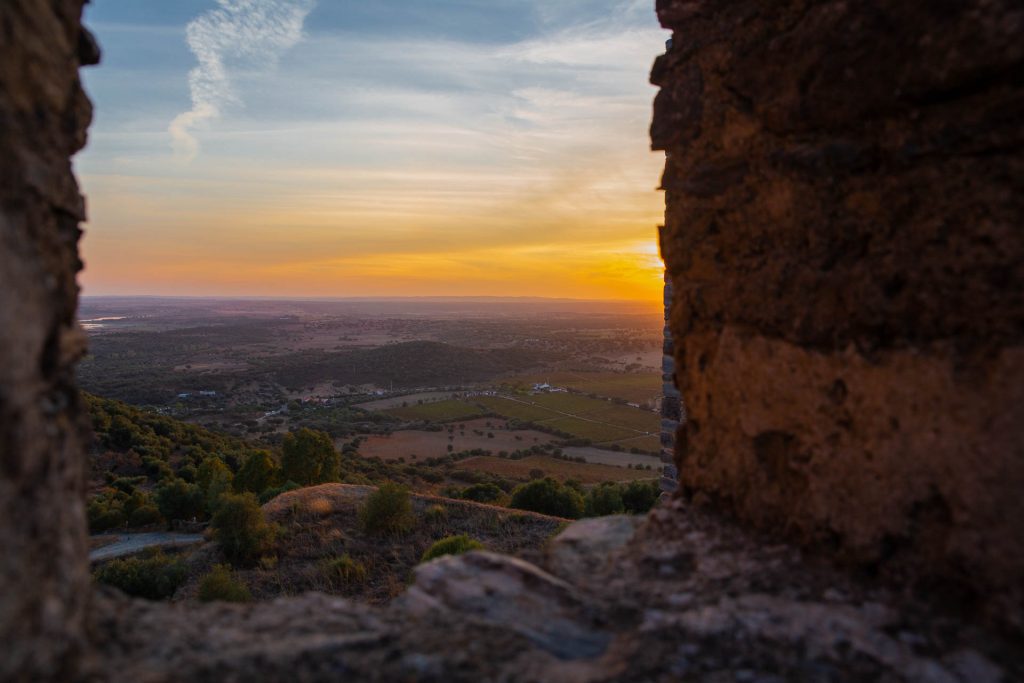 What to do with 48 hours in Monsaraz
Monsaraz village is one of the most magical places I've stepped foot in. The sunset I described above is in my top five ever and I cannot wait to return. But Monsaraz is more than just this teeny, tiny hilltop village frozen in time. This area of the Alentejo region is dotted with cute towns, wineries, olive groves, prehistoric monuments and the biggest artificial lake in Europe. Here's my suggestions for things to do and see in and around Monsaraz.
Wander Monsaraz Village
I know I keep going on about it but you definitely don't want to miss the sunset from Monsaraz. The ancient village is small, with just a couple of restaurants, two wine bars and a handful of small artisanal shops that sell ceramics, gourmet food and locally made rugs. The castle and its turrets loom over the village and its bullring, offset by the bell tower at the other end of the hilltop hamlet.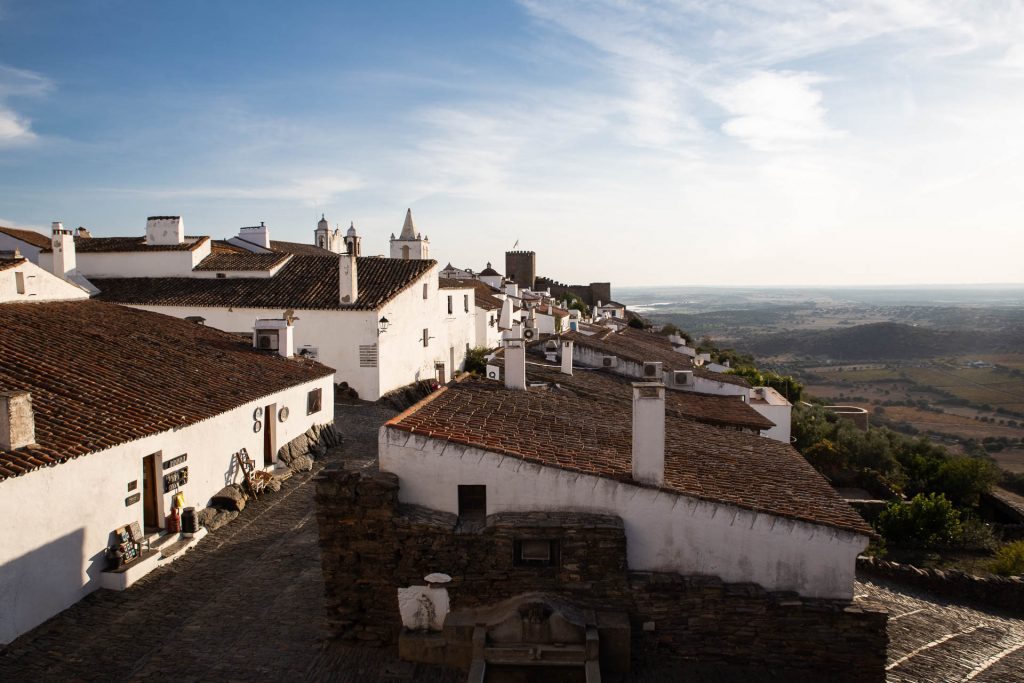 Head down to Alqueva Lake
We'd just travelled more than 150km directly away from the ocean so I wasn't expecting to be sunbaking on a golden sandy beach complete with lifeguards, flags and an impromptu volleyball game. But this is Europe's largest artificial lake (or dam) and while its main job is to irrigate the entire Alentejo region, it's a popular spot to swim, boat, waterski or even rent out a houseboat.
We dropped into Praia Fluvial de Monsaraz where a manicured park, cafe, beach and some tourism companies are set up. As far as beaches go, it's not going to make the top 10 list for Portugal, but on a 30-something degree day, a dip in the lake was perfect.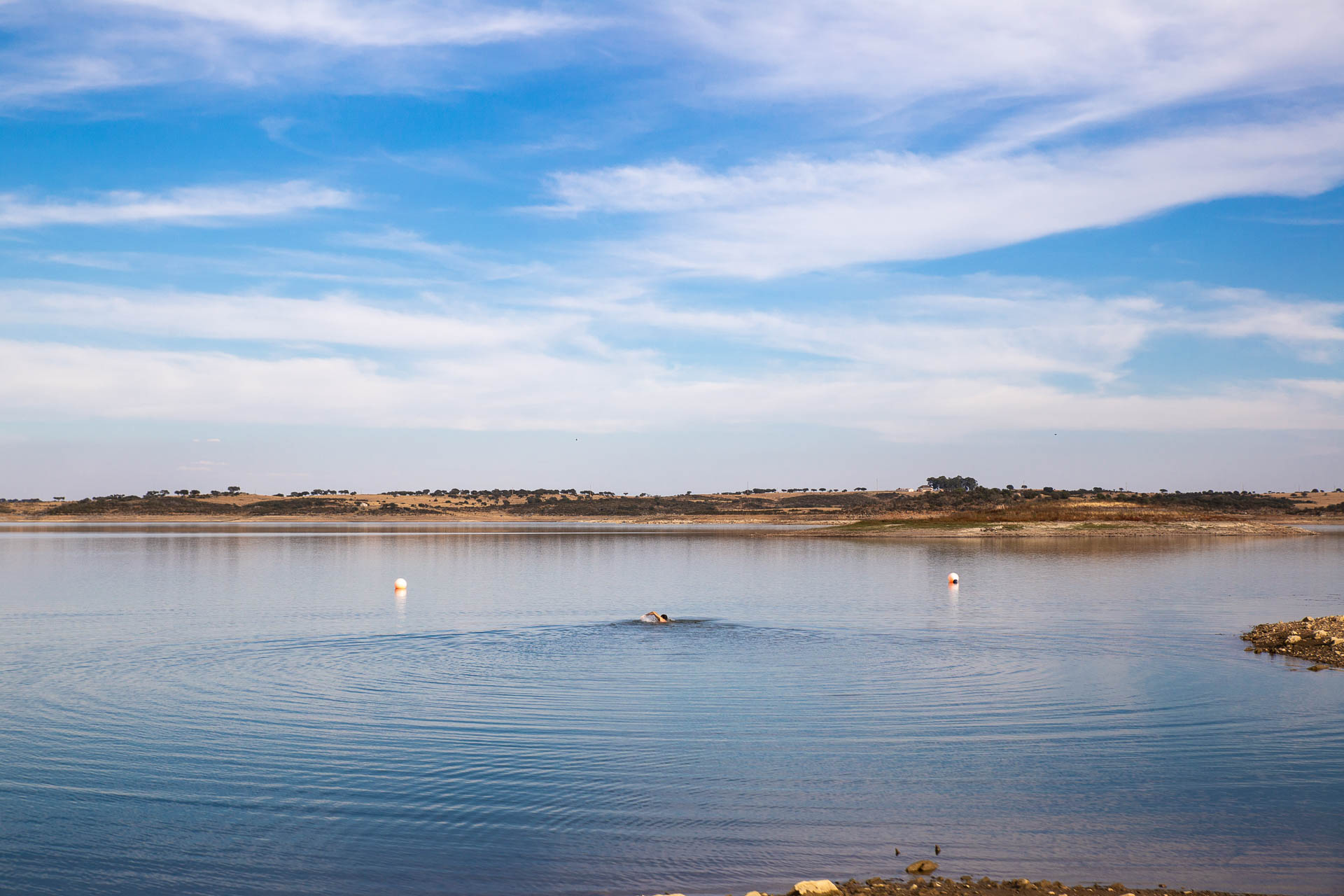 Taste wine at Herdade do Esporão
Esporão is one of Portugal's biggest winemakers and the mega property out here is impressive. I'm usually more into small-scale, quirky, independent producers but I was curious to see how one of the big guys does wine.
Production here is state of the art after a 2018 refit but while the giant stainless steel wine-making facilities were cool to see, I found the aging process most interesting. Besides wine barrels and stainless steel, they work with marble, concrete and super traditional clay. Big concrete "tulipas" somewhat mimic the traditional terracotta "talhas" (see below), allowing the wine to breathe and take on a more minerally taste, rather than the warm notes you get from oak. Esporão still makes a small range of talha (amphora, not that the translation helps much in this case) wines matured in big clay pots that are more than 100 years old but it's a tiny proportion of production.
The Alentejo already has notoriously hot summers putting it right in the climate change firing line. Esporão is running a fascinating project studying a field stocked with 180 different varieties to test their suitability to the region's changing climate.
Watch incredible artisans weave rugs
For more than 100 years the women of Reguengos have been weaving rugs in colours inspired by the region's wildflowers. Their feet dance on four pedals, writing the score for various traditional patterns, while their hands swiftly pull ropes conducting the orchestra of tiny threads shooting back and forth across the loom. Rug weaving at Fabrica Alentejana de Lanificios is a true art.
Just last year, new blood took over the factory with the promise to continue the rich tradition. In a small nod to innovation, Antonio Carreteiro and his partners also introduced some more minimalist designs and started turning some of the rugs into new products such as pillows, bags and pouffes.
It's absolutely worth making an appointment to tour the factory. One of the owners took us through, explaining the process and showing some of the old looms. Then we entered the main factory. Not much has changed it seems. The room is filled with giant, mostly wooden looms where three women are working away quietly. Click clack, click clack. One stops to spool wool from a bundle onto a smaller spool. Then it's back to filing custom orders or making rugs for the showroom and the shop store in Monsaraz village.
Buy ALL the pottery at Corval
The tiny town of Sao Pedro do Corval has made a name for itself as Europe's largest pottery centre. Step inside one of the storefronts and you'll likely find both a shop and workshop. Men covered in red dirt spin terracotta clay into plates, jugs and cups on the wheel, while others paint the final pieces with colourful patterns and local designs. There are something like 25 individual pottery businesses or more in the village (and there's only one ATM). Come ready with cash!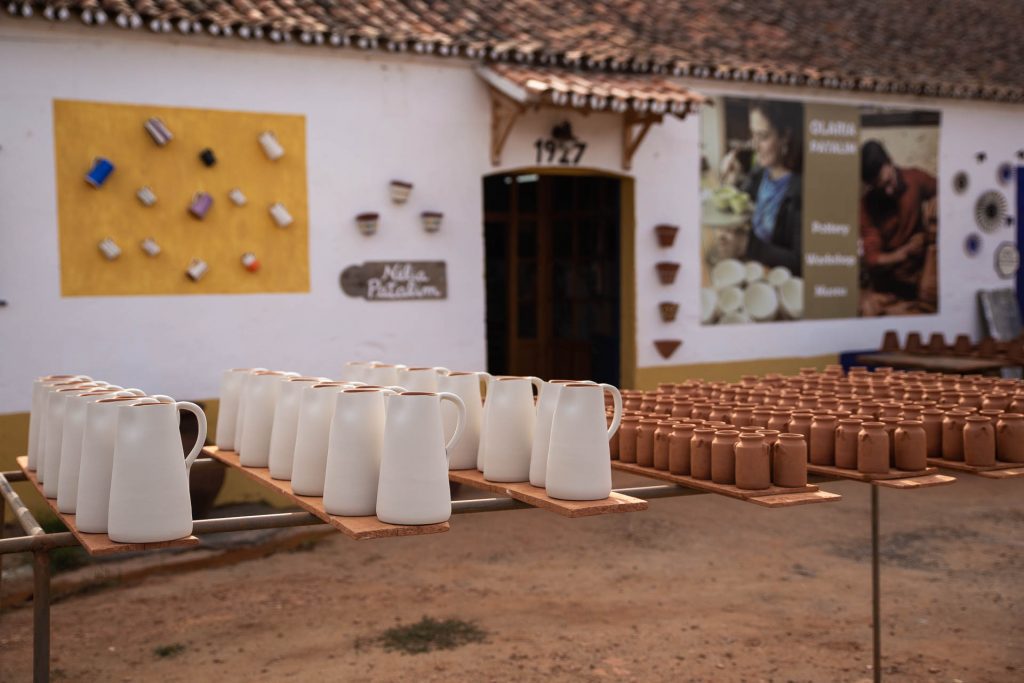 Visit Portugal's largest olive tree with a prehistoric monument
The gnarly twisted trees of this ancient olive grove are the perfect setting for an even older monument. Anta do Olival da Pega is believed to have been built between 3500 and 3000 BC and has witnessed at least 134 burials. Death aside, there's something magical and moving about this patch of earth. We visited at dusk, the dimming light only adding to the atmosphere.
Next time we'll head a little earlier to set up a picnic between the olive trees, some of which are estimated to be more than 2000 years old.
Where to eat
Sabores do Monsaraz
You'll know Isabel when you see her. She'll hopefully pop over to your table, recite the day's menu verbally and then discuss what you'd like. The lady of the house takes care of things while you just sit back and soak in the view over the lake from Monsaraz village. Sabores do Monsaraz is a must.
São Lourenço do Barrocal
I love a long lunch at rural luxury hotels and here, as expected, the restaurant is fantastic. Every meal we ate on this trip involved locally bred porco preto (black pig), the same pig used for prized iberian prosciutto. The dish here, served with migas, a traditional side made with bread and herbs, was phenomenal. After lunch we took the chance to explore the property and make friends with the horses.

Adega do Cachete
In Corval this local tasca served up the best traditional porco preto dish we'd had all trip. And a monster serving at that. The space is super rustic with lots of typical Alentejo objects adorning the walls, paper tablecloths, terracotta crockery (of course) and a TV (also of course) on the wall.
Also try: A Grelha, Taverna os Templários, Restaurante Sem-Fim
Where to stay
Maybe one day we'll stay a night or two at this relaxed luxury hotel set on an incredible working property. With incredible design, a spa, multiple pools, horses and firepits, this is the sort of countryside luxury worth splurging on. Check availability & rates.
If, like us, you prefer to spend all your cash eating out and buying rugs, then this cute apartment we stayed in is a great option. Located on the edge of a small village, the newly renovated one-bedroom apartment was perfect for the two of us. It has a little rooftop and the owner was amazing – he spoke with us for nearly an hour giving us local tips. Check availability & rates.
In Monsaraz Village
Next time we'll try to book a spot within the village walls. Given the sunset there is so amazing, I'd love to see a sunrise too. There are a few small Alojamento Local (local accommodation) guesthouses in town.
Have you been to magical Monsaraz? What else would you do with 48 hours in Monsaraz area? Leave me a comment…