When diplomacy was more swords than handshakes, castles were critical for Portugal's defence, especially against attacks from neighbouring Spain and the Moors.
When the Zamora Treaty was signed in 1143, D. Afonso Henriques became the first King of Portugal, and Alphonse the VII of León and Castile, recognised this small nation as an independent kingdom. That moment way back then makes Portugal one of Europe's oldest countries today.
But further back and so many more civilisations have toiled this land and left their mark on the towns and cities. Some of the beautiful and enchanting castles scattered across Portugal's hills count more than 1000 years of history, and nothing beats freely scrambling around the ramparts and towers of an old stone fortress.
Portugal's coastline and countryside is peppered with gorgeous castles, most of which are free to visit. Discover the best of Portugal's dark, turbulent history and more romantic side through the many enchanting castles and defensive fortresses scattered across the small Iberian nation.
Note: If you're travelling with kids, note that many of these castles have limited or no safety barriers.
Castelo do Castro Laboreiro
Minho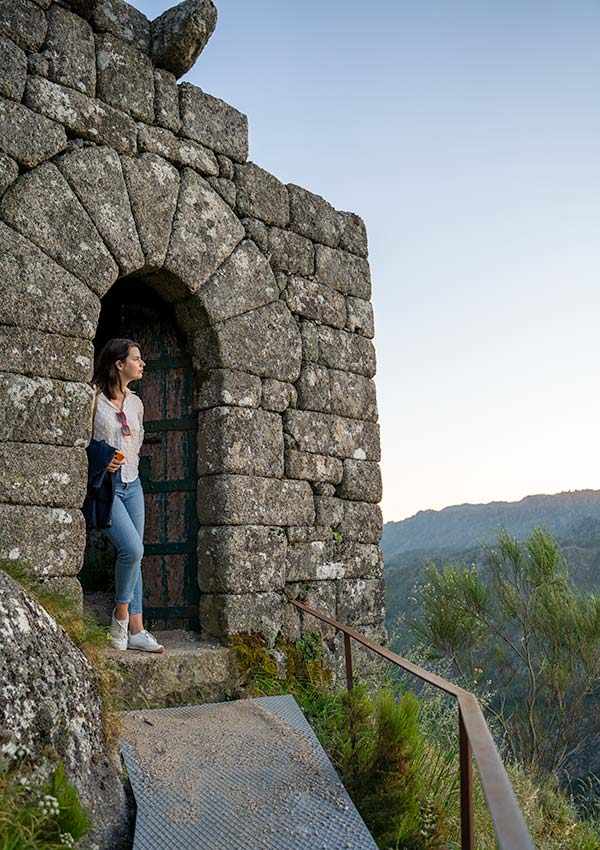 We scrambled uphill through rough forest in the race against a rapidly setting sun. The "traitor's gate" appeared at last and we entered the Porta do Sapo (Gate of the Frog), crossing a precarious metal sheet for a bridge, which makes you wonder what happened to unwelcome guests in centuries past. One unfortunate misstep and you'd be down the cliff.
Castelo do Castro Laboreiro is absolutely magnificent. Built at an altitude of 1,033 metres, this enchanting oval-shaped castle is all about the insane location. Up here, on ther border with Spain and at the tip of Peneda-Gerês National Park you feel on top of the world – especially the place all to yourself, like we did.
This expansive castle is actually older than Portugal the country. It was reconquered by King Alfonso I, then almost destroyed by King of León's troops in 1212. The castle was rebuilt in 1290 in Gothic style.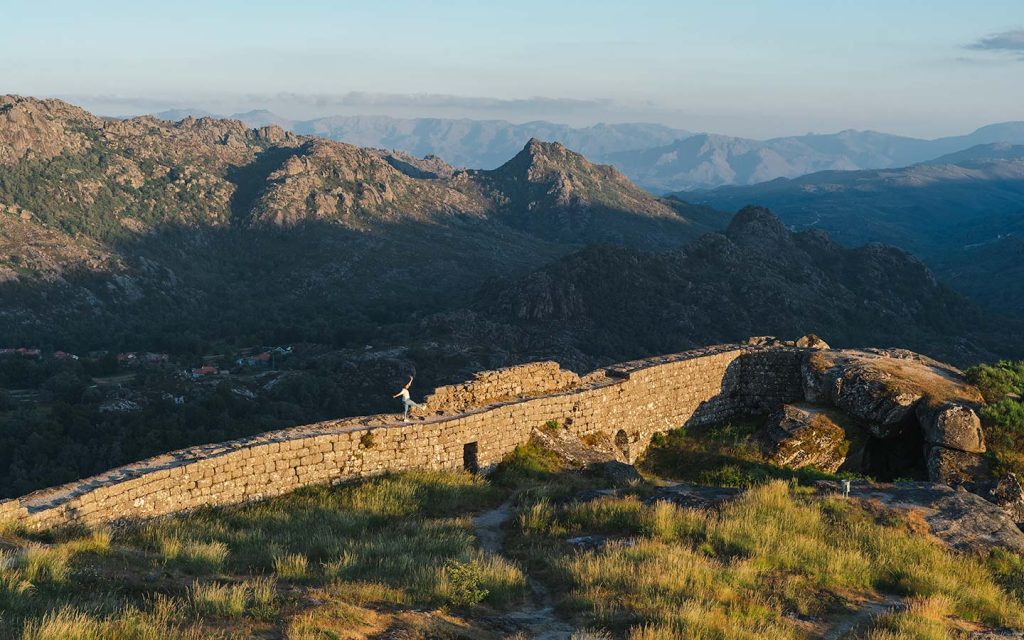 How to visit: This castle is seriously remote. It's about a 2-hour drive from Porto and is best explored while visiting Peneda-Gerês National Park or the Alto Minho region. The walk from town up to the castle takes about 20 minutes.
Entrance: Free
Castelo de Mouros / Moorish Castle
Sintra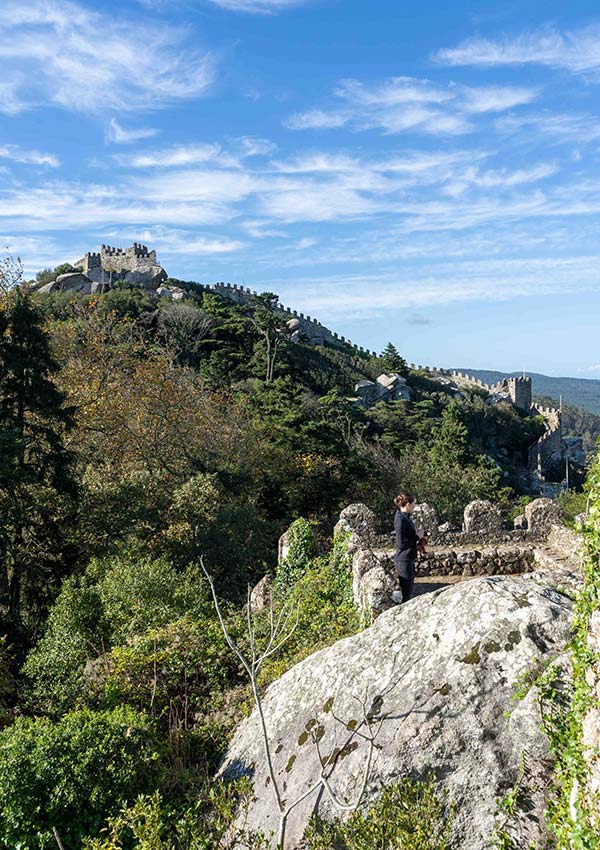 The walls of Sintra's Moorish castle cascade over the mountainous rocky landscape like stone silk. Sitting atop the second-highest peak, the Castelo de Mouros has been here since the 10th century, built when the Moors occupied this part of the Iberian Peninsula. The beautiful castle is constructed from giant granite blocks and the natural oversized boulders commonly found in Sintra's hills.
My favourite way to visit this stunning castle is to hike up from Sintra village, through lush and mossy forest. It takes around 45 minutes uphill on a well-signed and maintained footpaths to reach the gates. Once inside, snake your way around the walls, taking in unreal views of the Sintra mountain, Atlantic Ocean, and nearby Pena Palace.
How to visit: Super simple. Take the train or a taxi from Lisbon to Sintra. You can hike up from the town, as I suggested, or take transport or a tuk tuk to the entrance of the castle. 
Entrance: €8, buy skip-the-line entry tickets. 
Related Blog: Lisbon's best day trip: Sintra 1 or 2-Day Itinerary
Castelo de Monsaraz
Alentejo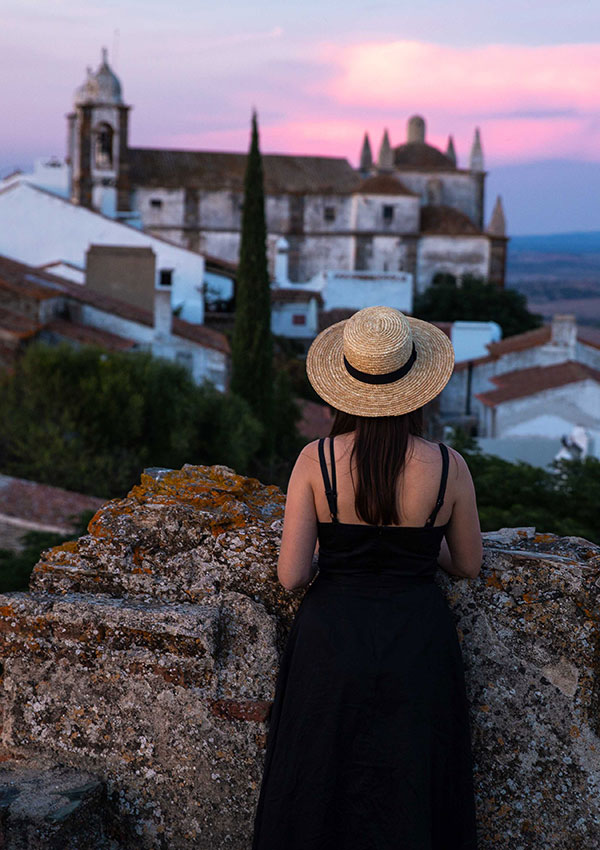 Standing at the top of our own private turret, I recall watching the glow of sunset slowly drift into darkness across a patchwork of cork fields, vineyards, olive groves and quintas. The tiny medieval walled village of Monsaraz is a feast for the senses. After wander the handful of slate-cobbled streets you'll reach the imposing castle that sits at one end. From high on the hilltop you'll experience views aross the Alentejo plains, which are only increased at sunset.
How to visit: Monsaraz is about 30 minutes from Évora, the capital of the Alentejo, and around two hours from Lisbon. It's near impossible to get there without a car.
Entrance: Free
Related Blog: 48 hours in Monsaraz
Pena Palace
Sintra
The red-and-yellow Pena Palace is certainly one of Portugal's most beautiful castles. This castle is one of the greatest global expressions of 19th-century Romanticism, and its roots actually go back to the 12th century. The architecture is a unique mish-mash of Neo-Gothic, Neo-Manueline, New-Romanesque, plus Neo-Moorish and Indo-Gothic. It's unique, that's for sure. Go on off-peak days and close to opening or closing to catch a whiff of the magic that the UNESCO-protected Pena Palace exudes.
How to visit: Unfortunately its insane beauty also makes it one of the most popular – and in the summer of 2022 the ticketing system changed to timed entry and removed terrace access from the gardens-only ticket. It's not impossible to visit this Disneyland-esque 19th-century palace, but planning ahead is the only way. Buy tickets ahead of time, like well ahead, and note the entry timing on your ticket. The road up to the palace in Sintra (close to Lisbon) is windy and narrow, and traffic banks up – so count on that.
Entrance: €14 for palace and park, buy timed skip-the-line-tickets.
Castelo de Monsanto
Monsanto
Standing atop the walls of this castle built in 1171, I'm looking out over the plains towards Spain wondering what it was like to wait here endlessly for an attack. Set high on the rocky hill above Monsanto, a village famous for its houses built around giant otherworldly boulders, the castle may have been the original inspiration. Wind whips my face and church bells toll as the sun sets on another day in this remote Portuguese village.
It's a short yet steep hike up to this castle, which has been econstructed various times throughout the centuries and is said to be built atop an older Moorish castle, and even Roman foundations. It makes sense – half the castle is natural stone boulders, making defending it all the easier.
How to visit: Monsanto is three hours from either Lisbon or Porto. It's near impossible to get there without a car.
Entrance: Free
Related Blog: Explore Monsanto, Portugal's magical rock village
Belém Tower
Lisbon
One of the enduring symbols of Lisbon, the 16th-century Belém Tower might be beautiful and enchanting to the eye, but it has a dark and serious history. This small but mighty tower was originally built around 1515 to protect the capital from pirate attacks while also serving as the gateway to the city.
When Lisbon was invaded by Spanish troops in 1580, the tower was used as a prison, holding upper-class criminals in the dungeons. Given its location, the lower level dungeon regularly flooded. Yikes.
You can see a reflection of Manueline architectural styles in the five-level decorative fortress. In the 1840s, the tower was restored by King Ferdinand II of Portugal and he added more neo-manueline decorative elements. It's been a national monument since 1910, and these days it's a symbol of Lisbon's seafaring history.
How to visit: It's easy to find in Belém, a western suburb of Lisbon that's stacked with monuments, galleries, and the original Pasteís de Belém tarts.
Tip: Access to the three-level tower is via a single-file spiral staircase – go early to avoid queues, and if there's no queue for the tower, explore there before enjoying the expansive terrace and dungeon levels.
Entrance: €8, buy skip-the-line entry tickets.
Castelo de Almourol
Ribatejo
Set on a tiny island in the middle of the Tejo River, Castelo de Almourol gets bonus points for its location. An inscription at the entrance dates the small castle dates the building to 1171, but it's known that when the Christians arrived here in 1129 during the Reconquista a castle called Almorolan already existed here. It was under the custody of the Knights Templar, and formed a defensive line with castles in Tomar, Zêzere and Cardiga.
How to visit: It's a 90-minute drive from Lisbon, or 30 minutes south of Tomar. Make sure you visit during boat operating hours, which change from winter to summer. The boat stops for a two-hour lunch break too.
Entrance: Free, but you'll need to buy inexpensive boat tickets to reach it.
Castelo de Guimarães
Guimarães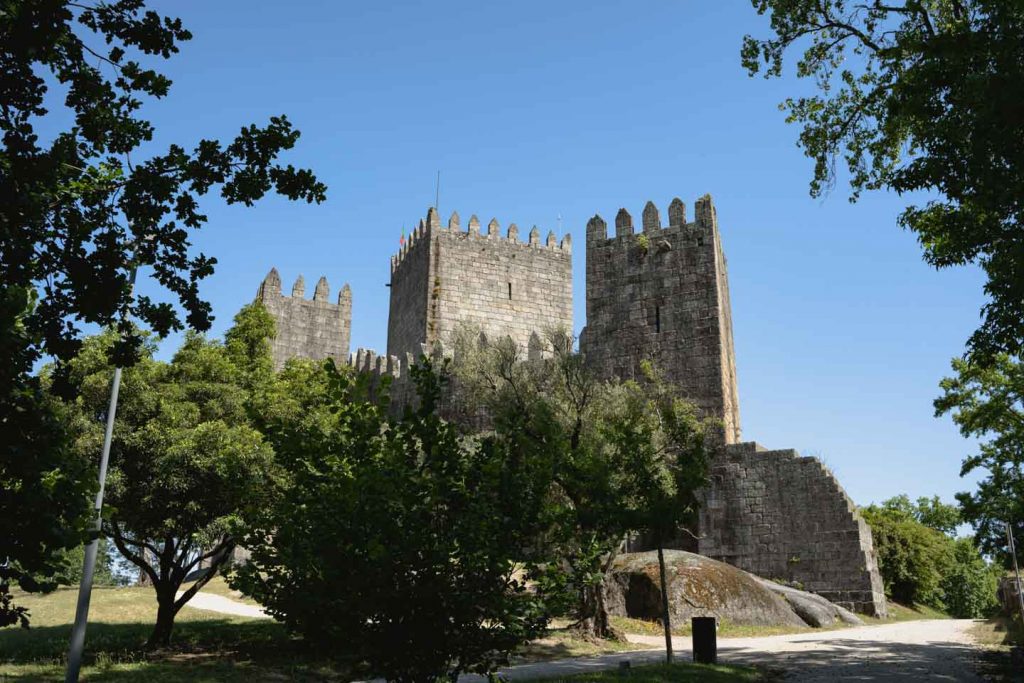 Set on the hilltop in Guimarães, the small city considered the birthplace of Portugal, the Castelo de Guimarães is one of the country's most recognisable landmarks. There has been a defensive structure here since the late 10th century, when a widowed Countess Mumadona Dias took over the County of Portucale, but most of what you'll see today is 13th-century defenses.
If you're a little more concerned about safety, we noticed this castle has more barriers and rails to help you navigate the paths around the high walls. Curiously and comically, it also has a tower filled with vending machines – in case you need a hot coffee while wandering the small fortified structure.
How to visit: It's only a 500m walk from the historic centre, and you'll pass the impressive Duques de Bragança Palace on the way. Guimarães is a 40-minute drive north of Porto, or around 3.5-hours from Lisbon. There is a good train service.
Entrance: €2, but it's best to get a combined ticket with the Duques de Bragança Palace.
Related Blog: Weekend guide to Guimarães
Viana do Alentejo Castle
Alentejo
Curiously, we were told this 1313-built castle wasn't built to protect the people. Apparently the pentagonal structure was built in the early 14th century for religious reasons, and indeed at the centre you'll find a huge cathedral and a second church. The centrepiece of a small and laidback Alentejo town, with its five unique round towers, is well worth a quick stop.
How to visit: Viana do Alentejo is about 30 minutes from Évora, the capital of the Alentejo, and around 1.75 hours from Lisbon. It's near impossible to get there without a car.
Entrance: €2
Castle of Bragança
Bragança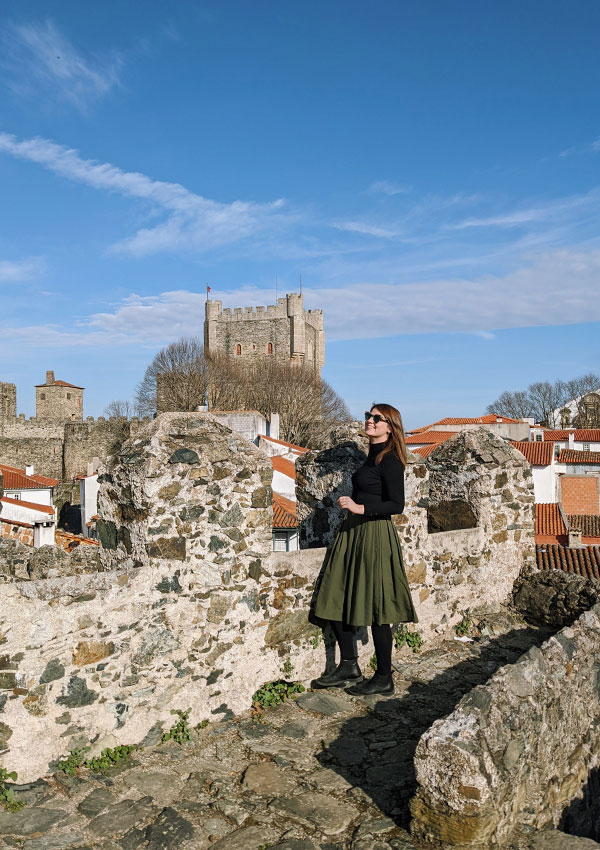 Any visit Tras-os-Montes region should include a visit to Brangaça, its small-but-charming capital. Within the walls of the Bragança citadel you'll find the ancient castle. You can stomp across the walls, gaining an eagle-eyed view over quaint cobbled streets, medieval houses, and the Fervença River. On our late February the fields and hills close by were filled with blossoming almond trees. Stunning.
The current Bragança Castle was built in 1409 on foundations that date back to the first king of Portugal. The imposing medieval keep is surrounded by a double wall with 15 towers and three gates. Within the citadel lies the church of Santa Maria, the Domus Municipalis, and narrow medieval streets and homes. Inside the 33-metre tall keep is a military museum, and you can climb to the top floor.
How to visit: Bragança is a two-hour drive east of Porto. If you don't drive, take a coach bus.
Entrance: €2
São Jorge Castle
Lisbon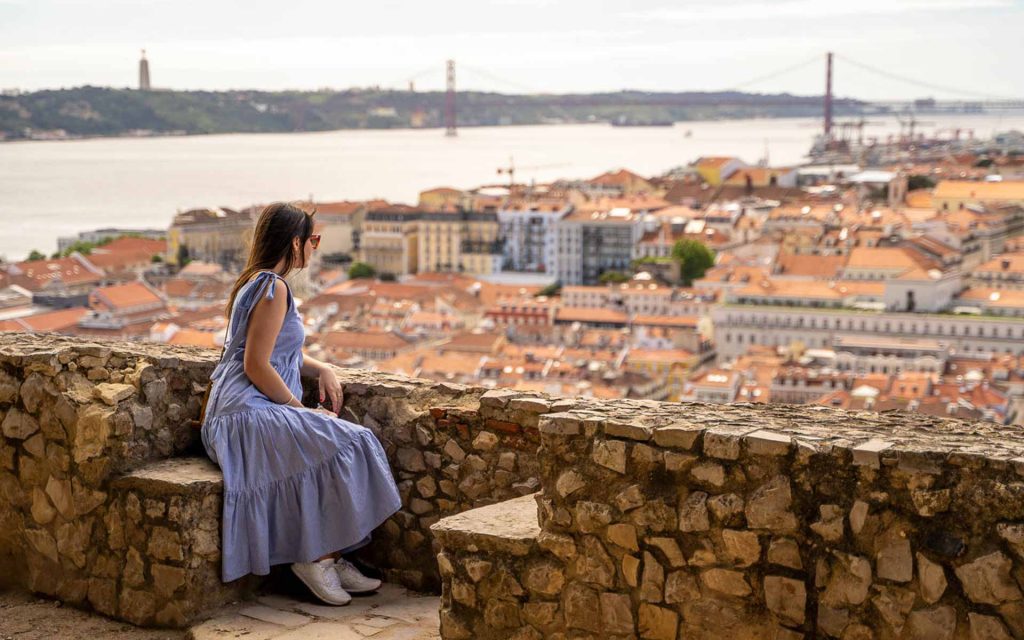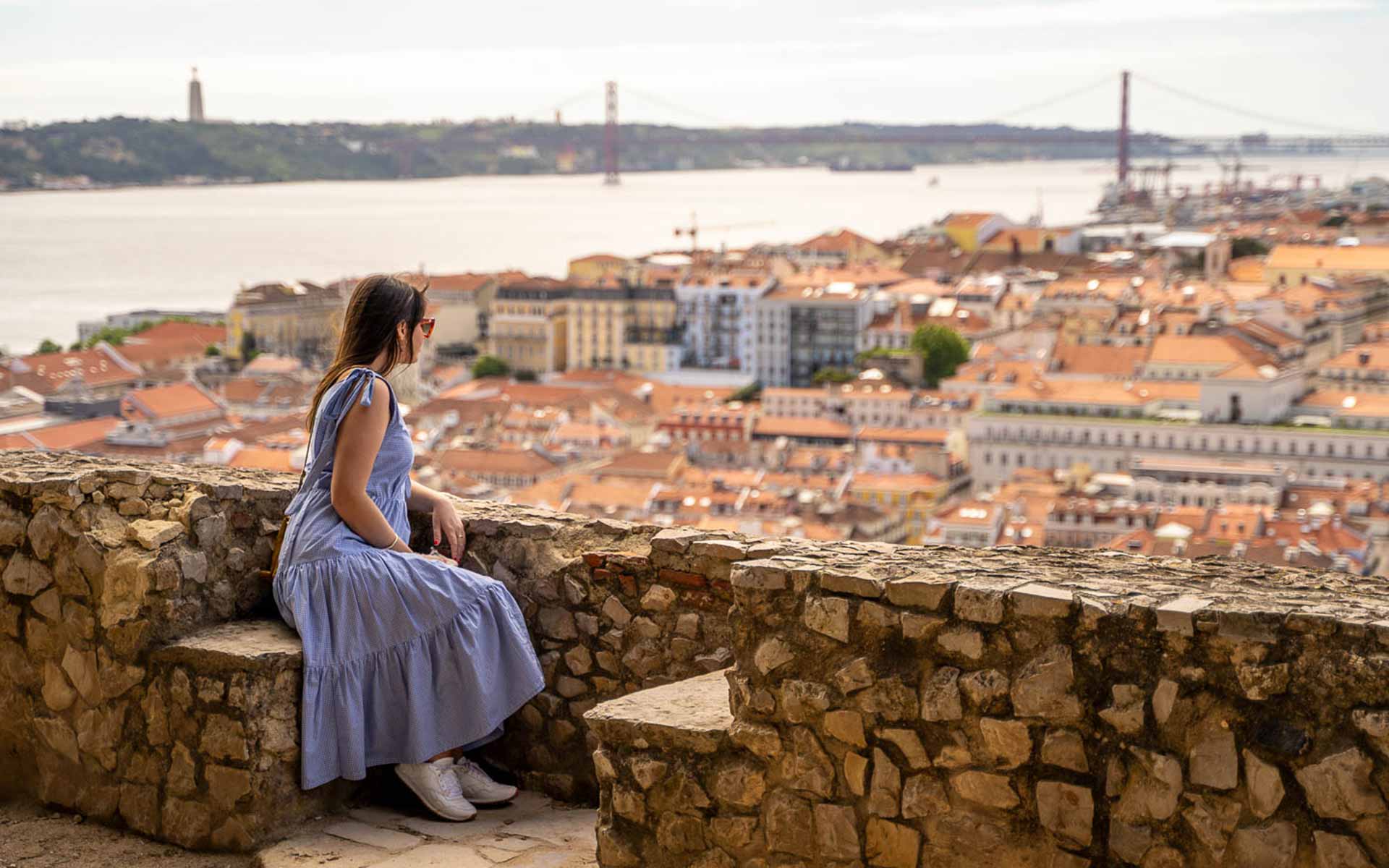 How could we skip over Lisbon's iconic hilltop castle? Set on the capital's highest hill it has an imposing outlook across the whole terracotta-topped city, the expansive Tejo River, and on a clear day to the hills of Arrabida Natural Park. The oldest fortifications found here date to the 2nd century BC, but remains ave been found from the 6th century BC with archaeologists finding traces of Phoenicians, Greeks, Carthaginians, Romans and Muslims. TL;DR, humans have been in Lisbon for practically forever.
Today's castle dates from the 10th and 11th centuries, back when Lisbon was a Moorish port. The first king of Portugal, Afonso Henriques, captured the castle and city from the Moors. Inside you can find a small museum and you can climb all around the ancient walls to gain epic views across the city.
Entrance: €15, tickets at the gate or book skip-the-line tickets with audio guide. Lisbon residents free with proof. 
More beautiful castles in Portugal to explore
Honestly, it was quite hard to keep this list of Portuguese castles short, so here's a dozen more to explore.
Castelo de Obidos, greater Lisbon – you can actually stay at the Pousada Castelo Óbidos and wake up in a real castle
Castelo de Castro Marim, Algarve – each August there's a huge medieval fair here and it overlooks huge salt pans.
Arraiolos Castle, Alentejo – this is an unusual round castle
Castle of Leiria, Centre – from here you'll enjoy wonderful views
Marvão Castle, Alentejo – similar to Monsaraz, this is an ancient hilltop village on the border with Spain
Tomar Castle, Centre – explore the history of the Knights Templar in Tomar
Castle of Santa Maria da Feira, Porto – fairytale castle with an annual medieval fair
Palmela Castle, Lisbon – amazing views over Arrabida Natural Park and Setúbal with an annual medieval fair
Castle of Montemor-o-Velho, Alentejo – a huge complex set high on a hill
Evoramonte Castle, Alentejo – a unique fortified castle tower that sticks out in the landscape
Castelo de Trancoso, Serra da Estrela – the fortitucations date back to Roman times