Among Portugal's artistic treasures, it's the azulejos that matter most. Steeped in centuries of tradition, hand-painted tiles adorn the facades of buildings, palaces, and churches, narrating stories of Portugal's past with vibrant colors and intricate designs.
If you're visiting Portugal – or live here – you may have an interest in learning more about Portugal's tile heritage, and even take one home as a souvenir. Tile-painting workshops are quite popular, for good reason. It's a hands-on way to learn more while making a unique treasure to take home with you.
Remember: Don't buy tiles at a flea market – they are quite likely stolen from the streets. Instead, buy tiles from living artisans or make-your-own with a workshop.
Lisbon's love affair with tiles dates back to the 15th century with the Moors. Over the years it evolved, incorporating influences from the Baroque period through to geometric patterns. While the days of covering a whole building in hand-painted tiles are behind, azulejos continue to be an integral part of the architectural landscape of Libson, Porto and other established cities or towns in Portugal.
How to choose a tile-painting workshop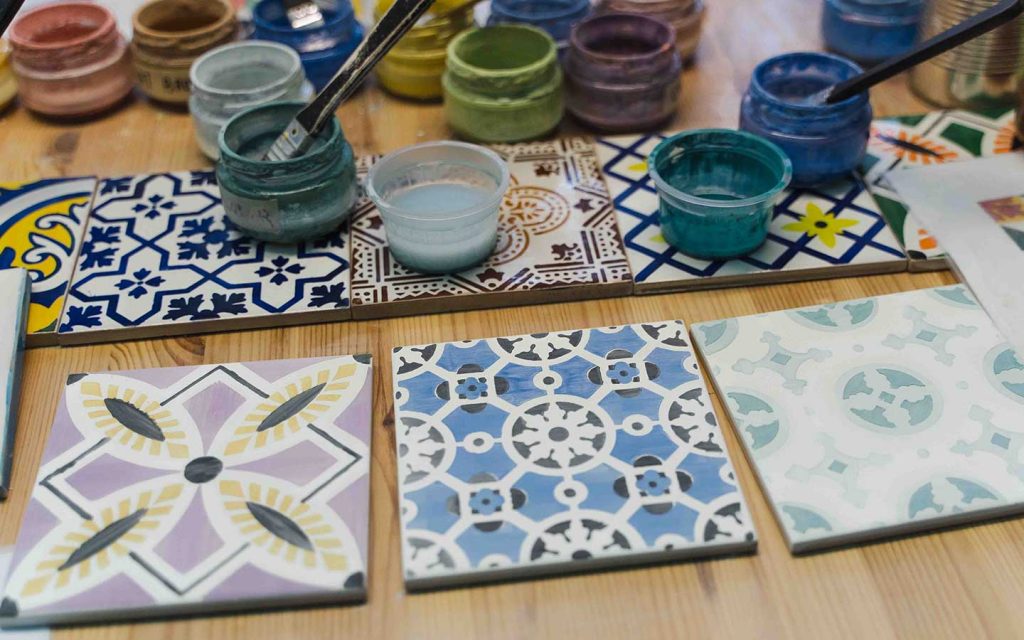 Tile-painting workshops offer a chance to delve into the depths of this ancient craft with the guidance of skilled artisans. All workshops are different, so I've scoured the country to find every tile-painting workshop – and tile-focused tours. I've split the article into simple two-hour tile workshops, intensive tile-making courses, family-friendly workshops, and a few alternatives (wine tasting in an insane historic palace? Hello!)
When choosing a workshop think about the style of tile you want to leave with. Some offer freestyle workshops where you can go wild and express your creativity, others do traditional stencils with no creativity required. The more intensive ones will show you how to mix pigments, while the shorter ones are just for fun.
RELATED ARTICLE: Where to shop for tiles (azulejos) in Portugal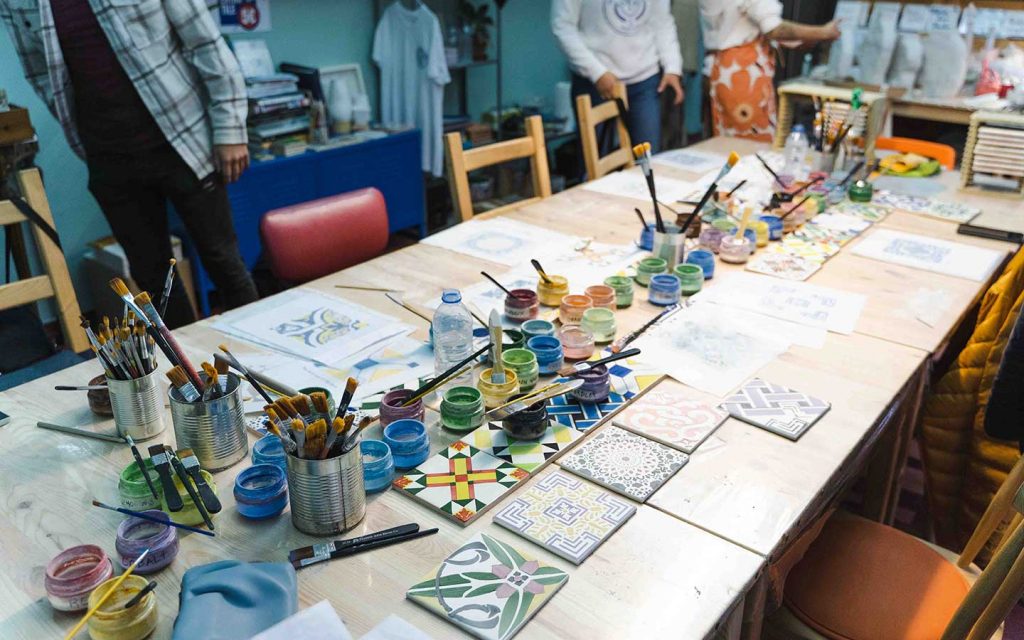 Simple, two-hour tile-painting workshops
This is the most common format, so most tile ateliers offer this type of workshop. If you're keen to learn a little bit about tiles, the process, history and take home two homemade souvenirs from your time in Portugal, this is the style of tile workshop for you.
Some run stencil workshops, where you work with the semi-industrial techniques you'll see across Lisbon and Porto, while others offer free-hand painting.
Lisbon tile-painting workshops
Porto tile-painting workshops
Algarve tile-painting workshops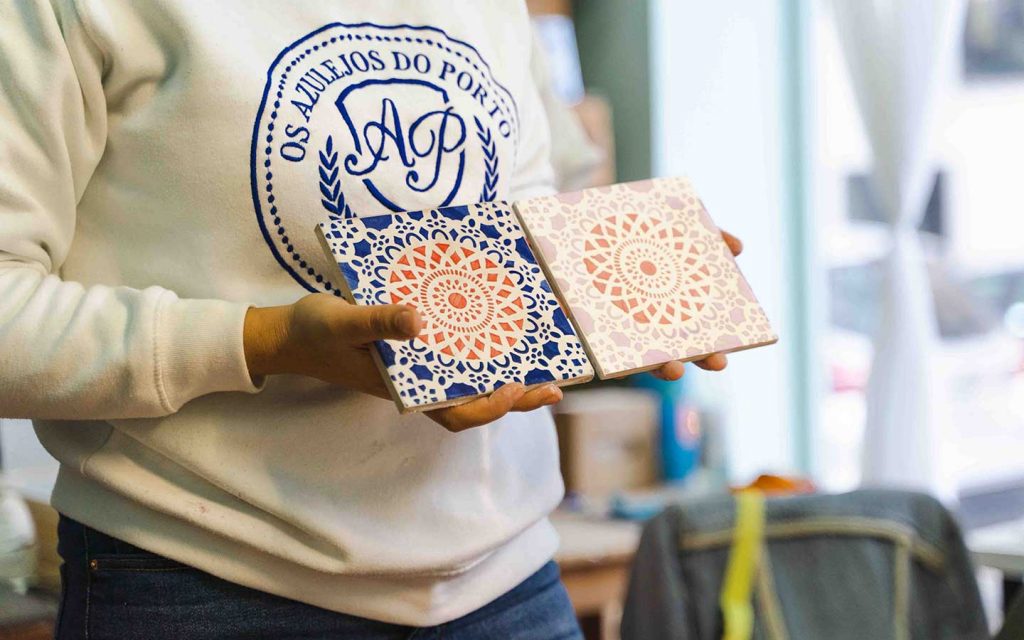 Intensive tile workshops
Casa do Azulejo in Lisbon is one of the few spots I've found that offers both beginner tile painting workshops and more intensive specialty workshops, like a 60-hour complete tile course. If you're serious about tiles, this might be the place to take your love deeper than a two-hour workshop.
Also in Lisbon, Mariana Sampaio Studio also offer a range of six-hour long workshops covering a single style each time.
For an immersive tile-painting experience
If you want to go deep, like really deep on tiles, I found two special experiences – this private 1-day experience that's ALL about azulejos, and this Tiles and Tales workshop and tour.
You'll visit the beloved National Tile Museum, set within a 16th-century monastery, to explore its collection of tiles from the 15th century until the present. The highlights are the gilded baroque church and the mammoth tile panel that depicts Lisbon before the 1755 earthquake that destroyed most of the city. You'll cross the river south to Azeitão, a cute town where you'll visit a palace and winery filled with historic tiled panels. Of course, you'll taste wine too. Finally, visit a small tile factory where you'll see artisans make and decorate tiles, then join a workshop to make one of your own!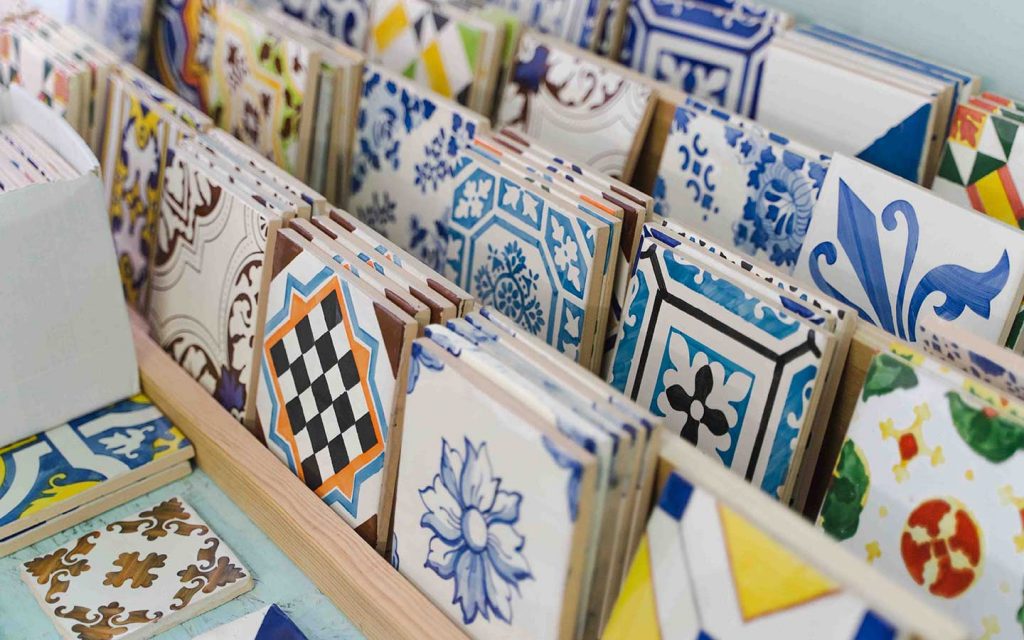 Tile workshops for families
Let the kids get creative with tiles and paint when you book a private workshop designed just for them through Lisbon For Kids. You can choose to meet at the tile museum or at their workshop in Benfica.
For supplies and alternative ceramic workshops
Ceramista, located in Lisbon, Porto and Oeiras (near Lisbon), offers workshops. I get a very local vibe and think these workshops will be held in Portuguese – so if you're learning the language, this could be a chance to immerse yourself.
Ceramista is also a supplier of tools, clay and ceramic goods. Beyond tile-painting you can join workshops to learn pottery.
For tiles and tuk-tuks
Learn about Lisbon's tiles as you zip around the city in a tuk-tuk. I found this cool sounding three-hour tuk-tuk experience that specifically takes you to Lisbon's great tiled murals and azulejo artworks dotted across the city. Love it.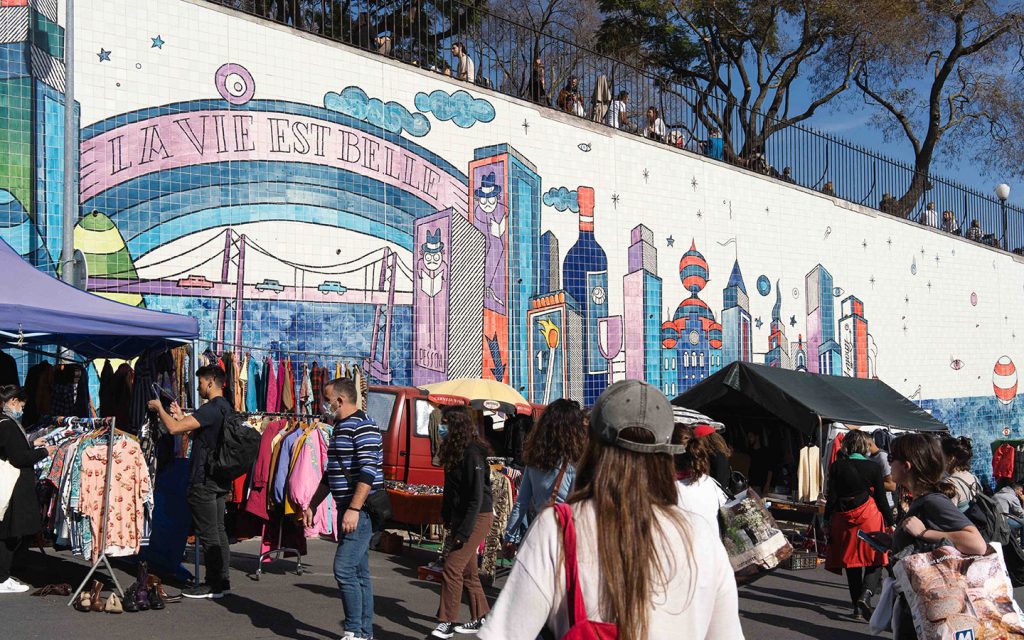 For tiles and history (and wine)
This 1-day tile workshop in Lisbon is a full-day experience that combines tiles with history and wine tasting. You venture south of Lisbon, explore the beautiful Palmela Castle, visit a wine cellar for a tasting of local wine and one of my favourite Portuguese cheeses. Then you explore a historic vineyard palace filled with incredible tiles. After lunch you bop over to a small tile artisan that still manufactures and hand paints azulejos using old methods. You'll learn about the different methods and history. While this day trip doesn't include a painting workshop, I'm sure you could request it.
That's the list! If you love tiles, check out my photo-heavy #tileoftheday blogs and read about Where to shop for tiles (azulejos) in Portugal