With their tile-covered facades, art deco details and historic landmarks, Portugal's cities and big towns are absolutely gorgeous. But there's nothing like the magic of visiting tiny charming villages. Having travelled far and wide across Portugal over the past couple of years, I've been swept up in the spell of so many beautiful white-washed coastal towns and pretty stone hilltop villages, so I want to share my all-time favourites. Here are what I think are the 16 most beautiful villages and small towns in Portugal.
Monsaraz
Alentejo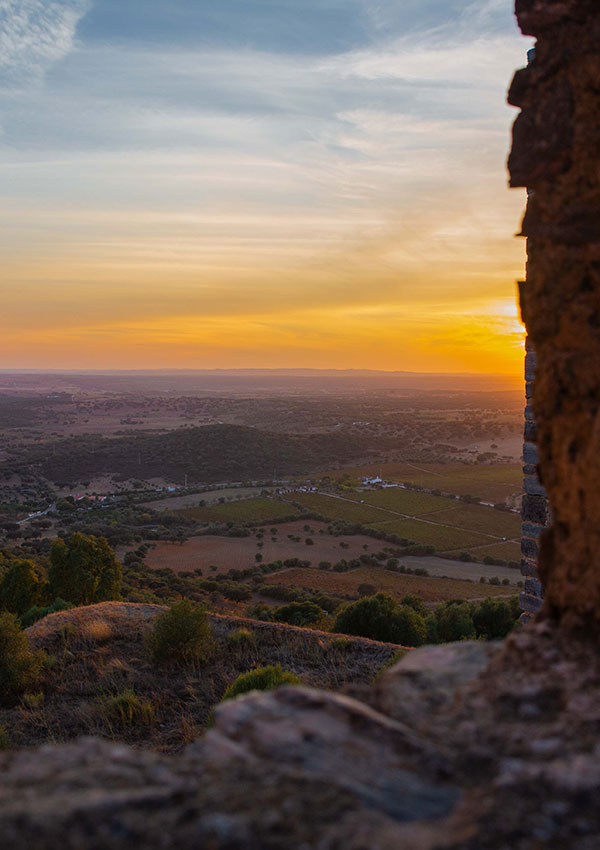 Golden hour seems infinite in Monsaraz, a tiny mediaeval village perched on the highest hill for as far as the eye can see. The sun dawdles, drenching lakes, fields and ant-like cars in its gilded light from the western horizon all the way to Spain in the east. This village is just half a dozen streets lined with wonky white walls, oversized doors and thick, hand-made iron handles. The best place to see the sunset is from atop a turret in the castle, where you can watch darkness drift over a patchwork of cork fields, vineyards, olive groves and quintas.
GETTING THERE: 2-hour drive from Lisbon, 2.5 hours from Faro. You can also take a Rede Expresso coach to Reguengos de Monsaraz or Mourao and hike or take a taxi from there.
READ MORE: Complete Guide to Monsaraz
Monsanto
Central Portugal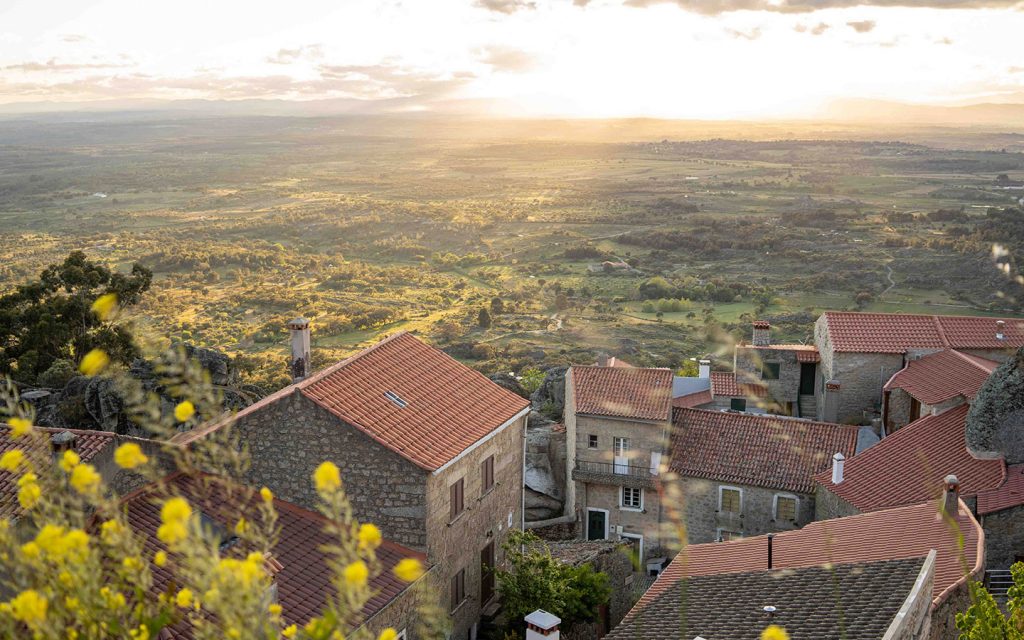 Monsanto, sometimes called the rock village of Portugal, is a small mediaeval village set on a mountain rising up between the border with Spain and Portugal's highest peak Serra de Estrela. Here thrifty villagers have sandwiched their homes and cottages between and around gigantic boulders. This unique landscape has shaped the identity of the village and the winding paths up to the massive fortress or castle. Most recently, Monsanto starred in the new Game of Thrones spin-off House of the Dragon.
GETTING THERE: 3-hour drive from Lisbon, 4 hours from Porto. Rede Expresso has a daily coach service to the nearby Monsanto Relva village, just down the hill.
READ MORE: Exploring Monsanto, Portugal's Rock Village
Óbidos
Lisbon region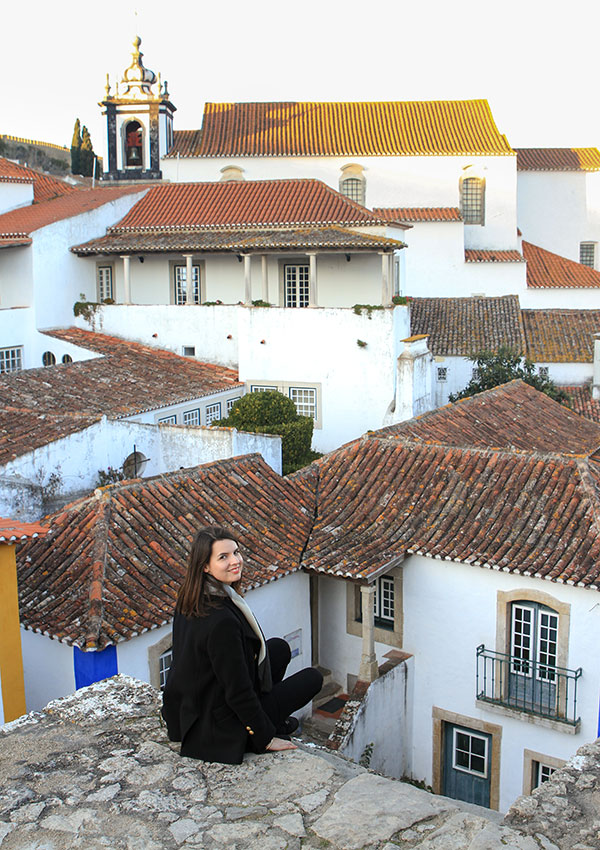 Can you imagine receiving a small town as a wedding gift? This super cute mediaeval walled village about an hour north of Lisbon is what King Dinis gave Queen Isabel in 1282. Wander inside the fortified walls to find a cute village of typical white-washed buildings with yellow or blue trims. While in Óbidos be sure to taste the local liqueur, ginjinha. It's one of Portugal's most famous and is tastiest sipped from a tiny chocolate cup.
Try and go in off-peak times as this is quite famous for being one of the best day trips from Lisbon. And keep an eye out for staircases up to the wall; you can usually wander around the edge, and no it's not kid-safe.
GETTING THERE: 1-hour drive from Lisbon. There are frequent private coaches that can take you to Obidos.
Cacela Velha
Algarve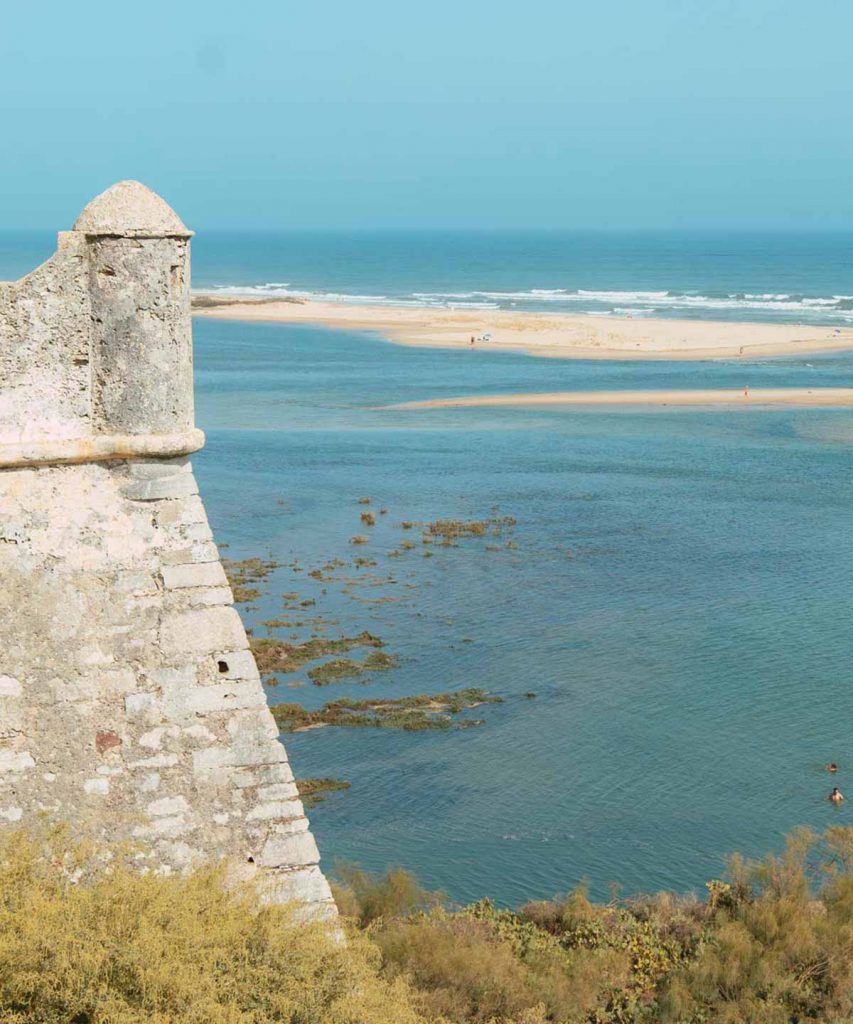 While the tidal flats below may rise and fall, life in this tiny white-washed village stands still. We were told to visit at low tide, when you can cross from the hilltop aldeia to the oceanfront beaches. Be sure to return in time for one of life's most memorable meals at Casa da Igreja. Go just before 4.30pm when it opens (or be ready to wait) to dine on a parade of oysters, clams, presunto and white wine at tables spilling out over the church square.
GETTING THERE: 40-minute drive from Faro, or the local bus 66 will take 90 minutes.
Rio de Onor
Tras-os-Montes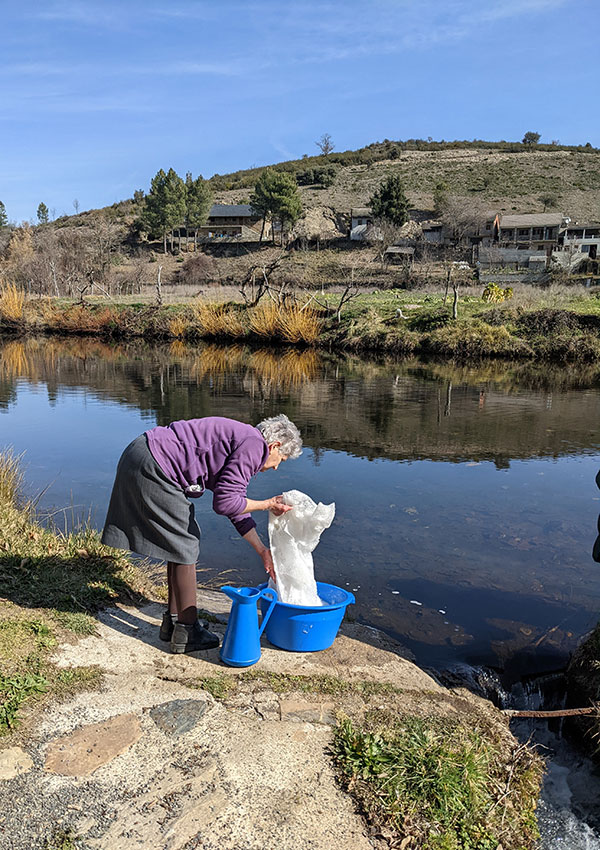 At Portugal's far north-eastern border, remote Rio de Onor is literally split down the centre by the border with Spain. On one side sits a typical Trás-os-Montes village, with two-story houses made of dark schist stone with wooden balconies, and a few steps away is Rihonor de Castilla, the Spanish side of the village. Together, the 70 or so inhabitants maintain an old-style communal lifestyle, sharing more than just their Portuguese–Spanish dialect known as Rionorês.
On the day we wandered through, the sun was shining, older women were washing clothes in the steam that trickles through the village, old men were tending the communal fields, and visiting grandkids were playing football on the streets by the cafe. Apparently, until recently, this remote pocket was even governed by its own government and laws.
GETTING THERE: 2.5-hour drive from Porto, 5-hour drive from Lisbon.
Sintra
Lisbon region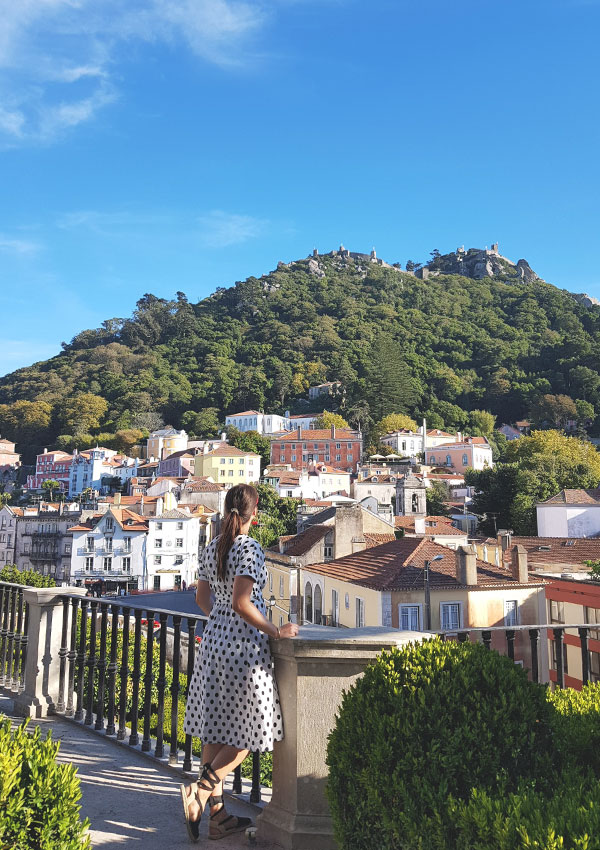 There's something mystical about this historic hilltop village filled with grand palaces and topped with an ancient castle. A summer playground for the rich during the 19th century, the romance of a bygone era is still alive and it's fun to dress up and wander about palace halls, which you'll have no shortage of. From Pena Palace and Monserrate to Quinta da Regaleira and the National Palace, you could spend the day immersed in these grand buildings, so long as you can face the tourists. Sintra is both close to Lisbon and no longer a secret, so it pays to time your visits wisely. If the people become too much, Sintra's micro-climate makes the mountain itself an interesting place to explore. Giant boulders covered in green moss and off-road tracks offer a different kind of exploring on this day trip from Lisbon.
GETTING THERE: 25-minute drive from Lisbon, or 40-minute train from Rossio Station.
Trancoso
Beira Alta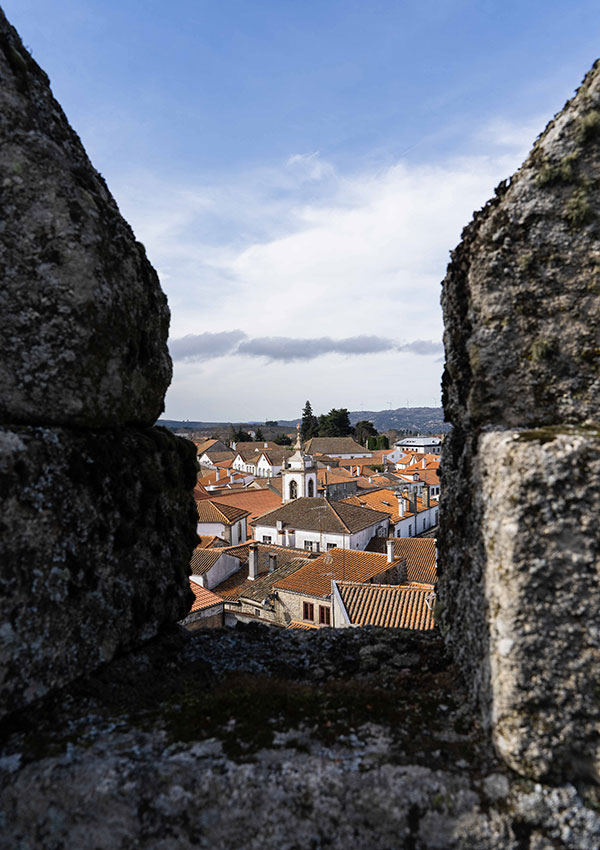 This walled town set almost 1000 metres above sea level once witnessed many battles in the fight to keep the Portuguese kingdom independent. Now a sleepier little stone village, Trancoso is marked as one of the 12 Historic Villages of Portugal, and it's well worth visiting to stomp around the town walls and its beautiful castle. There was a strong Jewish presence here in the 16th century, with many curious marks still seen. If you're interested in learning more, you can visit the Isaac Cardoso Interpretation Centre. Make sure you try the local sweet – sardinha doce. Sweet sardines! Nothing fishy about it.
GETTING THERE: 2-hour, 15-minute drive from Porto, or 3 hours and 45-minutes from Lisbon.
Ericeira
Lisbon Region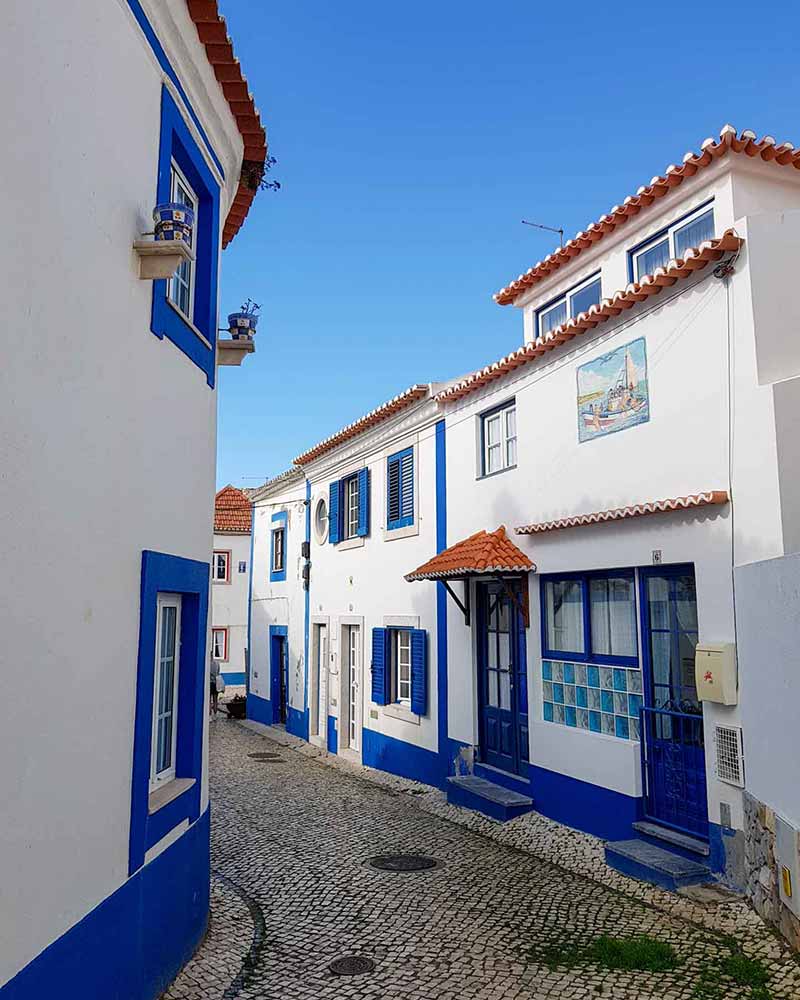 If you've dreamed of the white-washed coastal architecture of Portugal, then you'll love Ericeira. Most of the houses are white with a striking cobalt blue trim, which pops nicely in photos against the bright blue sky. Ericeira is home to Europe's only World Surf Reserve, so this small fishing village has grown in size to become a bit of a haven for surf- and yoga-loving expats. At the bigger end of destinations on this list, it's one of the few where you can find good specialty coffee. On the way there pass through Mafra and see its giant palace.
GETTING THERE: 40-minute drive from Lisbon, or private bus with Mafrense from Campo Grande. Takes 1 hour to 1 hour and 40 minutes.
Estremoz
Alentejo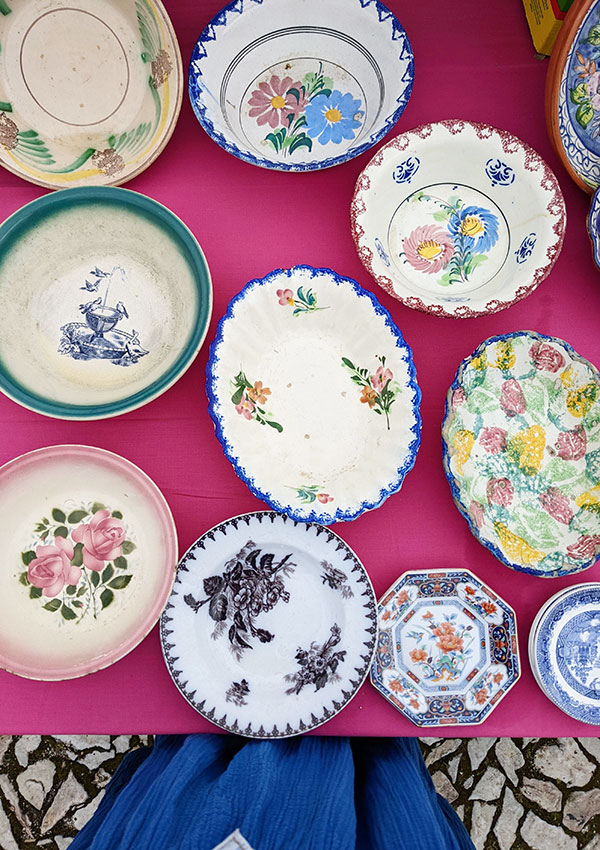 Estremoz is deep in the Alentejo region, a huge province known for its agriculture. Black pigs, sheep and cows graze beneath the never-ending fields of cork and olive trees. White-washed quintas with mustard yellow or cobalt blue trim dot the hillside, surrounded by mediaeval castle walls and creeping grape vines. Time moves slowly, people make more time for you, and if everyone is like our waiter friend, the people don't speak so quickly either. Finally, a chance to practise Portuguese!
GETTING THERE: 90-minute drive from Lisbon, or a two-hour coach with Rede Expresso.
READ MORE: Complete Guide to Estremoz
Guimarães
North Portugal
Welcome to the birthplace of Portugal. It was near here that Afonso Henriques won the Battle of São Mamede – against his own mother no less – establishing himself as the leader of the kingdom of Portugal. Its independence was recognised some years later in 1143, making him the first king of Portugal. From here, King Afonso fought his way south against the Moors, claiming land that is more or less the same borders we know as Portugal today.
Stepping into Guimarães is like stepping back in time. The entire historic centre is a protected World Heritage List site full of architecture from the 15th to 19th centuries. As you wander up streets of large stone pavers where jaunty buildings bulge over the road, it's impossible not to wonder what life was like here in the Middle Ages. While technically a city, Guimarães still has a village feel and the architecture is insane – so that's why I've included it in my list of the most beautiful villages and towns in Portugal.
GETTING THERE: 45-minute drive from Porto, or 1-hour train from Porto.
READ MORE: Complete Guide to Guimarães
Madalena do Mar
Madeira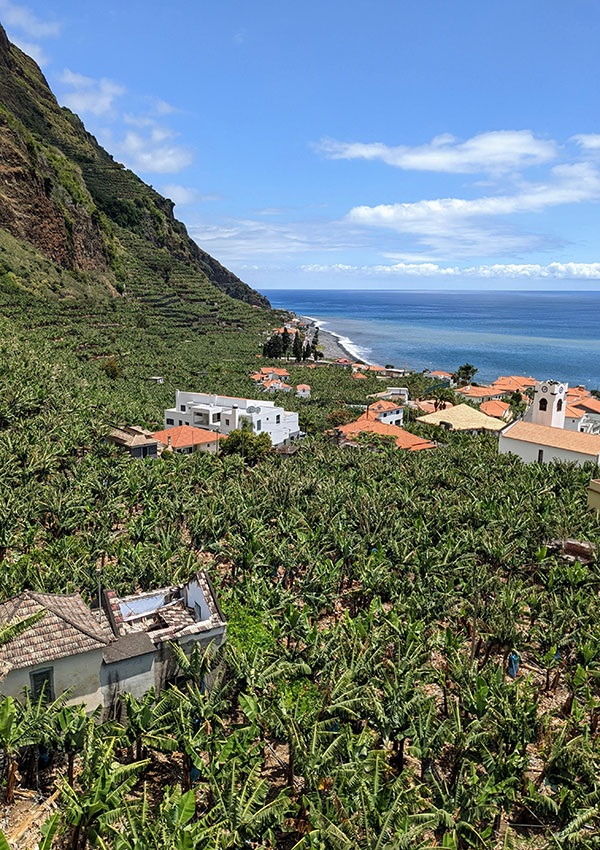 Madeira is a wild and wonderful island to explore, and one of my favourite towns we stumbled upon during our trip is Madalena do Mar. The island has many tunnels that zip in and out of the unruly landscape, and you suddenly pop out in the land of bananas. This seaside town is 95 percent banana trees, and 5 percent a great fish spot. Drop into A Poita, a seafood joint run by an ex-fisherman. It's one of the few places I found that serves the local fish stew known as fragateira. It's massive, so bring friends.
GETTING THERE: 30-minute drive from Funchal.
READ MORE: Itinerary: Our magical 5-day Madeira Island road trip
Tavira
Algarve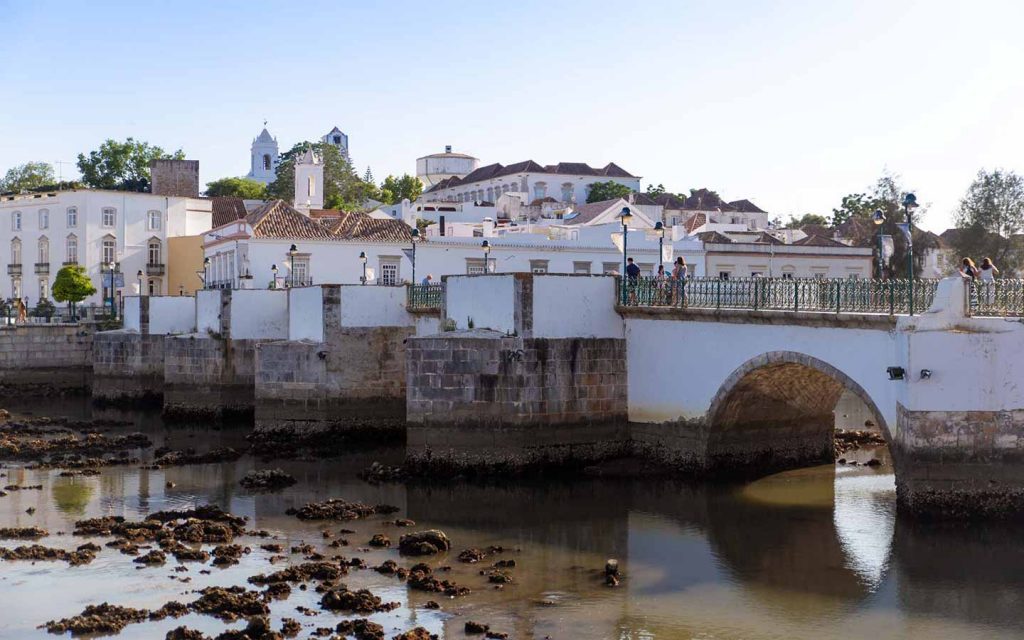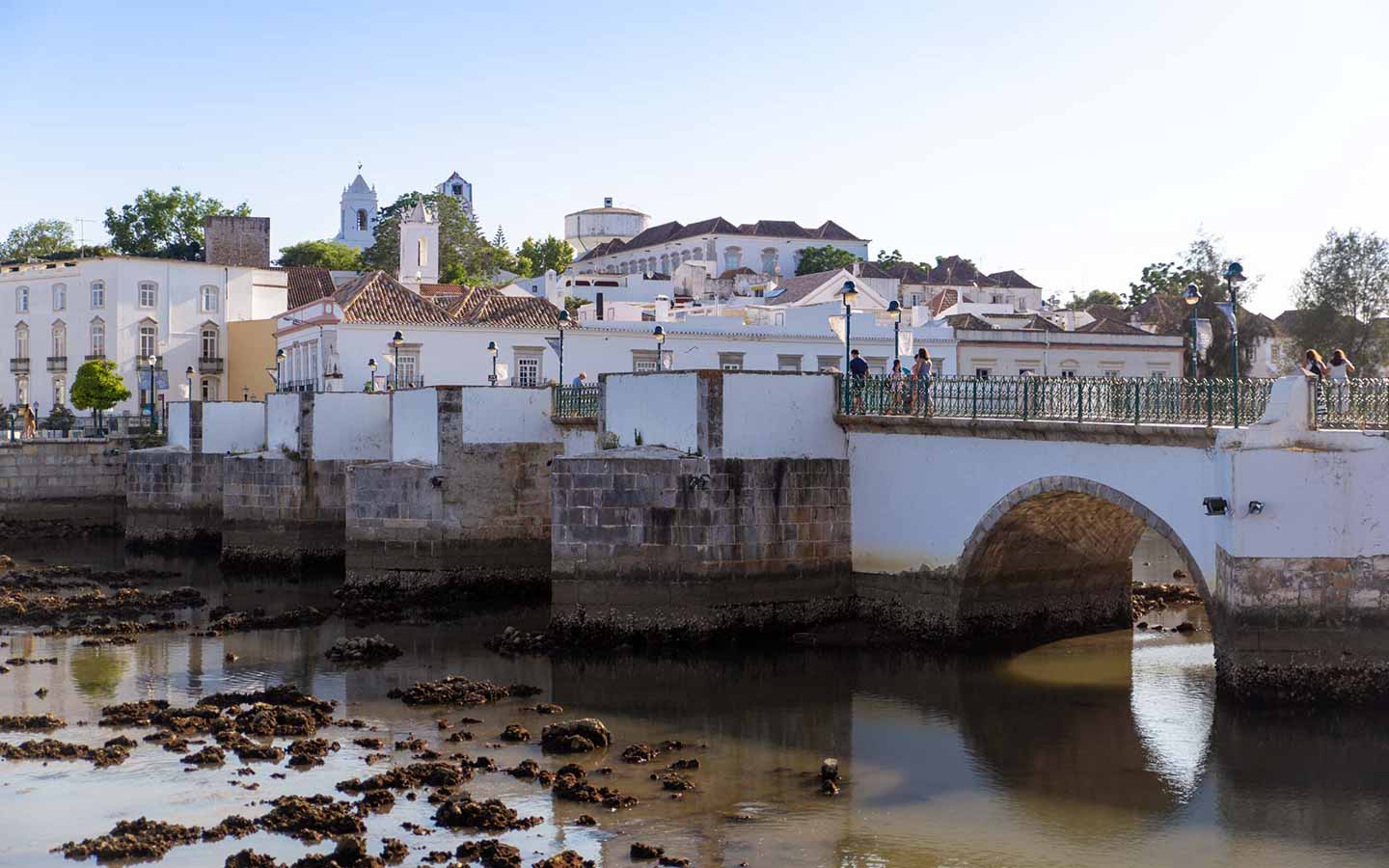 Every room in historic Tavira has an individual roof, so in the old centre you'll see dusty little terracotta spikes across town. Named one of the prettiest towns in the Algarve, this white-washed gem dates back to the Bronze Age and it was here the Phoenicians made one of their first settlements. Wander over the Roman bridge, tour the castle gardens, Roman ruins, and through cute squares before taking a ferry out to Ilha de Tavira where golden sandy beaches await.
GETTING THERE: 30-minute drive from Faro, 3-hour drive from Lisbon. You can also take the regional train from Faro.
READ MORE: Where to eat in the Algarve
Idanha-a-Velha
Beira Baixa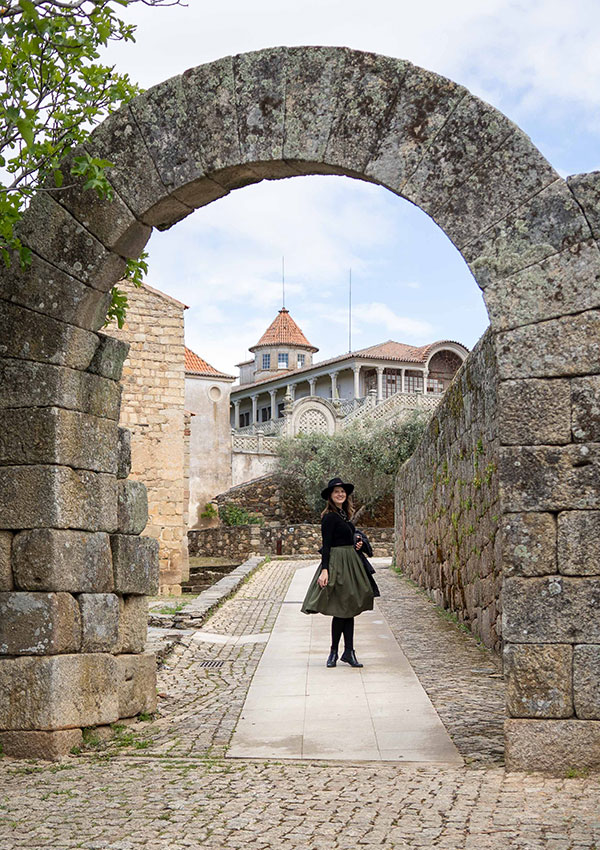 We arrived at Idanha-a-Velha at rush hour. Someone was pruning roses, another villager grilled steak as a dog looked on, and one was hanging washing to catch patches of spring sunshine. The guidebooks made this historic village, surrounded by groves of olive trees, cork fields and yellow wildflowers, sound like an abandoned place with a few cute Roman remains. Instead the comical tunes of the grocery van rolled through as we knocked back an espresso, patted village dogs and watched life unfold.
Once a great city, but now just a village, there's evidence of grander times past in Idanha-a-Velha. Archaeological digs show a Roman house and many artefacts, and you can freely wander open-air exhibits. It might not be the grand city of the past, but the village is most certainly still alive.
GETTING THERE: Approx. 3-hour drive from Lisbon or Porto. Public transport is complex – you could travel to Castelo Branco city, or take a Rede Expresso bus to Zebreira and then a taxi.
Miranda do Douro
Tras-os-Montes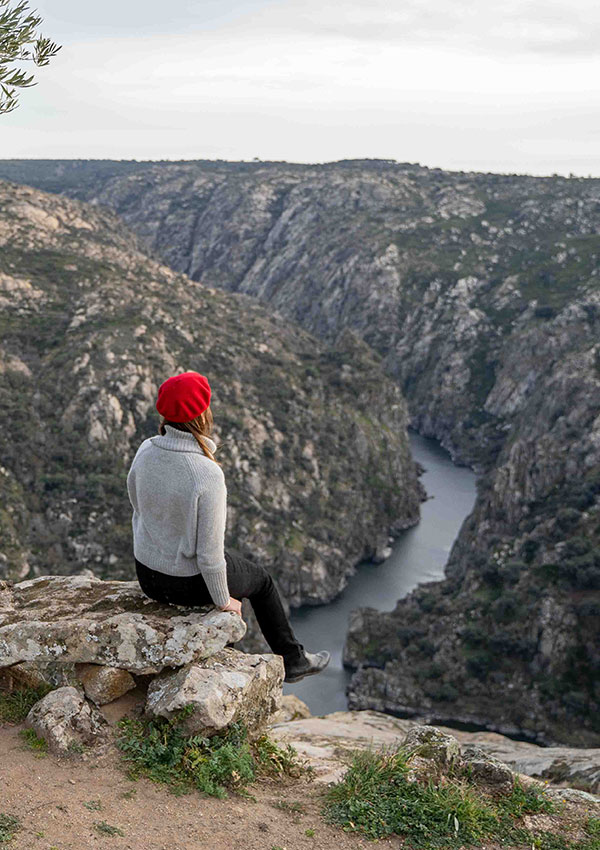 It was 3.40pm and still no sight of them. Surely we'd hear the beat of the drums and sound of a bagpipe before they'd come into view. We asked in the cafe. We asked in the museum. The answer was the same. No one knew when the pauliteiros would arrive. I took my anxious energy off for a wander to blow off steam, hopeful to find them in the streets and tick off a few sights of Miranda do Douro.
Sure enough, we found them. Four men and four women dressed in all white. The young men with hats and high socks like England's Moorish dancers, and the women in embroidered vests. Two drummers and a bagpiper set the tone for this ancient Portuguese tradition with unexpectedly Celtic roots. You can find the Pauliteiros da Miranda on the streets one Saturday a month. The town itself sits on the border with Spain, perched high above the Douro River where it's more like a ravine or a canyon. And fun fact, this pocket of Portugal speaks Mirandês, the second official language of Portugal.
GETTING THERE: 2-hour, 45-minute drive from Porto, 5-hour drive from Lisbon. The Rodonorte coach from Porto takes 4.5 hours.
Soajo
Peneda-Gerês National Park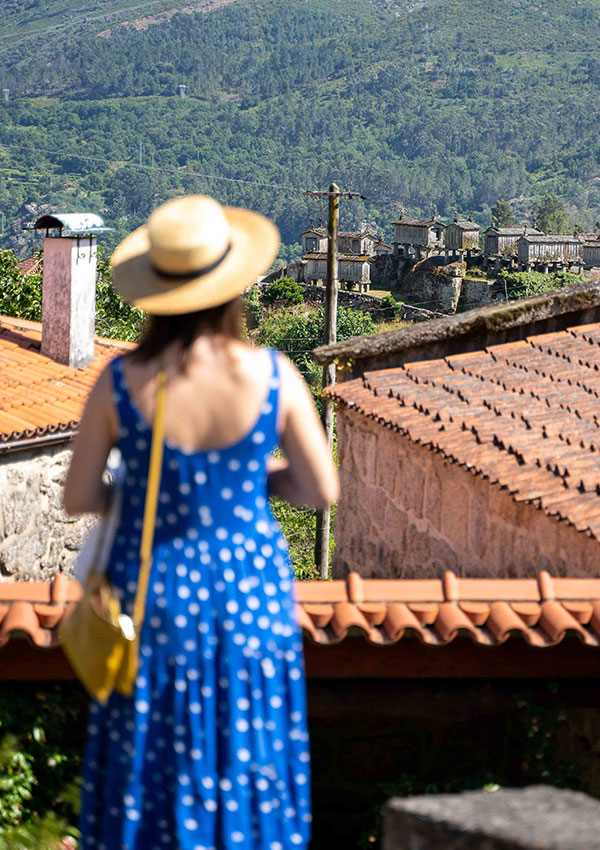 When you go deep enough in Portugal you go back in time, and Soajo is a time-hopping destination. Two dozen peculiar stilted rock granaries stand on a massive granite rock with 360-degree views back to the villages in the hills of Portugal's only national park. The Espigueiros do Soajo were mostly used to hold corn and the oldest dates back to 1782.
GETTING THERE: 90-minute drive from Porto.
Castro Marim
Algarve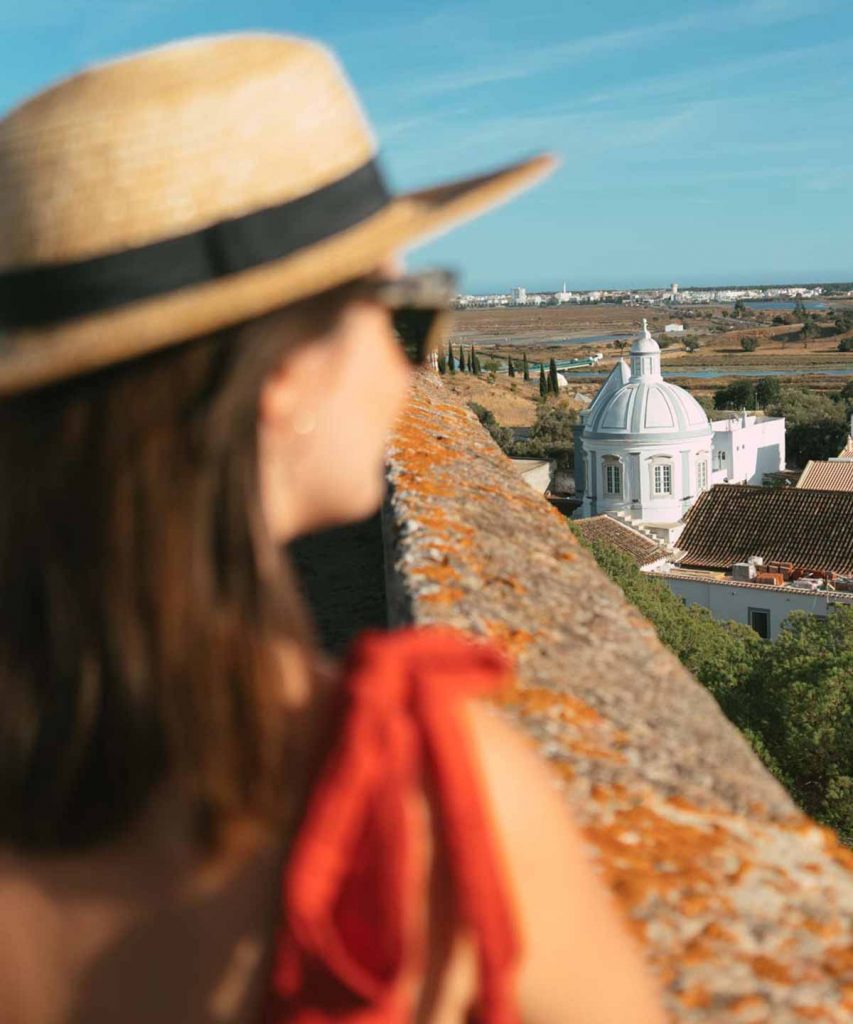 From high on the hill, Castro Marim looks over salt fields, the Guadiana River and Spain, a strategic point with a long history. The best place to soak in these views is from the 14th-century castle walls that give you a bird's eye view over the town. Afterwards, head down to the flats and float at the salt spa Água Mãe. The extremely salty water stings (not my favourite) but is well worth trying once.
GETTING THERE: 45-minute drive from Faro, 3-hour drive from Lisbon. You can also use local buses in the Algarve.
Cute villages in Portugal that I still need to visit
I haven't been everywhere, but these are on my list. Here are half a dozen more beautiful Portuguese villages and small towns that I'd love to visit one day soon.
Marvão
Sortelha
Piodão
Talasnal
Mértola
Castelo de Vide
Dornes
Messejana
Keep reading