I talk a lot about food, travel and tiles, so it might surprise you to hear I'm quietly passionate about sustainable Portuguese fashion and ethical brands producing things here in Portugal.
This small, highly educated country is one of the world's top 10 shoemaking countries and is pushing innovation in textile technology and clothing. But of course, it takes more than simply making something in a European country for a brand to be sustainable and ethical. It's why I've tried to include Portuguese fashion brands with strong ethical values or who are transparent about costs and their impact on people, the planet and animals.
A lot of big brands choose to manufacture some lines of clothing or use jersey, cotton and linen fabrics made here in Portugal, but it's not always easy to find local brands with a great consumer-facing front. It's taken quite some time for me to discover my favourite sustainable Portuguese fashion brands who make incredible clothing, shoes, bags and more right here in Portugal.
A note: Sustainable and ethical fashion principles vary from person to person. Pick your values, ditch fast fashion and shop what works for you. For example, I care about the human impact, the environmental impact and I want to buy things of a high quality that will last. It means I like bags and shoes made of real leather because it lasts a long time and isn't made of plastic. It means I shop vintage and second-hand when I can. I also want to support the local community, so I try to buy from small makers and artisans. Your sustainable fashion principles might be different to mine. It's trendy to be sustainable, so beware of greenwashing like when big brands say things like "vegan leather" when all they did was rename PVC or plastic. If animal leather isn't for you, instead look for brands using new, more sustainable plant leathers like pineapple leather or apple leather.
Clothing brands made in Portugal
ISTO
My favourite T-shirt is an ISTO tee. This Portuguese brand pins itself on transparency and tells you the cost of producing each of its luxury essentials. The range of organic cotton T-shirts has expanded to timeless linen shirts, chinos, jeans, jackets, sweaters and pull-overs for both men and women. The quality is so nice and they have a few physical stores in Lisbon too.
View this post on Instagram
+351
Inspired by life here by the Atlantic Ocean, +351 is a great Portuguese-made option for casual T-shirts, sweatpants, pull-overs and more. Founded by Ana Penha e Costa in 2015, this relaxed brand produces everything in the north of Portugal.
View this post on Instagram
Naz
This Portuguese brand produces classic and cosy, basic clothing for men and women in mostly natural fibres like recycled wool, linen and cotton. Last year they released their first sustainability report which goes as far to detail CO2 emissions, local supply chains and the impact on communities around Portugal. They have big ambitions to become even more transparent.
View this post on Instagram
Sienna
Raised by two professional seamstresses called Maria, Marisa grew up impacted by her grandmothers. Her project Sienna started as a hobby and has grown into one of Lisbon's favourite fashion brands. As far as I know she still creates all her gorgeous designs and pieces herself.
View this post on Instagram
Martine Love
As someone who loves all things handmade and artisanal I certainly lust after the high-quality vintage-inspired linen shirt dresses by Martine Love. Each piece in a huge range of colours is hand embroidered using traditional techniques. The result? A super personal dress unlike any other. The brand now does shirts for men and women and kaftans too.
Mustique
Two childhood friends – Vera Caldeira and Pedro Ferraz – fell in love with the ancient art of block printing on the trip to India. Soon after they launched this small Lisbon-based brand making shirts from the stunning fabric. Now they've added sweaters and pants, but everything is still made here in Portugal.
View this post on Instagram
Mirakaya
This environmentally conscious brand creates feminine, timeless and versatile dresses, tops and pants for women. They primarily use natural fibres like linen, wool, cotton and silk to produce a limited number of garments.
Guaja
Created by two sisters and their mother, Guaja keeps the focus on high quality, timeless pieces. Launching an atelier in 2019, they've grown quite fast and have recently moved from producing everything themselves to working with local Portuguese seamstresses. They aim to create pieces that are made to last using natural fibres and no plastic packaging. Guaja garments are known for being detail oriented and well tailored – their pants are amazing.
Siz
Behind Siz is two sisters with a mission. From their atelier in Sesimbra, a seaside town 40 minutes south of Lisbon, they produce seasonal collections using deadstock and leftover fabrics from local factories. Every collection comes with a message, the latest is about marine noise pollution, and all pieces are made-to-order.
Light Years Away
This Portuguese activewear brand owned by two young sisters has a focus on sustainable production and creates classic tights, shorts, tops and swimwear with fabrics made from ocean plastics. Light Years Away uses Econyl, a regenerated nylon fabric made from industrial plastic waste, fishing nets, fabric scraps and more, for its basic activewear range. Everything is made in a small, local studio.
Shoes & Socks made in Portugal
Zouri Shoes
If you're looking for sneakers, look to Zouri. This vegan footwear brand rescues plastic trash from the Portuguese coast and uses it along with natural rubber in the soles of its shoes, which are made in Guimarães. Beyond using canvas, they're playing around with special vegan leathers like apple, pineapple and pine leather. When you receive your shoes you'll also get a letter telling you where exactly the ocean plastic was collected from (by volunteers, schools and NGOs) and the person that made your shoes.
Lemon Jelly
This Portuguese shoe brand makes gumboots here in Portugal using 100% renewable energy. Of course, gumboots are made of plastic but they do have a number of lines that close the loop on production waste and use recycled plastic waste. Lemon Jelly's goal is to do even more environmental good, getting down to zero percent waste. The brand is PETA-certified vegan and you can send your old Lemons back and they'll recycle them into new ones.
Unreal Fields
If you're looking for statement shoes, heels or boots with a difference, try this creative brand from Lisbon. They keep things bold, bright and contemporary with attention to playful details. The shoes are made by a generations-old family business in the north of Portugal.
View this post on Instagram
Socks
There are so many amazing sock brands produced in Portugal, so I won't list them out brand by brand. For both men and women, look to VOLTA who work with local artists and support charities with every sale. Sir Tile is another favourite – they make azulejo inspired socks locally.
For fun souvenir socks try Chule, for fun and plain business socks made in Portugal look to Captain Socks and My Travelling Socks, and for classy business socks try WestMister.
Pedemeia is a historic brand from Braga that produces a huge range of everyday and special socks, and has physical stores in big cities around Portugal and Spain.
Bags
Toino Abel
If you love straw bags and artisans, look to Toino Abel. Nuno has been breathing new life into the old Portuguese tradition of basket weaving, fighting for fairer wages and respect along the way. Each bag starts as wild reeds collected by a river. They're cut, dried, dyed and then woven into mats that become these box-shaped bags, completed with leather finishes.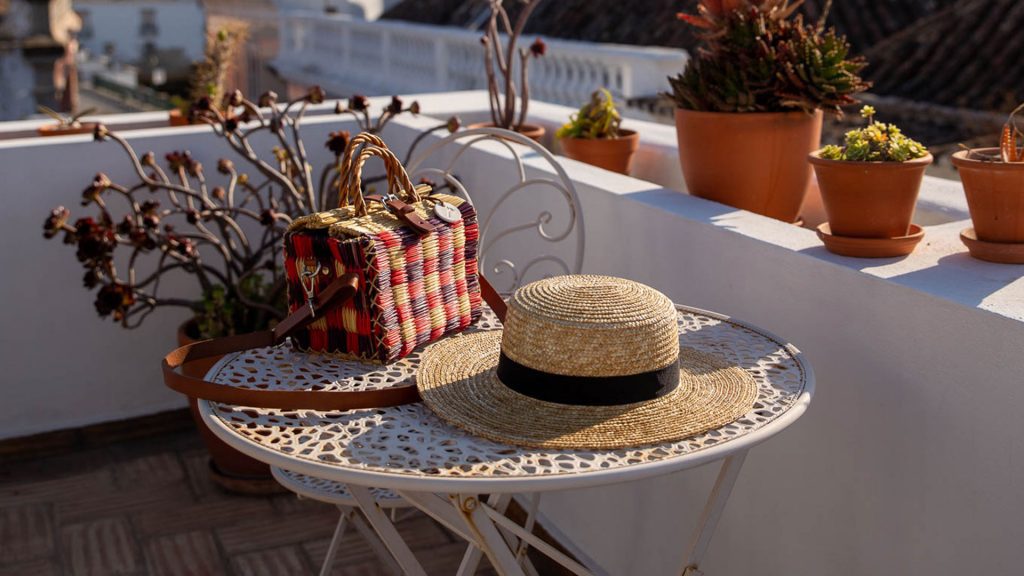 Victoria
This historic family business produces stunning Portuguese basket bags. The style is quite different to Toino Abel as Victoria lacquers the outside, which further protects the bag and gives them a shiny look. They also have designs that incorporate leather and sustainable vegan leathers.
Manjerica
For beautiful, timeless but fun and bright leather handbags check out Manjerica. Founder Teresa Bettencourt designs functional but incredibly chic bags inspired by her home, the Azores Islands. The leather sourced from Italy is a by product of the food industry.
View this post on Instagram
This list of sustainable and ethical Portuguese fashion brands is really just the beginning. If you know and love a brand that makes things in Portugal, let me know in the comments below. I'll be updating this article and creating more guides highlighting Portuguese-made ceramics, vintage shopping and where to shop sustainably in Lisbon in the future.