While I love all things made in Portugal I have a particular soft spot for Portuguese handmade ceramics. There are simply so many incredible small artisans and bigger factories producing truly beautiful, high quality and affordable plates, jugs, cups, bowls and more.
In this guide I've listed a bunch of my favourite Portuguese ceramic brands, plus any cool shops and factories around the country where you can drop in to buy ceramics at the source. There's nothing cooler than watching the potter throw a jug together before your eyes.
Reach out if you discover any cool ceramic brands, shops or factories I should know about.
The best Portuguese ceramic brands
I'm obsessed with the whimsical world of this 19th-century Portuguese ceramics brand. Started in 1884 by cartoonist-turned-ceramicist Rafael Bordallo Pinheiro, somehow his tableware is still on trend some 130 plus years later. I am obsessed with cabbage shaped bowls, giant tomato tureens, fun fish vases and fruity pineapple plates. If you want to add fun to the table, look for the colourful and eccentric pieces from Bordallo Pinheiro.
Where to shop: Online, or stores across Portugal.
Casa Cubista
The duo behind Casa Cubista has taken the traditional terracotta ceramics from the Alentejo and made it modern with bold stripes and splatters. The range is fun, colourful and I like to mix it with Bordallo Pinheiro for an old-new feel.
Where to shop: Casa Cubista stocked at D'Olival in Lisbon (and a huge range of amazing olive oil) plus other stockists around the world.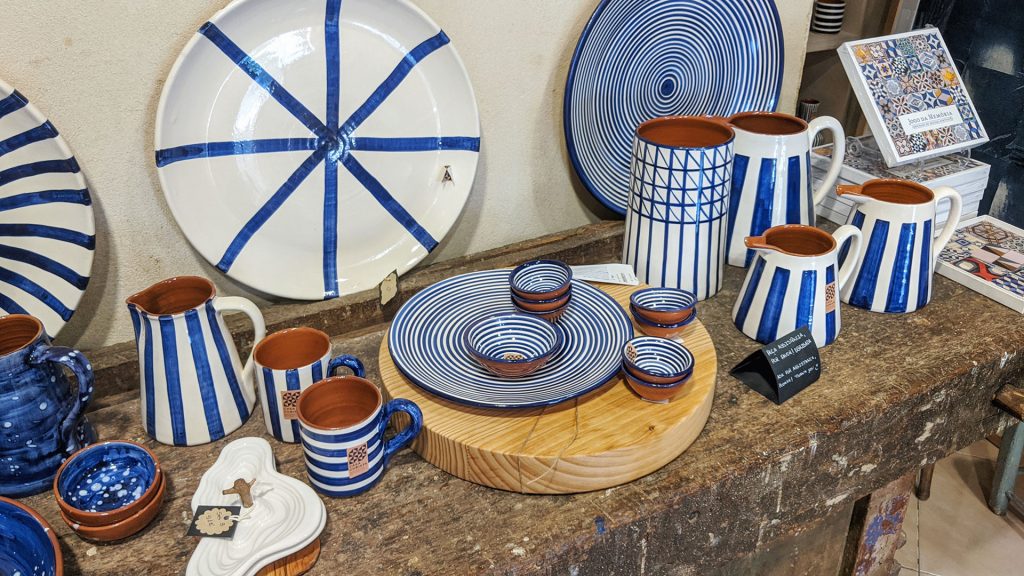 I love the organic shapes and feel of Anna Westerlund's ceramics and the way she often finishes her ceramic pieces with other materials like beads, jute and thread. Made by hand on the outskirts of Lisbon, you can shop her work at Together by Anna Westerlund in the heart of the city.
Where to shop: Online, or in Lisbon at Together.
This is Portugal's answer to the UK's Royal Daulton. Since 1824 this Portuguese ceramic brand has been making fine porcelain and bone china pieces at its factory near the city of Aveiro. Apparently the President of Portugal, plus the White House and some royal families across Europe use the tableware.
Where to shop: Online, or stores throughout Portugal.
With a more raw and organic feel, Costa Nova produces high quality, fine stoneware inspired by the sea. Each piece is made in a single firing system at 1180ºC, which apparently bonds the clay and glaze to create super resistant, sturdy pieces.
Where to shop: Online, or stores throughout Portugal.
This design studio curates and works with craftspeople, using the strength of a collective to promote and spread quality Portuguese design. Beyond working with others the studio has it's own range of terracotta tableware, a modern and minimalist celebration of traditional pottery.
Where to shop: Online, visit the studio in Caldas da Rainha, or try Depozito in Lisbon.
Designer Margarida M. Fernandes started her ceramics studio since 2010, inspired by simiplity, food and time spent in the kitchen. Her delicate ceramic bowls, plates, napkin rings and even lam shades have a simple, rustic and organic appeal. Most are in neutral earthy tones, with only the old slick of cobalt blue paint.
Where to shop: Online, or organise to visit her studio at the LX Factory in Lisbon.
Stores and villages to visit in Portugal for ceramics
Portugal's ceramic city: Caldas da Rainha
Caldas da Rainha has a grand reputation for ceramics and it's here that Rafael Bordallo Pinheiro, the famous cartoonist turned ceramicist, opened his pottery factory in 1884. To this day they still make his famously fun lines of tableware, sometimes still using the 19th century moulds. You can read about more things to do in Caldas da Rainha on my guide to the small creative city.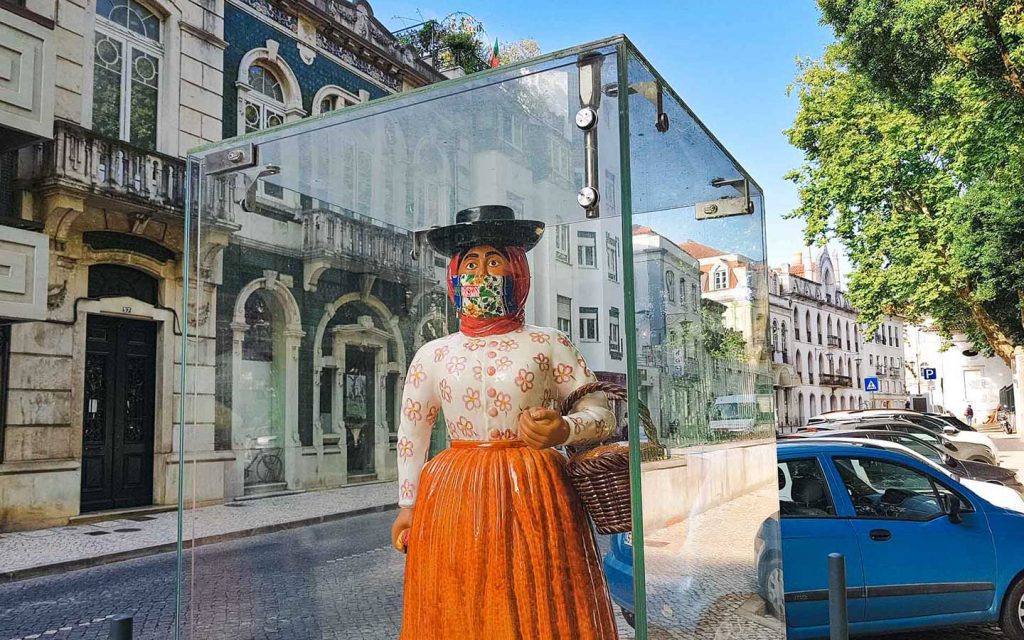 Terracotta town: São Pedro do Corval village
The tiny town of São Pedro do Corval has made a name for itself as Europe's largest pottery centre. Step inside one of some two dozen pottery houses and you'll likely find both a shop and workshop. Men covered in red dirt spin terracotta clay into plates, jugs and cups on the wheel, while others paint the final pieces with colourful patterns and local designs.
Hot tip: Plan a road trip to visit the magnificent medieval Monsaraz village and spend an afternoon at São Pedro do Corval nearby. This is easily one of my top Portugal adventures.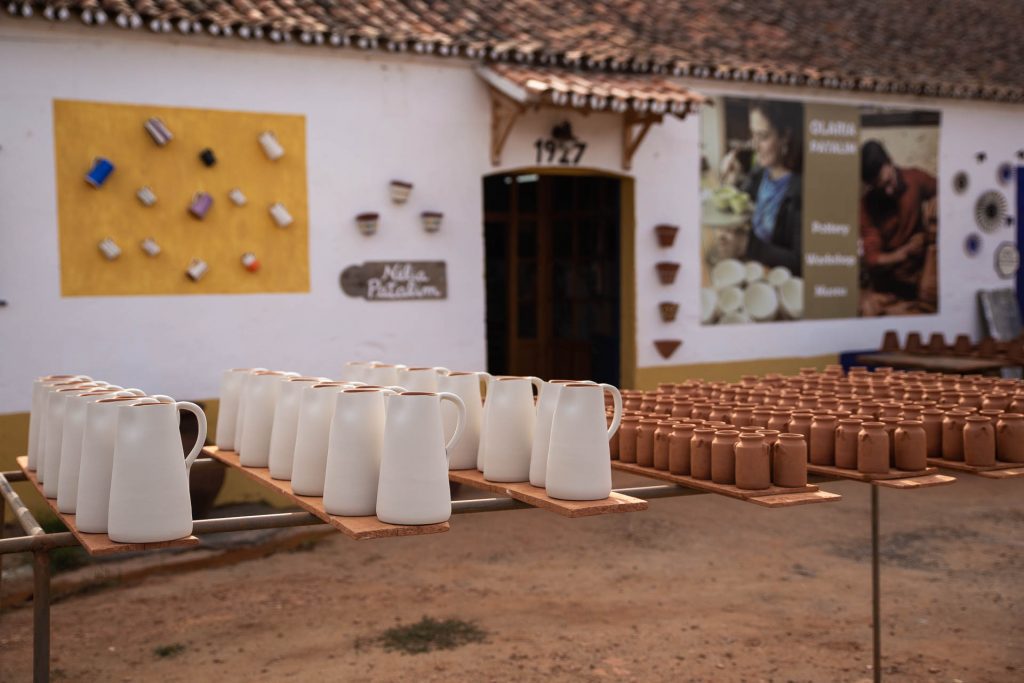 Cerâmica Paraíso in Sagres
When is a ceramics warehouse more than just a store? When they turn the outside into a place worth photographing. The outside of Ceramica Paraiso is covered with the gorgeous handmade plates and bowls they sell inside. This mega ceramics warehouse sells all things made in Portugal. If you're in the market for new plates, bowls, cups or mugs then take a look here as everything is usually a few euros.
Planning to visit the Algarve. Explore where to eat and the best things to do in the Algarve.
Cerâmicas na Linha and Luza in Lisbon
In the heart of Chiado, Lisbon's downtown shopping heart, this backstreet ceramic store sells Portuguese-made crockery of all colours, shapes and styles by the kilo. Yep, more often than not you simply pay for the weight of each plate at Ceramicas na Linha. It's like a candy store with every colour under the sun – perfect to pick up souvenirs. At the back there's a second shop called Luza that stocks Portuguese-made ceramic brands including Bordallo Pinheiro and Costa Nova.
This list is just the start. If you know and love a Portuguese ceramic brand that should be included, let me know in the comments below. I'll be updating this article and hopefully creating more guides highlighting Portuguese-made ceramics, homewares and sustainable fashion in the future…