Portugal's azulejos or tiles seem to be everywhere you look across Lisbon, Porto and Portugal's smaller cities. It's hard not to fall in love with the unique patterns and colours that blanket whole buildings and make this small European country and its streets beloved for their beauty.
Of course, if you're visiting Portugal you'll want to take home a unique memento or souvenir of your time here. If you find yourself drawn to the practical square ceramics use this guide on where to shop for tiles or azulejos in Portugal.
Between small tile ateliers and big tile factories, there are dozens of options for you to take home a unique Made in Portugal tile, azulejo or ceramic piece while also supporting living artisans and not destroying the country's heritage. That's a win-win! Let's go shopping…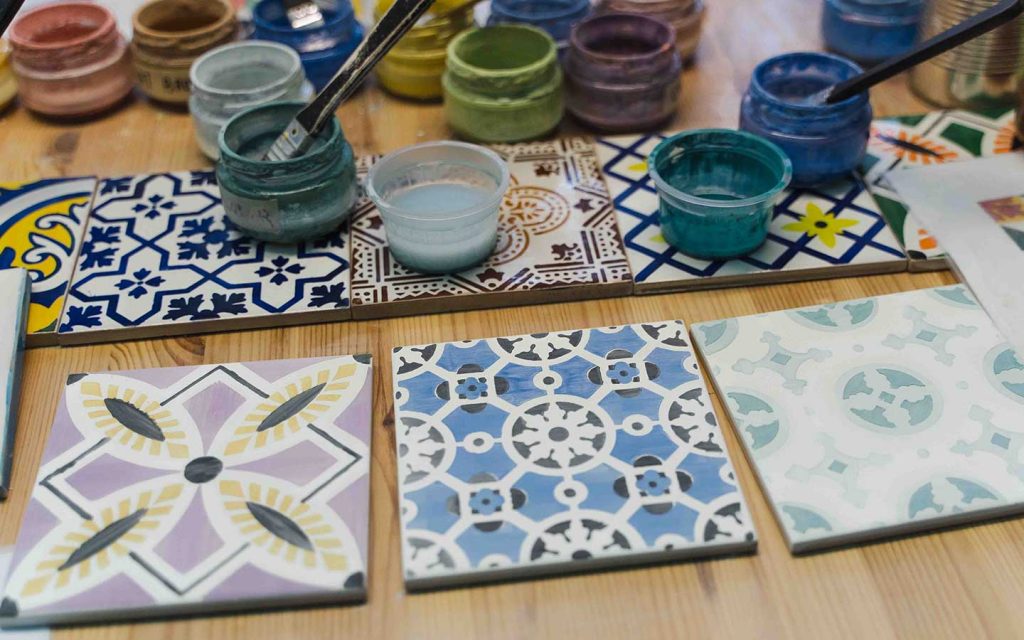 First, a warning about buying second-hand tiles
Please avoid buying second-hand azulejos at markets or from any unreputable sellers. If you adore the beauty of tiles that cover buildings in Portugal, please take only photos or seek out tile replicas.
Unfortunately, there are problems with azulejos being stolen and sold on the black market. Don't buy second-hand tiles at flea markets like Feira da Ladra or otherwise. If you do then you are increasing the demand for stolen tiles, which makes you part of the problem.
I can appreciate you wanting an authentic, antique souvenir, but just picture the hole left behind on an innocent wall somewhere in Portugal. There's a good chance that tile you bought was irreplaceable.
Portugal's Polícia Judiciária, the police branch that deals with major crimes even has a whole department dedicated to the theft of tiles called SOS Azulejo. You can buy antique-looking tiles but try to avoid real antiques. Here's where to shop for real, ethical azulejos and tiles around Portugal.
Where to shop for azulejos in Lisbon
Tile factories in Lisbon
Fábrica de Sant'anna, Chiado
This tile shop in Chiado is linked to Lisbon's oldest tile factory, Fábrica de Sant'anna. Since 1741 this tile manufacturer has been producing hand-painted tiles and ceramics. The boutique itself is stacked full of incredible hand-painted ceramics that are all one-of-a-kind and look antique. You can even find Moorish style tiles. If you want to go behind-the-scenes you can visit the factory in Ajuda with a guided tour.
Viúva Lamego, Sintra
If you're looking for tiles or azulejos on a grand scale – for walls, pools or restaurants – Viúva Lamego is the spot. Launched in 1849, Viúva Lamego has roots in the past but is a very modern tile producer where you can trend-driven tiles for your dream projects. In the 1960s this company was behind most of the Lisbon Metro station tiles, I believe, and they still collaborate on artist-driven large-scale panels across the city, in restaurants and beyond. While its unfortunately closed the city store, (the spectacular tiled building in Largo do Intendente is still there) you can visit the factory in Sintra.
Azulejos de Azeitao, Azeitão
Located a 25-minute drive south of Lisbon in a cute town best known for its wine making, Azulejos do Azeitão is a small tile factory that produces everything by hand. When we dropped in one of the workers kindly showed us how they created the two styles of tiles, embossed and flat, and how they hand painted each with patterns or otherwise. We were able to watch three or four staff hand painting tiles in the small studio space. Pair your visit with a tasting at José Maria de Fonseca or the 16th century wine palace Quinta de Bacalhôa (it's filled with tiles). This excellent looking tour will take you there.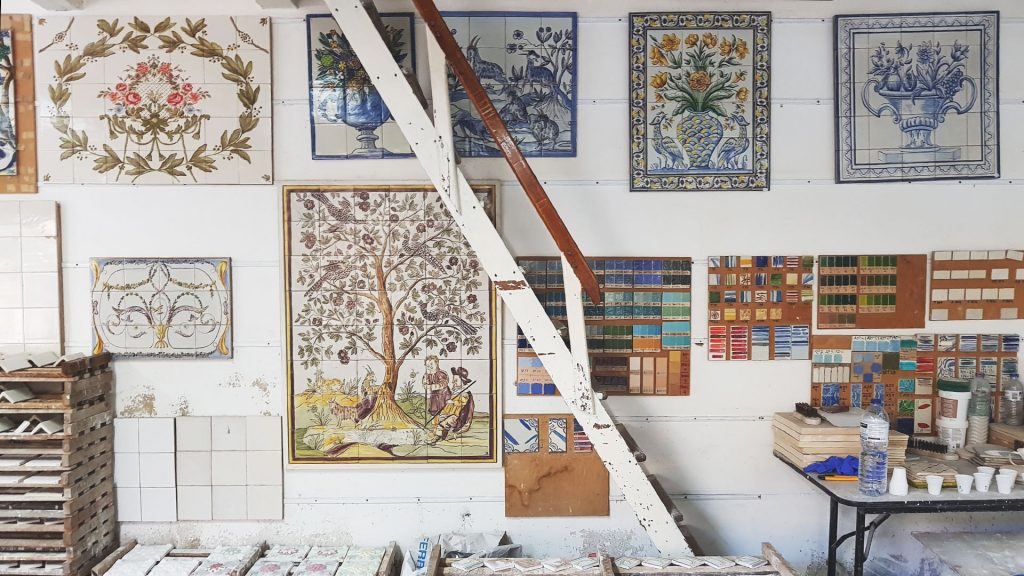 Azulejos Manual Marques Antunes, Alcabidiche (Sintra)
Following in the footsteps of his father, Manual started his azulejo career in 1947 (!!) while working on a project for Lisbon Zoo. He didn't found Azulejos Manual Marques Antunes until 1985, but since then the business has been manufacturing hand painted traditional Portuguese tiles the old fashioned ways. Now the business is in third generation.
Azulejo ateliers in Lisbon
XVIII – Azulejo & Faiança, Alfama & Chiado
Located right near my favourite Lisbon lookout, Miradouro de Santa Luzia (and with a second location in Chiado), this little authentic tile shop, XVIII – Azulejo & Faiança, is filled with hand-painted replicas of all the Lisbon azulejos you will have spotted across the city. Like the name, they make tiles in the style of the 18th century so you can pick up your favourites here without contributing to the stolen tile trade. At the back you can see artisans at work.
Ceramica S. Vincente, Castelo
If you want to try your hand at painting a tile, Ceramica S. Vincente is the spot to go in Lisbon. This small boutique tile artisan is Cristina Pina's studio, where she works and sells as her pieces, alongside her son Miguel. Pick up an exquisite artisanal piece or join a workshop at the atelier close to the Feira da Ladra markets, Alfama and Castelo de São Jorge.
Loja dos Descobrimentos, Alfama
Part shop, part atelier, this Alfama boutique is loaded with ceramics and tiles made from around the country. At the back of Loja dos Descobrimentos, which has been open in 1986, there is a studio where you can join classes and paint tiles.
PATC Atelier
Run by a couple that hand paint azulejos, PATC Atelier is a project that you'll see popping up at markets around the city. I usually find them at the Sunday afternoon markets at the LX Factory where they have hand-painted square tiles, coasters and even mini fridge magnets. It's the perfect spot to shop for authentic souvenirs in Lisbon. I really love the slightly oversized tile coasters they make based on real Lisbon tiles.
Boutiques and shops that sell Portuguese-made tiles in Lisbon
Cortiço e Netos, Intendente
If you're a fan of the more industrial-style printed tiles – that is tiles created between the 1960s and 1990s – then you'll love this little boutique. The story goes that Joaquim Cortiço started buying discontinued industrial tiles and selling them. Now his four grandsons (the "netos") now run the business, Cortiço e Netos. There's usually a box of chipped/broken tiles that you can buy cheaply for mosaics or projects.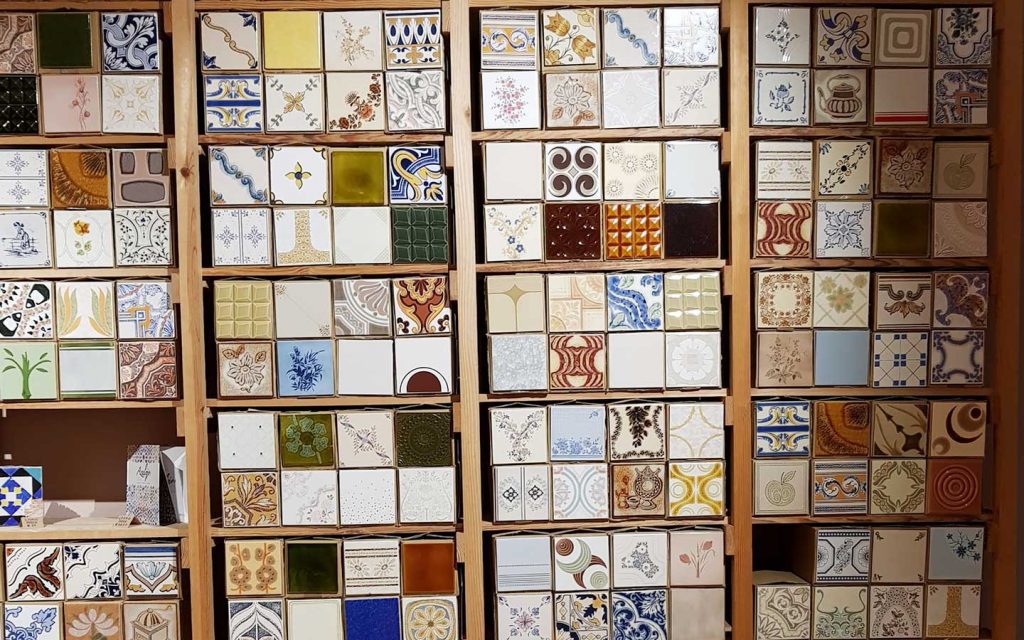 Solar Antiques, Principe Real
If you absolutely must have an antique, original Lisbon tile or azulejo then venture into Solar Antiques. This is a reputable antique tile seller who have a huge collection of well documented antique azulejos spanning from the 15th to 19th centuries. Expect to find panels, building tiles and interior tiles from churches and old palaces. D'Orey Tiles in Chiado is another spot for antique azulejos.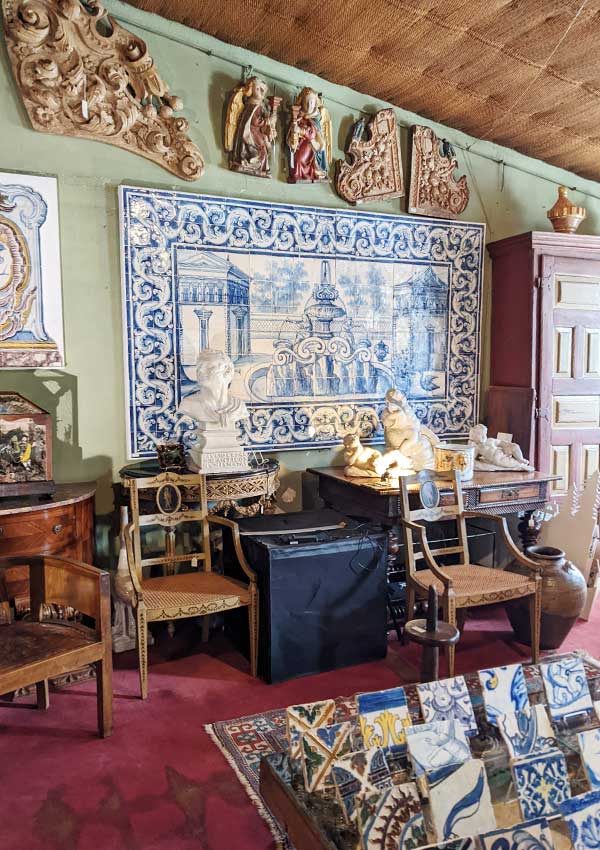 Surrealejos, Santos
For something completely different, look to this shop that sells surreal ceramic tiles individually or in panels that you can use throughout your home, inside or out. I'm more of a traditionalist, but I love variety and anything outside the box. Surrealejos is certainly that!
Bordallo Pinheiro
With shops around the country, it's easy to find the famous Bordallo Pinheiro ceramics (hello my favourite cabbage bowls) anywhere in Portugal. If you like embossed tiles, this historic brand still produces its iconic range of art deco style tiles with frogs and butterflies at the centre.
A Vida Portuguesa, Chiado
My favourite shop in all of Portugal, the brilliant A Vida Portuguesa boutiques sell all things Portuguese with almost entirely heritage brands. Step inside and find a small range of hand-painted tiles, probably with cork underneath to make coasters.
Tile-painting classes in Lisbon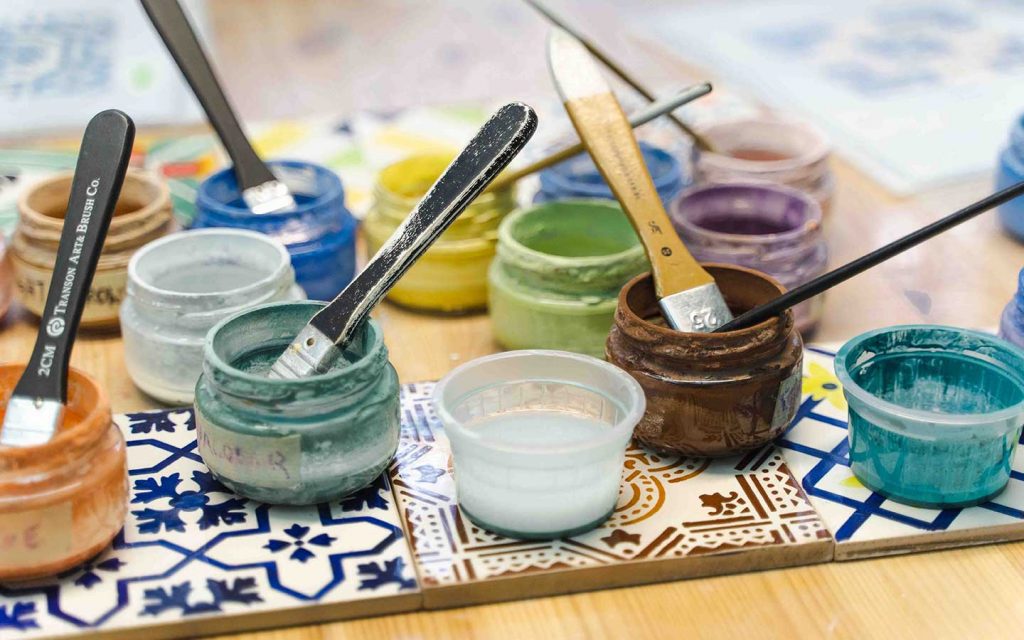 I've written a whole blog on tile-painting workshops across Lisbon and Portugal.
Where to shop for tiles in Porto
Factories and azulejo ateliers in Porto
Gazete Azulejos, Bonfim
This is maybe my favourite tile project in Portugal. Gazete Azulejos is more than just a hand-painted tile atelier. Alba and Marisa research, share and preserve the history of Portuguese tile making in Porto. Beyond the made-to-order tile studio and group workshops for tourists, they are also building a non-profit digital archive called Os Azulejos do Porto documenting the patterns that decorate the facades of Porto. Very cool. I've done a tile workshop with them and it was great to see inside the studio and gain insight into their world.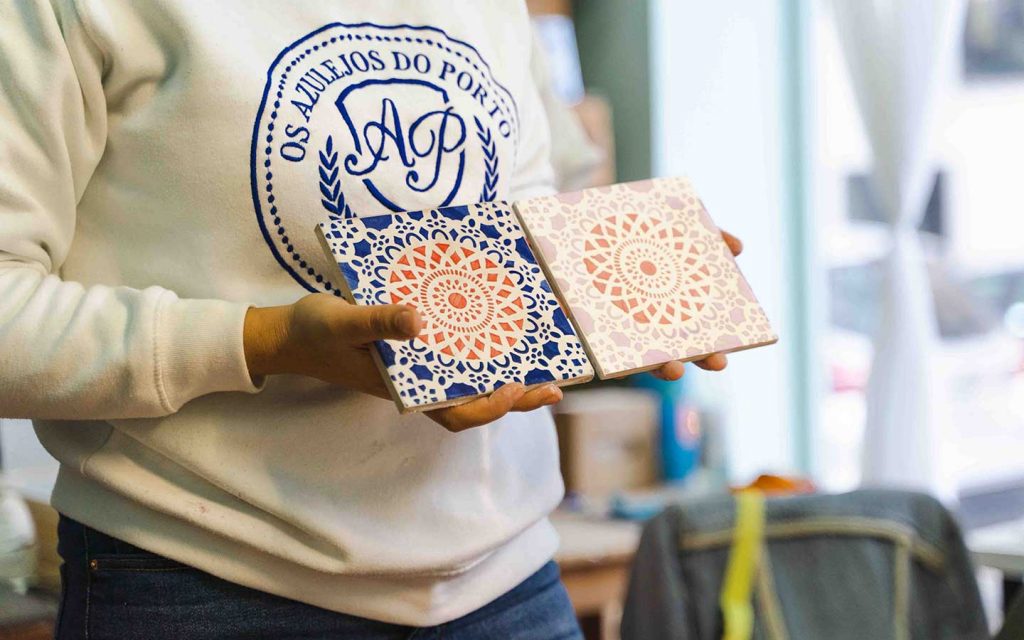 Azulima, Boavista
The showroom of this azulejo factory is stocked with every type of tiles, shape, colour, style and technique you could dream of. From old-style hand-painted scenes to modern colours and even concrete floor tiles, you'll find it all at Azulima – happy browsing.
Zinda, Ribeira
Zinda is a small independent boutique that sells hand-made ceramics and tiles made by artist Adosinda Pereira. It's super cute and right in the heart of the city.
Boutiques and shops that sell tiles in Porto
Prometeu Artesanato, Ribeira & Batalha
Drop into this boutique to shop artisanal ceramics, tiles and other goods from around Portugal. There are three Prometeu Artesanato shops in downtown Porto, so you're almost guaranteed to pass one and lucky you, the focus in each store is really on the azulejos that cover the walls and counters. Choose from multi-tile panels or tiny hand-painted magnets to take home.
Crivart, Miragaia
This small boutique stocks all sorts of Portuguese souvenirs, including tiles. Shop a range of coloured, illustrated and stamped azulejos of various styles at Crivart. Some have been made into coasters and fridge magnets, a perfect gift or souvenir.
Sir Tile, Cedofeita
Combining the best of two key Portuguese products – tiles and textiles – Sir Tile produces very cool azulejo socks. The north of Portugal is known internationally for its high quality clothing manufacturing, so take home a pair of Portuguese made socks with tile prints.
Tile-painting classes in Porto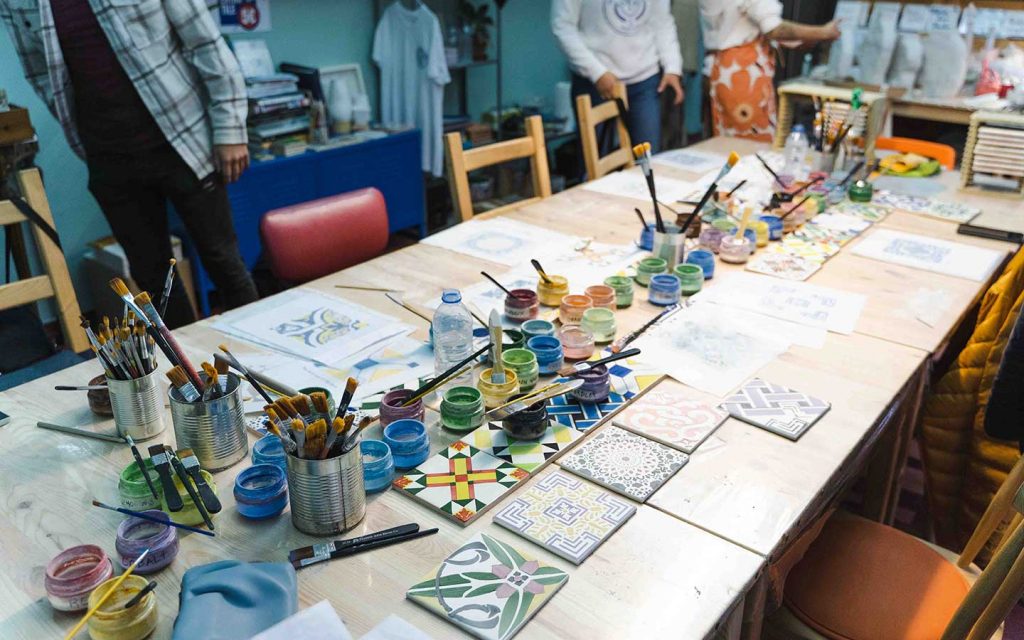 Read this blog about tile-painting workshops in Porto and paint your own take-home souvenir, just like the originals.
Where to shop for tiles elsewhere in Portugal
Factories and azulejo ateliers in the Algarve
Porches Pottery, Lagoa
Since 1968 this Algarve pottery institution has crafted hand painted ceramic pieces and tiles, inspired by Portugal's rich past and the south's Mediterranean way of life. Shop panels, tiles, house plaques and pottery at Porches Pottery in Lagoa.
Olaria Pequena, Lagoa
Close to Porches, Olaria Pequena produce a most artistic range of hand painted tiles that draws inspiration from nature, the coast, the seas and Algarve living.
Terracota do Algarve, São Brás de Alportel
While the focus of this family-owned ceramic business is, as the name suggests, on terracotta products (yes, those gorgeous Algarve terracotta floor and roof tiles), Terracotta do Algarve have a network with artisans who create hand glazed tiles elsewhere in the country.
Tile-painting classes in the Algarve
Read my guide covering tile-painting workshops in the Algarve.
Factories and azulejo ateliers in the Centre
Aleluia, Aveiro
Founded in 1905, Aleluia is a ceramics factory on a mega scale. While they have huge warehouses and state-of-the-art wall and floor tile ceramic production, they still choose to keep some traditions and have a range of modern and traditional patterns that are hand painted.
Sá Nogueira Azulejaria, near Obidos
At the studio of José and Amélia they produce tiles and ceramic boxes with tile lids inspired by the Arabic relief tiles and traditional colours. You'll find Sá Nogueira Azulejaria goods in museum shops at palaces around Portugal, but it sounds like they also accept visitors.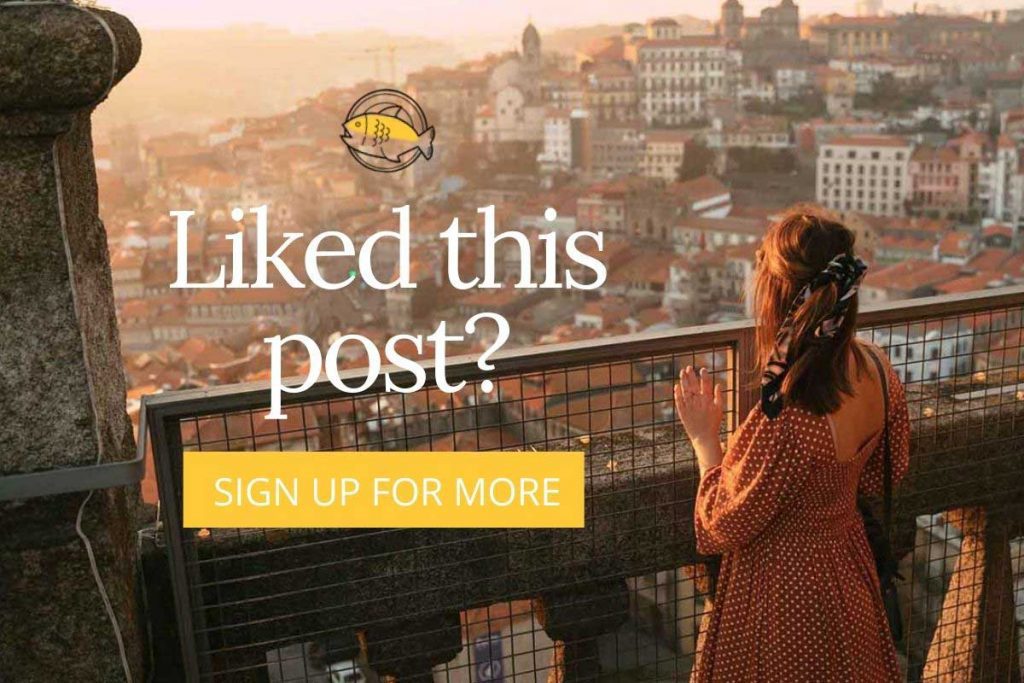 That's my mega guide to where to buy tiles in Portugal, covering azulejo workshops and ateliers from Porto to the Algarve. If you're interested in ceramics, you might like my guide on Where to shop for Portuguese ceramics or you can find a tile-painting workshop in Portugal here.
If you found this guide useful, please leave a comment! It makes my day 🙂