If I have a free Saturday morning in Lisbon I love to venture over to Alfama and kick around the Feira da Ladra market. You never know what you'll find at Lisbon's oldest flea market – it's been in existence since the 12th century – and that's the joy of the hunt.
Vendors at Feira da Ladra set up at Campo de Santa Clara every Tuesday and Saturday. Expect an eclectic mix of stalls selling everything from vintage clothing and collectibles to books, vinyl and antiques. There's a couple that rewires and adds funky glass to vintage lamps, you can buy new socks and shoes made in Portugal, pick up original artworks, or sift through boxes of plates and cups for €1. There are plenty of gems to uncover in the rough.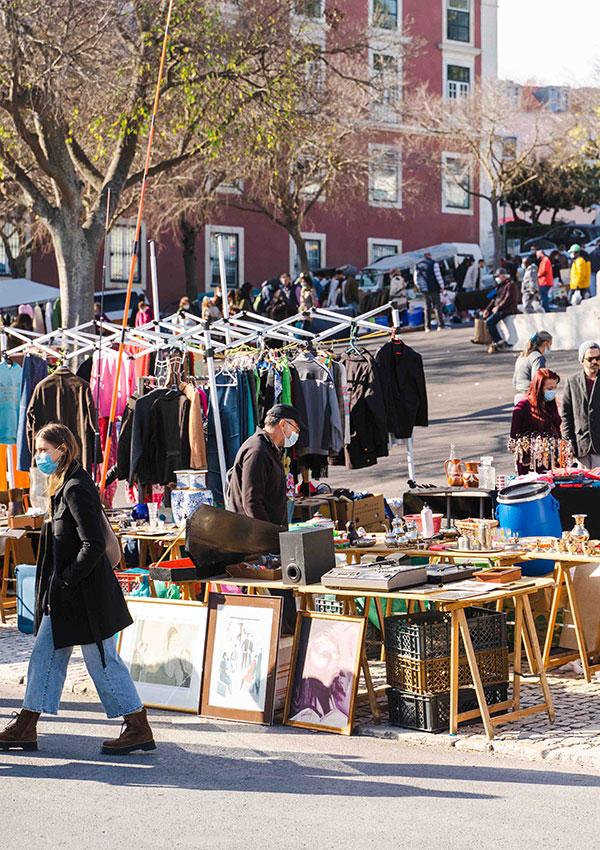 The name Feira da Ladra roughly translates to "Thieves' Market", but many believe it's actually named after ladro, a bug (or flea) found in antique furniture. The stallholders are not thieves, though I do question the antique tiles… more on that issue below.
I have found some incredible homewares at Feira da Ladra, the highlight being our dining room chandelier for €20. When I spotted it lying on a spread-out sheet with three other items the owner was nowhere to be seen – he'd already snuck off for a beer at the cafe bar and I think he was happy to take the money to continue his fun. To be honest we didn't have much confidence it would actually work. But it does! I've also picked up a giant tomato-shaped Bordallo Pinheiro tureen and cabbage-shaped cheese tray.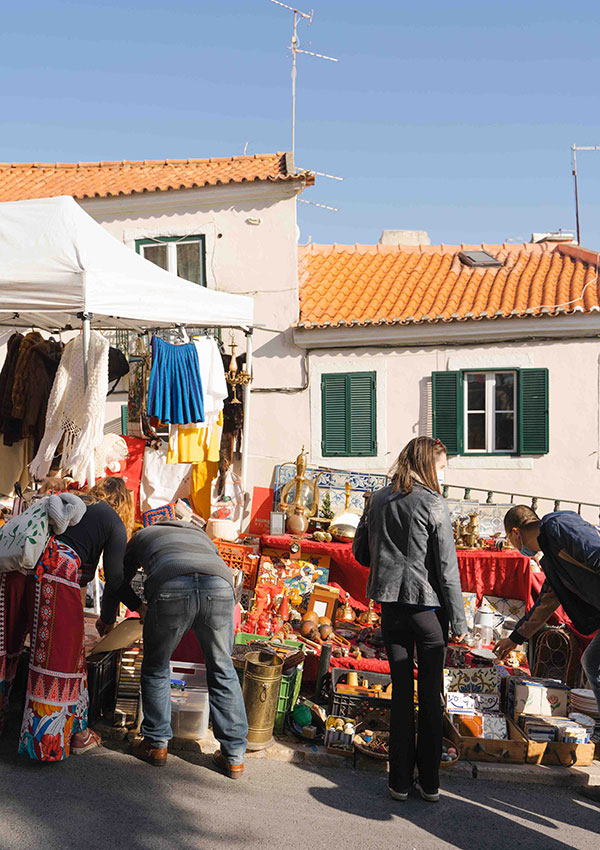 If you want unique souvenirs from Lisbon, or to kit out your kitchen with crockery and cutlery not made by IKEA, Feira da Ladra should be your first stop.
When: Tuesdays and Saturdays, usually 8am until 6pm, but many traders pack up by 2pm.
Where: Campo da Santa Clara, Alfama
How: Take Tram 28 or the Santa Apolonia Metro
My tips for exploring Feira da Ladra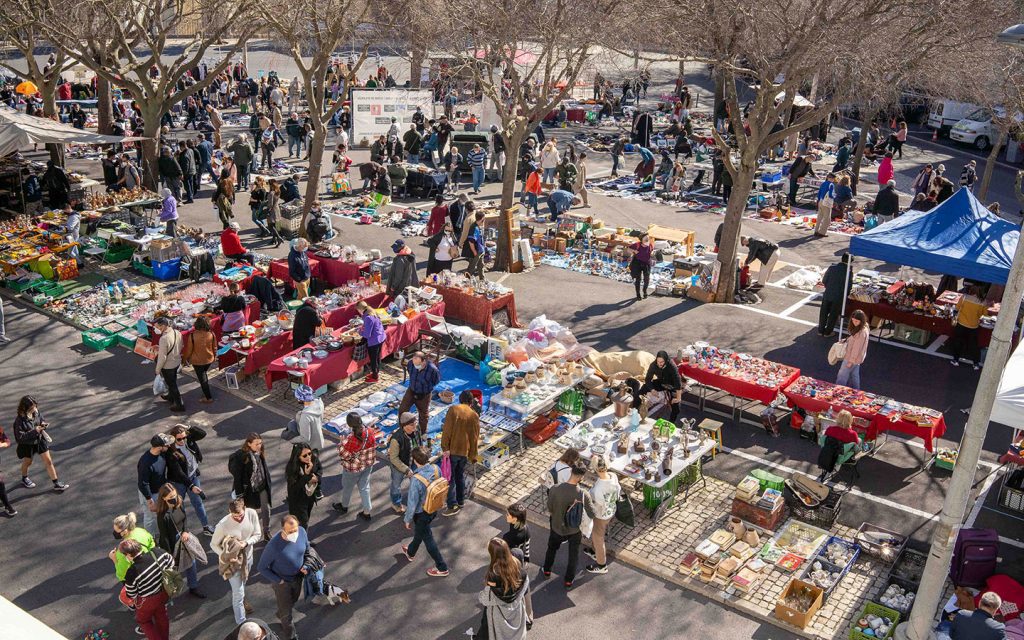 Bring cash
Cash is king, so if you don't want to line up at the ATM in the middle of the market come equipped with cash.
If you live in Portugal, you will have a local bank account and most vendors will accept MBway too.
Try to speak Portuguese
You want deals? Charm the lovely stallholders with some shitty Portuguese. Learn your numbers and ask "quanto custa?" [qwan-tu cush-ta] to ask the price. That said, most stallholders will speak English either because they're under 50 or are used to tourists frequenting the flea market.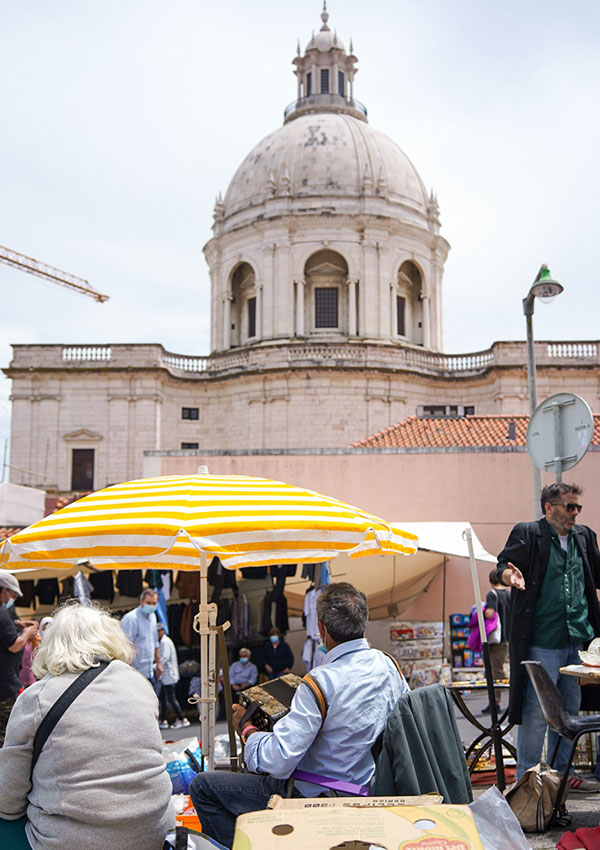 Don't be afraid to bargain
Price seems too high? Don't be afraid to ask for a deal. While bartering is not part of the culture in Portugal, at a market like this you can ask for better prices or deals, especially if you buy more than one item.
Avoid buying antique tiles!
Those beautiful antique tiles you see? That's Lisbon's heritage and they were likely illegally ripped off a building by vandals or while it was being renovated. Ouch.
If you love Lisbon's colourful tiles, the best thing you can do is buy replicas. I've written about avoiding antique tiles from unknown or unauthorised sellers in my blog about where to buy tiles in Portugal.
Another fun alternative is joining a two-hour tile-painting workshop – you can find classes in Lisbon, Porto and the Algarve.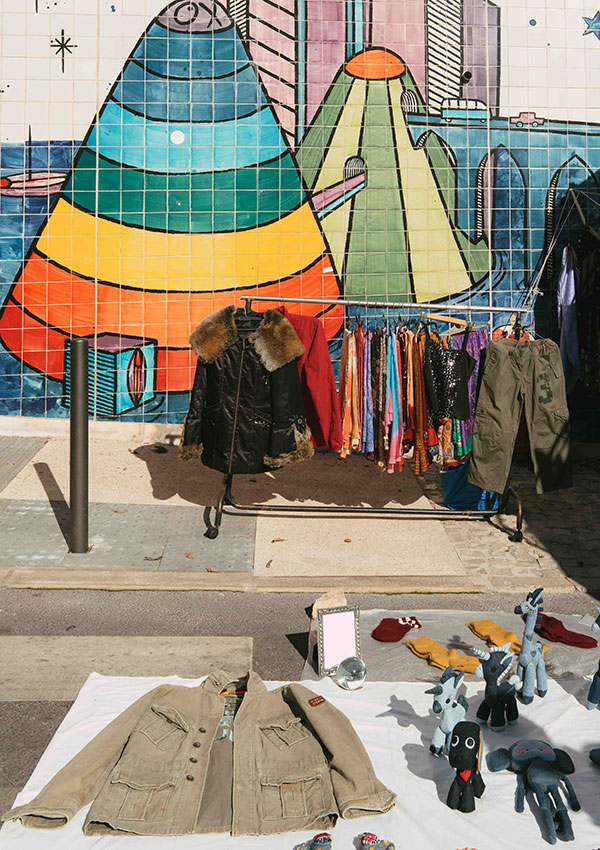 Where to eat near Feira da Ladra
The flea market is massive, so you might like to stop for coffee or take a long lunch in the sunshine after a morning of bargaining. For specialty coffee, there's a Copenhagen Coffee Lab right on the square. Alternatively, it's nice to wander into Jardim Botto Machado and enjoy a Portuguese espresso at the Clara Cafe kiosk.
For lunch, the tasca on the edge of the permanent market hall, Tabernita, is a cheap, cheerful spot for Portuguese food, Santa Clara dos Cogumelos is a treat for Saturday lunch, or I love bathing in the sunshine with a bowl of pasta at Tazza in Giro.
Slightly further afield you'll find my long-time favourite modern tasca Taberna do Sal Grosso, and classic Lisbon tascas Maçã Verde and Sardinha.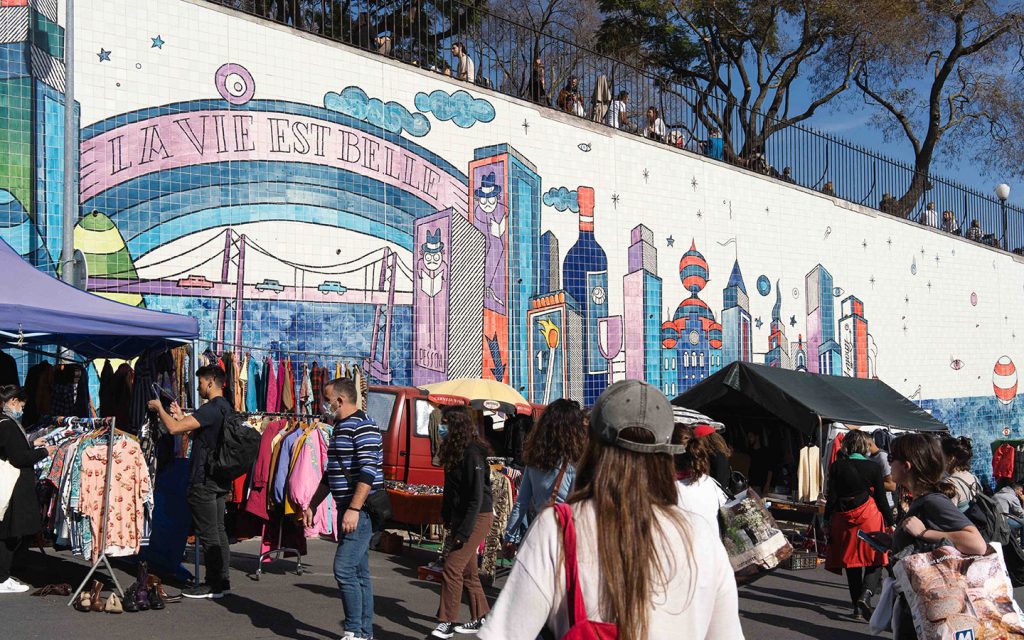 Things to do after exploring Feira da Ladra
Shopping Feira da Ladra is really a morning affair. Many of the stalls shut down by 2pm when the vendors go off for lunch.
The flea market pops up in the shadow of the National Pantheon's (Panteão Nacional) dome. Explore this 17th-century church and mausoleum, especially on a good day when you can take in the views from the terrace. If one church isn't enough, visit the Mosteiro de São Vicente de Fora, a historic monument with gorgeous azulejos (tiles) and a rooftop terrace with views.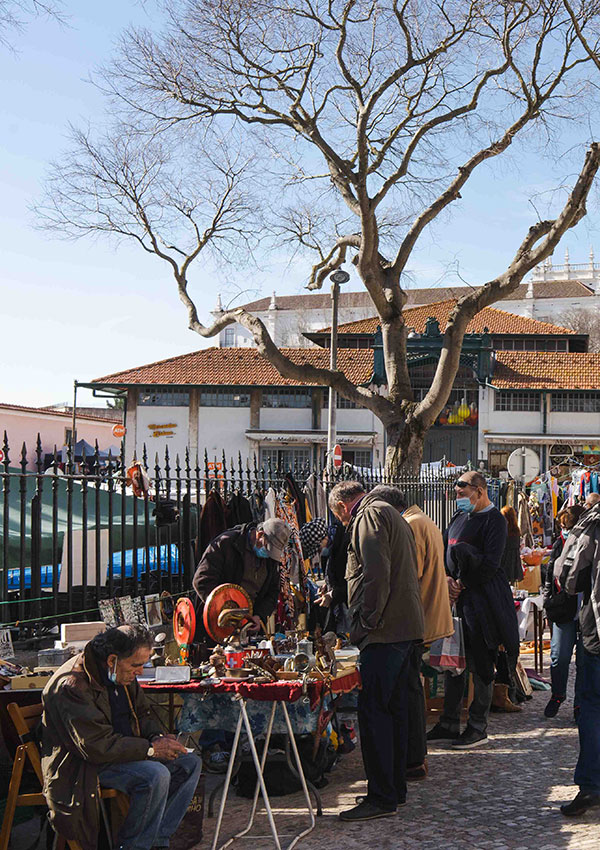 From here you could choose to walk through the skinny streets of Alfama, one of Lisbon's oldest neighbourhoods, having survived the great earthquake in 1755. Every corner is a photograph here.
Or you could wander up to Graça, a local neighbourhood with great views over Lisbon city. Graça has loads of great little wine bars and restaurants, and you must stop at the Miradouro da Graça to take in the great views. From here you could drop down to a beautiful park, Jardim da Cerca da Graça, or follow the tram line.
Speaking of trams, often after Feira da Ladra I follow the tram 28 path on foot back towards Baixa. It's a beautiful, mostly downhill route back towards Lisbon's touristic centre.
Where to stay near Feira da Ladra
It's not crazy to want to stay right near the flea market – it's super close to the top sights in Lisbon. Stay in the brilliant five-star The Editory Riverside Hotel, right above the train station. Book an apartment with Alfama – Lisbon Lounge Suites, or check out the São Vicente Alfama Hotel. Or wake up above the market square at the magnificent and historic (with tiles!) bed and breakfast Casa dell'Arte Club House.
Have you been to Feira da Ladra or are you planning to go? If you have more tips, leave me a comment….