Bolo de caco. Milho frito. Peixe espada. Lapas. Maracujá. Madeira Island might be part of Portugal, but this sub-tropical drop in the Atlantic has its own strong identity – and most importantly, unique dishes and foods to try.
We spent nine days exploring Madeira from east to west, seeking out the best restaurants, snack bars, poncha pubs and food experiences. Not everywhere we went impressed me, so this list on where to eat or drink in Madeira only includes the places I whole-heartedly recommend. Here are the tried and tested spots I suggest you seek out on Madeira Island.
Where to eat in East Madeira
If your idea of heaven is also an open air shed where locals gather to DIY grill espetadas (meat skewers) and drink jugs of red wine with laranjada (orange soft drink), then welcome to Talho do Caniço. It's not the easiest dining experience. First, pop into the butcher shop up front. It's a regular butcher, but you order meat for however many skewers you desire, then watch as they slice, dice and season the steak before your eyes. You can also get little sausages and chicken to grill.
Exit the butcher, round the block with your meat swords and head out back. Find yourself a table, hang your metre-long skewers on the poles and venture into the cute vintage bar to order vinho and bread. There's no salad and no fuss here.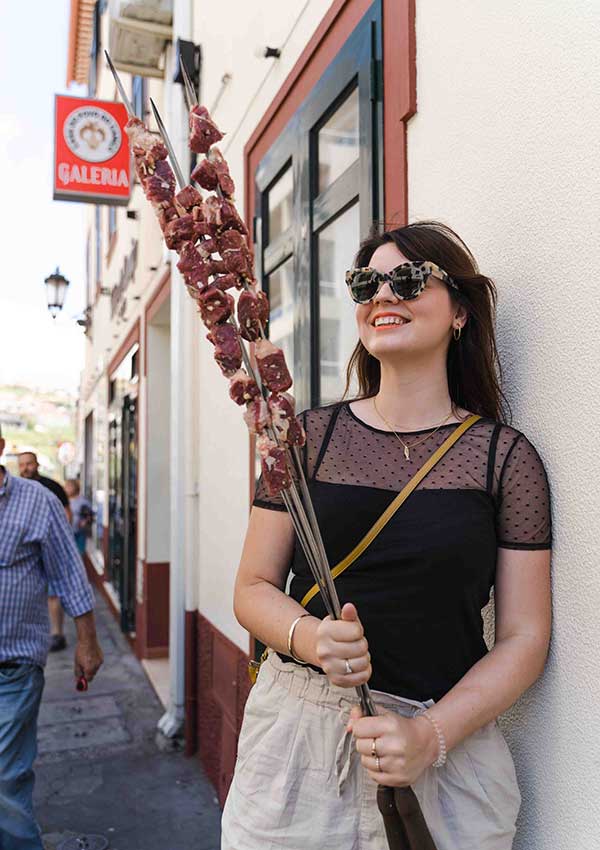 Now you can approach the huge wood-fire barbecue to grill-your-own skewers. Intimidating? Slightly, but there's a friendly grill master on hand to offer tips and keep the coals hot. Then, simply do as the locals do. Stand around the tables (there are no chairs), pull hunks of beef off the skewers with your bread and debate which Portuguese football club is best. 
We loved Talho do Caniço so much we returned for 5pm skewers on our way to the airport. We'd already eaten at (probably) the most famous espetada restaurant on the island, but were really disappointed with our overcooked single €15 skewer. At Caniço, €15 gets you two espetadas, half a dozen small sausages, a jug of red wine, a basket of bread and one hell of a vibe. It's only open a few days a week, but the grill seems to run all day.
READ MORE: It's worth a flight to Madeira just to eat these espetadas
The Madeira town with the cute and colourful triangular houses with straw roofs? That's Santana. We came here to check out the traditional home, snap a few photos and find lunch. Knowing Portuguese serving sizes and not wanting to overeat for 9 days straight, we opted for the most delicious tomato and onion soup, a traditional Madeiran dish, that comes with a poached egg floating in the middle. For main, we shared the octopus. It arrived in a clay pot still bubbling from time in the oven. Soft and tender yet crispy – one of the best octopus experiences I've had to date.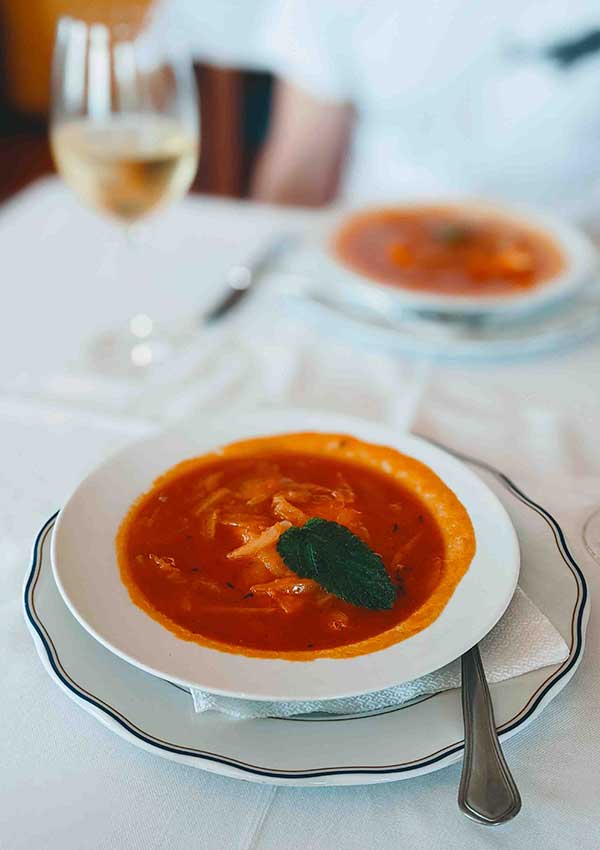 Oh, and Santana. If you don't have time in your itinerary, skip it. The little triangular houses are cute and worthy of a photo, but there's not much else to the town.
We spent two nights in Porto do Sol, a small village with plenty of charm. Here one of the main businesses is the old rum factory, Engenhos do Norte. If you visit between March and May (like we did) you'll see the factory in full force with steam wafting from the 30-metre high brick chimney as burley men process truck after truck of sugarcane. The smell of smoky oil and fresh cane sugar juice fills the air as the whirling sound of rapidly firing steam-powered pistons fills your ears. It's the last one on the island to still use steam-powered equipment and it's brilliant to watch each step from stem to juice. After checking out the factory, venture over to the bar to the taste the goods and sit down with a poncha.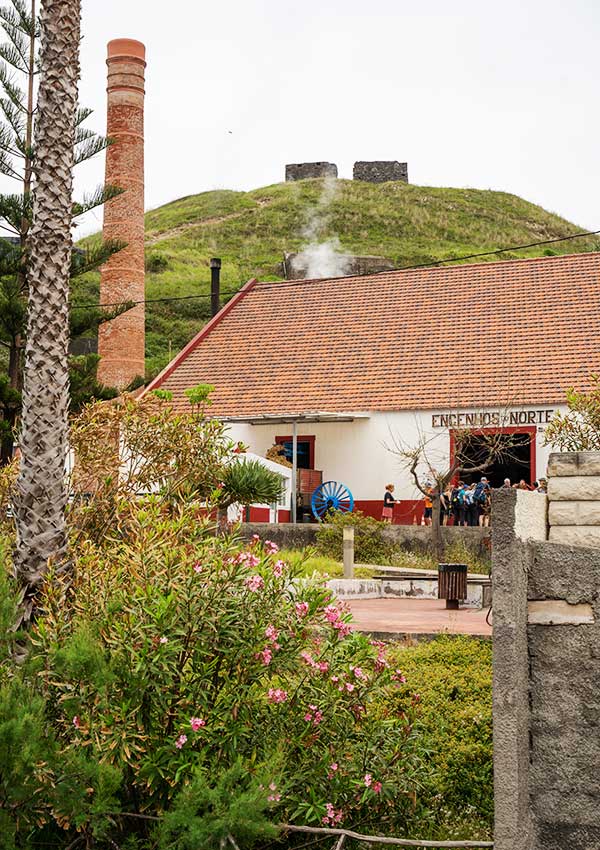 A Portuguese food writer I highly respect suggested this spot, so we booked dinner and ventured off to O Moinho the ahead of time, so we settled for other mains. While those mains didn't wow us, the sopa de trigo here was mind blowing. This heart-warming soup was like a hug for the soul. The milho frito at O Moinho was also brilliant and the first we'd had that was homemade – and you could tell.
Where to eat in Funchal
This little cafe in the centre of Funchal is a gem. Right around the corner from where we stayed, Museu is a casual cafe and bar that puts a lot of love into its food. The chef is clearly inspired by Portuguese and Madeiran ingredients and international flavours. The best deal is to go for lunch where the menu do dia changes each weekday offering a vegetarian, meat or fish dish plus a drink and coffee for €9.50. When we were there the changing daily dish included things like roasted quail with a shallot compote and Port wine reduction, and tuna tataki with pickled vegetables, banana crisps and avocado creme. Really fun.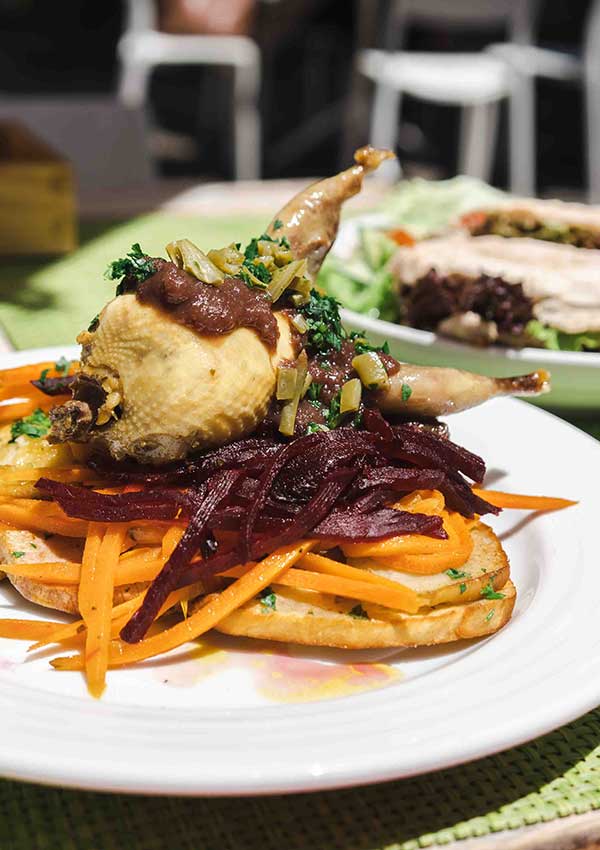 Tuesday night is jam night, so pass through from around 8pm or so for live music, a mixed local crowd and cool vibes.
Also great to note, there' are only a couple of coworking spaces in Funchal so it's great that Museu Cafe is laptop friendly too. The staff didn't mind if I sat in the courtyard all afternoon catching up on emails and sunshine.
Step foot inside the local fish market and you'll see the long, black, ugly-ass fish hanging from the marble countertops. Peixe-espada-preto has a face only a mother could love. I thought I hated the black scabbard fish after having tried it a few times on mainland Portugal. I was wrong.
On Madeira, it's common to see fillets of peixe-espada-preto, often served with Madeiran banana. At Taberna Ruel it arrived with a sweet potato puree and crisps too. Set right in the heart of Rua de Santa Maria, a very touristy street that's filled with restaurants tables spilling out onto the footpath and gorgeous street art. Given the location I didn't hold my breath for this spot, but the food was excellent.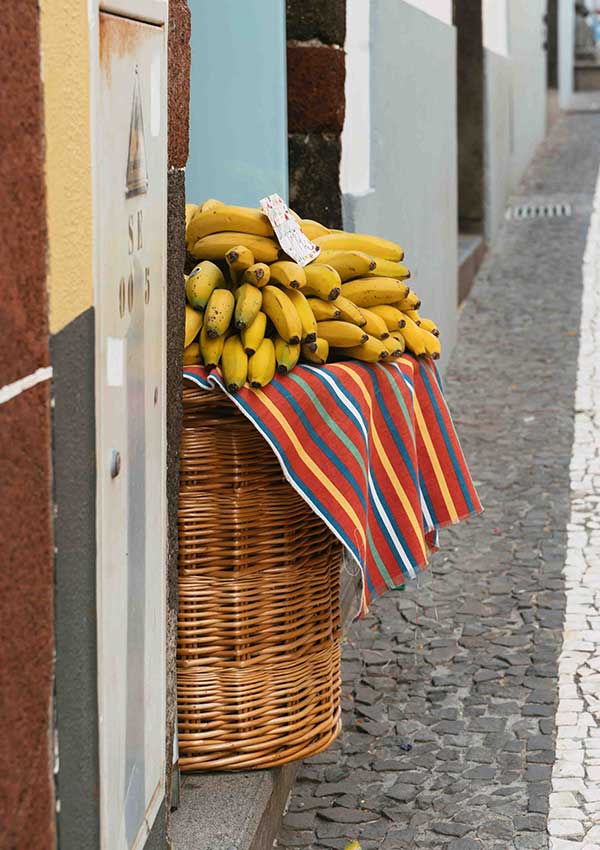 This hip burger and cocktail bar has a huge seafront terrace that's the perfect spot to catch the sunset over the ocean. Young Madeiran owners Claudia and Fabio do more than just run a bar. Musicians themselves, they're also organising cool and creative events and mini festivals across the island, bringing a bit of what's missing to remote Madeira. Go on Fridays for jam sessions and Saturdays for concerts.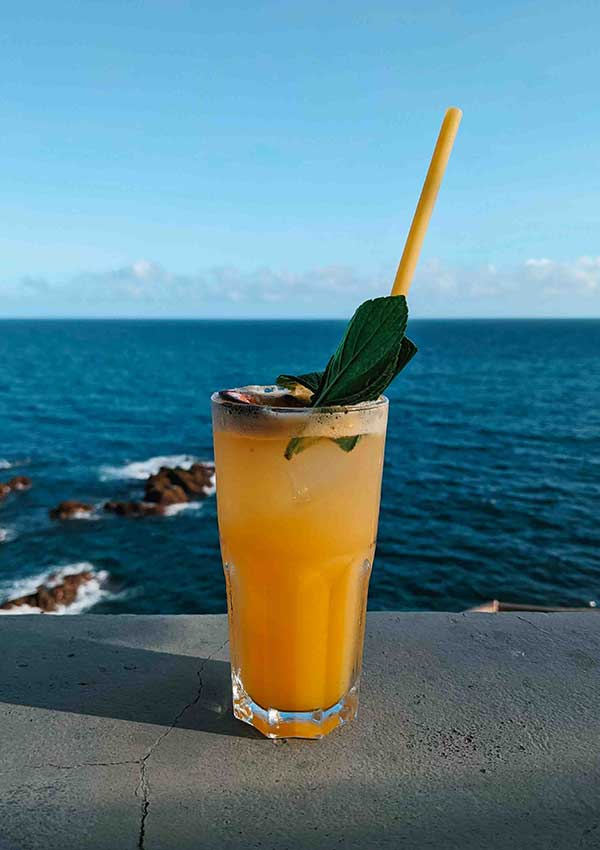 Love craft beer? You'll love Fugacidade. I finally got to meet long-time Insta-friend Joana a.k.a Cityodes here, which felt fitting given the Lisboeta lived in Prague for a while. Here you'll find a full range of taps loaded with Portuguese craft beers from various breweries, plus there are wines and poncha if beer isn't your thing. We tried the picado (chopped steak with gravy and chips) here and it was brilliant – ask for piri piri oil too. There's a short menu of interesting Madeiran snacks.
Tobogganing down a mountain in an oversized wicker basket? Sign me up. Taking a ride with the carreiros do monte was very high on my list of things I wanted to do. Of course, to get to where gravity, a basket and two burly men could steer us down a mountain slope we had to venture up into the hills. There's a pricey cable car that gets you to the top of Monte, where the adventure begins. Don't rush straight there – instead stop at Local Coffee Shop for a brilliant cup of locally roasted specialty coffee with spectacular views over a lush green valley. Coffee pro Gonçalo also owns nearby cafes Land and Greenhouse.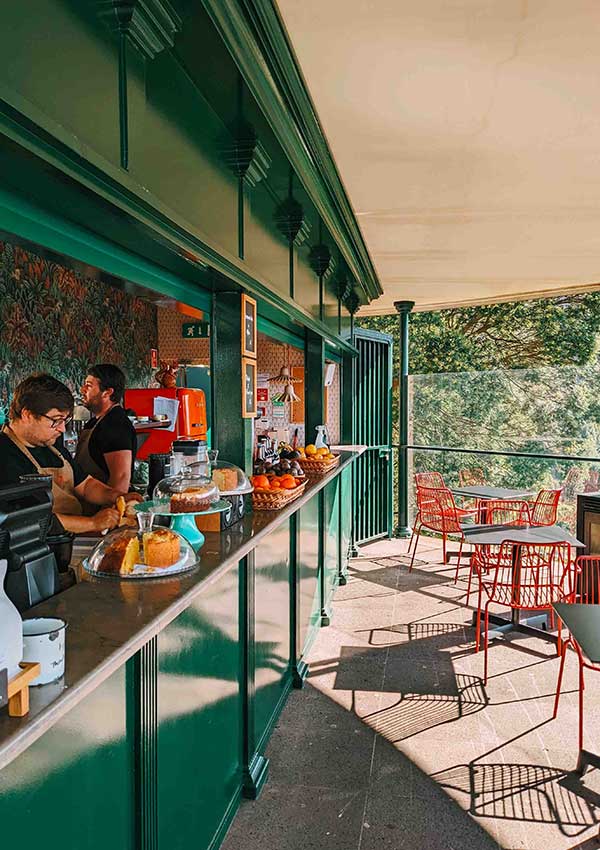 It may have only been May, but Funchal was hot, hot, hot while we were there so thankfully Maia Coffee was close by with delicious cold brew to keep us cool and caffeinated. The specialty coffee shop also services the average Portuguese drinker who likes a strong, dark espresso, so make sure you ask for the single origin roast for your cup.
A Venda do Andre, Quinta Grande – €
After pulling up at one recommended poncha bar to see it overloaded with tourists in fluro activewear, we redirected to A Venda do Andre. This vintage poncha bar is all charm and I loved watching the staff make the drink before my eyes. Definitely the best, most balanced poncha we tried. I knocked back a second while munching on free peanuts and tremoços (lupin beans), while my driver settled for a Brisa. Three? That would be a deadly hangover.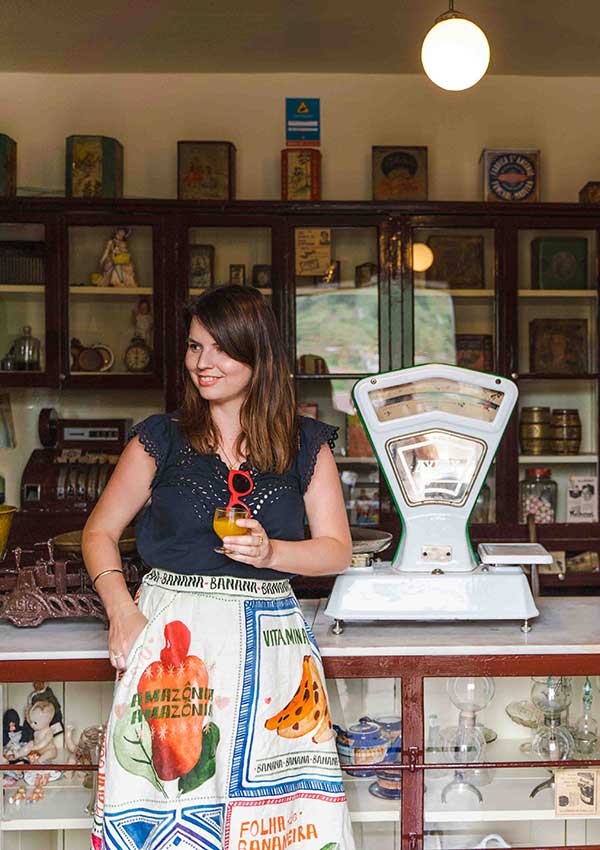 Where to eat in West Madeira
There's nothing better than a cheap, casual spot with spectacular oceanfront views. We pulled up a seat right on the water at the Naval Club in Seixal. It was edging towards 3pm and we just wanted something light. We received the best lapas (grilled sea barnacles) of the trip, which pair beautifully with the local lager, Coral, of course. We also shared a marinated octopus bolo de caco sandwich. Afterwards? The only thing left to do is luxuriate on Europe's third best beach for 2022.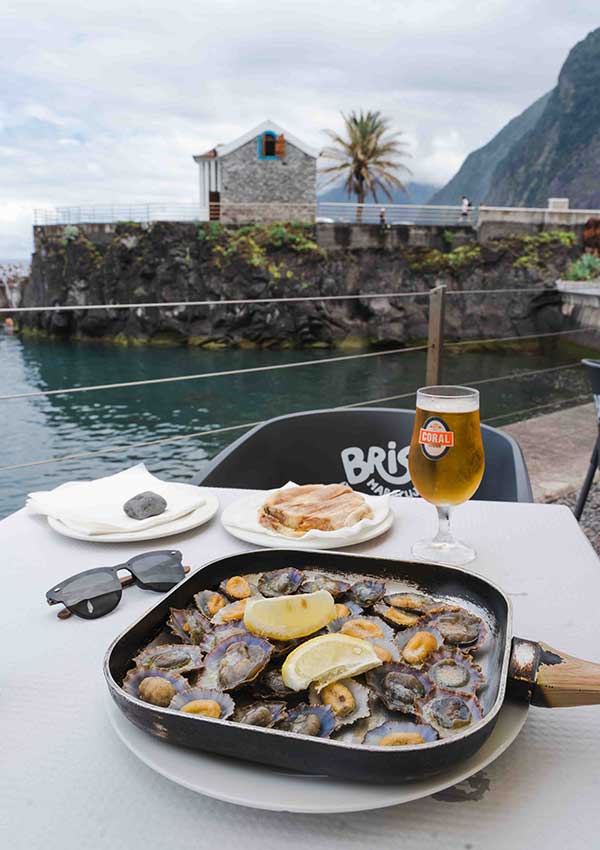 A Poita, Madalena do Mar – €
Madalena do Mar is the cutest town. Driving down from the highway there are 40 banana trees to every house on a thin sliver of land squeezed between Madeira's signature mountainous landscape and the wild Atlantic Ocean. One of these houses is home to A Poita, a fish restaurant fittingly owned by a fisherman. We ordered the island specialty – fragateira – which is like caldeirada, a fish stew with tomatoes, peppers or capsicums, onion and spices. The main difference, I believe, is that fragateira contains lapas. It was cheap, delicious and we enjoyed our lunch on the terrace.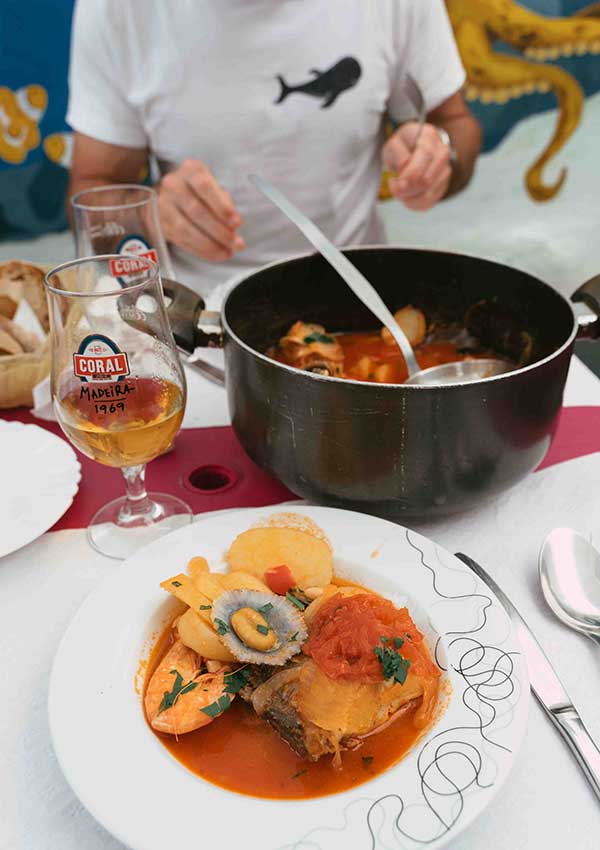 A hip specialty coffee shop in the middle of a tiny remote Portuguese village? That's XS Cafe. It might feel out of place but the space is run by two architects whose small studio is in the space next door. Order a flat white and sit on the terrace with a homemade cake – the apple pie was to-die-for good.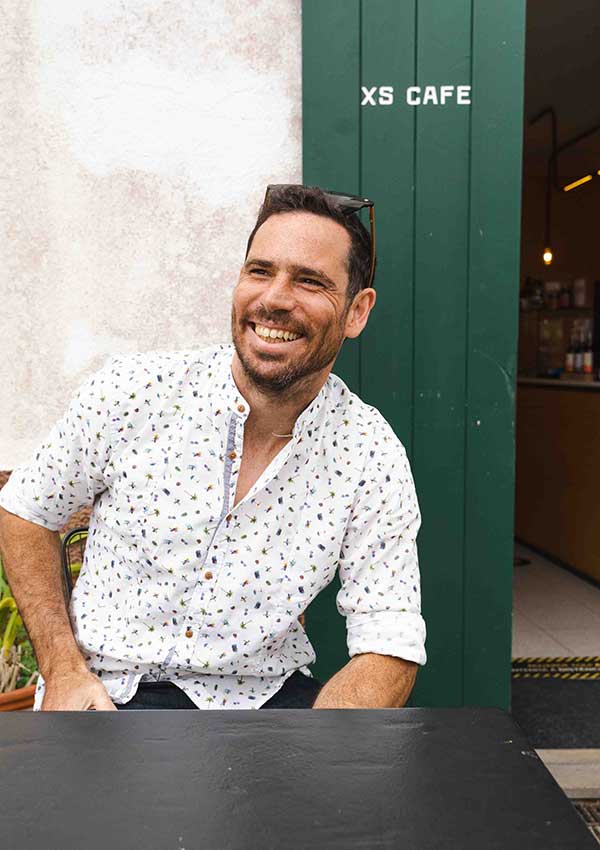 That's my guide on where to eat on Madeira Island. Got a recommendation for me to try next time? Leave a comment….