Francesinhas (the everything sandwich). Pork steak sandwiches. Offal stew. Spicy hot dogs. The food in the north of Portugal is heavier, that's for sure.
I adore Porto. It has everything you want and need from a city, in a small walkable centre that's cheaper than Lisbon. I've visited four times now, most recently for a full week working remotely with one goal: get to know Porto's food scene.
In this guide on where to eat in Porto I've rounded up some of my favourite local spots and unmissable Porto institutions. The city punches above its weight with non-Portuguese eateries too, so I've included a few favourites.
Eat well, walk it off and enjoy getting lost in this old city.
Need help deciding what to order? Portuguese food isn't easy to sum up in a sentence or two so it's worth taking a look at my guide to 25 of the most common dishes before you get started.
Best restaurants and tascas for Portuguese food in Porto
Culture note: At local Portuguese restaurants table snacks will likely be dropped on your table at the start of the meal. They're not free, so just shoo them away or ask for them to be removed if you don't want them. Also a "dose" usually feeds two people, so a half dose (meia dose) is for one. Portuguese maths!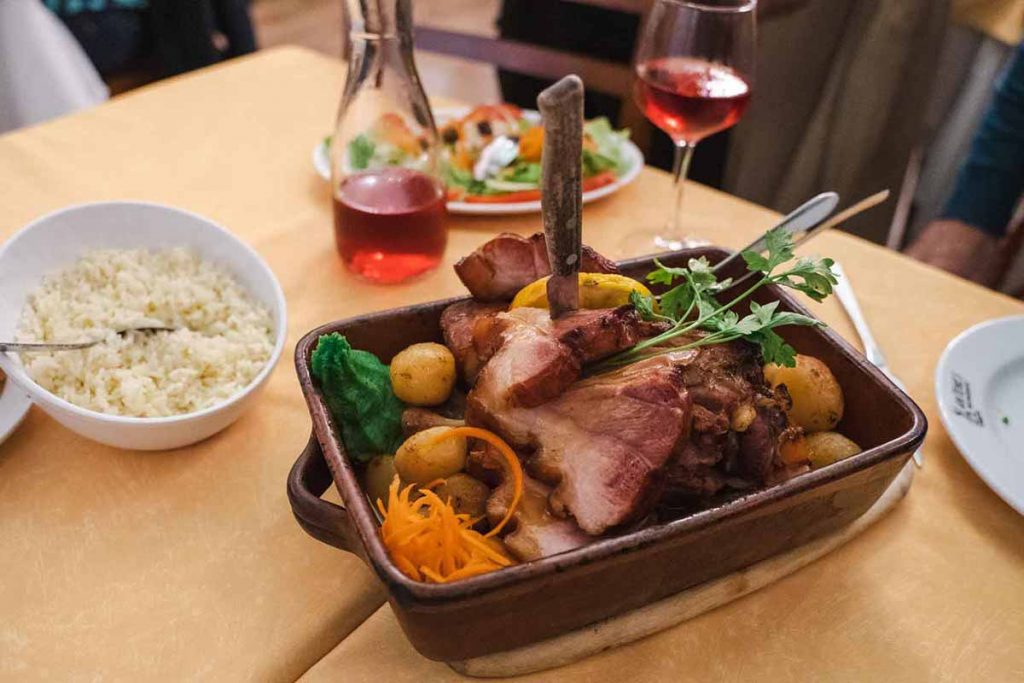 Come here and order the house specialty: pernil assado no forno. A giant terracotta baking dish with a huge baked ham leg and the best potatoes and gravy I've ever tasted landed on our table. One thing I miss living in Portugal is proper baked ham at Christmas, but now I've found a source. Designed to feed two, we were beyond stuffed and saw others comfortably splitting it between three. The locals at the table next door were pairing it with espadal, a cheap, slightly sparkling pink rosé wine from the vinho verde region, so we did the same. Finish with a rabanada (french toast) and enjoy pouring the sweet sauce over the cinnamon toast yourself.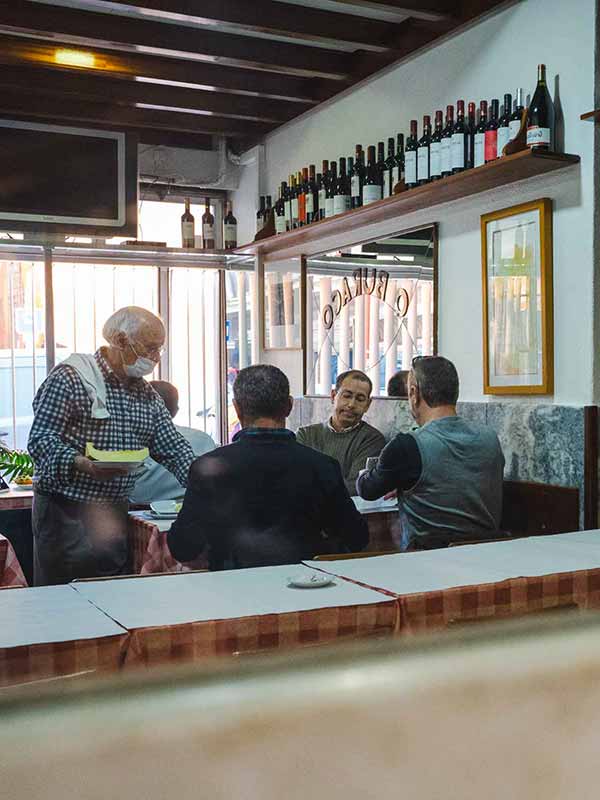 At lunchtime on a Tuesday this tasca was pumping. Inside, big tables of work colleagues and solo diners were tucking into plates of bacalhau, fried fish and grilled steak. I'd heard this was a great spot for fish, and the house bacalhau might be the best we've had. Don't skip the rabanada (french toast) for dessert. Curious about the changing menu? They post it daily on the Facebook page.
You've likely heard of the francesinha, a monstrous sandwich that can barely be called a sandwich. Stuffed with a steak, ham and two types of sausage, mortadella and cheese, then topped with a fried egg, slices of cheese and drowned in a special sauce, this dish is a Porto classic and Cafe Santiago is one of the spots to try it. To be honest, this isn't my favourite (I prefer Brasão) but come here if you can't get in there. Order beer to help wash it down.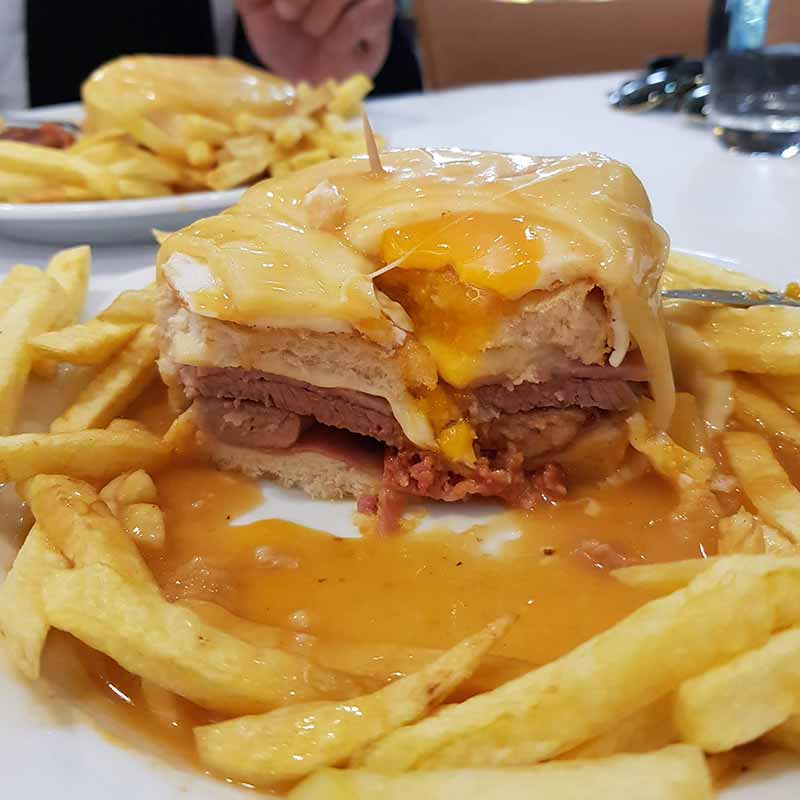 While usually bright white lights, steel countertops and paper tablecloths means you're in for an excellent treat, this famous spot for francesinhas is somehow the opposite. Inside, moody lighting and raw brick walls covered in artisanal ceramics firmly place Brasão in the 21st century. Thankfully the prices still align with other spots around town and this is my favourite place for a francesinha in Porto.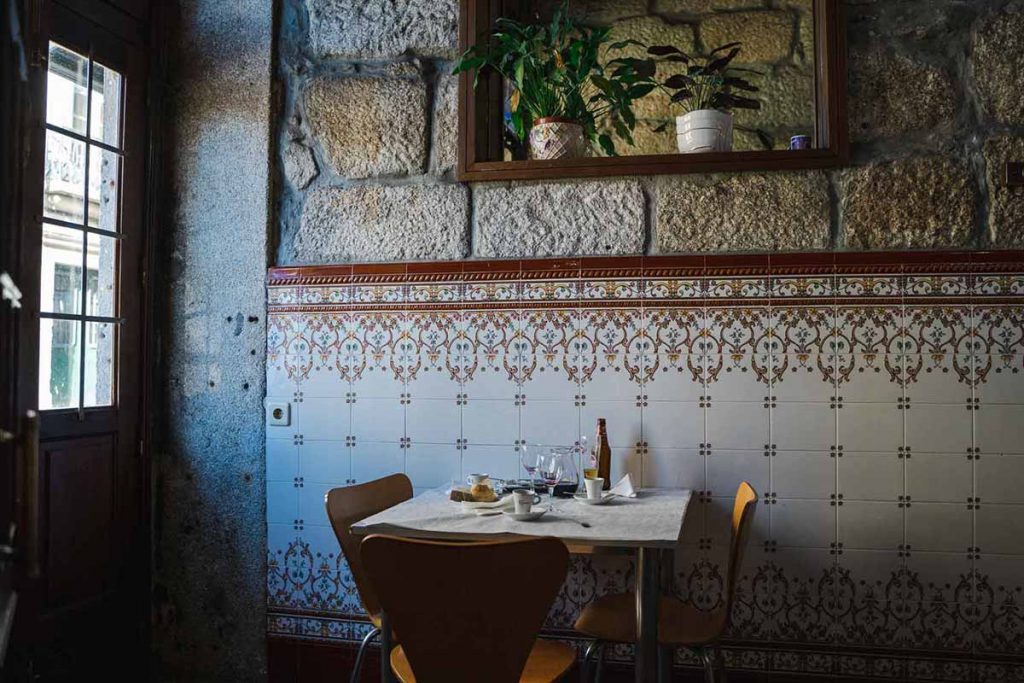 A cheap, cheerful, no-fuss, no-frills sort of spot you could eat at daily. The menu is scribbled on a board in the window and changes daily, with all dishes between €5-6 a plate. The alheira here (a bird sausage with a long, interesting history) was the best I've ever had.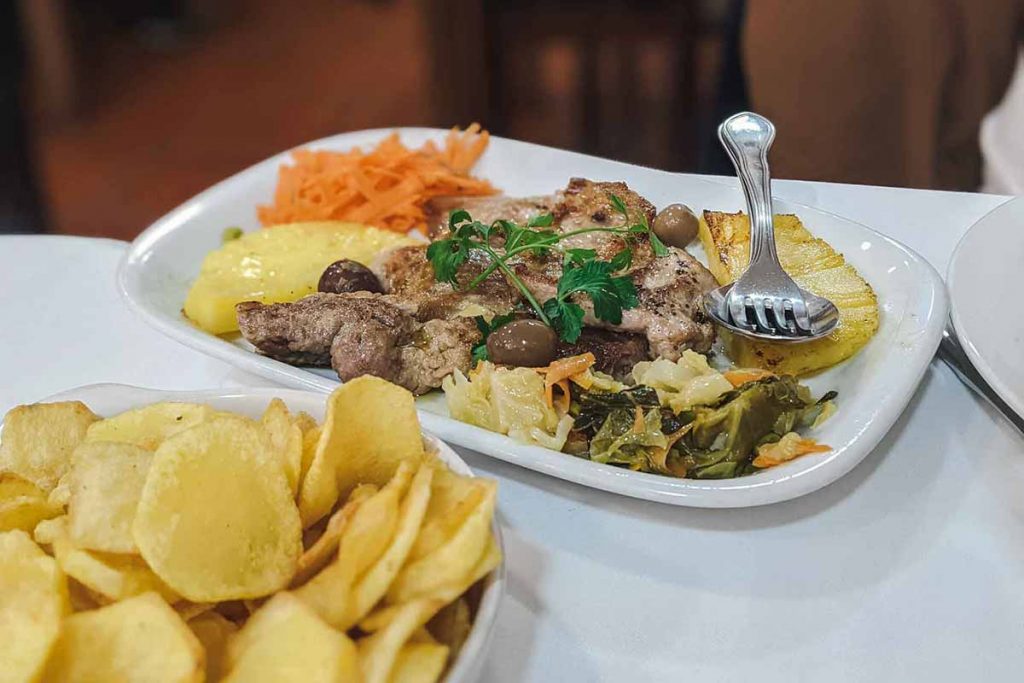 Right next to São Bento station, in any other city this should be a tourist trap but here it's a fantastic, classic tasca. This was our final meal before a long train ride back to Lisbon, and lucky us it was cabrito assado no forno (roasted goat) day. There's a solid standard menu here, but on the website you can see the special plates they cook on certain days each week. For example, if you want to try tripas à moda do Porto pop by on Thursdays and Saturdays. I recommend booking a table online.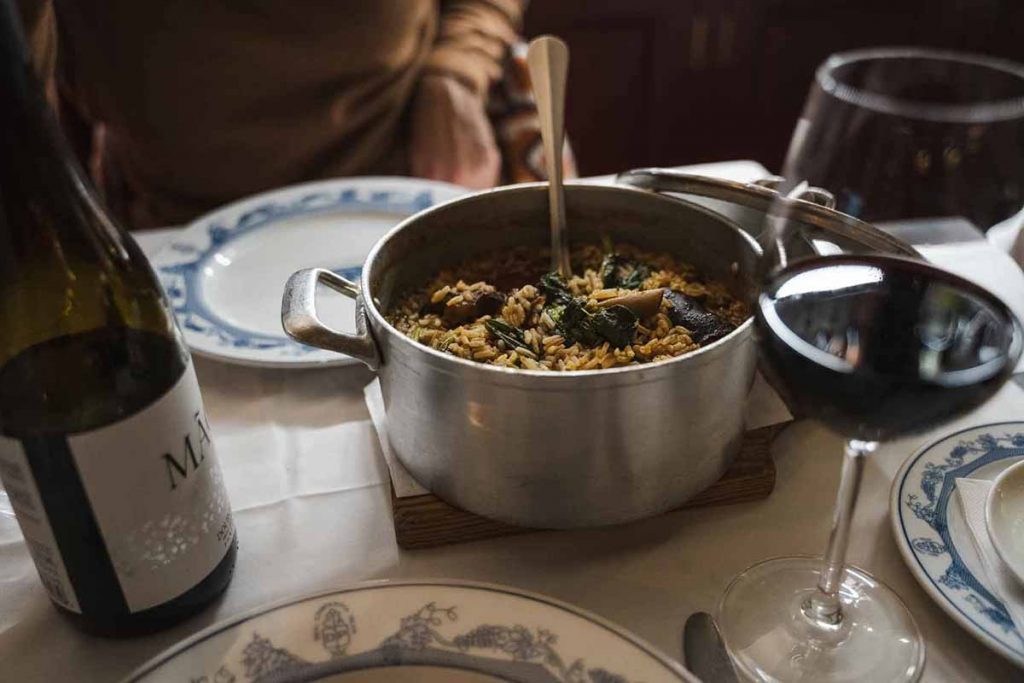 A restaurant with plenty of history, there's been a tavern on this corner since 1905, and by the name of Solar Moinho do Vento since 1955. Now the renovated space has white tablecloths, waiters with bow ties and a little old world European elegance with lively, traditional Portuguese food. In the kitchen they make an effort to source meat as locally as possible. We shared a pot of the arroz de costelinha, a savoury rice dish with little pork ribs and spinach. Booking recommended.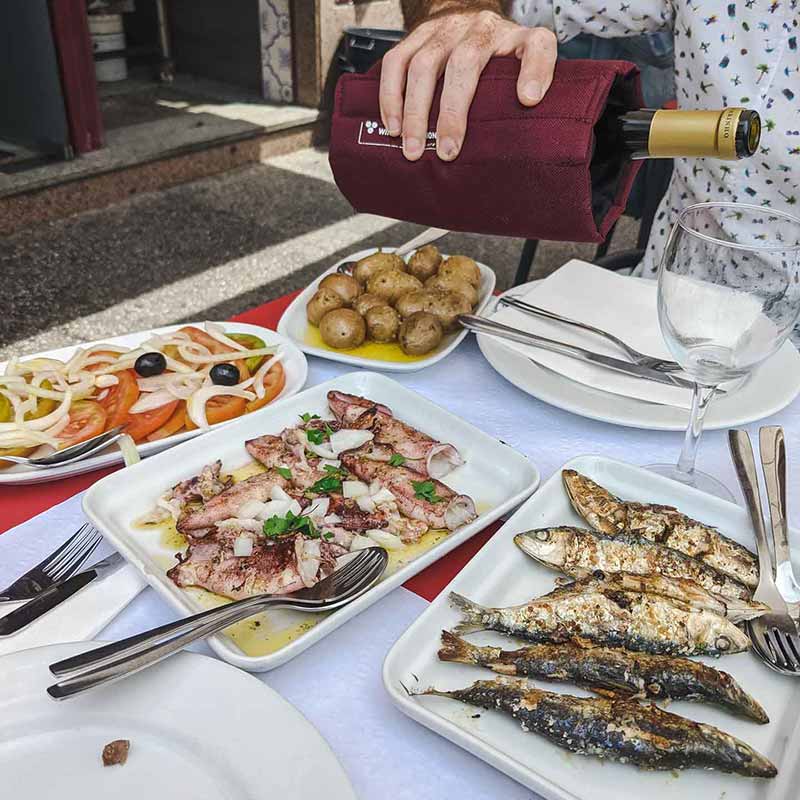 The smoke of dozens of barbecues wafts high above this one street in Matosinhos, indicating you're in the right place. Along this short stretch there are more fish grill restaurants than I ever thought possible, serving the freshest peixe in the Porto area. If it's summer, don't skip a plate of grilled sardines. The grilled squid was also fantastic, as was the leite creme (creme brulee) that is flamed with tools from the barbecue.
Best modern Portuguese restaurants in Porto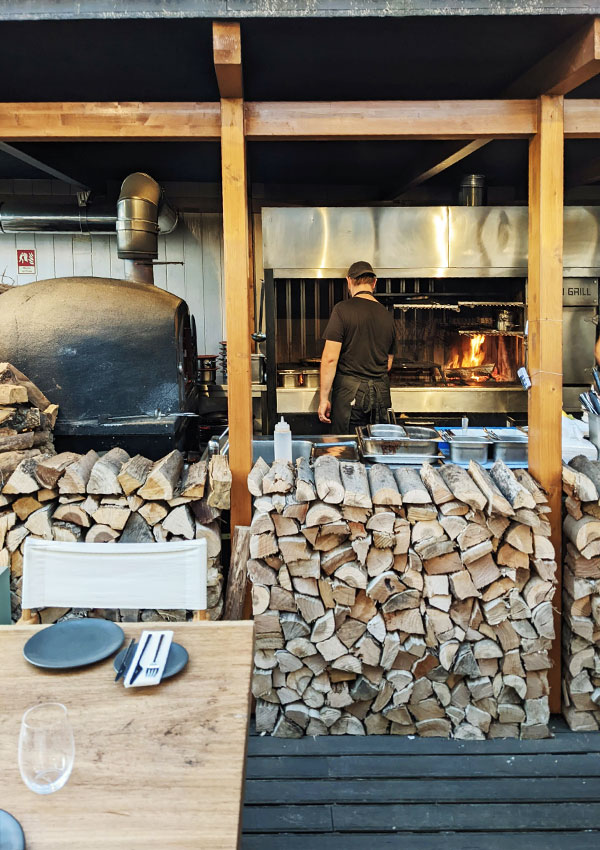 From the hands of who is arguably Porto's most famous chef, Vasco Coelho Santos, comes this more casual gastrobar where fire is the centrepiece. While I'm still eager to take a seat at his Michelin-starred Euskalduna Studio, Semea was the perfect summer dinner with friends. Awarded a Michelin Bib Gourmand – a mark of high quality, affordable dining – Semea has a sprawling terrace with views of the Douro River. Our parade of share dishes leaned on Portuguese produce and roots, but often veered wildly – in a good way – in new flavours and pairings. Order what you like – you can't go wrong – but it's essential to eat the baked rice.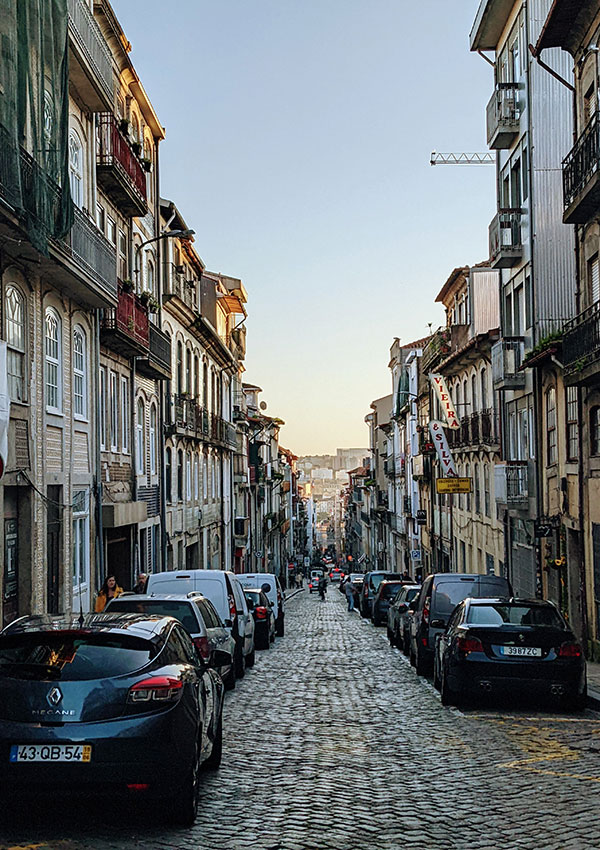 Part cafe, part wine bar, part gallery, this project from chef Tiago Feio and artist Catia Roldão is one to watch. I dropped in during the late afternoon for a snack and space to work, and I wish I had more stomach space or friends on hand to order the whole menu. It changes frequently, but expect modern, seasonal eating. Better yet,Tia Tia offers dinners on weekends, but booking ahead is essential.
Best Portuguese snack bars in Porto
Porto is the city for bread-based snacking so leave your gluten-free friend behind.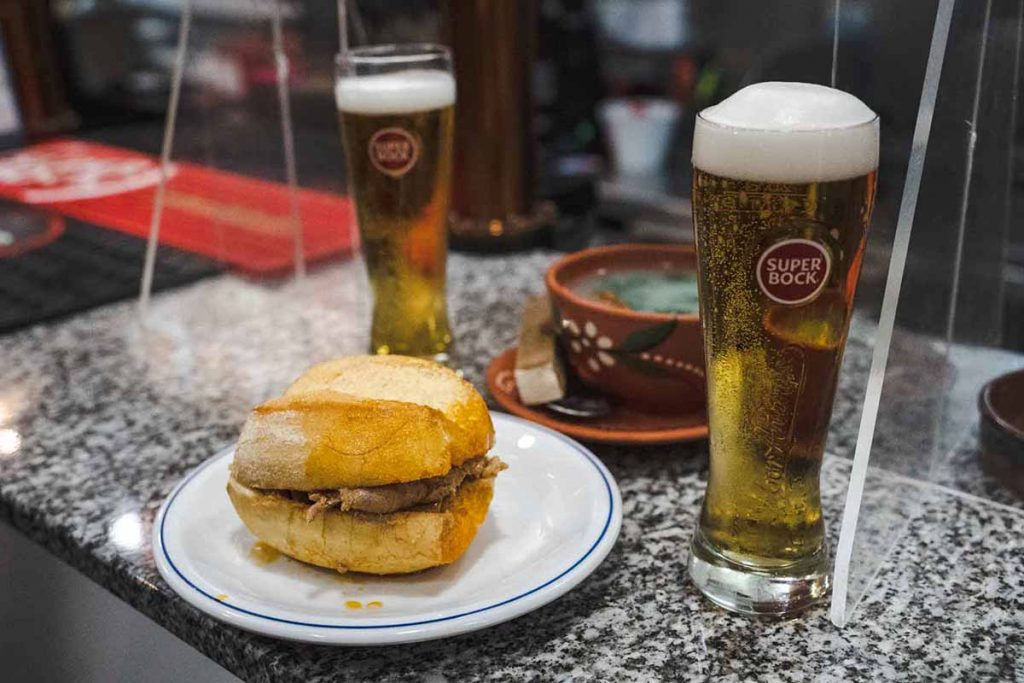 Bifana. It's essentially just grilled pork meat in a bun. You can add mustard or piri piri if you wish. You can order bifanas just about anywhere in Portugal, and in the north they cook them with a bit of spice. O Astro is maybe my favourite ever. Spicy tender meat sandwiched in a bun. Best enjoyed with a beer and caldo verde (cabbage soup) of course. It's opposite Campanhã railway station if you pull in there.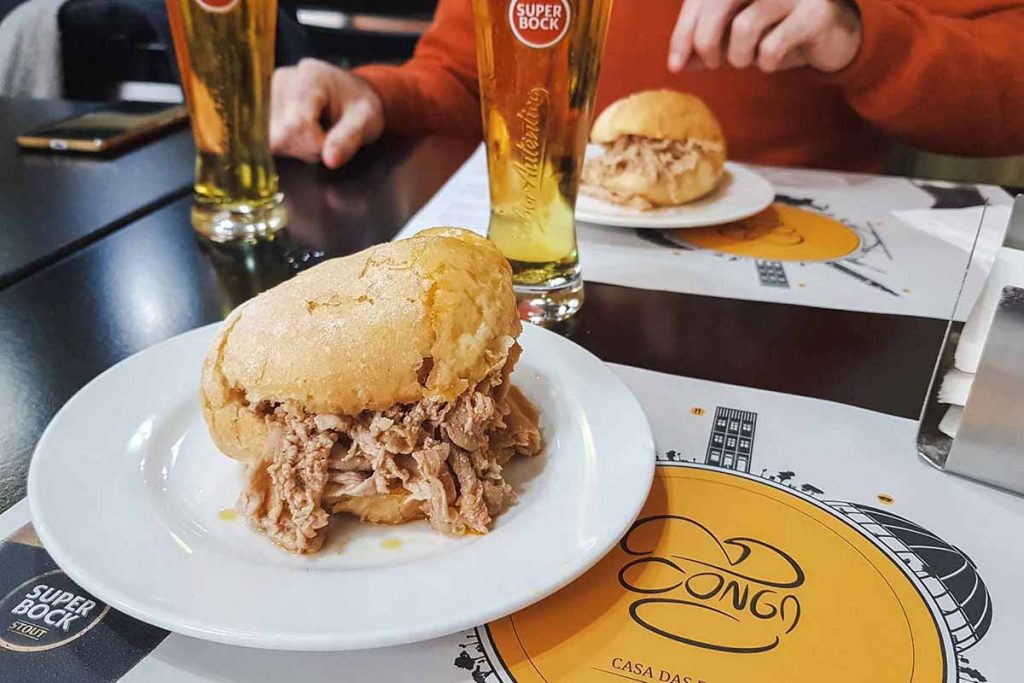 In the centre of town, this is a famous spot for spicy northern-style bifanas. But while it's cured a hangover more than once, for me it doesn't stack up to O Astro.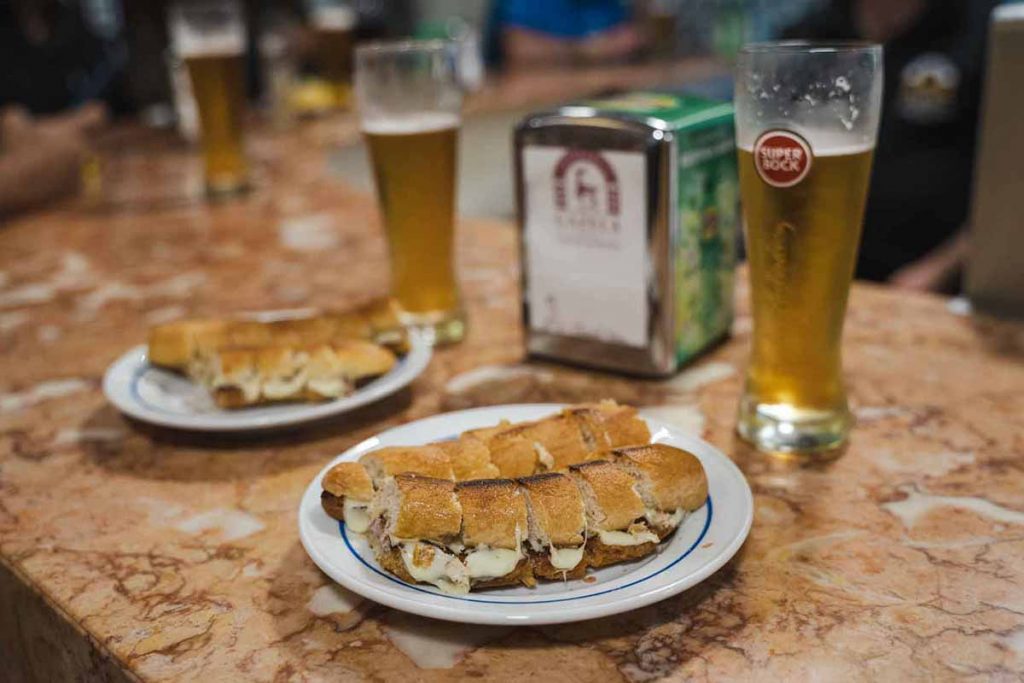 Mr Anthony Bourdain famously ate one of Gazela's spicy hot dogs here. Thankfully this publicity hasn't ruined the joint, and around the tiny counter you'll still find Porto's most colourful types throwing banter with the waiters. Good luck stopping at one.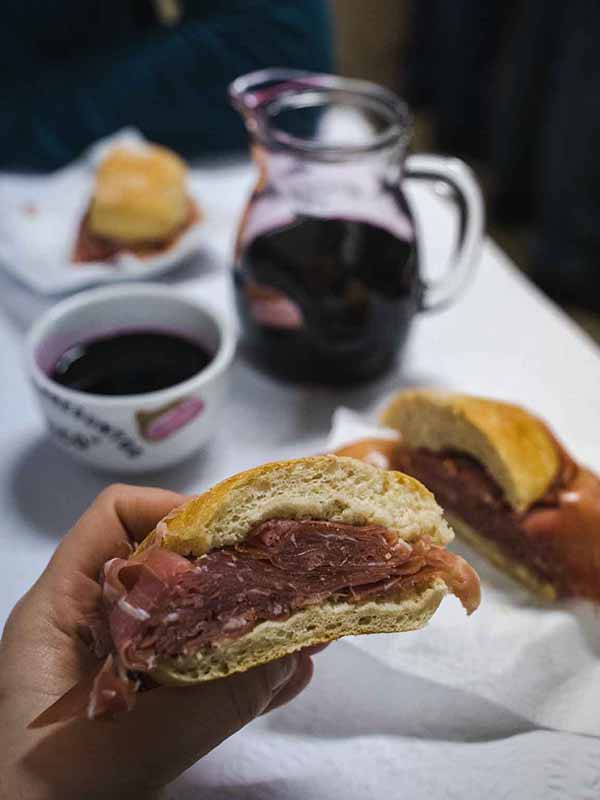 When we stepped into this tiny snackbar the counter was full of men standing shoulder-to-shoulder downing a pre-dinner bite and a vinho or cerveja. Above them, antique jugs and a dozen or so hams hung from the ceiling, and near the door a canary was chirping away. With only €10 in our pocket and a cash-only sign we worried about covering the bill for our two inch-thick prosciutto sandwiches and half-litre of vinho verde tinto novo (new red green wine…). We shouldn't have. There was plenty of change for two more beers and a tip.
It's the sandes de pernil that you have to try. This sandwich of roasted pork meat is a new classic in Porto from this snack bar that opened in 1987. Yep, that "new" label can be hard to shake. Now with three locations in the city, come hungry for a sandes and opt to add sheep's cheese if you like.
Where to eat international food in Porto
Portuguese food is incredible, but after a few days – especially in the north where the traditional dishes are heavier – you'll need a break too. So here are the best restaurants in Porto cooking food other than Portuguese.
This izakaya was a real surprise. Portuguese people love sushi but it's harder to find spots focused on anything but raw fish rolled in rice and seaweed. I guess it's like how much of the world thinks Portuguese food is piri piri chicken and natas. Anyway, I kept my expectations for this cool, small Japanese tasca really low, so it ended up blowing my mind a little. It's clear the small plates at Shiko, like slow-cooked miso eggplant, okonomiyaki and salmon tataki, are designed with a lot of passion. You'll need at least 2-3 plates each, so it's not a cheap meal.
Serving up Korean comfort food, at this casual diner you'll find authentic bibimbap, kimbap, tteokbokki, fried chicken and kimchi fried rice. if you can handle the spice, ask for the off-menu kimchi soup – the Portuguese locals can't handle it, so the owners don't have it listed. This spot gets busy, so message or call to book a table even during the week.
I still dream about the burgers from Curb. Sure, eating meat squeezed between bread isn't so different to half of Porto's options, but knowing the classic American-style burgers here are so good stops me from ordering them in Lisbon.
Finding good Thai food in Portugal isn't easy. There are only a handful of restaurants in Lisbon and so far I remain unimpressed, which made this stop all the better. Thailander ~might~ be the best Thai joint in the country, serving up dishes like pad krapow and pad see ew. At lunch there's a menu that includes a drink and starter.
This Taiwanese street food shop is another great surprise, especially since there's not much open on a Sunday in Porto. There are around eight different fillings for the steamed buns, including a few vegetarian and vegan options. Our favourites were the fried chicken and traditional pork gua bao.
To-eat list
This is my personal to-eat list to remind where I'd like to explore on my next visit. It's usually recommendations from friends, food journalists I admire and Portuguese-speaking media.
Casa Nanda
A Cozinha do Manel
Mistu
Apego
Almeja
Taberna Santo António
Gruta
Lessa, Matosinhos
Salta o Murro, Matosinhos
A Capoeira, Foz
O Balcao, Foz
Casa do Pescador, Gaia