How many pastéis de nata could you eat on a holiday? Our friend Jayden smashed 30 on his trip to Portugal, but I will say that not all of them were prime pasteis. The man was on a mission to eat at least two Portuguese custard tarts a day, picking them up from any old bakery or pasteleria while on our roadtrip.
Me? Unlimited access to pastéis de nata (that's the plural form of pastel de nata) means I have to be selective about where I eat them. I've tried plenty of tarts at various pastelerias and bakeries across the city and below I've listed the places I return to again and again. In fact, it'd be hard to walk past these spots without dropping in for a cheeky nata or two.
Baking Lisbon's iconic convent pastry is serious business. So serious that there's an annual competition for the best pastel de nata in the capital. It's hotly contested and usually throws up some exciting and unknown talent worth seeking out too.
Here's where to find the best pastéis de nata in Lisbon in 2023.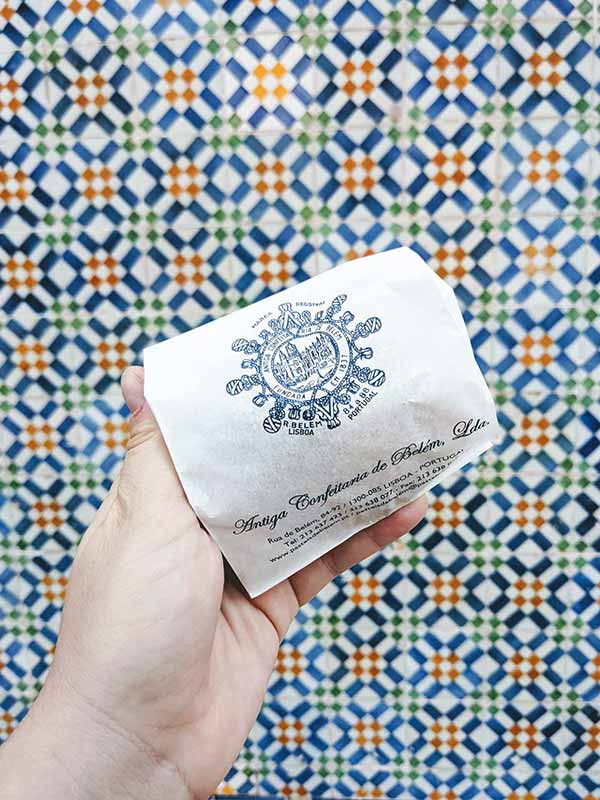 Every day thousands of pilgrims trek out to Belém to worship at the altar of the Manueline-style Mosteiro dos Jerónimos and the counters of Antiga Confeitaria de Belém.
Indeed this pasteleria is the spiritual homeland of the pastel de nata. Baking here since 1837, the recipe comes from the nearby monastery and is a tightly guarded secret. Apparently only half a dozen people know the recipe and those master bakers churn out some 20,000 tarts every day.
You'll spot the queues first, but this must-visit bakery isn't a tourist trap. That is unless you get literally trapped in the rabbit warren of tile-clad rooms that make up the various dining spaces. My favourite way to enjoy a tart or three is sitting down at a table inside, starting savoury with an imperial (beer) and empada de pato (duck pie) and finishing with a pastel de nata and cafe (espresso).
The tarts here are technically called Pasteís de Belém and this is the only place in the country that can produce tarts by this name. But let's be honest, these tarts simply a pastel de nata with an unknown recipe. I find the custard is more savoury and eggy than others, and the pastry is super crunchy and often flakes off at time. Heavenly.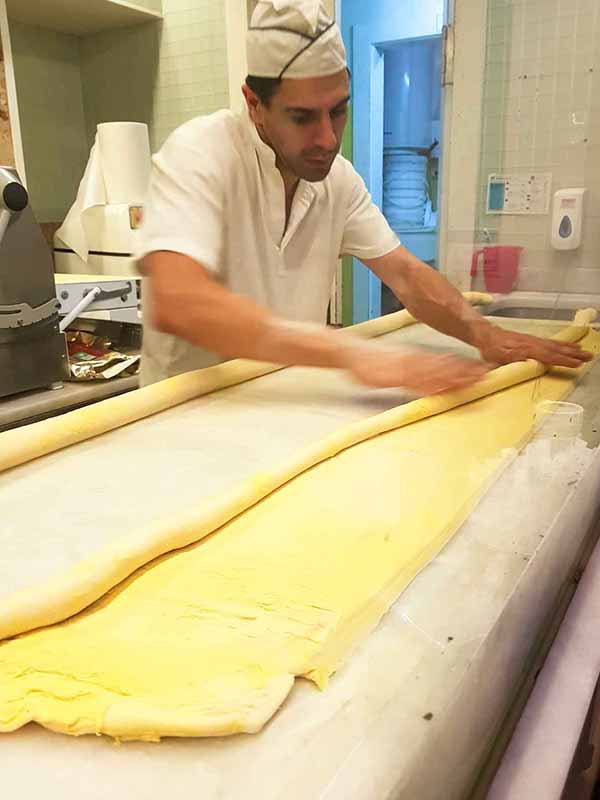 The baker smacks a yellow slab of butter the size of a science textbook down on the pastry, tucking it in and folding it over, and over, and over, and over. Sometimes it's better not knowing what goes into your favourite foods but it's hard to peel your eyes away from the fish-bowl glass kitchen at Manteigaria. The narrow original store in Chiado is prime for watching the bakers make, measure and mold the store's famous sweet. This tart bar serves just three things – pastéis de nata, coffee and booze – at its many locations in Lisbon and Porto.
Lisbon locals usually argue that Manteigaria or Pastéis de Belém bake the best natas, and I say you have to try both. I can never resist either and swing between the two as my all-time favourite, depending on the day. Pastéis de Belém tarts have a super crunchy, brittle pastry and slightly more savoury egg custard, while I find Manteigaria is sweeter with a still-crunchy yet more stable base (and, hot tip – they travel better if you want to take a six-pack home).
If you're feeling game to see how the sausage is made, watch my Instagram Reel of the bakers at Manteigaria.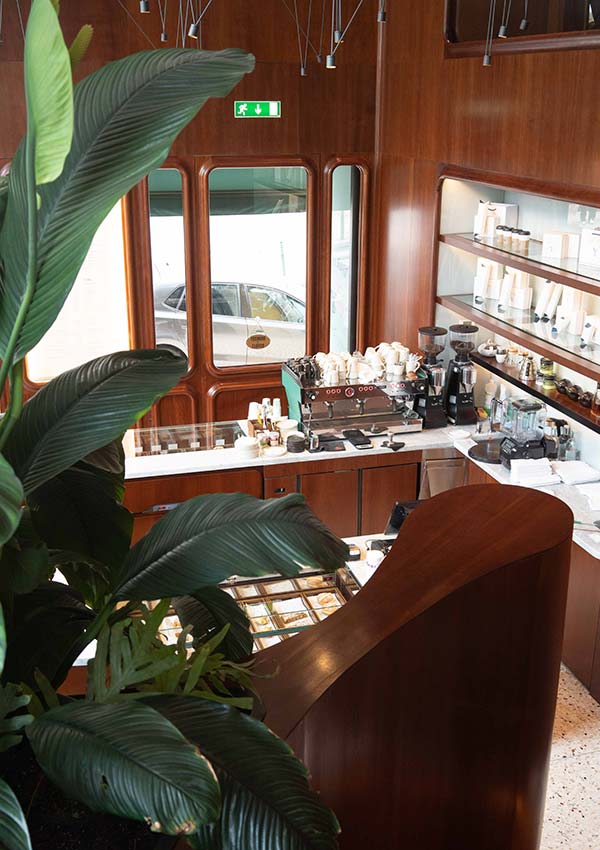 An unexpected recent favourite of mine is the pasteleria at the base of the Bairro Alto Hotel. On the opposite side of the square to Manteigaria in Chiado, this insanely beautiful space takes you out of Lisbon for a moment. There's no stainless steel countertops in sight, instead it's all warm wood paneling and marble with the sweets displayed like little diamond rings.
I headed here after reading an interview with chef Nuno Mendes who consulted for the hotel. He spoke about memories from his childhood, scooping barely set custard with a spoon. Inspired by this, the custard in his recipe is indeed less set, the top burnt with flecks of vanilla and a hint of lemon. The pastry is thinner than others, but just as crunchy. Pleasantly, it still only sets you back €1.10.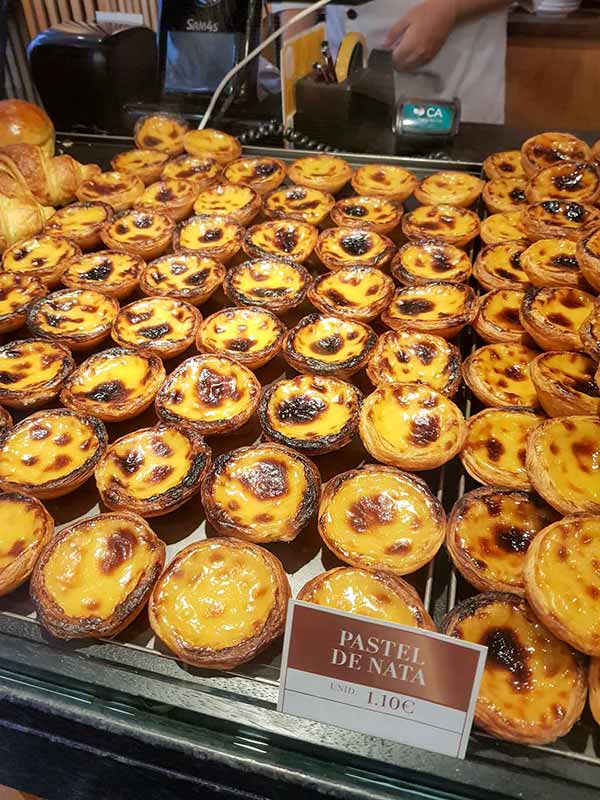 It's worth visiting this pasteleria just to see the tiles. Once a stunning tobacco shop, the bakery took over in 2017, keeping the funky three-dimensional tiles and swapping wafts of smoke for wafts of sugar. The original bakery opened in 1957 in a religious town called Alcobaça, two hours north of Lisbon, so you'll find plenty of other conventual sweets that make the most of egg, yolk, sugar, almonds and other traditional ingredients (the chocolate cake is insane).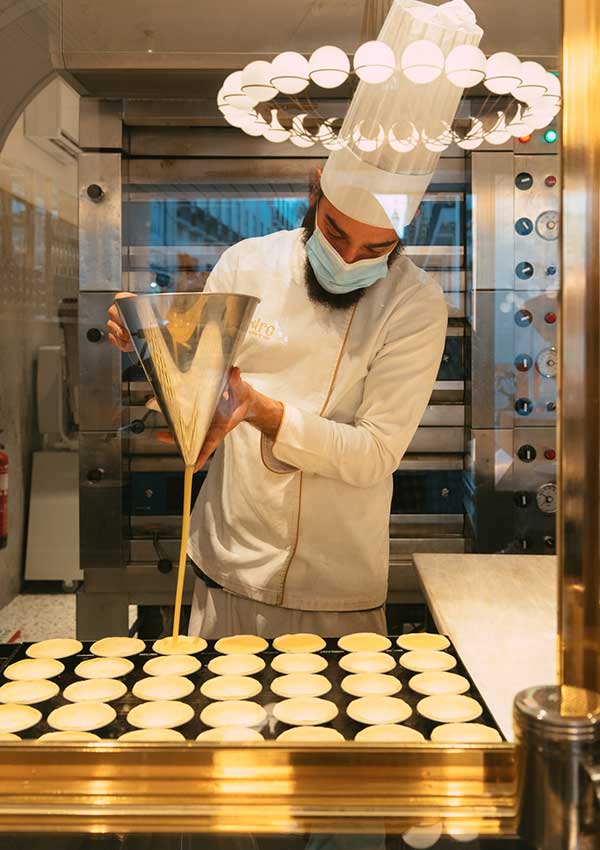 Appetite for a great pastel de nata in Lisbon is at all-time high. In the heart of the Chiado neighbourhood you'll find Manteigaria, Alcôa, Pasteleria de Bairro Alto Hotel and now Castro as well. The self-titled pastel de nata atelier launched in Porto two years ago and Lisbon at the end of 2021. A similar concept to Manteigaria, step inside the pastry shop with old-world European vibes and an open kitchen window where you can watch the master bakers at work. There's a handful of tables so you can rest between sightseeing or shopping to indulge in a thin-yet-crisp crust pastel de nata that's not too sweet.
Other great pastel de nata to seek out in Lisbon in 2023
Here's a few more for your list in case you're on the hunt for more, or want to add them to your map.
Aloma: This pasteleria is quite good, and better yet you can buy six-packs of fresh Aloma pasteis de nata at the airport. Find a bonus cafe at Lisbon Airport T1.
Confeitaria Nacional: Open since 1829, step back in time and take lunch in the upstairs canteen too. Find a bonus cafe at Lisbon Airport T2.
Padaria da Né: This bakery won "best pastel de nata in Lisbon 2021". I'm yet to make the trek out, but will soon!
Pastelería de Santo Antonio: Located near the castle, this bakery took out the top nata award in 2019.
Fabrica da Nata: These are also good with a couple of locations near Rossio Square and in Sintra.
Where to find a gluten-free or vegan pastel de nata
There's one pasteleria in town that bakes a gluten-free nata and is even certified by the Portuguese Celiac Association. Since 1968 Zarzuela has been baking allergy-friendly pastries and sweets. My gluten-free friend who visited was thrilled and thought it was great!
For your vegan friend, try the aptly named Vegan Nata, with stores in Chiado and Campo de Ourique.
Join a pastel de nata cooking class
Eager to take pastel de nata's great secrets home with you? (Spoiler, it's loads of butter). While you might not have a commercial oven or those cute little pastel de nata tins, you can learn how to recreate Portuguese custard tarts at home in a muffin tin with cooking classes.
How to order a pastel de nata
How to order a pastel de nata in Lisbon? By the half dozen, ideally. The sweet treat is most commonly enjoyed alongside a dark, bitter café (espresso), but also pairs nicely with Port wine or ginjinha liqueur if you get the chance.
Here's how to ask for one or two Portuguese custard tarts in a pasteleria.
Um pastel de nata por favor (oom pash-tell dee nar-ta pour fa-vore)
Dois pastéis de nata por favour (doy-zsh pash-tey-sh dee nar-ta pour fa-vore)
Simple.