From castles to the coastline and vineyards to villages Lisbon is surrounded by an incredible collection of interesting towns and places to visit in a day.
In little more than a 20-minute drive I can reach small villages just outside Lisbon, like Azeitão where I've seen a shepherd herd his sheep through an open field just 30km from my house. It just blows my mind that that's possible in 2021.
Whether you choose to drive north, south, east or west, these are the best day trips you can easily do from Lisbon.
My idea of a day trip is anywhere I can reach by car in 20 to 90 minutes. Public transport might take slightly longer, and I've included the best options for each location too.
Day trips east of Lisbon
Sintra
There's something mystical about this historic hilltop village filled with grand palaces and topped with an ancient castle. A summer playground for the rich during the 19th century, the romance of a bygone era is still alive and it's fun to dress up and wander about palace halls. And you'll have no shortage of those: from Pena Palace to Monserrate to Quinta da Regaleira to the National Palace. Equally Sintra's micro-climate makes the mountain an interesting place to explore. Giant boulders covered in green moss and off-road tracks offer a different kind of exploring on this day trip from Lisbon.
Things to do in Sintra
Wander trails up to the yellow-and-red fairytale Pena Palace
Explore the Moorish Castle and half a dozen other palaces (seriously, no shortage of palaces here).
Beach hop along the rugged coastline, dropping into Praia Grande and Azenhas do Mar
Go off-road with my friends from Flamingo Experiences
Hike down to Praia da Ursa
Eat a travesseiro de Sintra from the most famous bakery, Piriquita
Explore the small villages on the mountain (car required)
Carry a jacket at all times (seriously, it gets cold)
Getting there
By car – 30-minute drive from Lisbon
By public transport – 40-minute train from Rossio Station
Cascais
A fishing village turned resort town, Cascais is the shining jewel of Lisbon's coastline. This seaside destination became popular with the Portuguese royalty in the 19th century. Head here to hop from beach to beach, visit art galleries, the fort and wander the historic cobbled streets in search of lunch.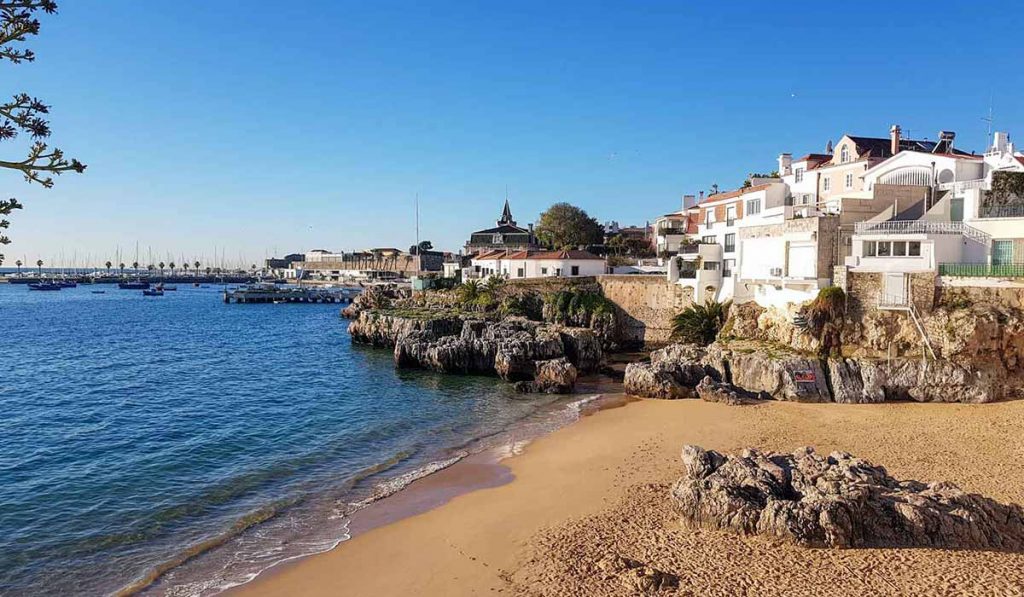 Things to do in Cascais
Wander the main streets looking at grand villas
Enjoy a long seafood lunch by the water
Take your swimmers and go for a dip at the beach
Explore history at the fort or art at the gallery
Drive or walk around to Praia do Guincho, one of Lisbon's most gorgeous beaches
Visit Cabo da Roca (car needed), Europe's westernmost point
Getting there
By car – 40-minute drive from Lisbon
By public transport – 50-minute train from Cais do Sodre
Ericeira
If you've seen pictures of the white-washed coastal architecture of Portugal, then you'll love Ericeira. Most of the houses are white with a striking cobalt blue trim, which pops nicely in photos against the bright blue sky. Ericeira is home to Europe's only World Surf Reserve, so this small fishing village has become a bit of a haven for surf and yoga loving expats. It means you can find good specialty coffee. On the way there pass through Mafra and see its giant palace.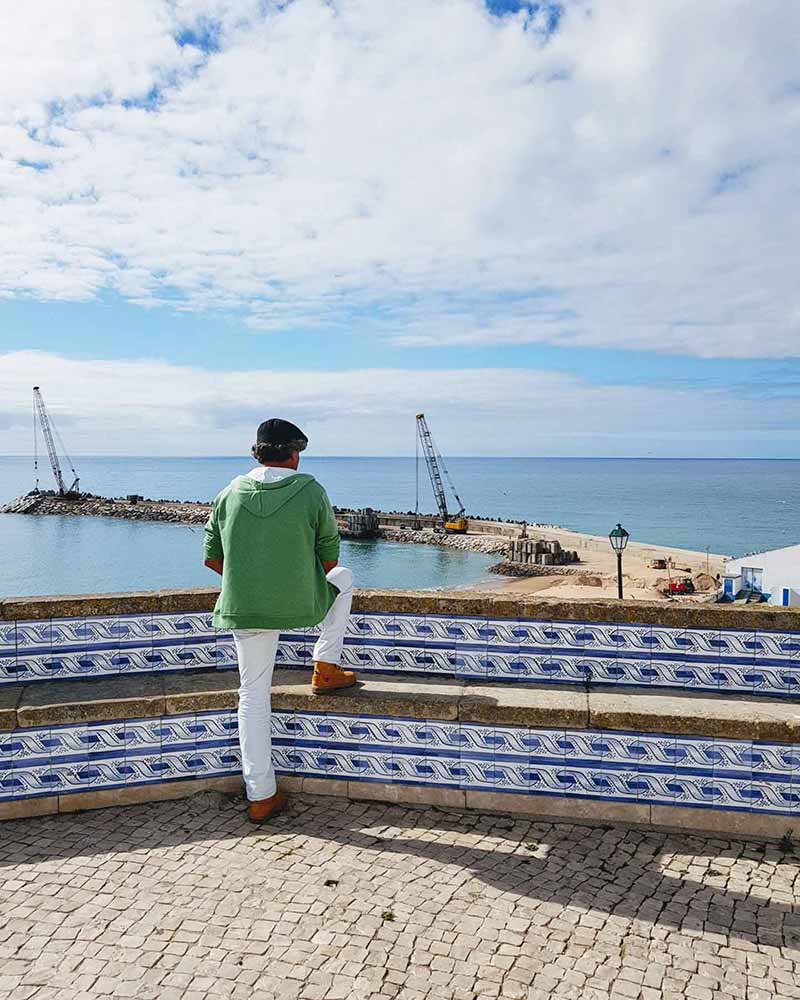 Things to do in Ericeira
Wander the old town and take a million photos
Book in a surf lesson or watch others take on waves at the World Surfing Reserve
Eat a prego (steak sandwich) at Taberna Lebre
Stop for a sunset wine at Mar das Latas
Try an "ouriço da Ericeira", a traditional sweet
Enjoy a long seafood lunch by the water
Take your swimmers and go for a dip at the beach off the town
Combine it with a day trip to Mafra
Getting there
By car – 40-minute drive from Lisbon
By public transport – take a private bus with Mafrense from Campo Grande. Takes 1 hour to 1 hour and 40 minutes.
Day trips south of Lisbon
Costa da Caparica
The further south you go, the wilder the beaches of Costa da Caparica get. In the 80s-vibe downtown there's usually good surf and a wide esplanade perfect for walking or biking. I love to come here early in the morning while my partner surfs as often an old colourful, wooden fishing boat will pull up on the shore and old ladies will flock over with a BYO plastic bag to be filled before the fresh fish hits the market. Further south, the wilder beaches are gorgeous and home to some of the coolest beach bars and restaurants around. If you want a long, lazy seafood lunch by the sea, this is the spot.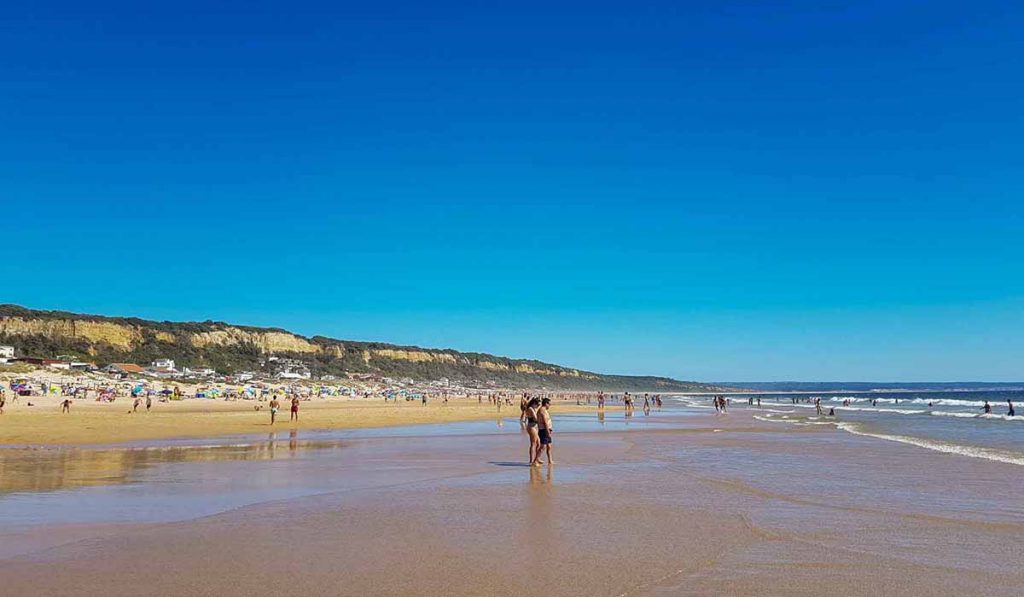 Things to do in Costa da Caparica
Getting there
By car – 20-40 minute drive from Lisbon, depending which beach you want to explore
By public transport – Public transport is complex as south of the river is a different city. You have to stand in a few very specific bus stops to take a bus over the bridge or catch a ferry and change to a bus. In my opinion it's simpler to take a Bolt rideshare for €10-15 (use this link to get my code).
Sesimbra
Just over a 30-minute drive from Lisbon, the hard-working fishing village topped by an ancient castle can feel like a world away from the busy streets of the city. As we pulled up for lunch most recently, our first sight was an old, scraggly scuba diving instructor wearing a wetsuit and smoking a pipe, while the fisherman's bar nearby was overflowing with locals back from a hard morning's work. Sesimbra has a holiday feel to the town without being overly commercial.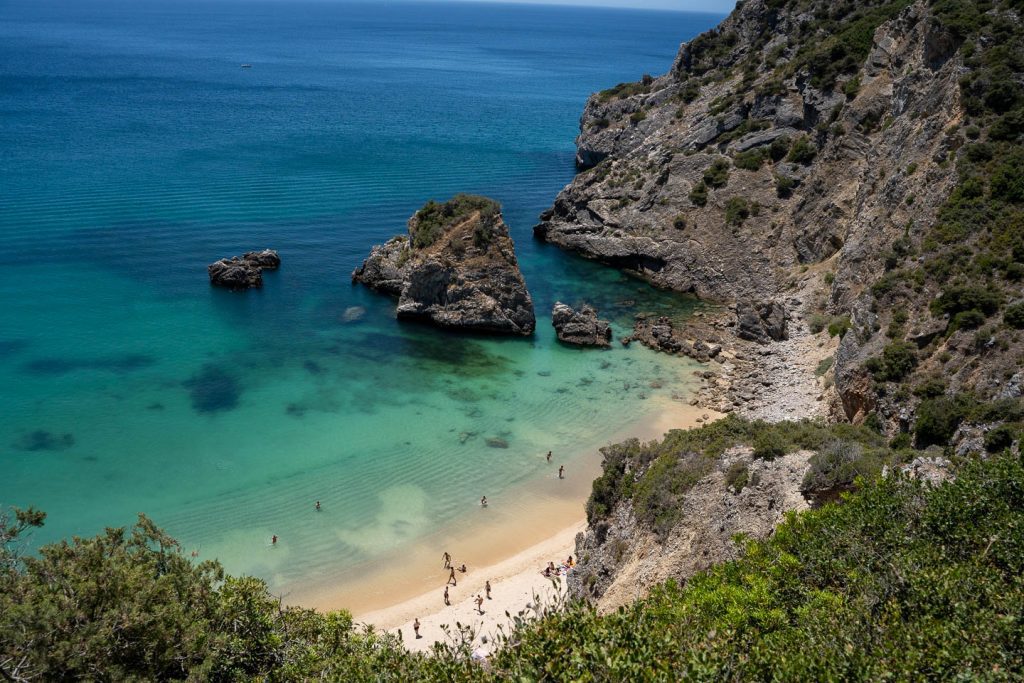 Things to do in Sesimbra
Getting there
By car – 40-minute drive from Lisbon
By public transport – similar to Costa da Caparica, it's complex to reach Sesimbra by public transport but not impossible (I've done it before!). Either take the ferry to Cacilhas then catch the 203 bus, or take the 207 from Sete Rios.
RELATED BLOG: Tile of the day: Sesimbra
Palmela
If you want a day trip with few-to-no tourists, the underrated town of Palmela should be on your list. From the top of the well-preserved ancient castle you'll take in views over the cute cobbled streets of the town centre, the vineyards and old windmills beyond the borders and the mountain range of Arrabida Natural Park and the Sado River.
Things to do in Palmela
Getting there
By car – 40-minute drive from Lisbon
By public transport – Again, it's tricky. Either take the train from Sete Rios to Palmela Station, then walk for 40 minutes. Or take the ferry to Barreiro then catch the 326 bus.
Setúbal
Keep driving past Palmela and you'll reach Setúbal, home of choco frito (fried cuttlefish). Set on the Sado River, Setúbal is a small and historic city where life revolves around the sea and industry. There are so many reasons I love to visit this city that most tourists will overlook.
Setúbal has one one of the best local mercados that I've seen. Drop in to see fishmongers slicing up whole tuna or swordfish, tuck into local oysters from the producer and pick up some fruit. Then head for a day at the beach in Arrabida Natural Park and return to town for choco frito and oysters and wine.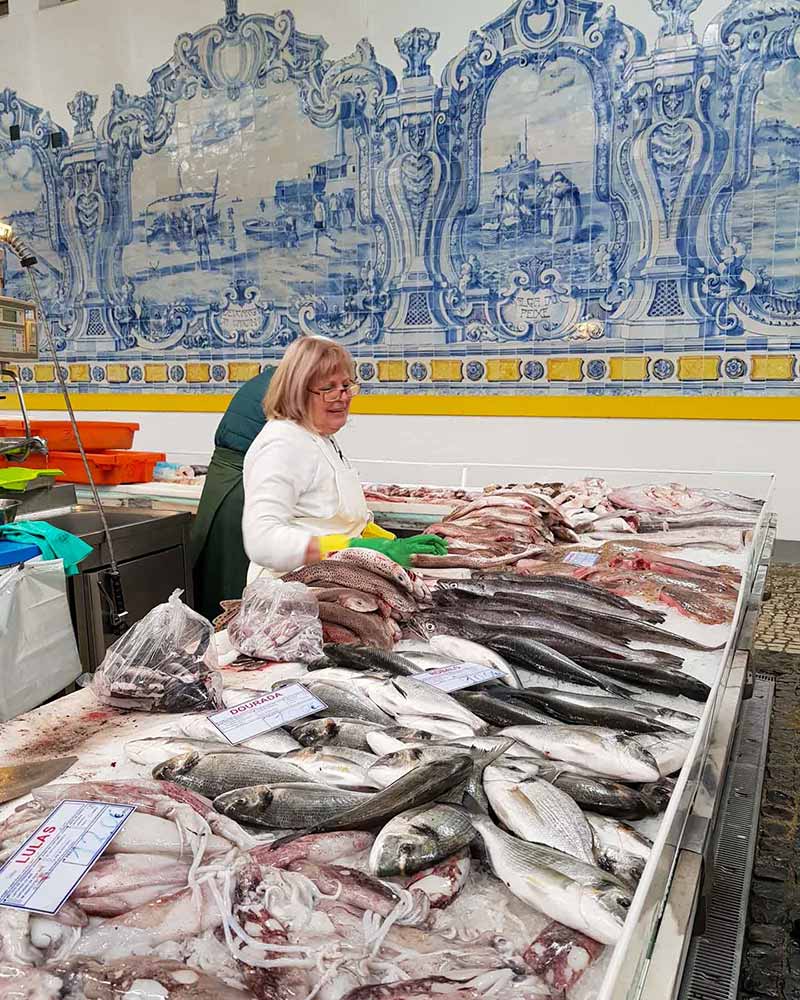 Things to do in Setúbal
Getting there
By car – 50-minute drive from Lisbon
By public transport – Take the train from Campolide or Sete Rios to Setúbal, or take the ferry to Barreiro and then the train to Setúbal. Both take around 1 hour.
Azeitão
On our first visit to Azeitão we drove past a shepherd and his flock roaming freely through an open grass field. It's certainly not a scene we expected to see 20 minutes' drive from home but given that this town is famous for its sheep cheese, perhaps we should have. If you're visiting Azeitão, come for three things: wine, cheese and tiles.
Things to do in Azeitão
Book a wine tasting at the two wineries in town: Bacalhôa and José Maria
Try the local queijo de Azeitão. It's the stinky sort that you slice the top off and eat with a spoon.
Try the torta de Azeitão, a local tradicional sweet, at Sabores e Encantos de Azeitão
Learn tile techniques at Azulejos do Azeitão. We dropped in and they showed us the different methods of tile making, plus we walked through the workshop to watch the action.
Explore Arrábida Natural Park: either drive to one of the beaches, hike the mountain or hire a boat for the day
Getting there
By car – 30-minute drive from Lisbon
By public transport – Take the train from Sete Rios to Coina, then change to a bus. Approximately 70 minutes.
Day trips north of Lisbon
Óbidos
Surrounded by ancient tall stone walls, step into this medieval village and get lost in narrow streets of Óbidos. Famously a Portuguese king once gifted the entire historic town to his new wife as a wedding present. While here, you must try one of Óbidos' most famous drinks: ginjinha. It's a liqueur made from cherries and often served in a tiny chocolate cup. Try and go in off-peak times as this is quite famous for being one of the best day trips from Lisbon.
Things to do in Óbidos
Walk around the village walls. The full lap is 1.5km. Right by the entrance, if the staircase is open you can just go for it.
Stop by a window to taste ginjinha liqueur
Get lost in the narrow, winding streets of the whitewashed village within the walls
Getting there
By car – 1-hour drive from Lisbon
By public transport – Take an express bus called the Rapida Verde, the regional train takes more than two hours.
Mafra
Sometimes I remember facts that truly have little value, like this one: Mafra Palace is home to Europe's longest palatial corridor. The 232-metre-long gallery hall is definitely a highlight when visiting the intriguing oversized palace in this tiny town. That will only take you half a day, so choose to spend the other half in nature at Tapada da Mafra, the former hunting ground. Or organise a wine tasting at Quinta Sant'ana.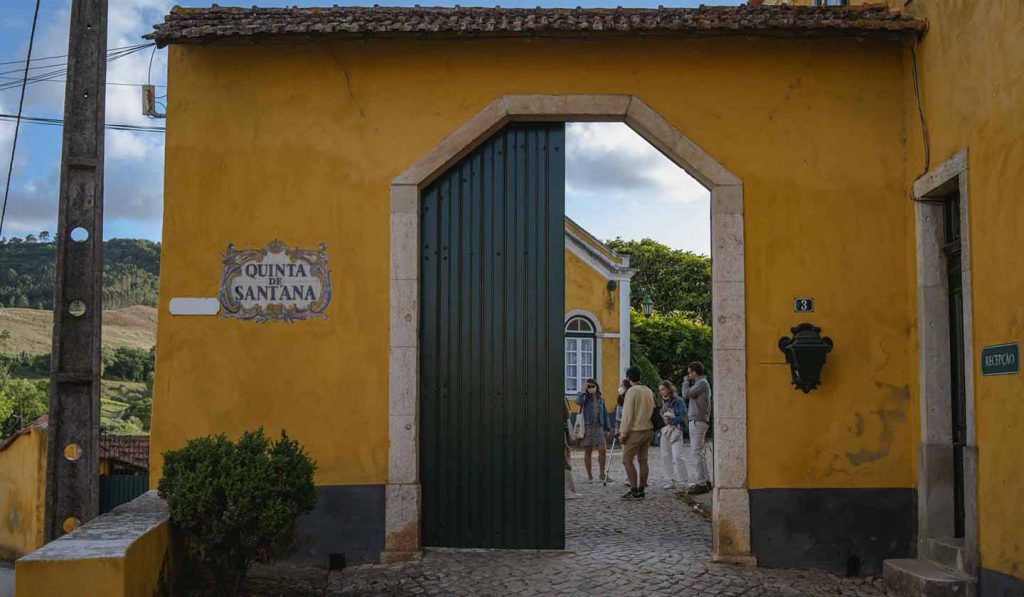 Things to do in Mafra
Getting there
By car – 35-minute drive from Lisbon
By public transport – take a private bus with Mafrense from Campo Grande or take a 50-minute train.
Caldas da Rainha
There's something romantic about this charming and artistic small city in the centre of Portugal. Maybe it's the huge city park housing the 19th-century hot springs hospital, or the art nouveau influence, or the ceramics of Bordallo Pinheiro. Either way, it's easy to pass at least a day here exploring the city before kicking back at Foz do Arelho beach.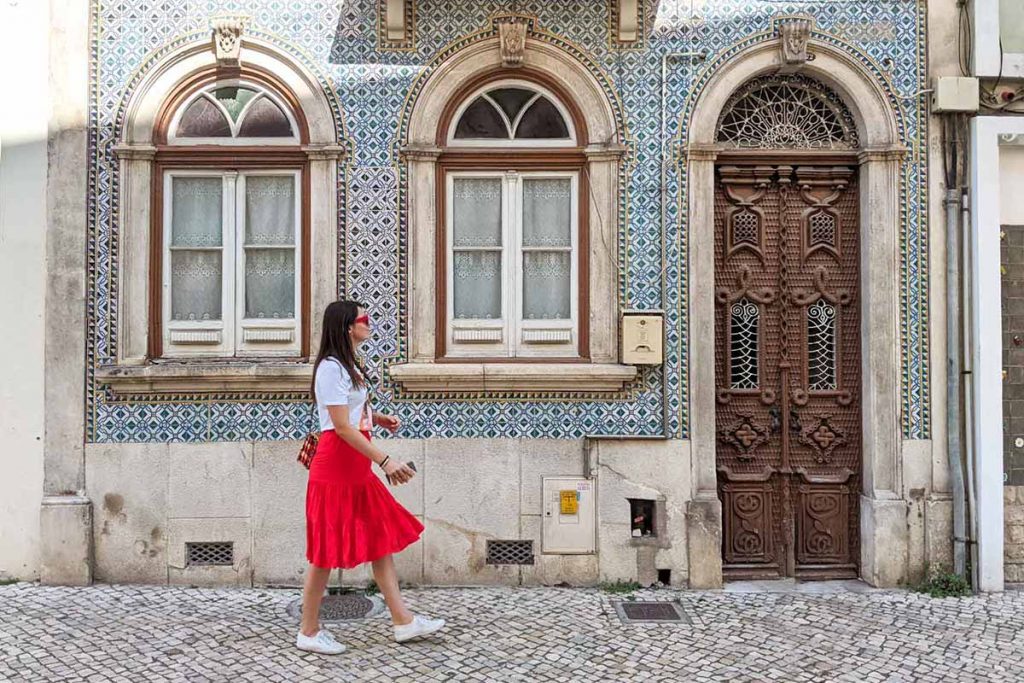 Things to do in Caldas da Rainha
Wander around Parque Dom Carlos I, and if you get swept up in the romance hire a paddle boat on the lake.
Follow the Bordallo Pinheiro trail through the city, spotting giant ceramic pieces everywhere
Buy ceramics at the Bordallo Pinheiro factory. There is both a shop and factory outlet.
Pay a visit to the Museu do Cerâmica, or any of the half a dozen galleries
Visit the largest open air farmers' market in Portugal at Praça da República. It's open daily 7am-3pm, but Saturday and Mondays are best.
Check out the tiles from the 1600s lining Ermida de São Sebastião
Explore the curious Jardim de Água, a giant ceramic-piece-meets-park that took Ferreira da Silva a decade to build
Finish with a dip at Foz do Arelho, where the Óbidos Lagoon meets the ocean
Getting there
By car – 70-minute drive from Lisbon
By public transport – Take an 80-minute bus with Rede Expressos, or the train takes 2 hours and 20 minutes.
Peniche & Berlengas Islands
Peniche is a very relaxed little seaside town. A little further from Lisbon, it's popular mostly with Portuguese tourists seeking seafood, sunshine, surf and a day trip to the Berlengas Islands. Some of the only islands off the Portuguese coast, it's worth taking a half-day trip out to see the raw, rocky landscape and stunning turquoise waters of this tiny archipelago.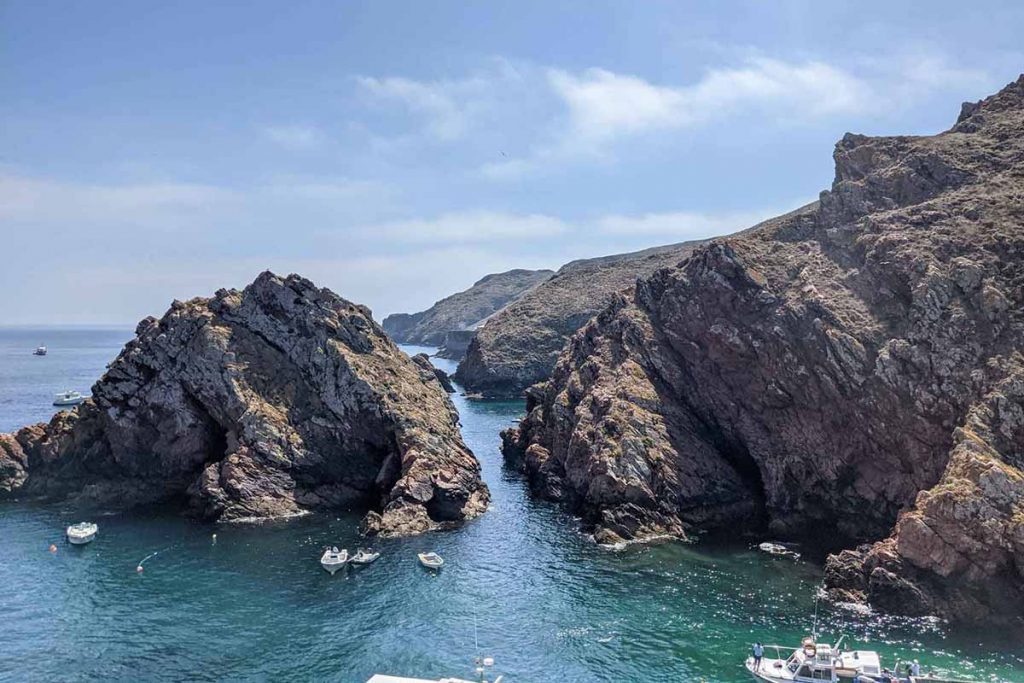 Things to do in Peniche and the Berlengas Islands
Check out the cliffs of Cabo Carvoeiro and the fort in Peniche
Watch surfers catch a wave at Supertubos or Baleal
Book a boat tour to Berlengas Islands
Feast on seafood at Marisqueira Mirandum, Tasca do Joel or A Sardinha
Getting there
By car – 70-80 minute drive from Lisbon
By public transport – Take a bus with Rede Expressos from Sete Rios. Takes 90 minutes.
Day trips west of Lisbon
Vila Franca de Xira
First, the truth: I came here for my social security number. Second, the surprise: this little town inland along the Tejo River is just 30-minutes from Lisbon but has a charming history and nature all of its own. Relax by the riverfront, drop into the stunning local market (completely covered in tiles), check out the old bull ring and enjoy a cheap, cheerful and homely lunch (the kind you have to leave Lisbon for). Vila Franca de Xira is located where the Tagus River starts to widen, creating an estuary with amazing birdlife.
Things to do in Vila Franca de Xira
To market, to market: don't miss the amazing azulejos (tiles) on the market hall
The train station also has unique, beautiful tiles
Grab a beer by the tranquil riverfront
Eat a local's lunch (surrounded by vintage bullfighting posters) at A Taverna do Batalha
Wander town taking notice of the historic links to bullfighting: the statues, the current posters
If you're interested, visit the Casa-Museu Mário Coelho to learn about a famous bullfighter
Visit the Museum of Neo-Realism
Getting there
By car – 30 minute drive from Lisbon
By public transport – 23-minute train from Santa Apolonia Station directly into town
So, in my opinion those are the best day trips near Lisbon. Leave me a comment with your favourite or let me know if I've missed somewhere cool…