In just a weekend here you'll only scratch the surface. Lisbon is the second oldest capital city in Europe (after Athens) and there are so many secrets and gems to uncover. Hopefully this guide gives you some ideas, context and inspires you to return to go deeper.
To have an excellent time in Lisbon you have to go with the flow. If you hear music wafting from a street nearby or see a cute house you want to take a photo of then just follow your instinct. For that reason I've kept this comprehensive 48-hour guide to Lisbon quite loose, giving you the freedom to choose your own adventure and embrace the rhythm of the city.
Here's what I would do in Lisbon if I had just two days to get under its skin.
Day 1 in Lisbon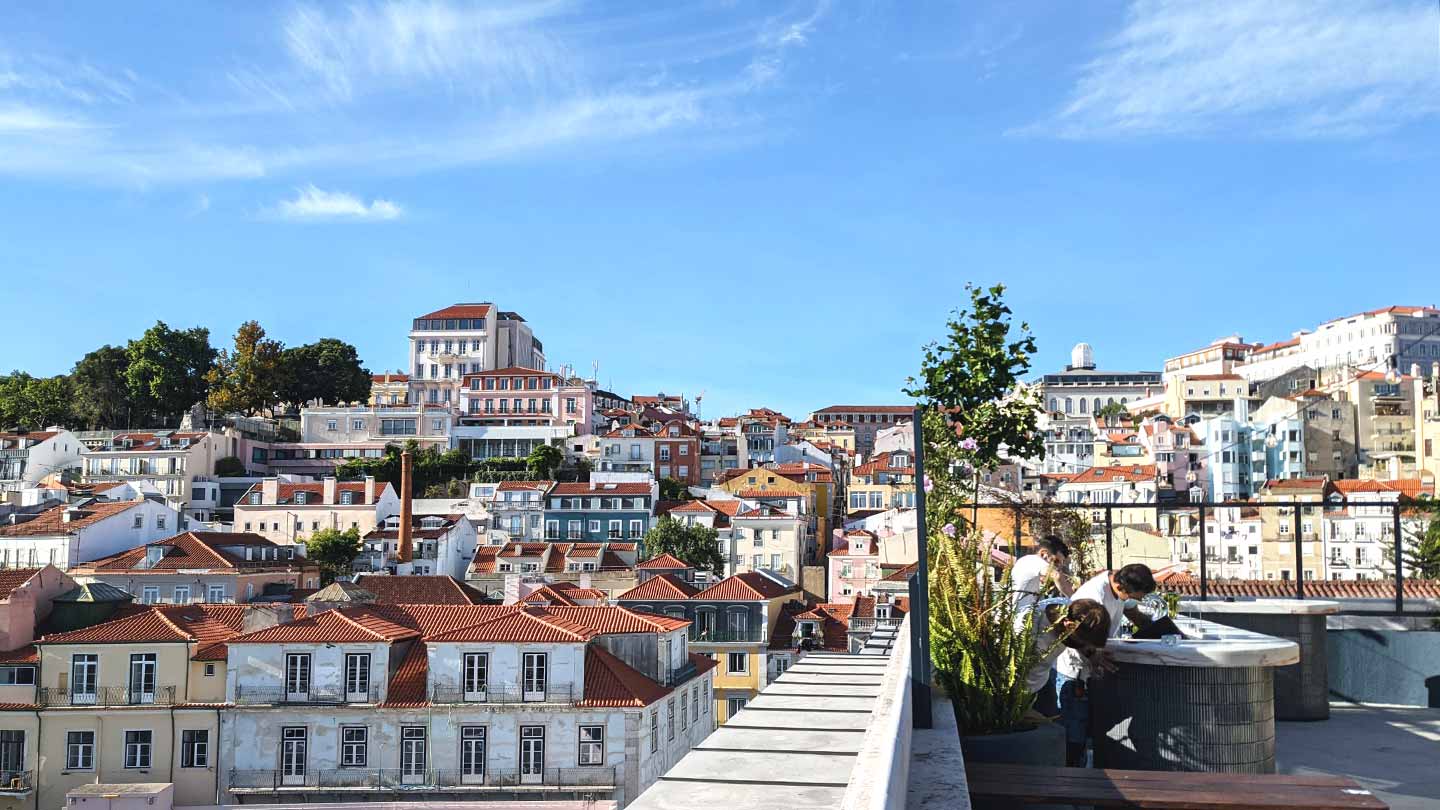 Start on the streets
There's no better way to get to know Lisboa than by walking the cobblestone (calçada) footpaths. Chances are your accommodation is surrounded by a neighbourhood of skinny streets, old colourful buildings covered in tiles and cute old neighbours who are absolutely, definitely spying on you. It's what we call CCTV here.
Within a few blocks, no doubt you'll stumble on a pastelaria peddling sweets, fresh bread and coffee. Do as the locals do, order a bica or café (short, dark espresso) and if you're feeling hungry ask for a sandes misto with ham and cheese or devour your first pastel de nata for the day.
Jump on a tram
One of my favourite first memories of Lisbon is leaning out the window of a rattling old wooden tram, feeling a warm autumn breeze wash over me. It's an experience I try and repeat when I can. Five different lines rocket along rails through some of the most charming, winding and skinny streets of this city.
The tram 28 is more of a tourist attraction than a public transport option these days due to its popularity. It's best to catch it from one end or the other as it fills up and can be hard to get a seat along the route. I like to take it from Campo de Ourique to Graça – getting off in Graça at the top of the hill saves some huffing and puffing and the viewpoint is mint.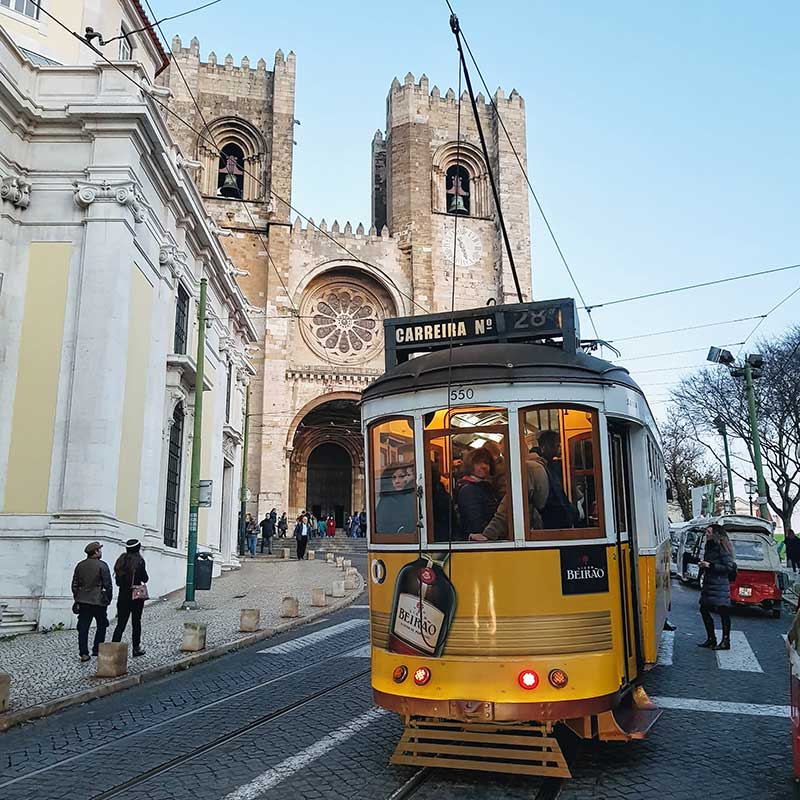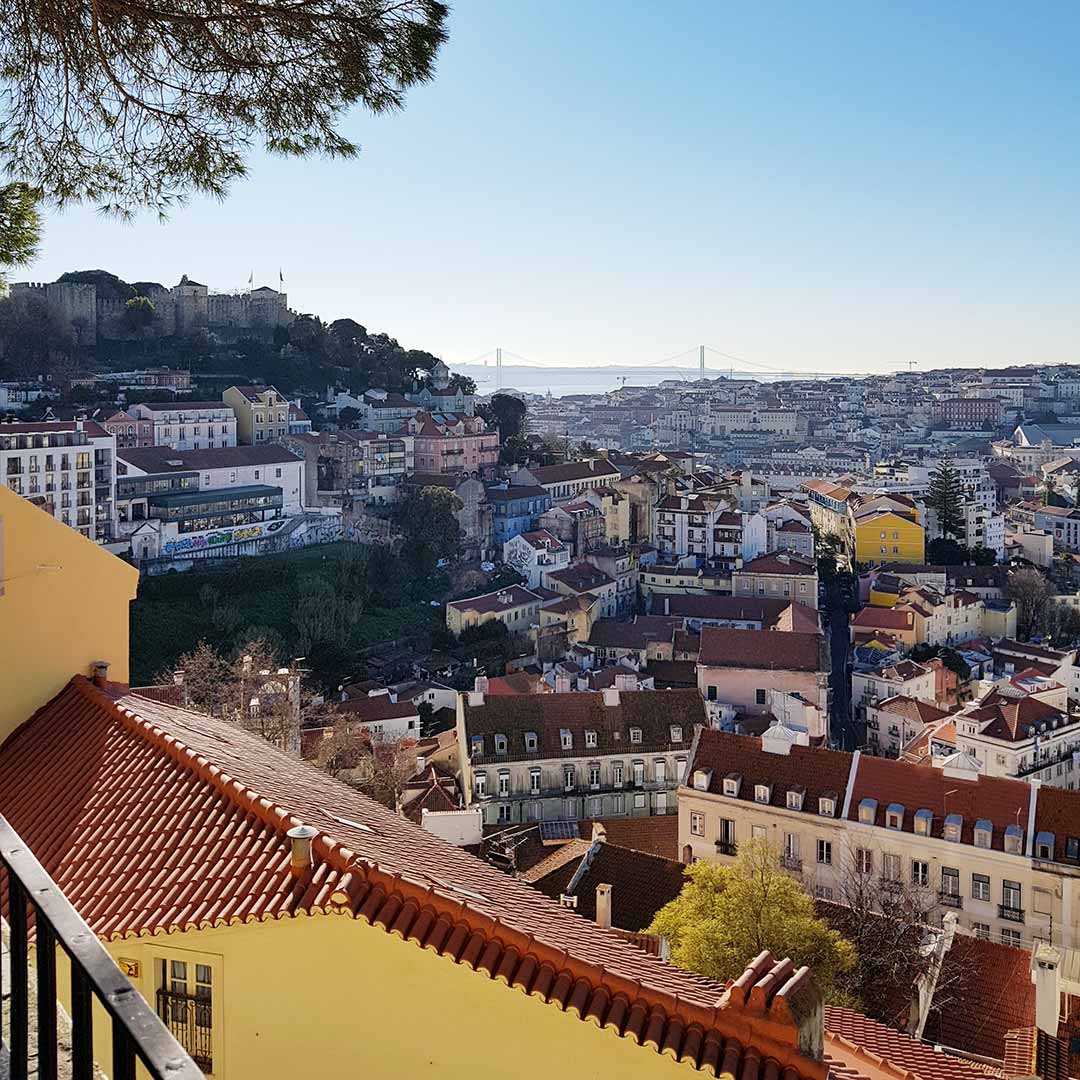 Choose your own adventure
Stepping off the tram in the charming local neighbourhood of Graça, wander over to the creatively named Miradouro da Graça and soak in the views. Miradouro means viewpoint and as a city of seven hills Lisbon has them in spades. This is one of the best.
RELATED BLOG: 11 best viewpoints in Lisbon
Alternatively, disembark for São Jorge Castle. The top-of-the-hill location has had fortifications on it since the first century BC, occupied by the Phoenicians, Carthaginians, Romans, Moors and, of course, the Portuguese, who took the castle in the 1147 Siege of Lisbon. Inside you can wander the garden, walk around the walls, climb up the towers and soak in incredible views over the city. There is a fee to get in.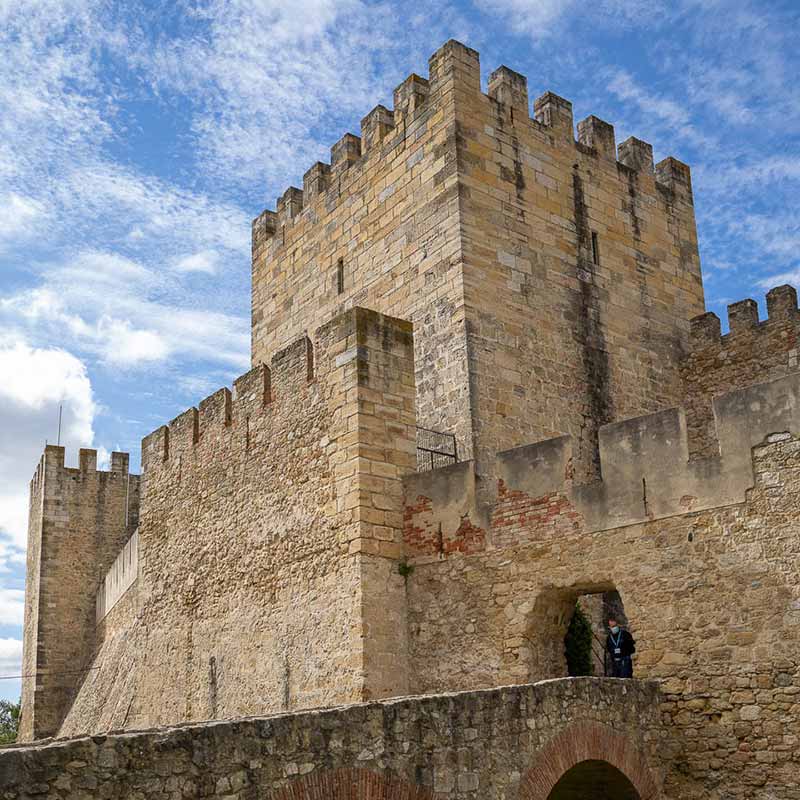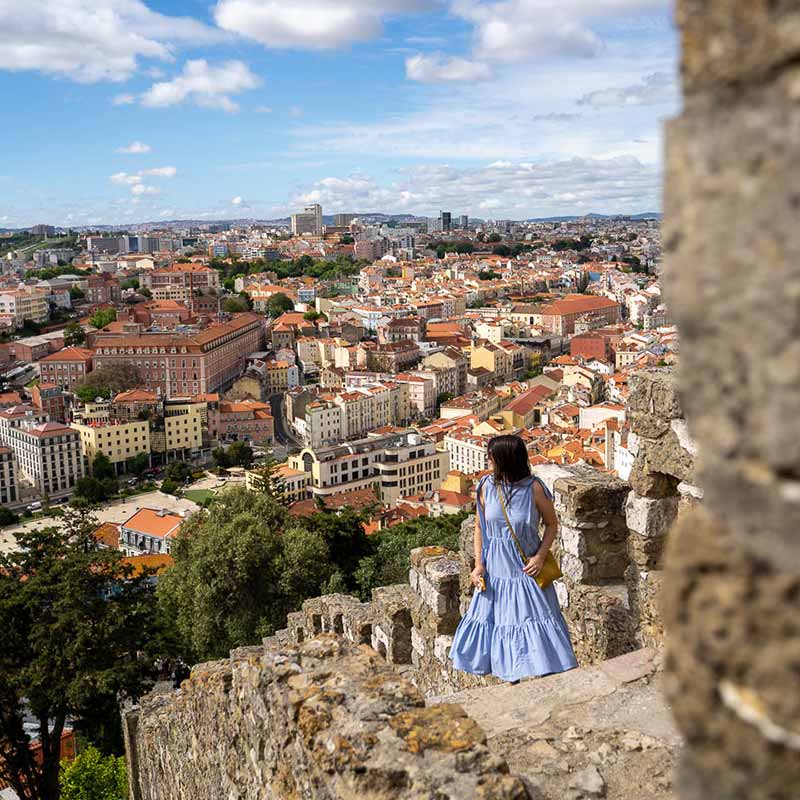 Explore charming Alfama
Plug "Miradouro de Santa Luiza" into your Maps app and start a slow wander downhill. You're heading towards Lisbon's oldest neighbourhood and (no coincidence) one of the only ones that withstood the tragedy of 1755 – a mega-earthquake that struck close to the city on a major religious holiday. Candles tumbled as churches collapsed, causing massive fires across the city that lasted almost a week. Three tsunami waves triggered by the quake demolished most of what was left of the city's downtown.
On a lighter note… Miradouro de Santa Luiza is my favourite lookout. It's completely covered in antique azulejos (tiles) and there's usually someone playing acoustic guitar. From here walk 20 meters uphill to Portas do Sol lookout. Then you have a choice – head downhill towards the river into Alfama, or follow the tram tracks to the Sé (cathedral), or get lost in Mouraria.
Chances are you'll be hungry, so here are some lunch suggestions too.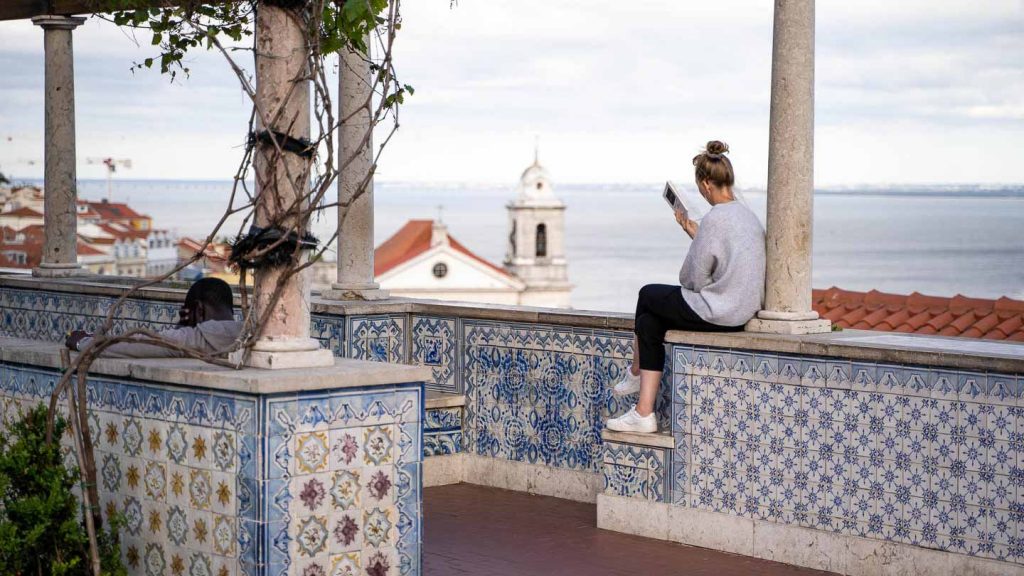 Things to do & see in Alfama
Where to eat near Alfama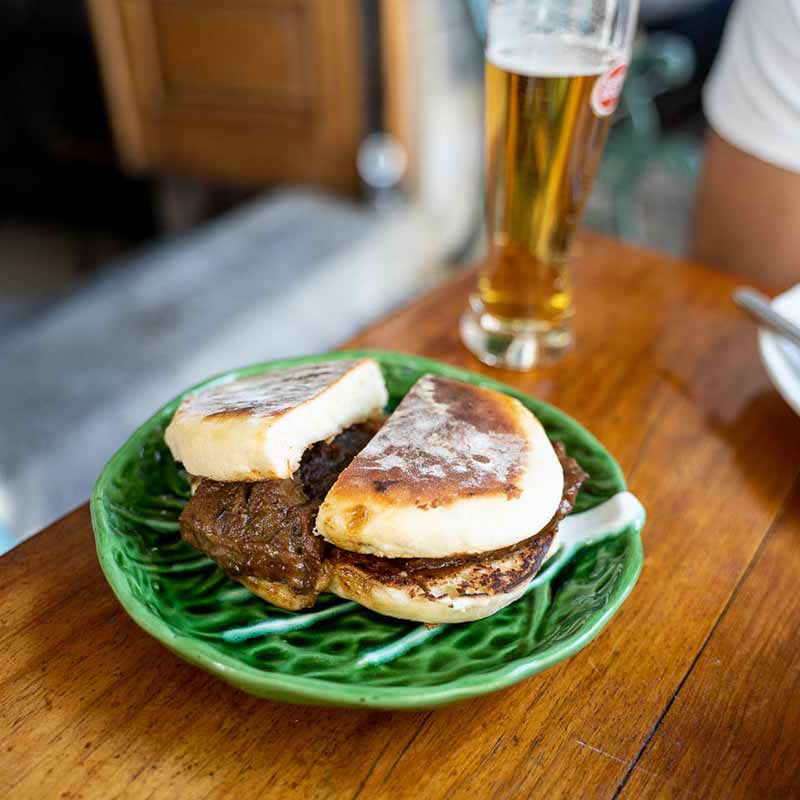 Snack your way through Baixa and Róssio
The best way to see the sights is with a snack in hand. Allow yourself to get lost as you wind your way down the hill to Baixa, popping by As Bifanas do Afonso for a pork sandwich if you're extra hungry.
After, aim for Casa do Alentejo. The Moor-inspired building is incredible and young locals love the tavern courtyard for its cheap drinks and petiscos (snacks) from the Alentejo, a region famous for its prized black pork and cork production.
On the way, try a shot of ginjinha liqueur at Ginjinha Espinheira or Ginjinha Sem Rival. Both opened in 1840 and serve the same drink made from tiny cherries, aguardente, water, sugar and cinnamon. It's delish.
You've probably heard of Jamon Iberico, meet its cousin presunto iberico. Yep, over in Portugal they also have black pigs (porco preto), roaming the fields of the Alentejo region, catching shade beneath the cork trees, and fattening up on a diet of acorns. Open since 1890, Manteigaria Silva is a traditional grocer and deli where you can pick up Portuguese cheese, wine, dried fruits, conserves and, of course, the precious cured ham. While here, check out the bacalhau (salted cod) shop next door.
Wander across Praça da Figueira into Confeitaria National for a sweet treat and coffee stop. Founded in 1829, this traditional bakery has counters piled high with egg-yolk-laced sweets.
Eat all the pastéis de nata
Last stop is one of my favourite pastel de nata spots in Lisbon at Manteigaria. But before you order, a lesson in Portuguese for you. One tart is a pastel de nata. Plural tarts are pasteis de natas.
Um pastel de nata, por favor.
Dois pastéis de nata, por favor.
Look, most hospitality staff speak near-perfect English but a bit of effort goes a long way. Time it right and you can eat your tart while watching the pastry chefs pump out more through the glass window. When they ring a big bell, the tarts are fresh out of the oven. Don't burn your tongue.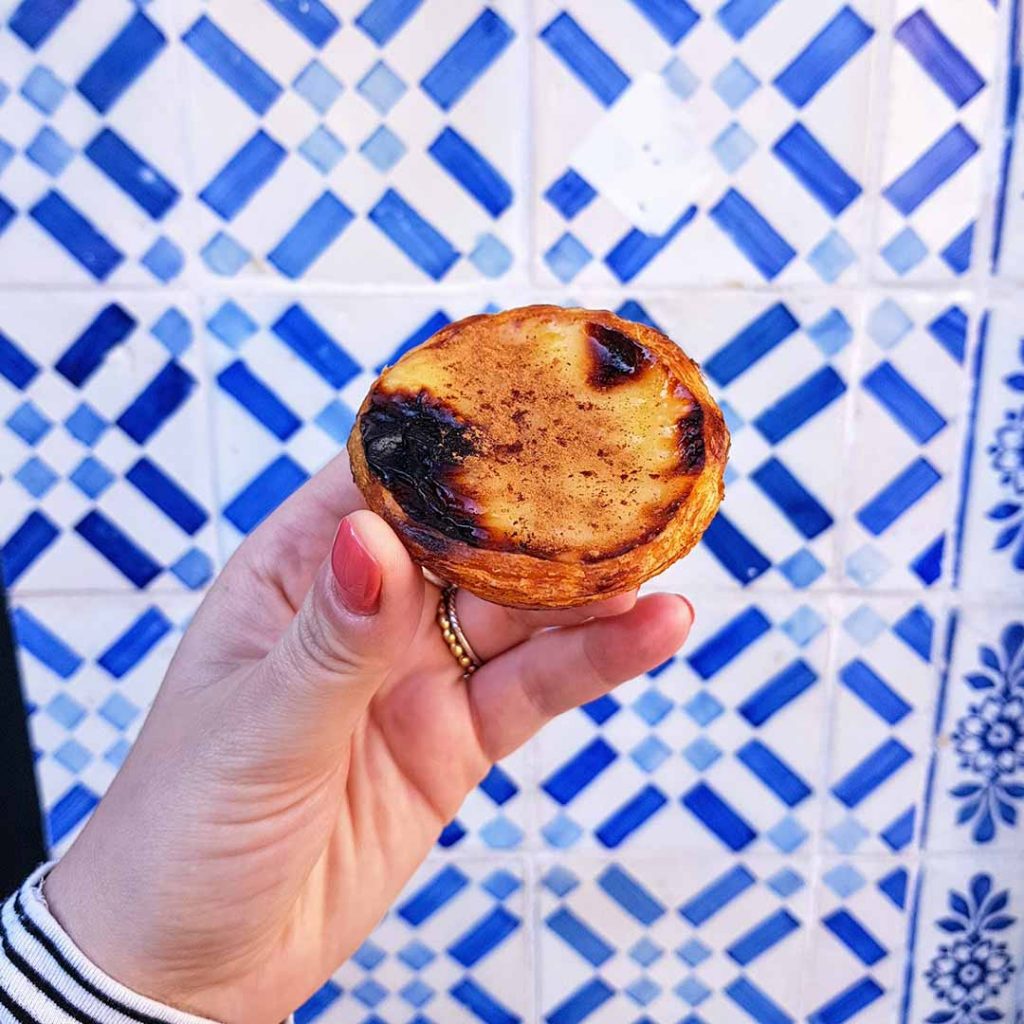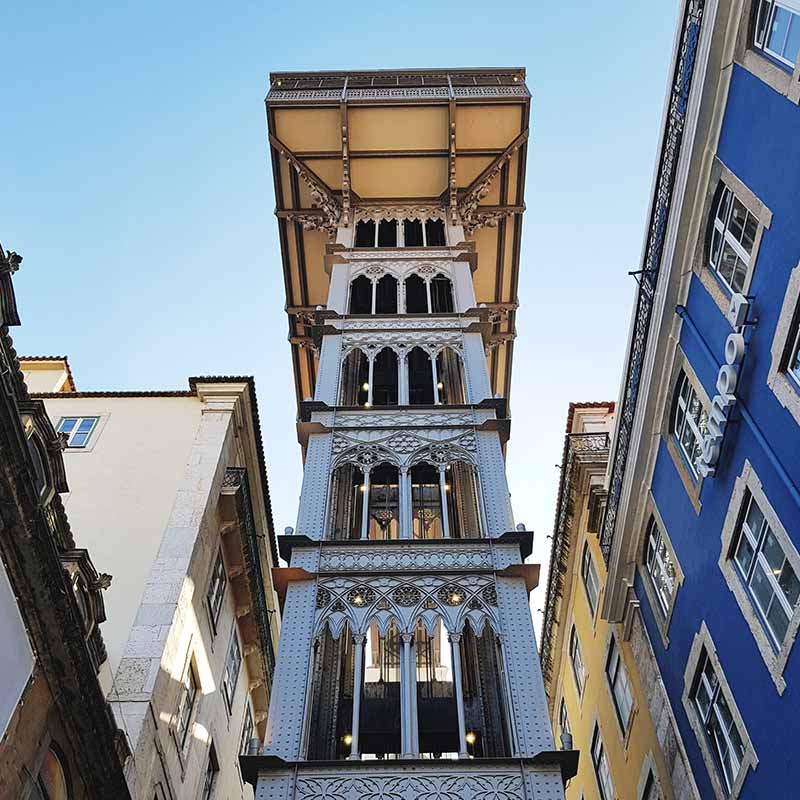 While in the area, check out:
Now you have a choice, head towards the Rio Tejo (Tagus River) or a lookout to chill out with a beer, or squeeze in a few cool shops first.
Shop for proper souvenirs in Chiado
If you want to shop, head up the hill to Chiado. Here you'll find my favourite Portuguese shops to pick up some incredible, not-so-average souvenirs.
RELATED BLOG: The complete guide to ethical and sustainable shopping in Lisbon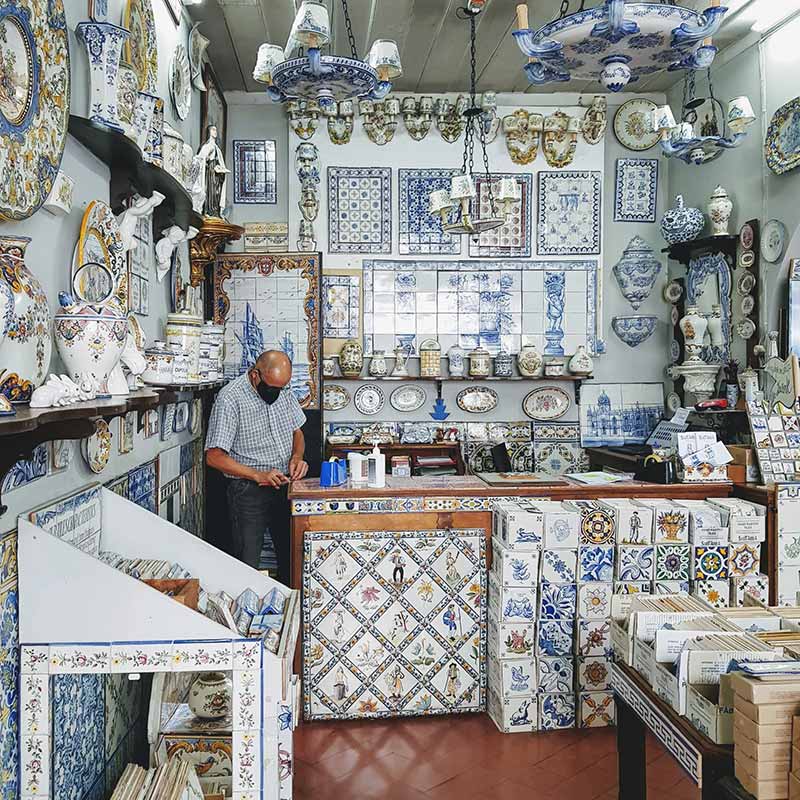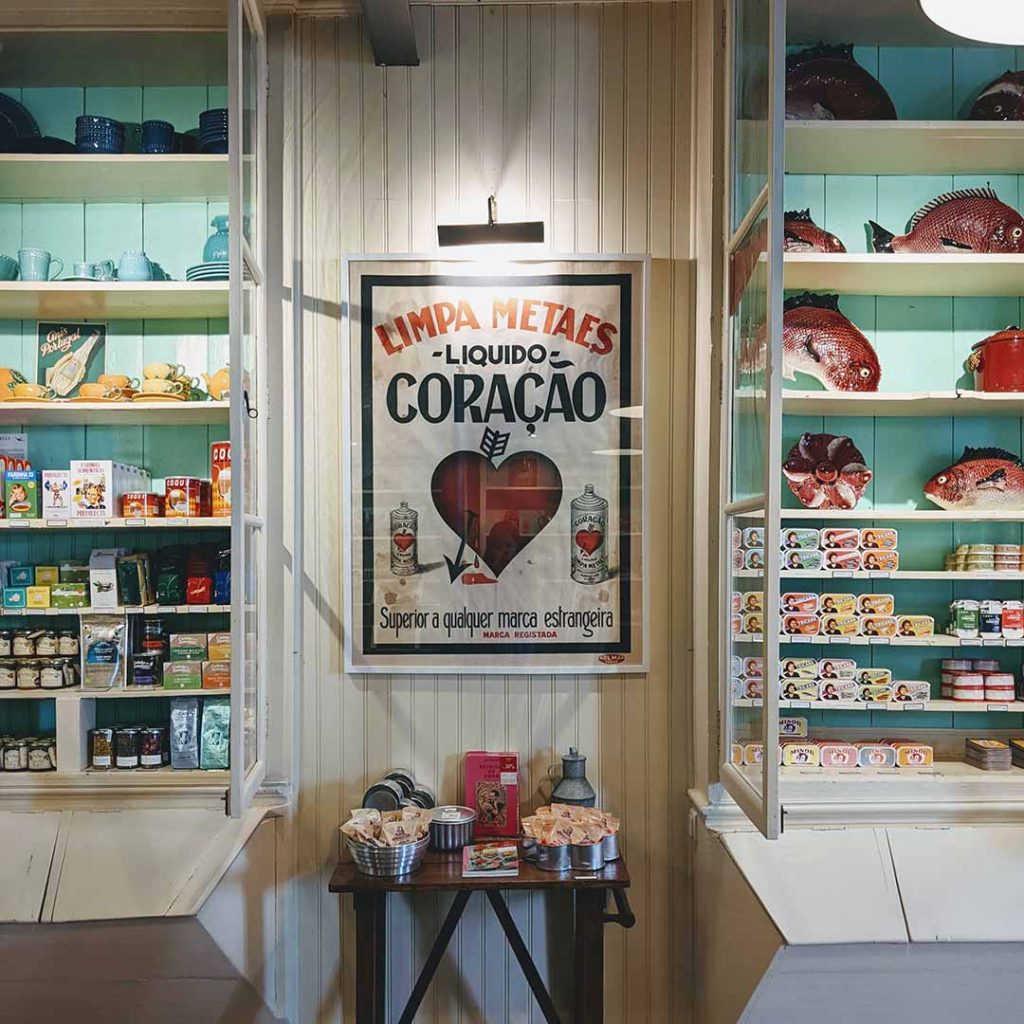 Catch the sunset by the river, on a rooftop or at a lookout
Lisbon is a city of hills, and therefore a city of lookouts too. At the top of nearly every hill is a viewpoint. You can find one near you by googling "miradouro" on Google Maps. Two of my downtown favourites are Miradouro de Santa Catarina and Miradouro de São Pedro de Alcântara. If not a viewpoint, then find a rooftop bar or head for the riverfront.
If you didn't go uphill to Chiado, keep following Rua Augusta to the river. At the end of the pedestrian avenue you'll find the Rua Augusta Arch (you can climb to the top of it) and the grand square, Praça do Comércio. Across the square, you'll hit the river and there's nothing nicer than wandering the banks on a sunny day. Soon enough you'll come across a bar or two to stop for refreshments.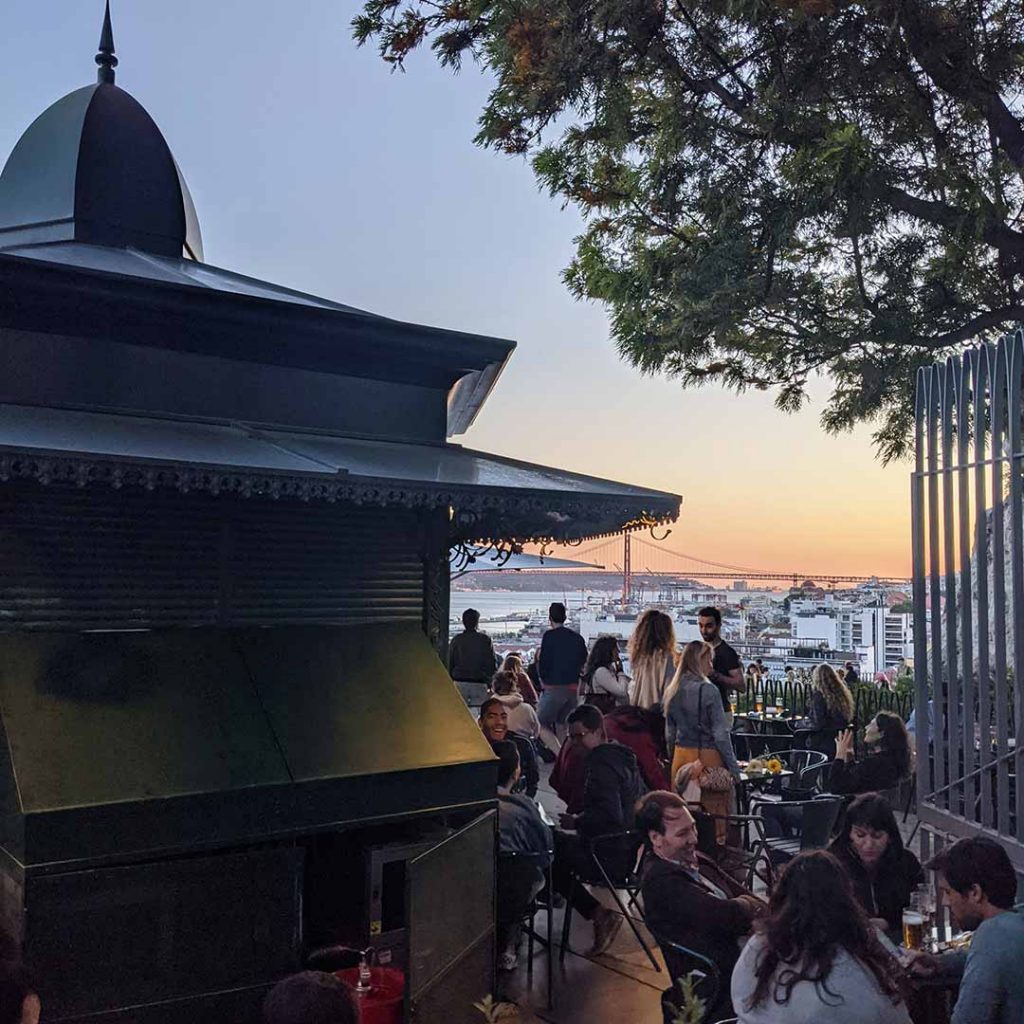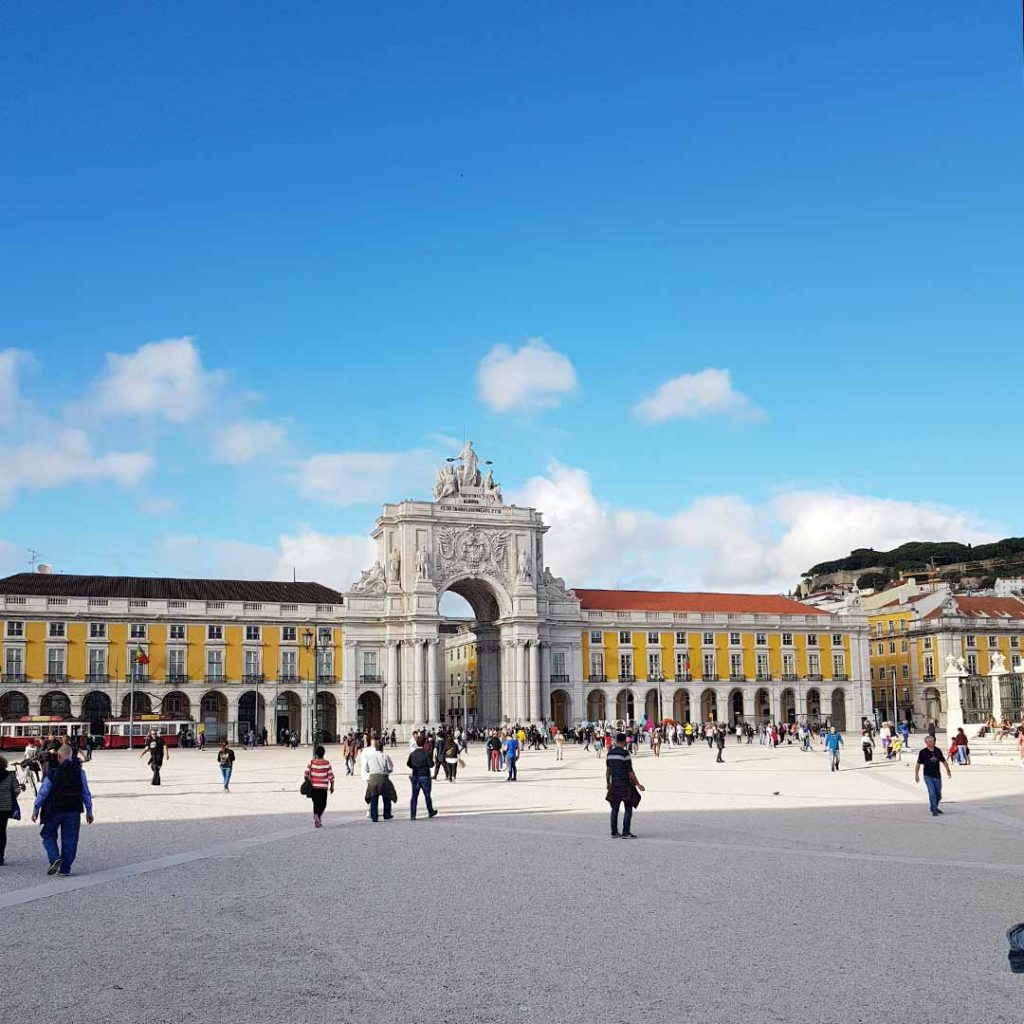 Fun riverside bars in Lisbon:
If you ended up in Chiado, wander down Rua do Alecrim towards the river or seek out a miradouro or rooftop bar.
Rooftops and miradouros (lookouts)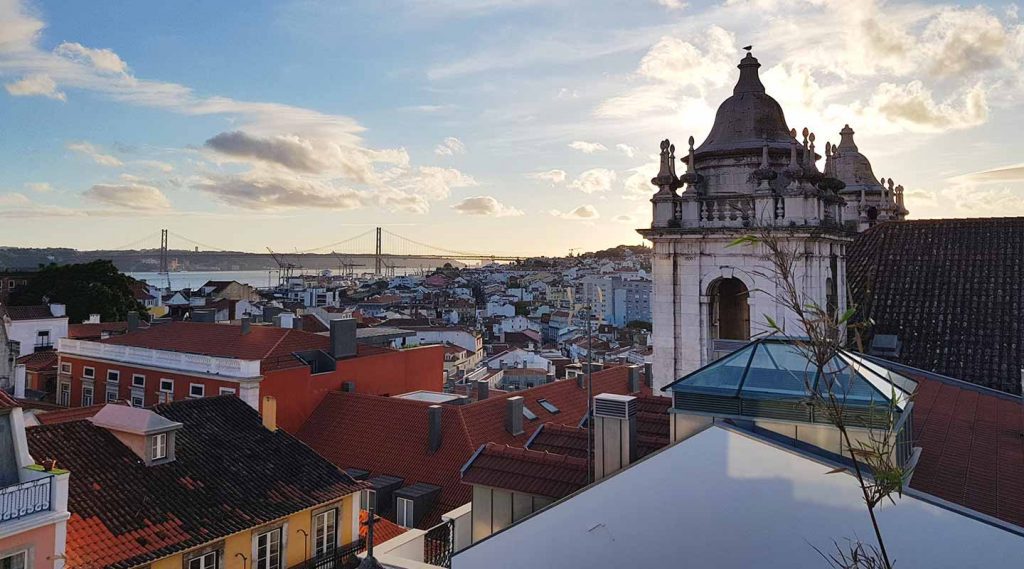 Where to go for dinner in Lisbon
Don't be the tourist that leaves Google reviews complaining about sassy service and not-free snacks at tascas without understanding the dining culture here. A tasca is essentially a Portuguese bistro. They are usually cheap and family-run. You can enjoy a traditional Portuguese meal with wine, and often get change from €15. I adore eating at these spots. There is so much variety in Portuguese cuisine and the vibes at a tasca can be so fun.
I have tonnes of suggestions for where to eat in Lisbon – and I've listed some of my favourite places in this guide here. Follow the list, tip your waiter and don't turn up before 8pm (you'll embarrass me).
Another spot to stick on your radar for food is the Time Out Market. It's a giant food court with 25 or so permanent kitchen counters from Michelin-starred chefs and other local highlights, curated by street culture magazine Time Out. The editors have hand-selected some of the best restaurants around the city. It's a good chance to see the variety of Portuguese food in one area, but it's often a fight to find a table, and you get a buzzer to collect your food that will arrive at all different times.
Kick on into the wee hours in Bairro Alto or at Pink Street
"Pink Street" is a pedestrian street filled with bars and restaurants. My favourite pick for snacks is Sol e Pesca, an old fishing tackle shop that is now lined with tinned fish and serves them in interesting ways. Povo, Bacchanal and Pensão Amor are also fun.
Bairro Alto is an old suburb of skinny streets and the smallest bars you've ever seen. The drink prices are ridiculously low, attracting crowds of students and the British to the streets every weekend. I can't tell you where to drink here (again, go with the flow), but if you stay out late enough look for the pop-up salesmen selling pão com choriço (hot chorizo bread) or chamuças (samosas) from plastic tubs.
Day 2 in Lisbon
Today you will eat the best pastel de nata of your life, if you didn't already yesterday. Jump on the number 15 tram and rattle over to the western suburb of Belém (pronounced to almost rhyme with a very nasally version of lame – "be-lame").
Kick off with a tart
Pastéis de Belém is my equal top, all-time favourite pastel de nata in Lisbon. The pastry is super crunchy and the custard has a nice savoury, eggy element to it. You can line up outside to get takeaway tarts for the park, or wander through the rabbit warren to the line for a table. These guys are the masters of massive numbers, so any queue moves at lightning speed. Personally, I like to dine in so I can order an imperial (small beer), empada de pato (duck pie) and pastel de bacalhau (salted cod croquette) before my pastel de nata.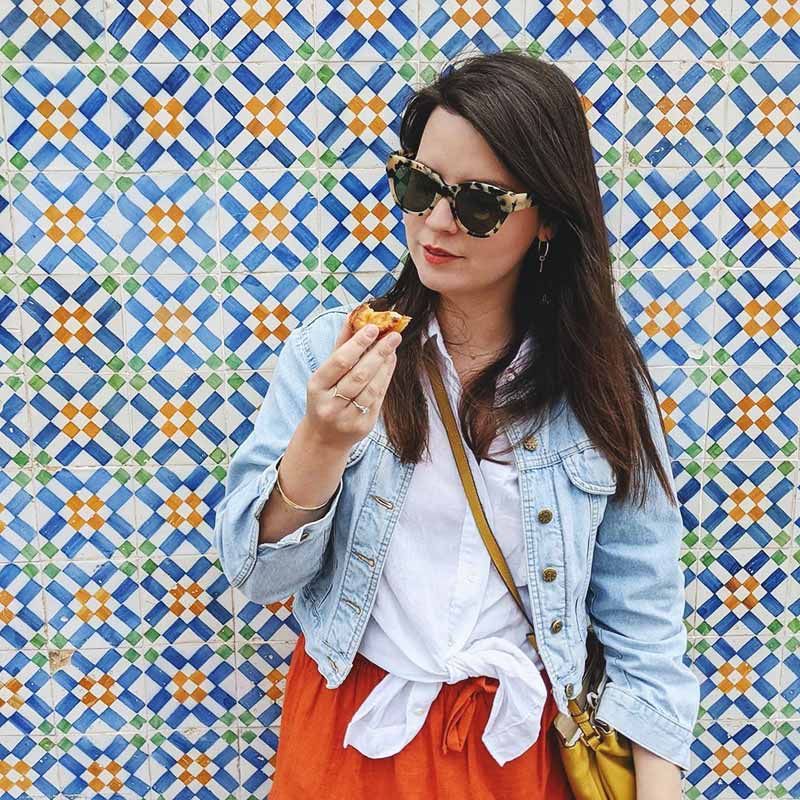 Continue with culture and art
Belém is basically a suburb of parks and museums. For history lovers, seek out the Jeronimos Monastery, Torre de Belém and Monument to the Discoveries. Wave to the President as you pass by his pink palace.
Art lovers can pop into the Berardo for modern and contemporary art, or walk along the waterfront to MAAT for super new-age expression. There's also the Maritime Museum, and the Coach Museum, filled with gilded horse-drawn carriages, and the If the weather is too good to be indoors (almost all the time) there is a spectacular esplanade along the river from Belém to Alcântara (the bridge pylon) so I recommend walking or grabbing an electric Bolt bicycle (via an app).
GET SKIP-THE-LINE TICKETS: Jeronimos Monastery, Torre de Belém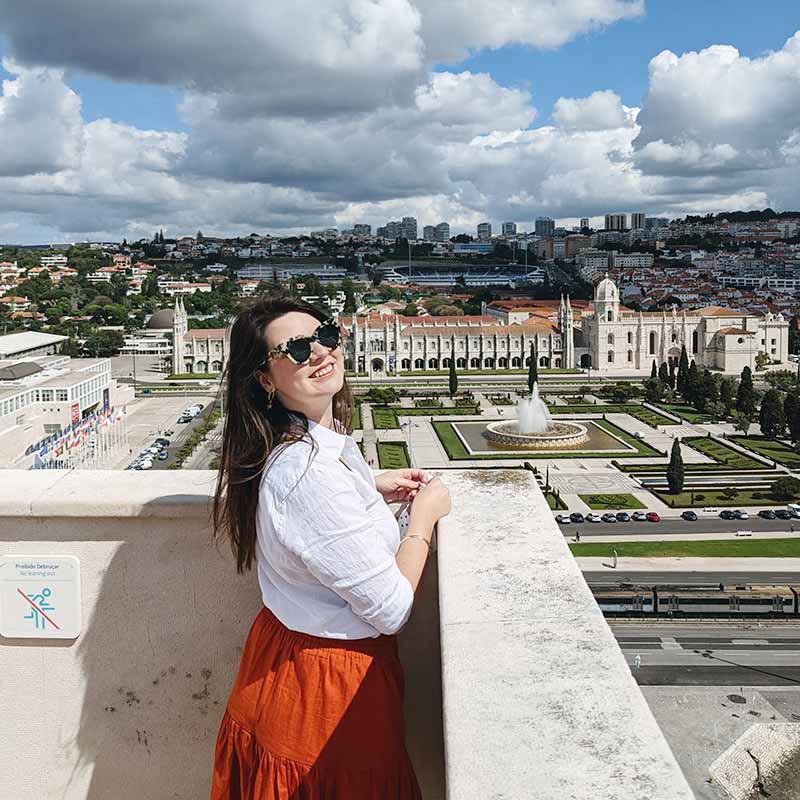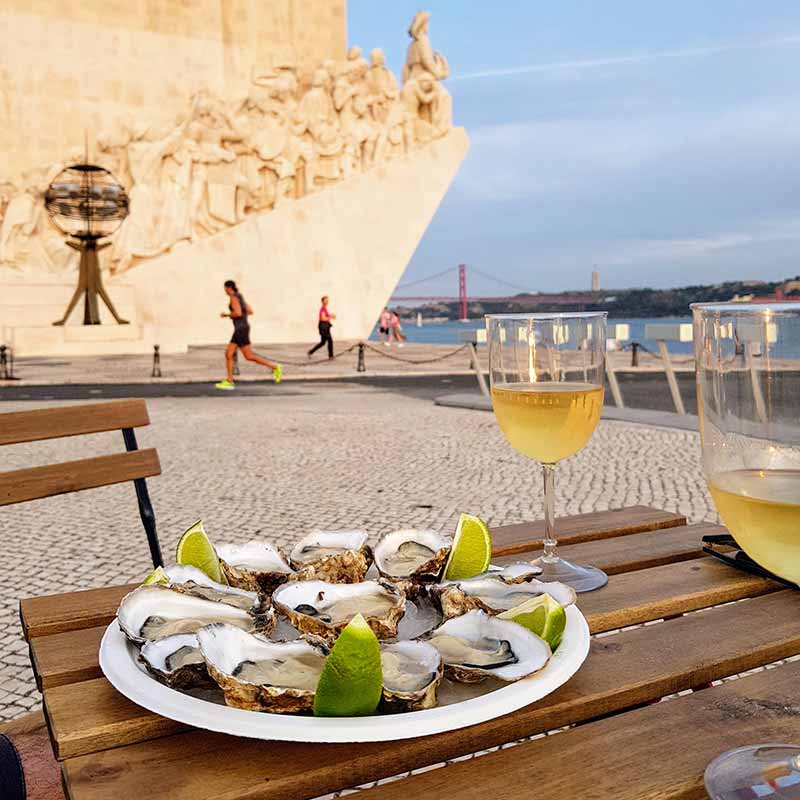 Best fish lunch in the city
If it's lunchtime and not a Sunday, head to Último Porto for the best fish barbecue in Lisbon. It's in a weird, hard-to-find spot tucked inside the docks but it's one of those places you'll remember long after leaving. Choose from various types of fish or cuts of meat and watch it get shuttled to the mega charcoal grills near the shipping containers outside.
Street art in Alcântara
Welcome to my suburb. This area is fairly local but also includes the LX Factory, a gentrified old warehouse-turned-hipster micro neighbourhood that is fun to explore. It's filled with restaurants, bars, tiny shops, artisans, the world's coolest bookstore and stacks of cool street art. There's often pop-up events and a nice market every Sunday.
Cruise the river at sunset
See Lisbon city, the Belém Tower, Discoveries Monument, Praca do Comércio, Cristo Rei and, if you're extra lucky, dolphins as you spend the afternoon cruising the river, wind in your hair and wine in your belly. A few times last summer a group of 10-12 friends hired the whole boat where we could bring our own food and drinks. Very fun!
Most small boat companies leave from the Alcântara Docks for €30-50 per person. Most include commentary and a welcome drink, some include snacks or an open bar. Some take you out in a small vessel or a traditional boat, but while others are big party boats or even a speedboat. Here's a few you can try: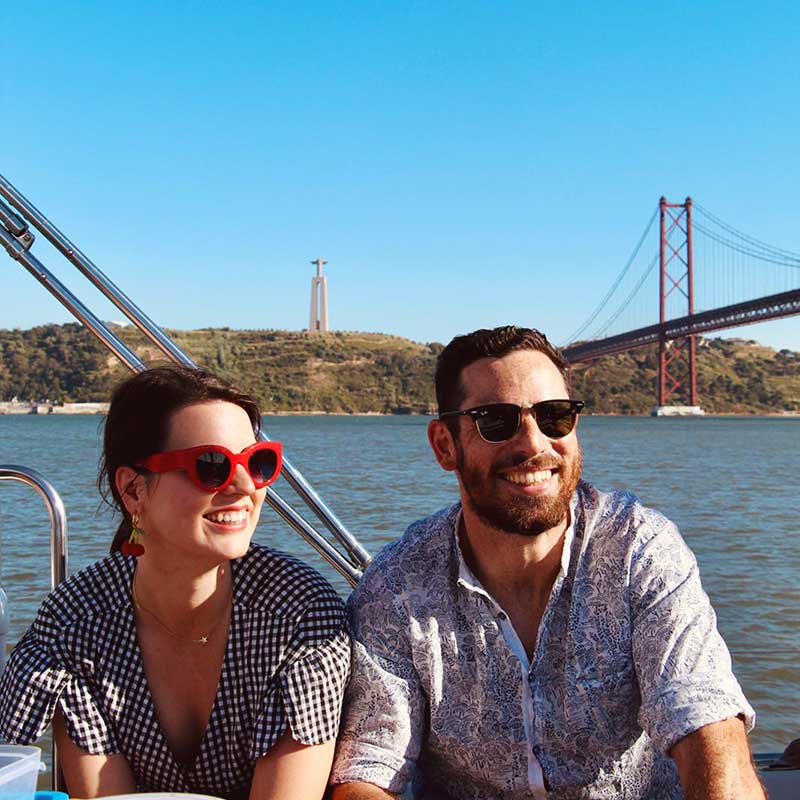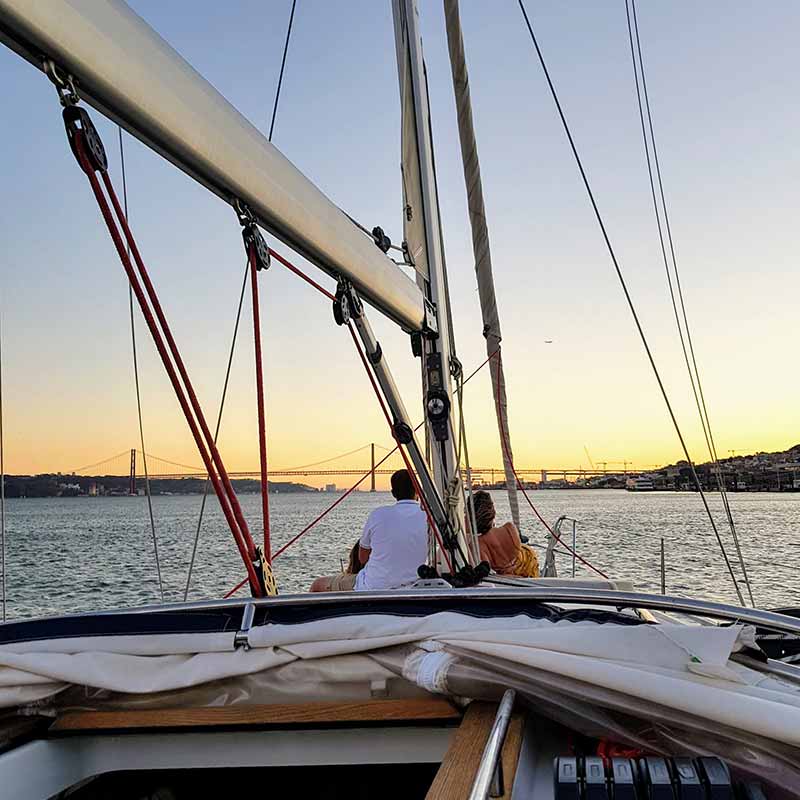 So, that's my 48-hour guide to Lisbon. It was a long one but I hope you found it useful. Let me know what you got up to and please share it.