I always say Sintra is Lisbon's best day trip and encourage anyone visiting me here in the Portuguese capital to take at least a day to explore. Fairytale palaces, dense mystical forest, charming villages, oversized mossy boulders and a wild, rugged coastline define the historic Sintra village and wider region, and while there's so much to do and see, most people only have one day in Sintra to see it all.
I've outlined a fairly classic one-day itinerary for Sintra that is heavy on visiting the most famous palaces, but I've added tips on where you could swap things out for other lesser-known destinations and activities if you'd prefer smaller crowds.
If you're curious to explore all that's on offer in Sintra-Cascais Natural Park, take a look at my mammoth guide covering 29 things to do in Sintra. If you only have one day to get a taste for the romantic mountain landscape, read on below to see how I'd spend my time.
This is a DIY one-day Sintra itinerary and the area is easy to reach by public transport from Lisbon, but if you want local knowledge and greater context, you can reach out to great local tour guides who will make sure you see the best spots and make the most of your time. While many tours follow a similar pattern in Sintra, each guide includes something slightly different, so check before you book if there is something you really want to see. 
1 Day in Sintra – Classic Itinerary
8:00 am: Arrive early
I say Sintra is Lisbon's best day trip, but it's also the most popular. If you're eager to somewhat beat the crowds, today is not the day you sleep in. Sintra is only 25-30 minutes from Lisbon by car, so you can split a Bolt or Uber or easily catch the train here.
8:45 am: Start at the romantic Pena Palace
It's impossible to resist the charms of the fairytale-like Pena Palace. Considered the jewel in the crown of Portugal's artistic king, Ferdinand II, this magical palace that tops Sintra's highest hill evokes the magic and romanticism of the 19th century in Portugal.
Of course, Palacio de Pena is no longer a secret. Almost every tourist that flocks to busy Lisbon wants to see this magnificent palace and its idyllic and mysterious lush green park. There is nothing romantic about battling hoards of tourists to witness the spectacular beauty of this building, and since you now must book a timed entrance ticket I would aim for 9am when the gates open.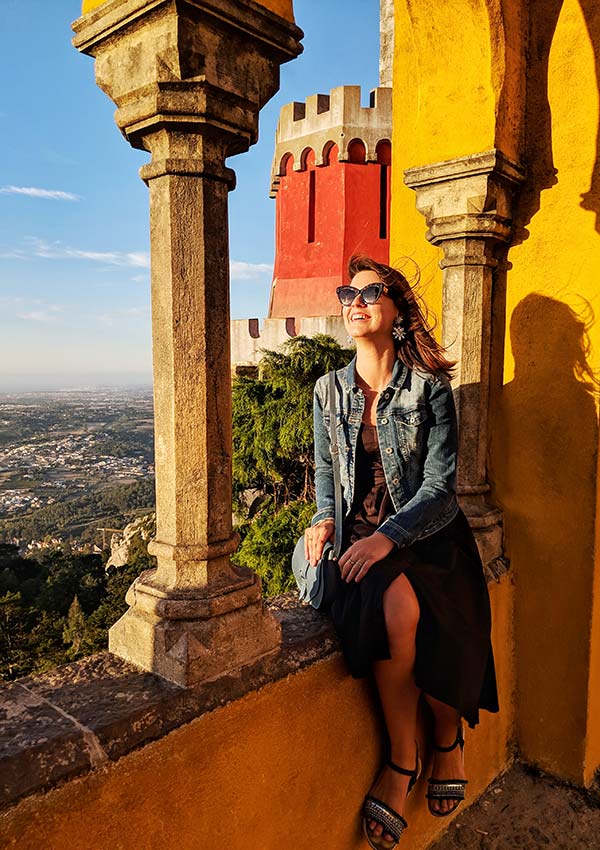 I'd make a rough guess that the red-and-yellow iconic landmark has 10x its popularity since the pandemic and, honestly, it's a bit out of hand. I know some tour guides have stopped offering a Pena Palace visit as it's just not as enjoyable as it once was – especially when there are more than half a dozen alternative palaces available.
That all said, Pena Palace is absolutely beautiful, totally unique and one of the most special things to do in Sintra. There's nothing like standing on the terraces overlooking the area and soaking up the beauty. I just want you to be aware so you can adjust your expectations, plan ahead and go early (or late in the day).
Getting there: The UNESCO World Heritage site sits on top of Sintra's highest peak and you will have to catch a taxi, tuk-tuk, Uber or the public bus to reach the top. Alternatively, you can hike up from the village.
Get tickets: Buy a skip-the-line ticket with an entry time.
11:30 am: Explore the Moorish Castle
The walls of the millennium-old Moorish castle cascade over the rocky landscape like stone silk. Sitting atop the second-highest peak, the Castelo dos Mouros has been here since the 10th century, built when the Moors occupied this part of the Iberian Peninsula. From Pena Palace you can take a short, simple hike to reach the gates of the ancient fortress.
I'd say it only takes around 45 minutes to walk around the epic walls, soaking up incredible views of Pena Palace, the green hills, and blue Atlantic ocean. That makes it an easy one to squeeze in before lunch.
Get tickets: Buy skip-the-line entry tickets.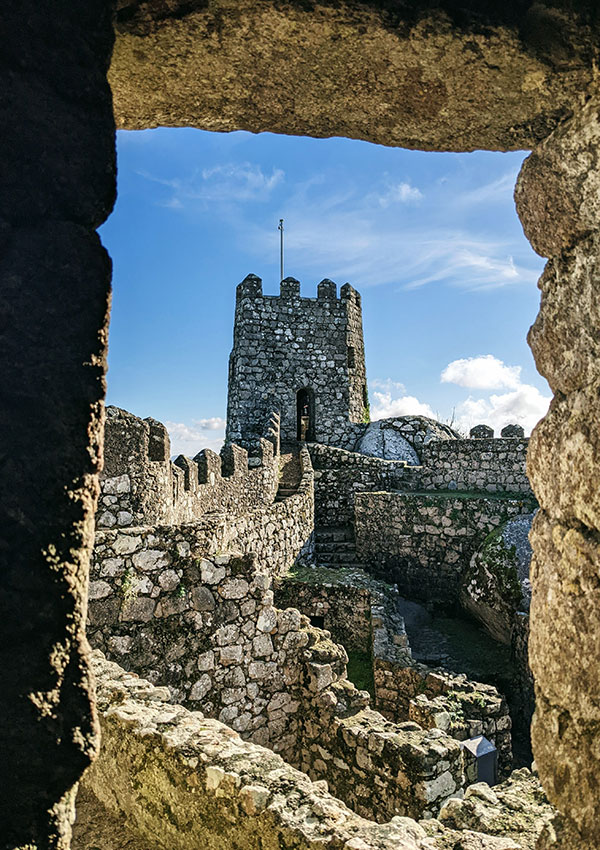 1:00 pm: Lunch in Sintra Village
From the castle, take a relatively easy (but not pram or wheelchair-friendly) downhill trail towards Sintra village. The undoubtedly cute village has half a dozen streets with artisanal souvenir shops, spots for coffee and snacks, and of course lunch.
Book ahead if there is somewhere you really want to try – otherwise you'll find plenty of places to eat in the village. Some favourite places to eat in Sintra of mine include Tascantiga for petiscos (small plates) and the terrace at Dona Maria for a drink with a view (and to peep the interiors). Good friends of mine adore Romaria de Baco.
If you have wheels, the small villages scattered across the Sintra mountain landscape offer plenty more choice and authentic Portuguese meals, or you can even reach the coast and dine on delicious local seafood with views of the Atlantic Ocean.
3:00 pm: You choose – Visit Quinta da Regaleira OR drive to the coastline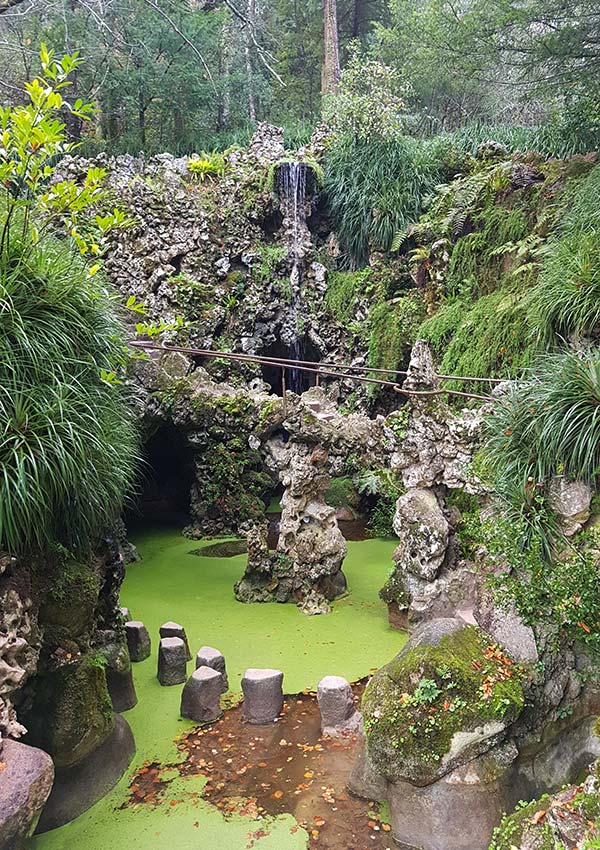 After Pena Palace, Quinta da Regaleira is probably Sintra's most famous monument to seek out. In the early 20th century, millionaire António Augusto Carvalho Monteiro crafted this dreamland loaded with mysterious metaphors and symbolism, linking back to his fascination with the Knights Templar.
This mystical Sintra sight is really all about the gardens – there's a reverse initiation well and loads of tunnels that lead to grottos and waterfalls, a surprise lake and other strange places. But again, it can get very busy. Some friends visited during an afternoon in April 2023 and said the queue to walk down the initiation well was so long that they didn't get to do it.
Get tickets: Buy a skip-the-line ticket and audio tour for Quinta da Regaleira (affiliate) or just tickets for the palace.
Alternative palace idea: The newly opened 19th-century Biester Palace is a stunning example of Neo-Gothic architecture close to Sintra village. Buy a skip-the-line ticket for Biester Palace.
OR
If you've been to Pena Palace and the Moorish Castle, after lunch you might be all castled out. My personal favourite one-day itinerary in Sintra combines the historic palaces and lush mountain area with the wild coastline. 
If you have a car it's easy to drive from Sintra to Cabo da Roca, the westernmost point of continental Europe, and around to Guincho and Cascais. If you don't have a car, the best idea is to book a private or small-scale guide to show you around. Often a guide will mix a palace or two with exploring the mountain – especially if you join an off-road tour.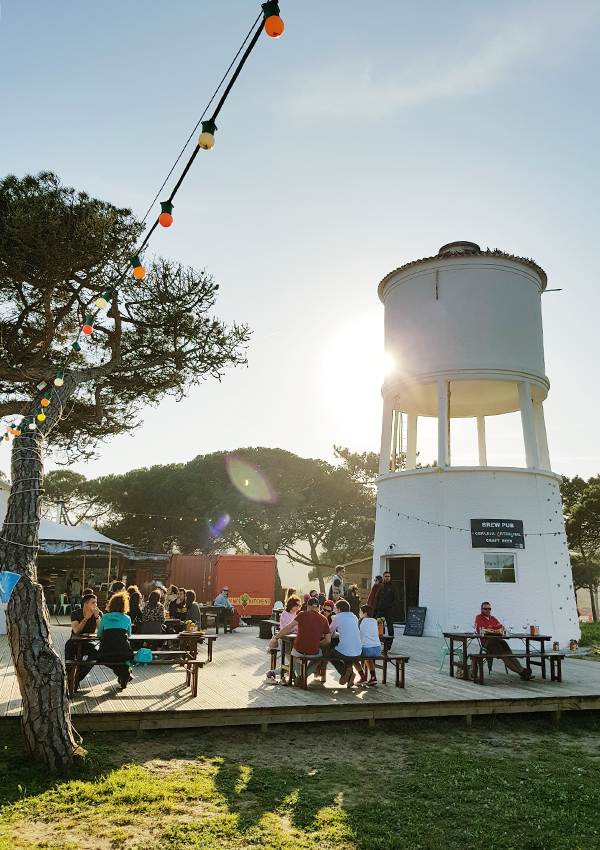 If you don't squeeze in another palace there are dozens of alternative ideas in Sintra, from visiting markets to drinking craft beer to hiking the forest. By the coast you can visit the super cute village of Azenhas do Mar, where whitewashed village homes cling to the cliffs.
Visit the golden sandy beaches of Praia da Maça, Praia da Adraga, Praia Pequena and Praia Grande. Or lace up your hiking shoes and journey down the sheer cliff pathway to the hard-to-reach Ursa Beach. Explore the best ideas in my article 29 things to do in Sintra.
4:30 pm: Eat a travesseiro or queijada de Sintra
After Quinta da Regaleira or Biester Palace or you deserve a sweet treat. One of the essential things to do in Sintra is try the famous travesseiro, a long puff pastry "pillow" filled with a sweet almond and cinnamon paste. If you have a sweet tooth, also try a Queijada de Sintra – a traditional sweet cheese tart. SIntra'a famous bakery, Casa Piriquita, was founded in 1862 and is the place to try these traditional pastries.
If you plan to drive the coast, stop by Piriquita before leaving Sintra village.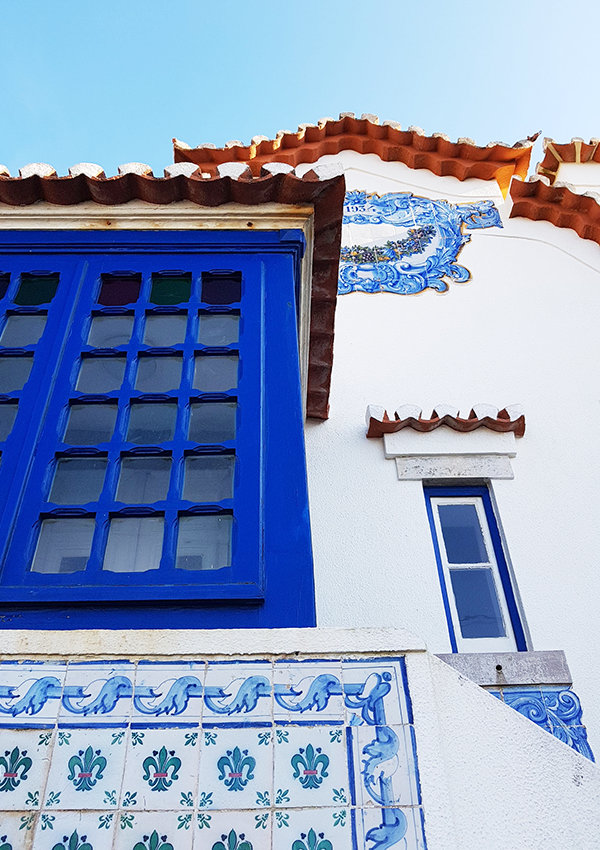 6 pm: Return to Lisbon… or not
Make your way back to Lisbon by car, train, bus… or however you got there in the first place (I've offered some tips below).
If you had the freedom to drive towards the coast, stay for dusk and witness the sun set into the Atlantic Ocean. Wind your way around the coastline, past Guincho Beach, Cascais and Estoril on the scenic route back to Lisbon.
2-Day Sintra Itinerary
If you have more time, stay the night and turn your one-day into a more relaxed two-day Sintra itinerary. You could add in a visit to Monserrate Palace or the Sintra National Palace, or spend the second day hiking through the hills.
If you need more ideas, read my guide to 29+ things to do in Sintra. You can't tick them all off in a single day!
Where to stay in Sintra
In Sintra village (close to the palaces and sights) I'd look at Villa Bela Vista, Chalet Saudade, or Cedros Nature House. For a more budget option try Moon Hill Hostel.
Or if you want to be closer to the coast with views of the Atlantic Ocean in Sintra, check out Azenhas do Mar Surf Villas, Arribas Sintra Hotel, or Charm Nature.
How to get to and around Sintra
Public transport
It's easy to reach Sintra historic village from Lisbon. Simply take the train from Rossio Station to Sintra Station. From the final stop you can walk to the village in about 10 minutes. A local bus network will connect you with the other small villages scattered in the Sintra-Cascais Natural Park and the beaches. There is also an extremely cute historic tram that runs between Sintra village and Praia da Maça.
Car
Sintra historic village is only a 30-minute drive from Lisbon. You can find limited parking in the villages, but many streets are now off-limits to private non-resident cars. SIntar council has set up six free car parks and a shuttle bus that can help you access the village. More information on where to park in Sintra here.
Day tour
There are some brilliant guides that lead small-group or private tours through Sintra. I know the guys at Flamingo and can personally recommend their Sintra Jeep Safari, which combines palaces with off-road driving through Sintra-Cascais Natural Park, leading you to the coastline. It's very cool. For something more classic, this highly-rated full-day trip ticks all the boxes.
How would you spend your day in Sintra and what itinerary would you like to see next? Leave me a comment below….