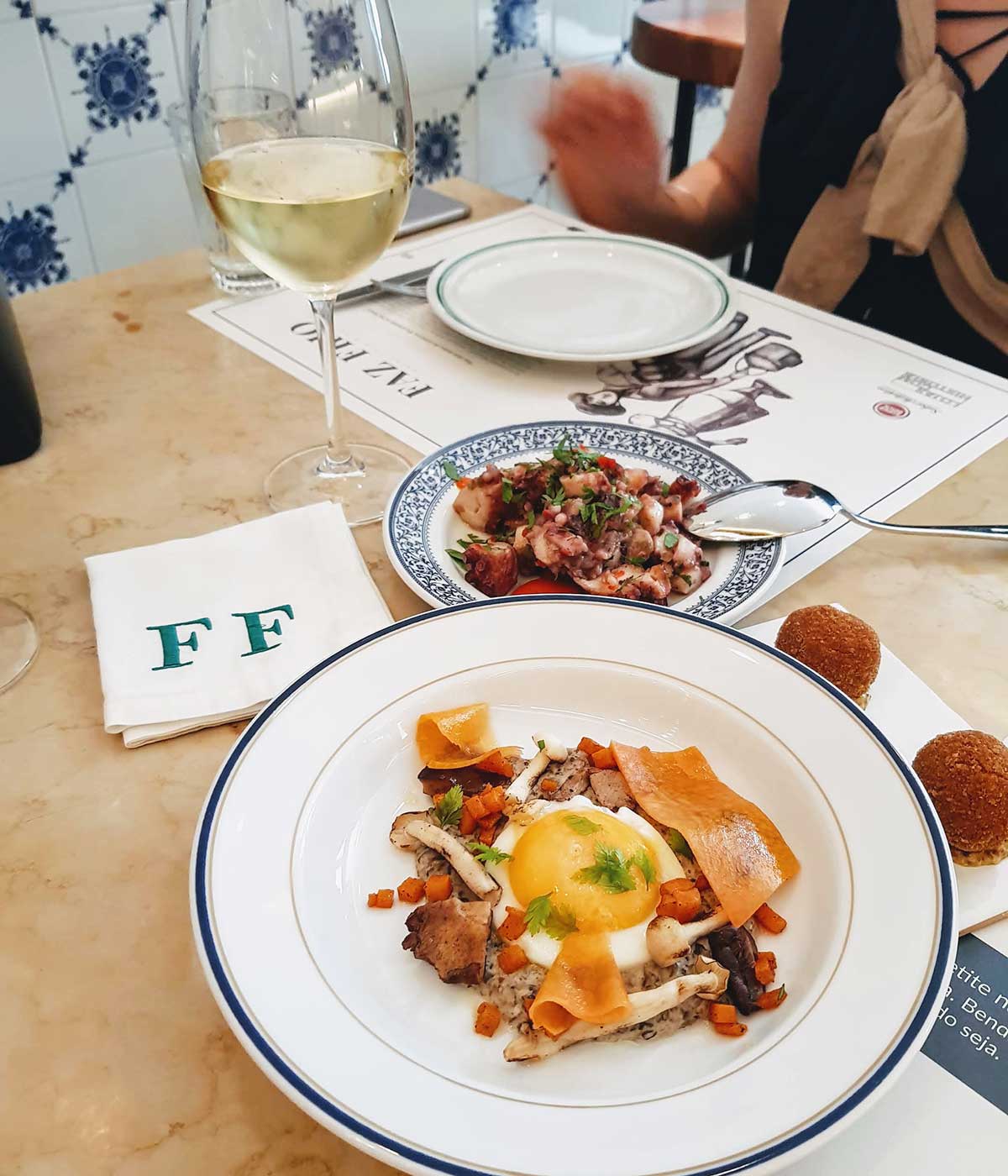 A perfectly salted fish cooked over coals. A juicy tomato plucked in the peak of summer, drenched in fresh olive oil and tangy white wine vinegar. The crunch of a pastel de nata, still warm from the oven. Portuguese food is a lesson in perfectly executed simplicity.
You eat well here, without spending a lot, especially if you like lunch.I can't get enough of the barebones local places where a lunch menu gives you a meal, soup, coffee, beer or wine, dessert and change from a €10 note.
Eating out you'll find the first European offering from a respected Japanese ramen joint through to Portuguese classics at every price point. Generally speaking, the Portuguese food is excellent and the international food can leave a little bit to be desired but there are shining exceptions to both of those rules.
Portuguese food isn't easy to sum up in a sentence or two so it's worth taking a look at my guide to 25 of the most common dishes before you get started.
To note: table snacks dropped on your table are not free. Ask them to take them away if you don't want them. Also a "dose" feeds two people, so a half dose is for one. Portuguese maths! When you leave the city, don't be afraid to try small town tascas – often you'll eat like royalty.
Favourite restaurants and tascas for Portuguese food in Lisbon
In Australia I loved fine dining and wild new concepts but here I prefer to hunt out the local gems that don't make the guide books or listicles or chef-owned restaurants rediscovering what Portuguese food can be. I've split this section into traditional for my favourite basic, classic, no frills spots and progressive for the local chefs doing nose-to-tail dining or modern Portuguese without the ego. 
Traditional
For the best grilled fish in Lisbon, go to Ultimo Porto. The unusual waterfront restaurant is jammed up against the docks, so don't be surprised if giant trucks carting shipping containers whiz past a terrace full of suits. It's all part of the charm. Pick a fish, wait for the grill and tuck in. It's only open for lunch.
Clam a bulhao pato style at Zapata
Grilled fish at Ultimo Porto
At the front of this tiny tasca, the grill chef's eyes barely  stray from whatever telenovela or old movie is on the TV as he flips steaks, squid and pork chops over the flames. This is a typical old-fashioned tasca and I love it. We like to come for a giant T-bone steak the size of your (rather large) plate. Be prepared for the "whack, whack, whack" as your €12ish cut of steak is hacked off the bone on a chopping block right next to the grill. 
Note: The Portuguese tend to leave steak a little on the rare side (which I love) so you may have to send it back for a second grilling if you like anything beyond medium rare.
For no-frills, big-variety Portuguese food Zapata is a great spot. We mostly eat here when friends come to town and we want to show them a range of top-notch Portuguese cuisine all at once. There's grilled fish and steaks, homely seafood rice dishes, bacalhau (salted cod) and some of the best pica-pau (rich, tender meat with vinegar and pickled vegetables) in. There's also smoking inside (This is meant to change nationwide in 2021 but I'll believe it when I see it), so ask for não fumador.
Giant steak at O Tachadas
Carne de porco alentejana (pork with clams) at Zapata
Bring friends when you dine at Zé da Mouraria. And don't turn up for dinner, like we did the first three times (whoops). At first glance, the prices seem steeper than other spots, but order a meal and they'll deliver an entire frying pan or dinner tray of food. My guess is one dish is enough to feed three. Unless you want to follow in the footsteps of a solo diner we watched quickly make new friends when his family sized meal arrived.
Ribs, ribs, ribs. They do them savoury style in Portugal, garlicky and salty instead of drowned in barbecue sauce. Share a rack straight off the charcoal grill for €10 with a tomato salad and rice. This place ticks all the tasca (cheap restaurant) boxes. There are tiles on the wall, paper tablecloths, the news or football on the TV and an owner/chef/waiter that shows his love for his regulars by teasing them relentlessly. There's always a line but (as with most places) they'll happily serve you beers while you wait on the street. And we all know that a queue with a beer is basically a bar anyway. 
Note: Zé is short for José, a name that is very popular generally and apparently even more popular among chefs and restaurant owners.
Baked codfish at Ze de Mouraria
Ribs at Ze dos Cornos
This ode to my favourite region of Portugal is on one of Lisbon's most touristy streets but is essentially a cultural club. Plenty of tourists pop their heads in to snap pictures of the truly spectacular entrance way that appears straight out of Morocco but they're missing the best part. Let the small plates stack up as you knock back beers in the courtyard and prepare for the (pleasant) surprise when you see your bill at the end. For something more formal or spectacular, head upstairs to the restaurant where ornate banquet halls and reasonably priced traditional meals beckon.
You come here for the unforgettable view but fortunately the food is good too. You'll need to take a 10-minute ferry ride to the south bank of the river and walk past the graffiti-covered abandoned warehouses that line the water. Definitely call and book a table ahead to get a primo spot on the pier for sunset drinks and dinner with magical views  across the water to Lisbon and out to sea.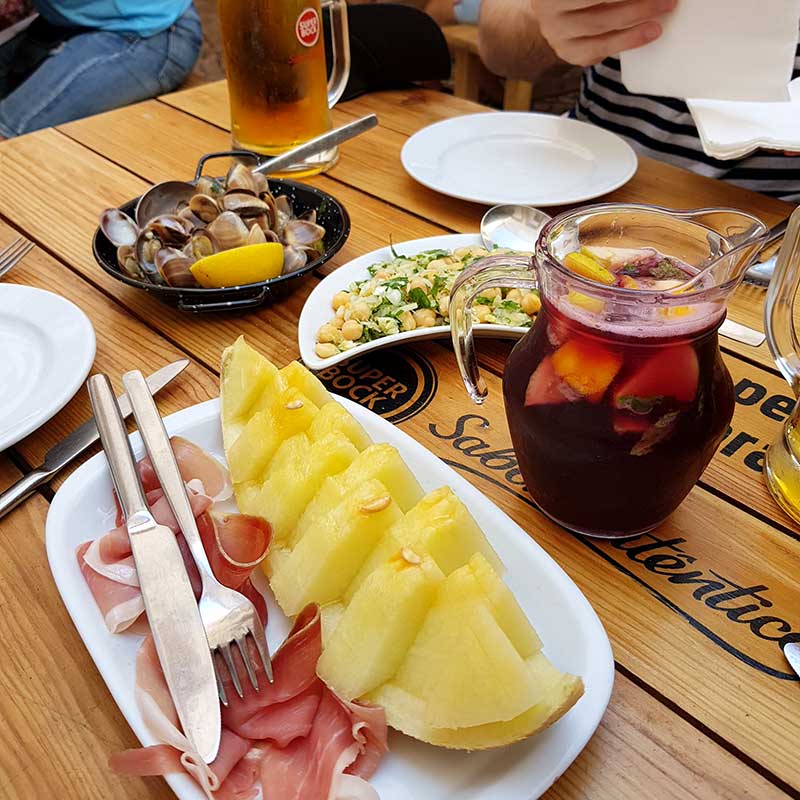 Casa de Alentejano
Ponto Final
Before your beer has finished a waiter drops another in front of you. It's a hard earned thirst given that you're doing manual labour for your meal. In one hand a small hammer is bang-bang-banging crab legs open to reach the tender flesh. Lisbon's most famous seafood restaurant isn't a quiet date night. It's the sort of place to take friends and share bowls of clams swimming in olive oil, garlic and coriander or experience the life-changing sweetest of a carabineiro (scarlet prawn). Cheap, no. Worth it, yes.
If you can't make it to the islands of the Azores, eating the food is the next best thing. An Azorean friend took us here and it opened my mind a little, even after briefly visiting the spectacular Atlantic archipelago. When we were on São Miguel last year we hunted high and low to eat lapas grelhadas (grilled limpets) but everywhere was sold out. Turns out it's because they are friggin' fantastic. Don't miss the chance to try the polvo guisado (octopus stew) either.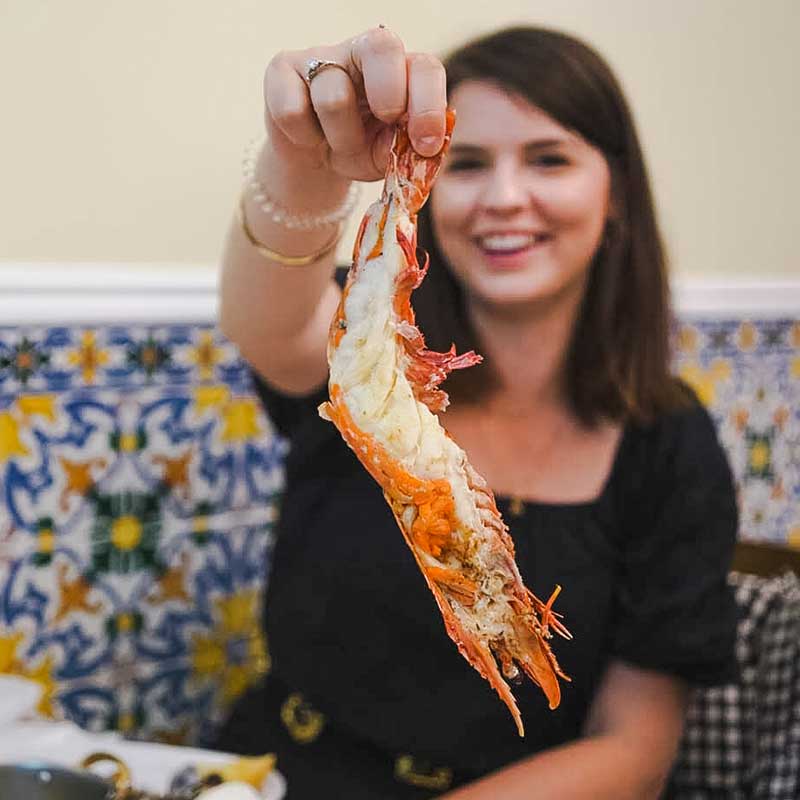 Ramiro
Limpets at Espaco Acores
This is our local terrace bar and tasca where it's fun to drop in for a cheeky bifana and imperial (that's a pork sandwich and baby beer). In summer, locals stretch out here with plates of tiny snails, pica-pau and beer. They do meals mostly under €10, but the snack game is their strong suit.
Summer snails and beer at O Lutador
Pica pau at O Lutador
Seafood rice at O Lutador
Heading to Porto? Read my guide on where to eat in Porto and discover Porto's best coffee shops.
Progressive
For us Faz Frio is a treat. I take our food-loving friends here, but only after they've had an old-school tasca meal or two to get an idea of what Portuguese food is about. At Faz Frio there's a young chef doing traditional Portuguese in a slightly elevated way. In our experience, everything is great but don't miss the bacalhau à Zé do Pipo (baked codfish and velvety mash potato) and the chocolate mousse.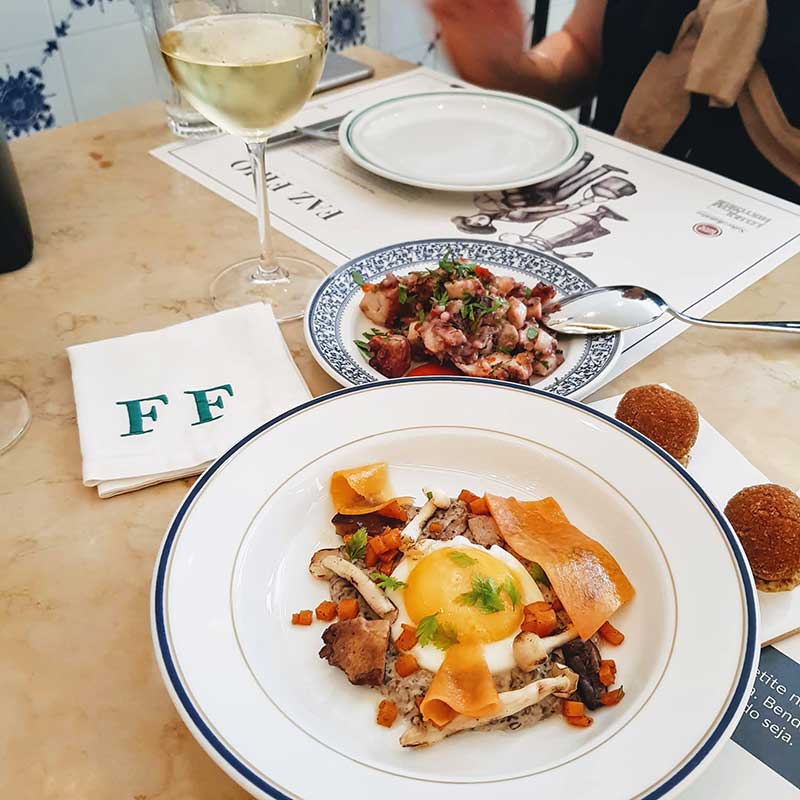 Starters at Faz Frio
Faz Frio private dining rooms
Right now I'm loving the bold class of young Portuguese chefs pushing boundaries within their own cuisine. Cousins Carlos Afonso and Sérgio Frade's progressive take on Alentejo flavours at O Frade earned them a Michelin Bib Gourmand in 2020. Everything is fantastic, but definitely order one of the killer rice dishes: rice with lobster, rice with corvina fish, rice with duck. 
We first discovered O Velho Eurico when it was a killer, old-school tasca with some of the best polvo a lagareiro (olive oil octopus) and balcalhau no forno (baked salted cod) around. The owner retired, the name stayed and a surprise meal of petiscos (small plates like tapas) appeared one day with young chefs at the helm. At the new-old Eurico a hand-written chalkboard displays traditional dishes, cooked and eaten parents, grandparents and great grandparents across Portugal, now made here buzzing with attitude.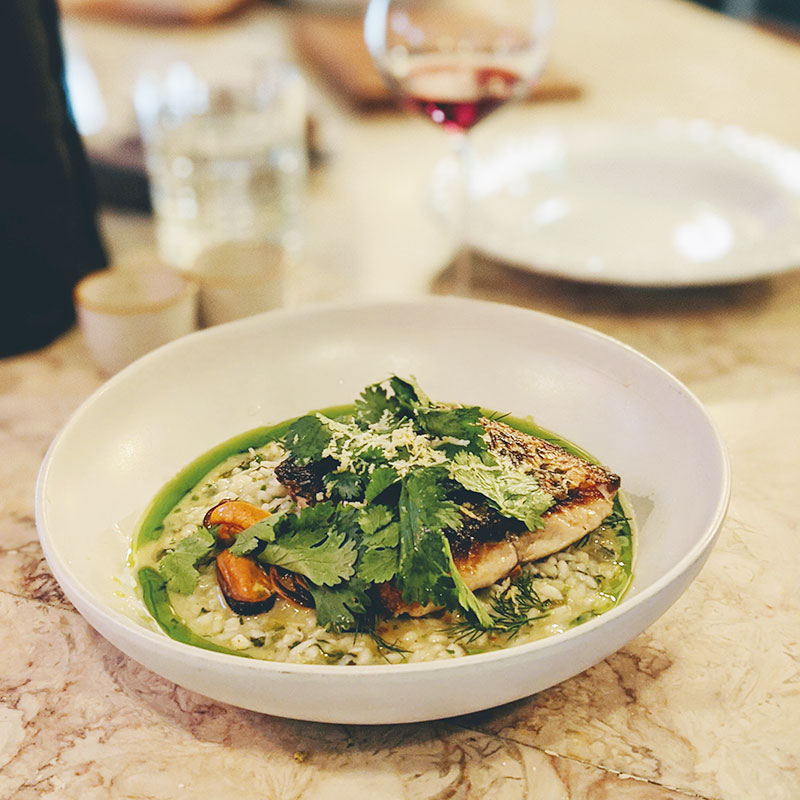 Corvina rice at O Frade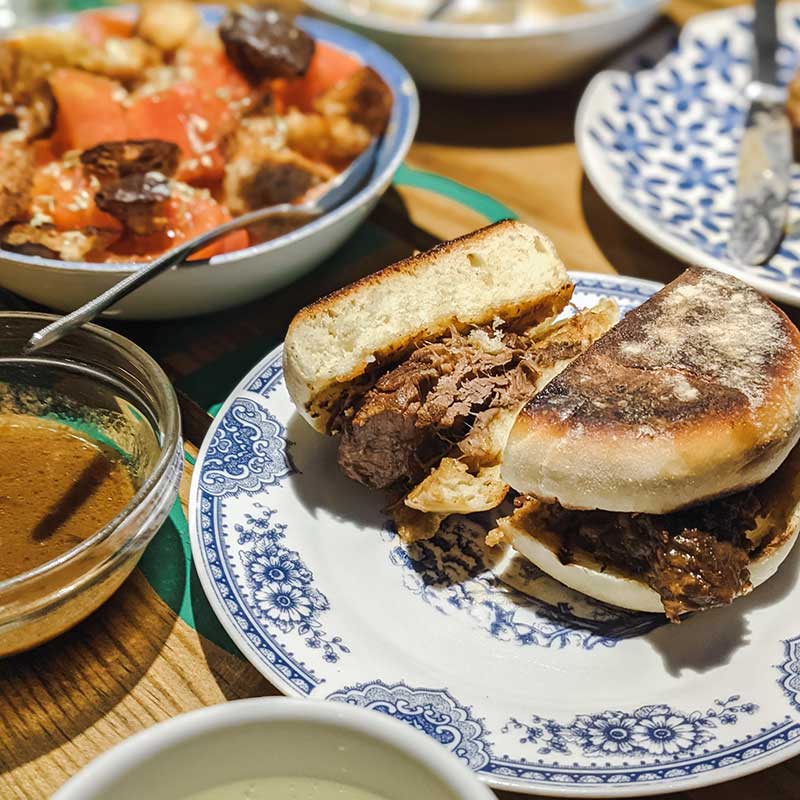 The beef sandwich with gravy is a must at O Velho Eurcio
Eating here is always great, but somehow everything tastes even best when you book the big table and order everything on the menu. A big black chalkboard dictates the dishes of the moment – usually small and medium-sized plates with everything from tuna pica pau to fried quail to sweet ribs. The food has a distinctively Portuguese root, but it's more influenced by the world than other modern taverns in Lisbon. 
Confession. I hate queues and didn't make it here until after lockdown when this place started taking reservations. Here they use Portuguese produce to create dishes inspired by the world. The majority of the dishes are still typically Portuguese dishes and the pica pau is maybe the best in the city.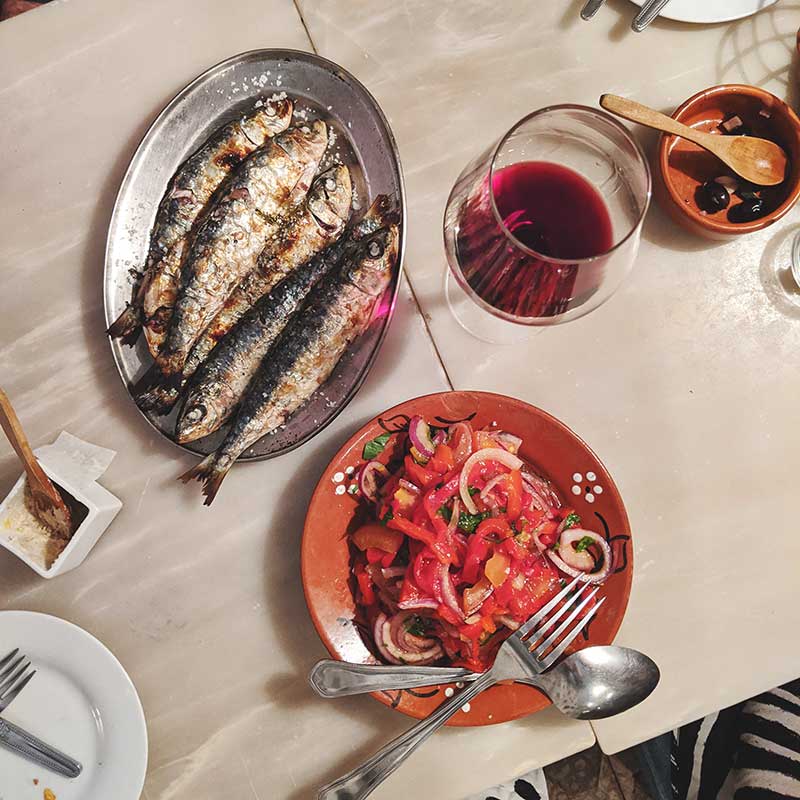 Sardines at Taberna da Rua das Flores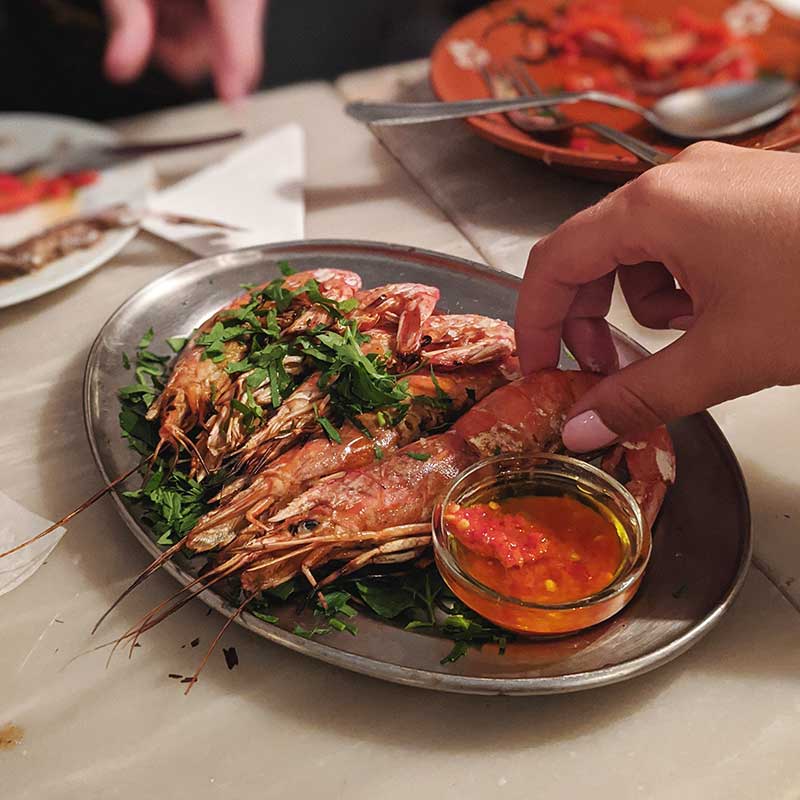 Huge prawns at Taberna da Rua das Flores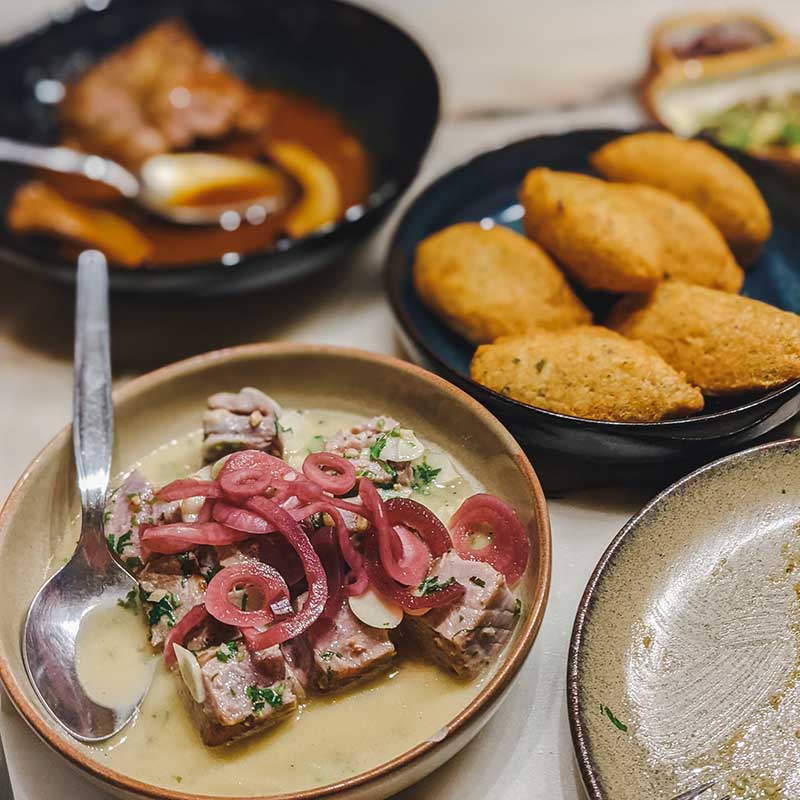 Tuna pica pau at Sal Grosso
Portugal's top female chef, Marlene Vieira, is behind this clean and modern gastrobar. The MasterChef judge is best known for elevating Portuguese cuisine to another level and highlights classic Portuguese ingredients in fresh, modern ways. Better yet, the bar mixes a great cocktail and there's a grocer to take home Portuguese goods.
Alma – $$$$ **
With two Michelin stars, chef Henrique Sá Pessoa's Alma isn't your everyday diner. There are two tasting menus: one that highlight classic Portuguese flavours, and the other that heroes the coast. With a dining partner you can do both and experience the best of the two. There's also a la carte if you're after a real treat yo'self lunch. As you'd expect at a Michelin-starred spot, the service is top, the snacks are great and the wine-list is long.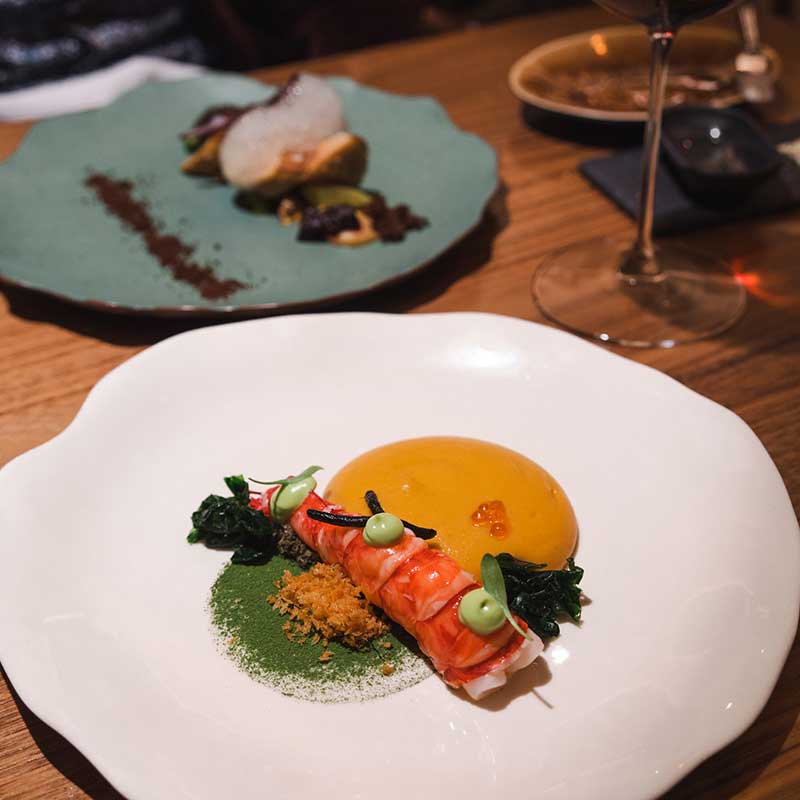 Alma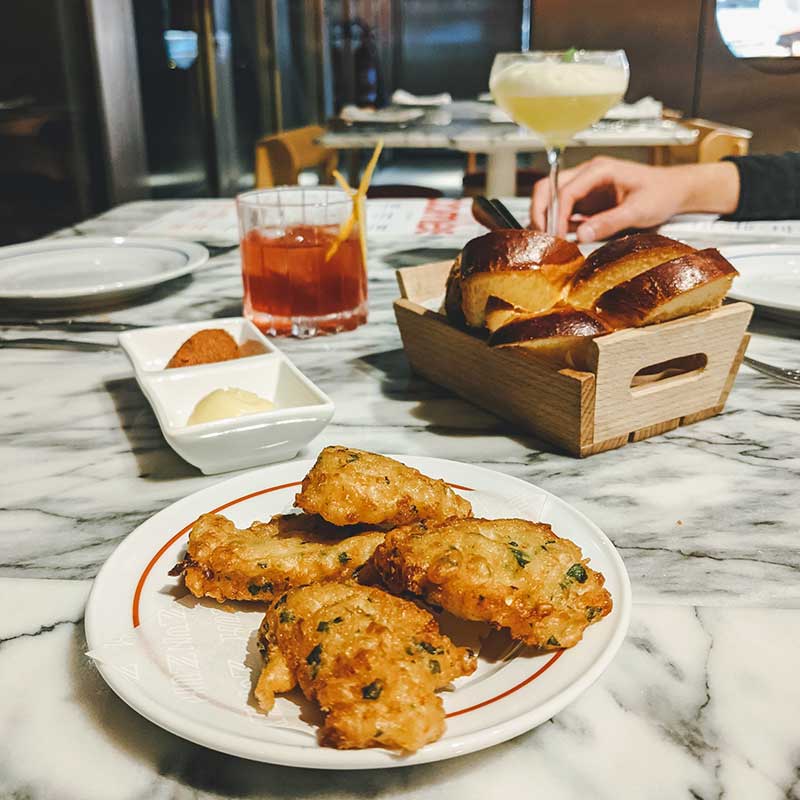 Couvert and cocktails at Zunzum
A stunning century-old dining room meets progressive Portuguese snacks here. Albricoque definitely surprised me. It's in Alfama, Lisbon's oldest suburb and a place I associate with old ladies and hordes of tourists. Here you get casual small plates or petiscos inspired by the Algarve region down south. Cockle-filled pastries, oysters from the Ria Formosa and razor clams in garlic…  
This nose-to-tail pig concept run by a local chef is all about pig. The menu nails the perfect mix of traditional and inventive and the bifana is killer, served in a gravy. During the snail season the bacon fat (toucinho) the chef uses really takes the summer staple to a new level. The testicles pica pau? Well, not a favourite version of that dish, but certainly worth trying. The wine list also extends to a few natural and organic options you're not likely to find at the average tasca. 
Taberna Albricoque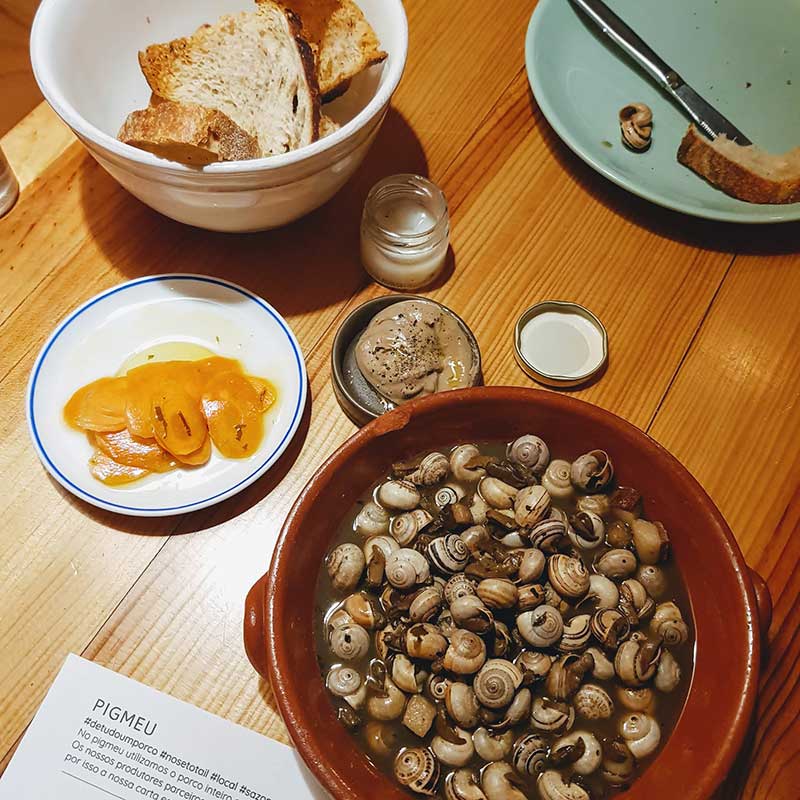 The best snails in Portugal at Pigmeu
Favourite restaurants for other cuisines in Lisbon
Attla – €€ (temporarily closed)
I was tempted to include this on the progressive list, but this chef-owned joint is more modern and experimental. The menu is a daily chalkboard from which you can pick three to four plates and a natural wine to pair. It's more like "modern Portuguese" than "fusion", a kitchen that knows where its roots are but is absolutely unafraid to try new combinations and present them in a way that looks as good as it tastes. Chef André Fernandes' ingredients come from small local producers, meaning a constantly changing menu that might serve up an algae-cured John Dory fish one day and a crab claw in beurre blanc and miso the next.
Portugal loves sushi, but finding bento boxes, katsu-don, chirazushi and anything outside sushi rolls, temaki and sashimi is an art. Enter Tasca Kome, a casual traditional Japanese where you can sit the sushi counter and watch the chefs prepare plate after plate, and finish with a glass of Japanese whisky. Kanpai!
Based around cooking everything on charcoal, Queimado is a similar concept to Attla but with serious cool vibes. It's a tiny space that somehow squeezes a DJ in between the kitchen and the bar most nights. 
Snacks at Attla
Agadashi tofu at Tasca Kome
This Chinese canteen only serves one dish: soup (or Chinese ramen, as they like to call it). And as you'd expect from a spot with just one dish, it does it really damn well. Have your soup/ramen with pork, beef or tofu (beef is best) and pick a spice level from one to five. Spice wise, I'm a two and Jorge is a three. We both spend plenty of time giggling at Europeans finding paprika or ginger spicy so I'm impressed by anyone who can handle more than us. Great spot for lunch or cheap dinner – it's around €8 a bowl. Go early and expect to queue.
Finally it happened. Someone used Portugal's prized black pork (porco preto) to make ramen. The rich, naturally marbled pork was calling to be made into a broth and Tonkotsu Ramen in Alcântara has done it. It's only available on Sundays but the rest of the time this ramen canteen has Kirin beer on tap, half a dozen ramen styles and broths, and authentic Japanese snacks to make the visit worthwhile.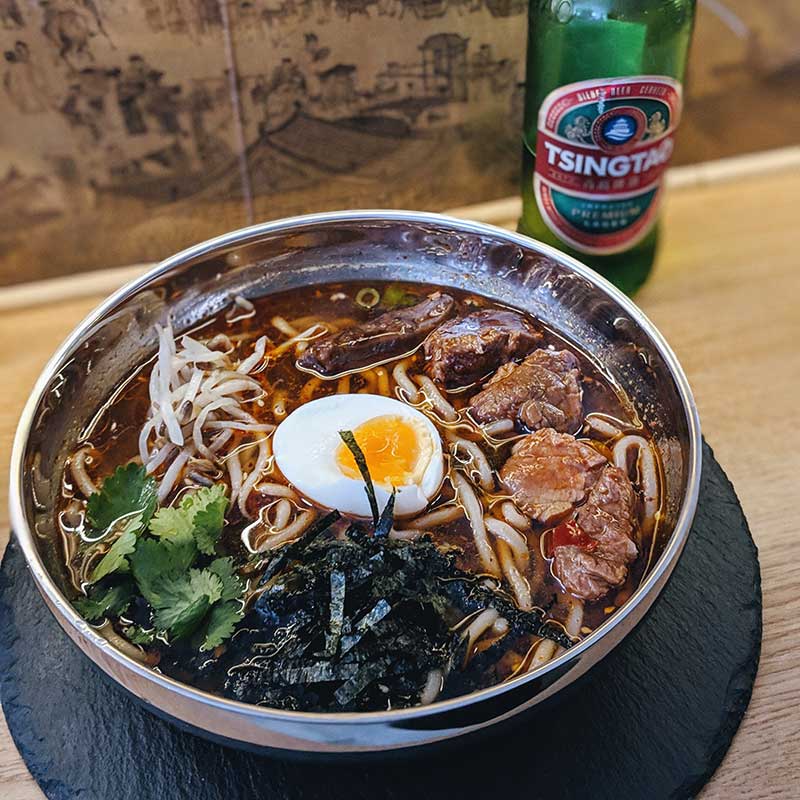 The soup at Panda Cantina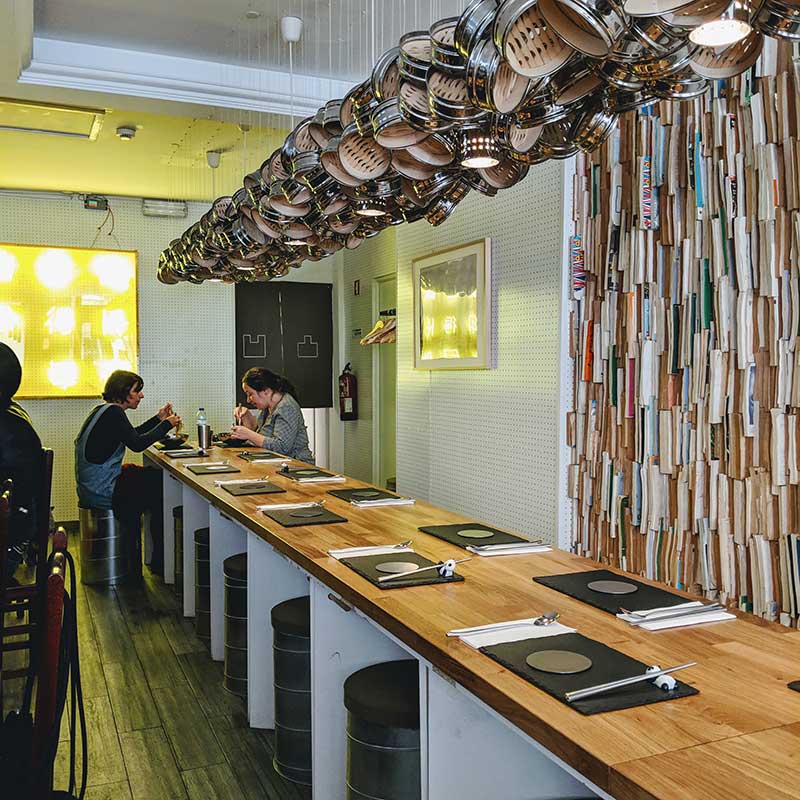 Inside Panda Cantina
The black pork ramen at Tonkotsu Ramen
It's Friday night and I don't feel like cooking? Back in Australia I'd call my local Thai restaurant for an excellent pad thai and duck basil. That hasn't been possible in Lisbon until now. Krua Thai is – by far – the best Thai food I've found in the city. This takeaway-only window offers all the Thai favourites (and then some) for under €10 a dish.
Tozzi is not-your-average pizza bar. Here you might find a margarita and diavola, but the other pizzas are topped with wild combinations like pork sausage, scamorza cheese, fermented mustard and dill microgreens. That said, the most important thing is the crust and at Tozzi find long fermented dough that's thin and crispy with a puffy crust.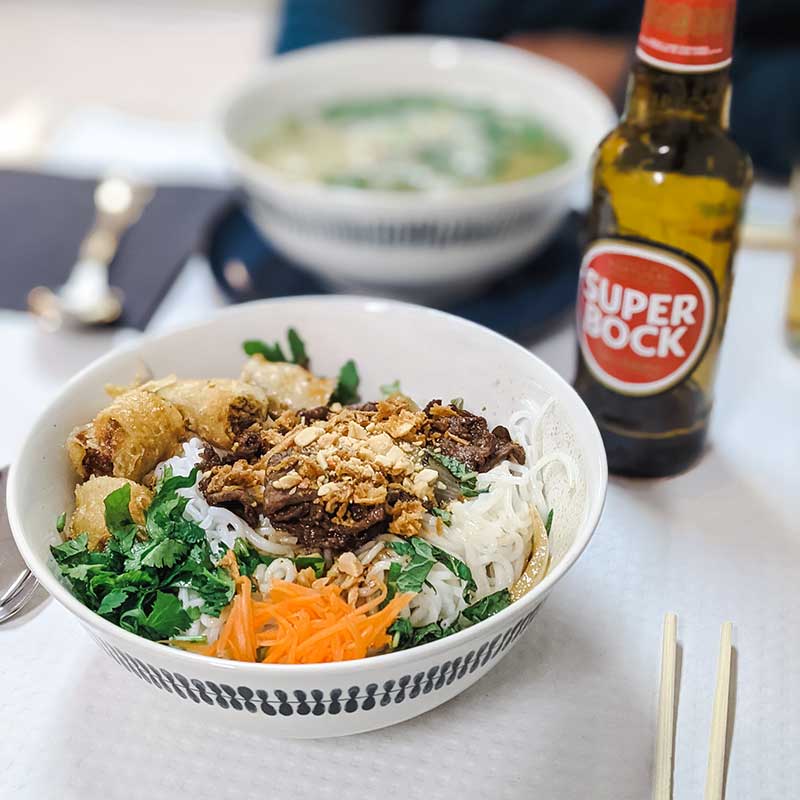 Bo bun bowl at AnNam
Fried squid at Kefi
Vietnamese cuisine is a rare find in Lisbon and this newcomer is great for when cravings hit. Specialising in street food, AnNam is a super casual spot with bun cha, bo bun, pho and bahn mi, plus you can order off menu if there's a Vietnamese dish you miss.
This modern Greek bistro comes to us from the people behind two of Lisbon's great brunch spots (Seagull Method and Heim). What that means is excellent, well-plated food, affordable prices and a gorgeous space. It's all about aesthetics with an interior entirely coated in sandstone tones and pops of that bright cobalt blue we all associate with Greece. The food is more Mediterranean with a Greek root, plated to please but not lacking in flavour. Best of all, it's well priced and ready to share.
To-eat list
I'm a last-minute planner by nature and my brain doesn't really function when I'm hungry, which means my to-eat file keeps growing as I fall back on the same places. I'm publishing my current "to-eat list" as much to remind myself to check these places out as to give you a few more potential options. I can promise that these spots are (probably) fantastic.
Solar dos Presuntos

Sala de João Sa

Plano
ISCO
Feitoria
Tati
Solar dos Nunes
Essencial
Fogo
Loved this? Leave me a comment! Then discover 25 traditional dishes to try in Portugal and read my guides on where to eat in Porto and where to eat in the Algarve.