Sintra is Lisbon's best day trip, for sure. Each year millions of visitors flock to the UNESCO World Heritage Sintra village to explore enchanting 19th-century palaces and eat a travesseiro. But there's much more to do here than tick off the top sights and twirl around a palace (though there are plenty of opportunities to do that too).
As a Lisbon local I still feel like there's more to unlock every time I visit the Sintra region. Spend your day conquering the castle, then taste wines grown in sandy, salty soil, toil away the afternoon at a secret windmill garden bar with beach views, then wander the misty forest at night in search of fireflies. However you choose to explore and whether you have one day or a whole week to visit Sintra, you won't run out of things to do. From small villages tucked in the hills, to hidden beaches, here are 29 things to do in Sintra.
This Sintra guide contains some affiliate tour links. If you book through a link I might get a small kick-back at no extra cost to you. I've only included links for things I would personally book, and the small commissions help me maintain and run this Portugal travel blog.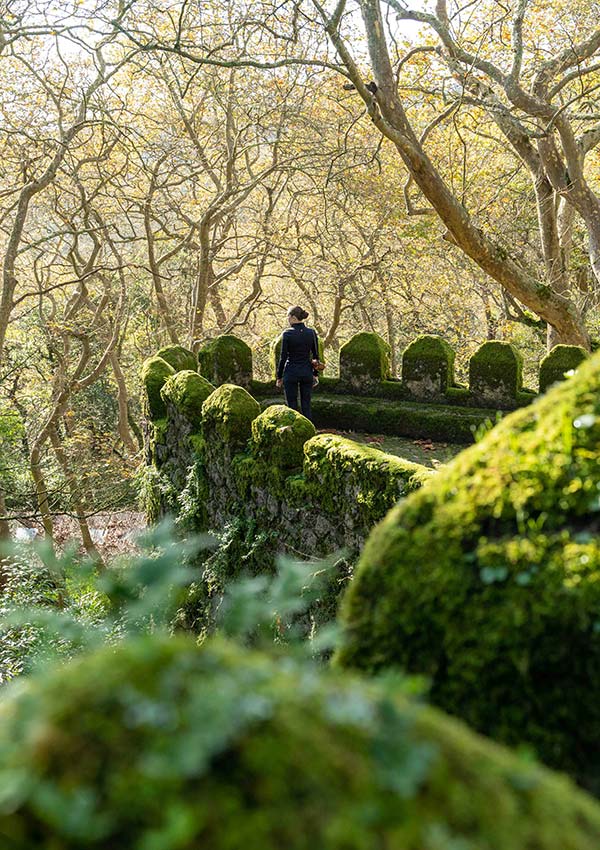 The walls of the millennium-old Sintra Moorish castle cascade over the rocky landscape like stone silk. Sitting atop the second-highest peak, the Castelo dos Mouros has been here since the 10th century, built when the Moors occupied this part of the Iberian Peninsula.
The beautiful castle makes the most of the natural landscape, with giant granite blocks used to interlink oversized boulders and cliffs. You can walk around the epic walls, soaking up incredible views of Pena Palace, green hills, and the blue Atlantic ocean.
My favourite way to reach the Moorish Castle is with a magical (uphill!) hike from Sintra village. Embrace crisp, cool air as you hike the mountain for 30-45 minutes (with plenty of rest stops and photo ops). After passing through the lower walls you'll reach the final gate, where the assault on your legs continues as you climb around the castle walls. Worth it!
Need to know: Buy skip-the-line entry tickets. The castle takes approximately 45 minutes to explore.
2. Stand at continental Europe's most westerly point: Cabo da Roca
Cabo da Roca, or Cape Roca, is a pilgrimage point for those who want to stand at the westernmost point of continental Europe. Stand on the edge of the rugged cliffs, with waves crashing below and the wind (usually) howling and take a few happy snaps before piling back into the car or bus. From here you can experience an unrivalled view up and down the coast, or out to sea where you'll spy nothing by blue ocean. The lighthouse here is one of Portugal's oldest, beginning operation in 1772.
Need to know: If you don't have a car, bus #1624 runs between Sintra village and Cascais, which will connect you with the train back to Lisbon at either end.
3. Eat a travesseiro in Sintra Village
Sintra'a famous bakery, Casa Piriquita, was founded in 1862. It's said King Carlos I, who was a daily visitor when he stayed in Sintra during summer, nicknamed the owner's wife Piriquita as she was small in stature. One of the essential things to do in Sintra is try the famous travesseiro, a long puff pastry "pillow" filled with a sweet almond and cinnamon paste. While here, try one of the Queijadas de Sintra, a traditional sweet cheese tart.
Need to know: There are seats inside, but I prefer to grab takeaway and enjoy it in the square. The steps of the National Palace are great for people watching.
4. Visit the famous red-and-yellow Pena Palace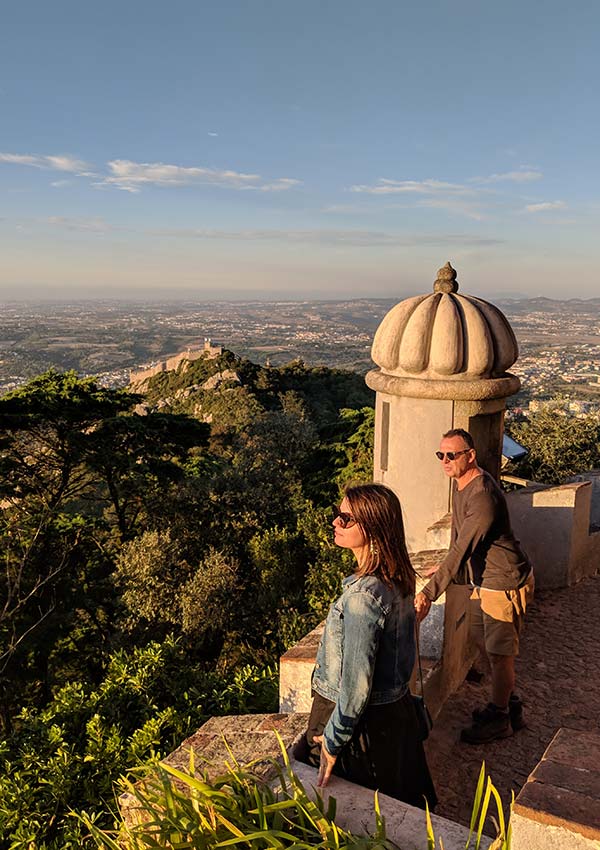 It's impossible to resist the charms of the fairytale-like Pena Palace. Considered the jewel in the crown of Portugal's artistic king, Ferdinand II, this magical palace that tops Sintra's highest hill evokes the magic and romanticism of the 19th century in Portugal.
Of course, Palacio de Pena is no longer a secret. Almost every tourist that flocks to busy Lisbon wants to see this magnificent palace and its idyllic and mysterious lush green park. Sadly that means this place of dreams is no longer a free-for-all. If you want to visit in 2023 or beyond, you need to book a timed slot. The palace is absolutely beautiful, totally unique and one of the most special things to do in Sintra, but be aware and plan ahead to enjoy it.
Need to know: Buy a skip-the-line ticket with an entry time. I suggest going for opening or close to closing time to see the palace with fewer crowds. I've recently seen long queues to access the palace terraces and internal halls, making this Disney-like palace seem more like Disneyland itself. Plan ahead, be prepared!
It should also be noted that you can't drive to the entrance of Pena Palace. That means it's a 45-minute (or more) uphill trek from the village, or you can catch an overpriced (and overloaded) public bus, call an Uber or Bolt, or hail a tuk-tuk or taxi. It might be best to book a guided tour to make the most of this palace and Sintra.
5. Go for a long lunch at Azenhas do Mar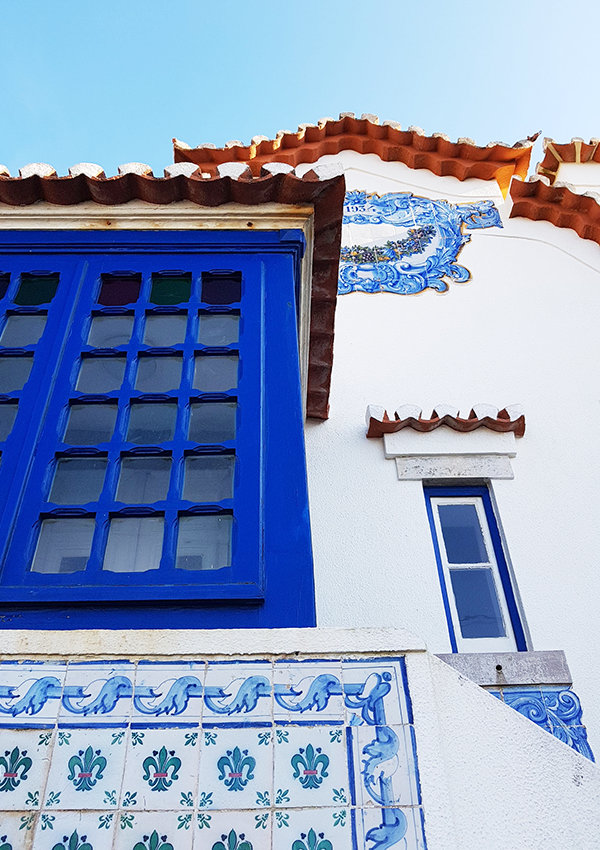 Do not arrive at Azenhas do Mar expecting the "Santorini of Portugal". Yes, this cute white-washed village that clings to the cliff high above the ocean might have some similarities but hyping it up as Santorini only does it a disservice. Instead what you'll find is a handful of cute streets, a few restaurants and a very relaxed vibe. I like to pull up at the Miradouro das Azenhas do Mar first to take in a cliff-top view of the village with an ocean pool below. Then venture down into the village where you could enjoy a long, slow seafood lunch at the famous Restaurante Azenhas do Mar, or chic Água e Sal.
Need to know: Book ahead for Azenhas do Mar, it's popular and they have online reservations.
6. See out mystery and metaphors at Quinta da Regaleira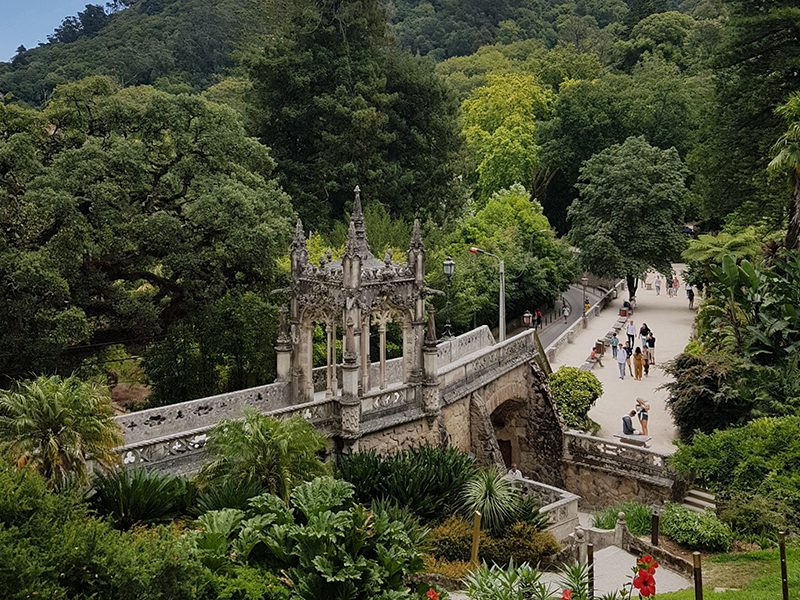 After Pena Palace, Quinta da Regaleira is probably Sintra's second most famous monument to seek out. The small palace is gorgeous, but this Sintra sight is really about the gardens. Built in the early 20th century, millionaire António Augusto Carvalho Monteiro crafted a dreamland loaded with mysterious metaphors and symbolism, linking back to his fascination with the Knights Templar. There's a reverse initiation well and loads of tunnels that lead to grottos and waterfalls, a surprise lake and other strange places.
Need to know: Buy a skip-the-line ticket and audio tour for Quinta da Regaleira (affiliate) or just tickets for the palace.
7. Chase waves at Guincho Beach
No matter how many times I set eyes on Guincho Beach I'm always blown away by its beauty. Wild dunes melt into a long stretch of sand that eventually gives way to rocky cliffs in the distance. It's popular with surfers and windsurfers, depending on the conditions, and faces the full force of the Atlantic Ocean. It's worth bringing a jacket, no matter the season, or you can take shelter in the old Hotel Muchaxo, which feels like entering a 1960s James Bond beach Western movie.
I believe Guincho Beach is ~technically~ Cascais region, but it's so close I had to include it in my guide of things to do in Sintra too.
Need to know: There's a casual bar inside the hotel where you can get coffee, juice, toasted sandwiches or wine. Or at the other end Bar Guincho serves up snacks on its terrace.
8. Get swept up in the romance of Monserrate Palace
This lesser-known Sintra Palace is one of the mountain's great gems. Blending Arabic, neo-gothic and Indian architectural styles, Monserrate Palace sits in the centre of beautiful, exotic gardens that are filled with plants from across the globe, a waterfall and ruined chapel. A rich 19th-century British industrialist and art collector Francis Cook fell in love with Monserrate and transformed it into what we see today.
Need to know: Buy a skip-the-line ticket for Monserrate Palace
9. Go off-road in a vintage UMM Jeep
To see Sintra like the locals, join the locals on a guided tour that takes you where other tourists can't reach. FlaminGO run a fleet of vintage convertible UMM Jeeps that traverse Sintra's off-road paths and best-kept secrets. Take the path less travelled when you explore the mysterious forests, hilltop castles and sheer coastline since on an intimate day tour that will leave you feeling energised and alive. Choose to explore different palaces, hike to a secret beach for sunset and enjoy plenty of laughs on an adventurous day in Sintra.
Need to know: Book ahead if possible as each UMM jeep only seats seven people. You'd hate to miss out on one of the coolest things to do in Sintra. My personal favourite is the classic Sintra Jeep Safari, which takes you through Quinta da Regaleira and off-road through forest and coastal trails.
Disclaimer: I wrote the tour copy for FlaminGO a few years back, but I whole heartedly recommend taking an inspiring and wild tour with these guys. I'm honestly not a massive fan of guided tours as they often feel stale and uninspiring, but these young Sintra lads do things differently.
10. See Sintra National Palace: the oldest palace in Portugal
You'll spy the humongous white conical chimneys first – those mark the royal kitchens at Portugal's oldest palace. Set in the centre of Sintra, the National Palace is a remarkable palace spans the whole history of Portugal the country. Over many centuries bits were added, remodelled and adjusted, but the first building was constructed around the 10th or 11th century when Sintra was under Moorish rule. For the Portuguese royals, escaping to the cooler microclimate of Sintra was popular in the summer months, aiding by great hunting in the mountain area. The halls of this magnificent restored palace guards secrets of centuries of rule, and some of the oldest tiles in Portugal.
Need to know: Buy a skip-the-line ticket for Sintra National Palace
11. Go on a firefly hike through Sintra forests
Golden hour was setting in as we arrived at Santuário da Peninha for a very special night hike. This 17th-century chapel sits 488 metres above sea level with brilliant views over the coastline and Sintra-Cascais Natural Park. Along with a group of expats and friends, we followed my friend João into the darkness, where fireflies started to twinkle in the trees as we wandered the forest floor, finishing at a neolithic dolmen lit up by moonlight. Magic.
Need to know: Get in touch with João at Venture for Nature to find out if he's hosting a hike soon.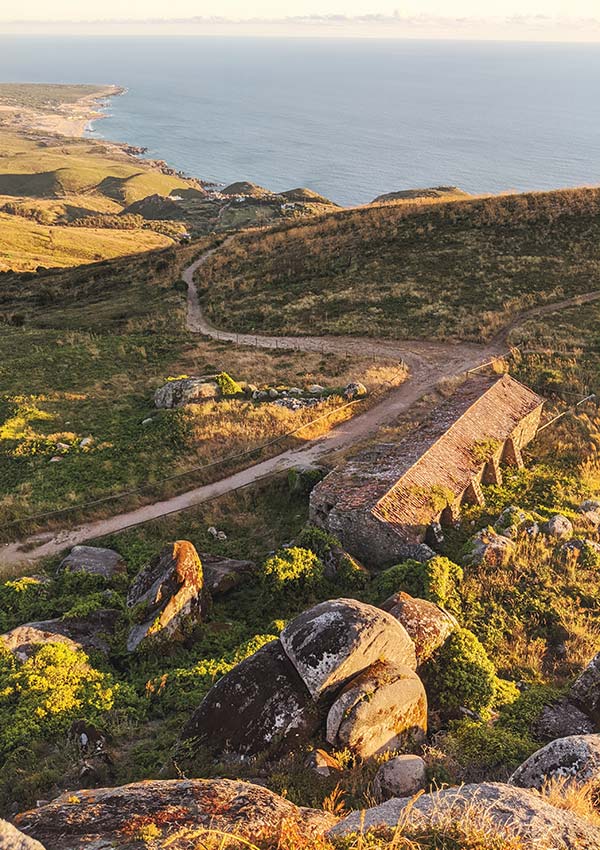 12. Eat all the seafood by the beach
There's nothing better than a long beachside lunch with white wine and plenty of seafood. Tuck into plates of clams, prawns, grilled octopus, seafood rice or a whole grilled fish as waves crash on the shore and conversation flows as easily as the bottles of crisp white. Try Restaurante da Adraga at Adraga Beach, Nortada at Praia Grande, or O Loureiro at Praia da Maça. In these beach towns you'll find plenty of beach-front choices that won't send you broke.
Need to know: The best spots get busy on weekends, so call ahead to book a table or risk missing out.
13. Explore Biester Palace
One of the newest things to do in Sintra is visit the 19th-century Biester Palace. This stunning example of Neo-Gothic architecture recently opened its doors to visitors. Film buffs might recognise it from the 1996 movie "The Ninth Gate" starring Johnny Depp. Everyone else will enjoy the ornate details of the palace and its beautiful gardens, from gargoyles to opulent rooms and fancy tiles. Set in the heart of Sintra and with a lower entry fee, it's a good one to squeeze in between the more famous sites.
Need to know: Buy a skip-the-line ticket for Biester Palace
14. Hunt for treasure at weekend Colares antiques market
Every weekend antique collectors and vintage vendors set up stalls with everything including furniture, ceramics, glassware, silverware, textiles, and jewelry in the town of Várzea de Colares. Expect to find a crowd milling beneath shady trees in Largo António Rodrigues Caruna, picking through piles of antiques and old wares.
Need to know: Find the Sintra antiques market in Largo António Rodrigues Caruna, Várzea de Colares every Saturday and Sunday.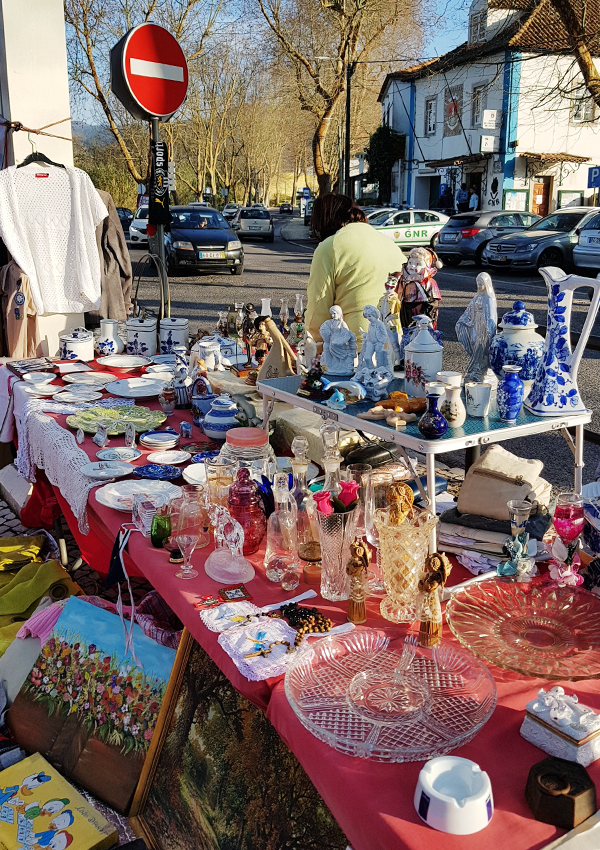 15. Drink at a secret beach bar in a windmill
Close to Cabo da Roca, the most western point of Europe, there's an old windmill that's been transformed into a secret garden cafe with spectacular views of the Sintra coastline. Moinho Dom Quixote is the perfect spot for a casual lunch or sunset drink. Find a table in the eclectic, bohemian-styled garden setting and enjoy views out across the Altantic Ocean and down to Guincho Beach while snacking on Portuguese petiscos (small plates). This is a special spot in Sintra that I love to bring friends to when they visit.
Need to know: The pet-friendly cafe and bar also offers brunch. The menu has lots of vegetarian and vegan options too.
16. Seek romance at the Chalet & Garden of the Countess of Edla
King Ferdinand II, who was a great admirer of the arts, built this chalet for opera singer Elise Friederike Hensler, who won his heart after he lost his first wife, Queen Maria II. The two married and she was honoured with the title of the Countess of Edla. Together they built this alpine-style chalet on the far reaches of Pena Park as a romantic refuge for the two. Both loved botany and intensified their efforts to plant a huge range of plant species you see in the park today.
Need to know: Your skip-the-line Pena Palace ticket includes entry to the chalet too!
17. Hike to Ursa Beach at sunset
The journey down the sheer cliffs to the hard-to-reach Ursa Beach is a brilliant but challenging coastal hike in the Sintra-Cascais Natural Park. Soak up breathtaking scenery and coastal breezes as you descend down to the sands. Ursa means "bear" in Portuguese and the name comes from the colossal rock stacks that make this beach so recognisable in pictures. The sea here is wild with no lifeguards, so be cautious if you dare cool off in the Atlantic. It takes about half an hour each way and requires moderate fitness.
Need to know: It's hard to reach without a car, so I'd suggest joining a guided hike with my friends from FlaminGo, who will get you there in style in a vintage UMM jeep. If you do have a car, you should be able to park here
18. Laze about on Sintra's beautiful beaches
Speaking of beaches… the coastline around Sintra offers some of the wildest, most beautiful stretches of sand close to Lisbon. With towering cliffs, golden sandy stretches and wild waves, visiting quieter beaches here is one of the best things to do in Sintra. If you don't feel like hiking down to Ursa, visit the easier-to-reach beaches including Praia da Adraga, Praia Pequena, Praia Grande and Praia da Maça.
Need to know: The conditions on this western side can be dangerous, so swim between the red-and-yellow flags with lifeguards watching.
19. Learn to surf at Praia Grande
The wide sandy Praia Grande is a favourite among local surfers and a great place to learn to surf. Sign up for a two-hour surf lesson, zip on a wetsuit and hit the water for a fun lesson. Your local instructors will give you plenty of top tips and have you standing up by the end of the lesson, no doubt.
Need to know: Book your surf lesson here
20. Produce shop at the weekend market in Almoçageme
Every weekend the Mercado Santo André pops up in Almoçageme with stalls peddling fresh produce, hot sauce, baskets, artisan goods, local wine and more. It's always fun to drop by and see what's in season, gather groceries and pick up flowers. It's also a great chance to try a very good wood-fired pão com chouriço, which is literally a fresh breadroll with pieces of chorizo baked throughout. Delicious. The Pão com Chouriço da Praia food truck makes them at the market.
Need to know: Find the market on this corner every Saturday and Sunday
21. Visit Quinta de Ribafria for free
While most of the palaces and attractions around the UNESCO World Heritage-listed Sintra village require tickets, Quinta de Ribafria is free to enter. This 16th-century property is found in Várzea de Sintra and was built by the Ribafria family, the former governors of Sintra. The gorgeous Renaissance-style manor house features a medieval-inspired turret that's topped by the Ribafria coat of arms, plus there are 13 hectares of lush gardens and woods to explore.
Need to know: Free entry
22. Taste wines from Portugal's sandy wine region
"The vineyards in this small wine region west of Lisbon on the Atlantic coast look like something that slithered up from the sea. Trained low to avoid the biting wind that blows incessantly off the ocean, the vines resemble green serpents snaking along the sand." – said New York Times wine writer Erik Asimov. Colares, one of Lisbon's wine regions, is unique for its sandy soil and beachside location. While 100 years ago vines covered some 2,500 acres of the demarcated region, now there's only around 50 left. Winemaking here stretches back at least 900 years and it's possible to visit local wineries and taste the difference of sand and salt.
Need to know: Wine tourism in Portugal requires booking ahead. Try Adega Viúva Gomes, Adega Regional de Colares, or Ramilo Wines – or better yet, join this winery day tour, or this one (which includes Pena Palace too!).
23. Eat at a street food village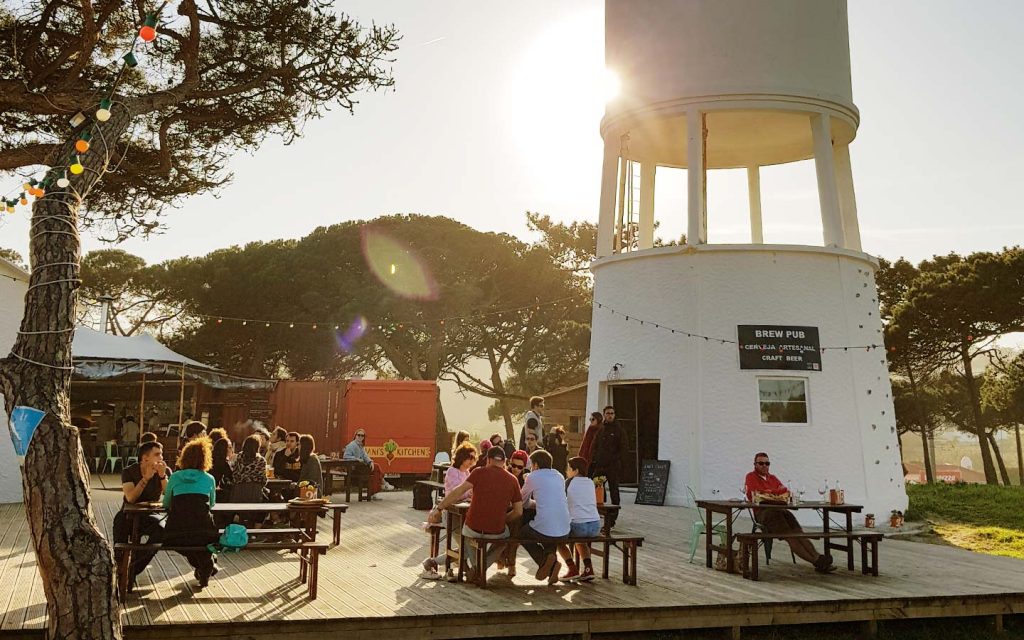 Close to Praia da Maça there's a little collective of food trucks, a craft beer house, wine tasting room and a children's playground all surrounding a big deck with picnic tables and space to gather. I love stopping by Aldeia da Praia after a day at the beach to soak up the community atmosphere and enjoy a late lunch, early dinner or a snack with drinks. You'll find pizza, fresh pasta, sushi and burgers, but the offer is constantly evolving and changing.
Need to know: It's also a holiday park where you can camp, stay in cabins or budget accommodation.
24. Go back in time at Convento dos Cachupos
While the major of Sintra monuments show off the glitz and glam of the romantic 19th century, there's another sight that contrasts the exuberance. The restored Convent of the Capuchos is a modest Franciscan convent that is simple in style and shows a lack of life's luxuries and comforts. Small in scale, the monks used natural features (think loads of cork) and enormous boulders to craft this space for contemplation and introspection, which dates back to 1560. Around the convent you can see one of the best examples of Sintra'a primitive forests.
Need to know: Tickets are required.
25. Drop by the HopSin BrewPub
This craft beer brewery in the village of Colares is gem in the Sintra hills. Drop in to try a huge variety of locally brewed beers on tap along with a menu of Portuguese pub food and comfort eats. HopSin Brewpub often screens football games too.
Need to know: The brewpub sells bottles too, so you can drink one or two and drive home with more for later.
26. Shop for azulejos (tiles!) made in Portugal
There are two tile producers in Sintra. Azulejos Manual Marques Antunes in Alcabidiche is a third-generation azulejo producer, and here they manufacture the old fashioned way – every tile is painted by hand. The other is Viúva Lamego, a huge but brilliant tile company that has been producing azulejos since 1849. Find tiles for projects of every size – many are still hand painted and the business collaborates with artists.
Need to know: You can organise workshops with Manual Marques Antunes, and you can visit the factory store at Viuva Lamego.
27. Explore the streets of Sintra village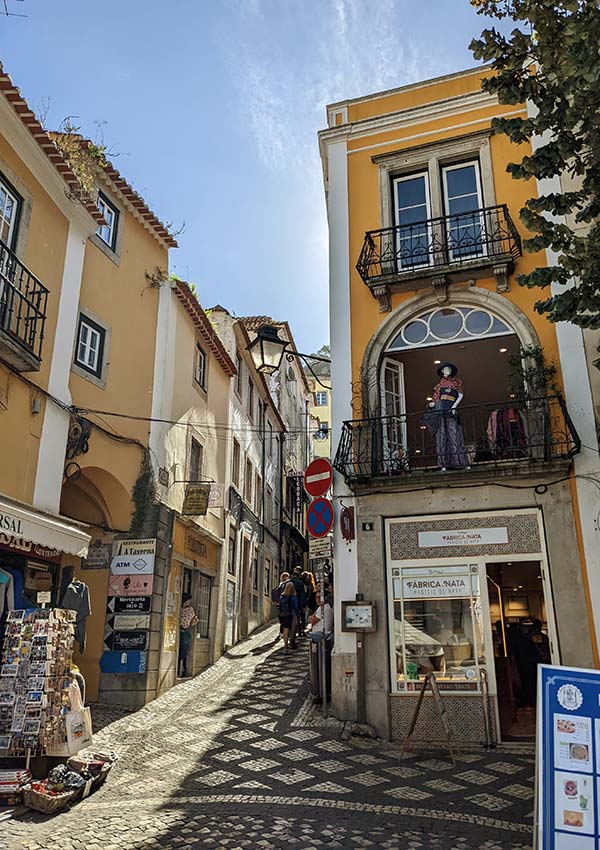 Yes, I got to 27 things to do in SIntra without mentioning to simply explore the historic heart. Sintra village is undoubtedly cute and here you'll find half a dozen streets with artisanal souvenir shops, spots for coffee and snacks, and of course lunch. I can recommend Tascantiga for petiscos (small plates) and the terrace at Dona Maria for a drink with a view (and to peep the interiors). Good friends of mine adore Romaria de Baco. Wander the town and you'll spot plenty of mansions and palaces from the 19th and early 20th century, plus romantic and decorative fountains and historic features tucked around every corner.
Need to know: Sintra is more popular than ever, so arrive expecting crowds in the village and you'll have a better time.
28. Go deep into the Sintra-Cascais Natural Park in search of lunch
Sintra hides many secrets, including some great restaurants scattered in smaller, harder-to-reach villages. One is Refúgio do Ciclista, a simple beer hall-style restaurant that feels more like a butcher when you enter. Choose your meat, sit at one of the long tables and wait for your meal to arrive fresh off the charcoal grill.
Need to know: The streets to reach this village are narrow and windy, so put a confident driver behind the wheel.
29. Hike coastal paths or forest trails
I already mentioned hiking at night to see fireflies and down to Ursa Beach, but you lace up sneakers and hit easy, daytime trails. There are stacks of pathways connecting the mountain and coast across Sintra-Cascais Natural Park. Recently we spent a sunny Saturday afternoon hiking coastal trails between Guincho Beach and Azoia. We started off following a specific trail, but then decided to vibe it out. We noticed plenty of trails dotting the natural landscape so we designed a circuit as we went to keep it interesting.
Need to know: The All Trails app is great to have on your phone to find suggestions for trails in the area.
Where to stay in Sintra
Sintra is a great escape close to Lisbon. Some visitors choose to spend a few nights in the hills or by the coast to break up their time in Portugal. Plus, I've just shared 29 things to do in Sintra – and you can't tick them all off in a single day.
In Sintra village (close to the palaces and sights) I'd look at Villa Bela Vista, Chalet Saudade, or Cedros Nature House. For a more budget option try Moon Hill Hostel.
Or if you want to be closer to the coast wiht views of the Atlantic Ocean in Sintra, check out Azenhas do Mar Surf Villas, Arribas Sintra Hotel, or Charm Nature.
How to get to and around Sintra
Public transport
It's easy to reach Sintra historic village from Lisbon. Simply take the train from Rossio Station to Sintra Station. From the final stop you can walk to the village in about 10 minutes. A local bus network will connect you with the other small villages scattered in the Sintra-Cascais Natural Park and the beaches. There is also an extremely cute historic tram that runs between Sintra village and Praia da Maça.
Car
Sintra historic village is only a 30-minute drive from Lisbon. You can find limited parking in the villages, but many streets are now off-limits to private non-resident cars. Sintra council has set up six free car parks and a shuttle bus that can help you access the village. More information on where to park in Sintra here.
Have I missed any cool things to do in Sintra? Leave me a comment below….