Porto is the ultimate weekend city. In two days you see and taste it all – from the tile-covered churches to port wine tasting to the city's famous hearty sandwiches. The architecture and tiles are different to Lisbon, the city is cooler (in temperature) but the people are perhaps a little warmer.
There's not much that's mediocre in a small city like Porto, just old gems to cherish and new roughly cut diamonds to explore. The invictus city is rich with narrow streets and dark history while being compact, walkable and an absolute joy to explore over a few days.
I've kept my comprehensive 48-hour guide to Porto loose (just like my 48-hour Lisbon guide) to give you the chance to choose your own adventure and explore what interests you most. I live in Lisbon and have visited Porto more than half a dozen times in every season. I always leave thinking "what if"…
Here's what I would do in Porto if I had just two days to get under its skin.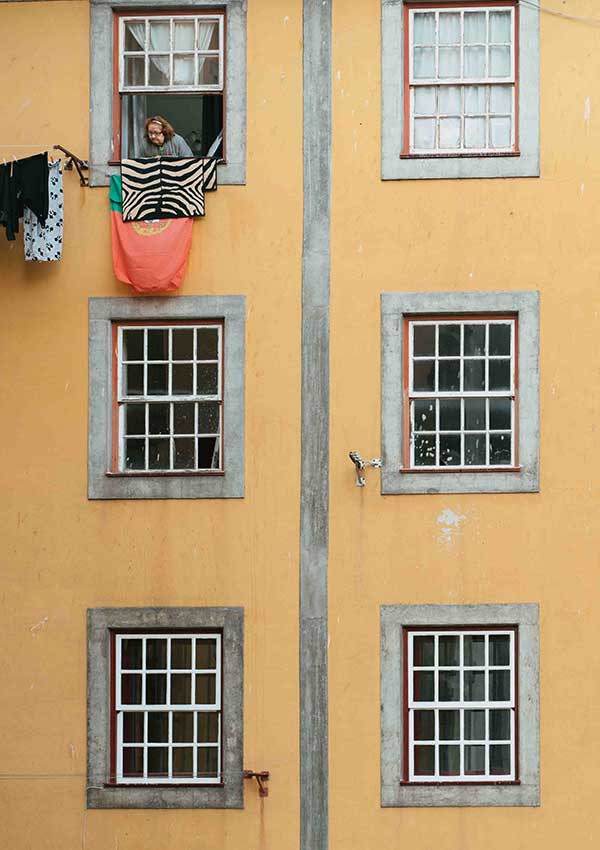 Day 1 in Porto
Start at the markets
Rise, shine and make your way to the main fresh produce markets in Porto: Mercado do Bolhão. After five years closed for extensive renovations, the spectacular market hall reopened in late 2022 with everyone's favourite vendors moving back into the original, shiny new space.
Dip into a nearby cafe or pasteleria around the market or across the street for a quick breakfast – probably something sweet from the counter, or a sandes mista (fresh ham and cheese sandwich) – with a coffee.
Now you're fueled up and ready to explore the colours, sights, sounds and smells of one of Portugal's great markets. Here you'll find cute avôs (grandmas) selling choriço and smoked meats, fishwives peddling the catch of the day, and loads of fresh produce, tinned fish, spices, coffee, dehydrated fruits, and bacalhau (salted codfish). Want a guide? Join this market tour.
Take in your first spectacular tiled church
Porto has incredible tiled churches like other cities have bus stops. One minute you're enjoying the cityscape and the next minute your jaw is on the floor at the beauty in front of you. Next to Bolhão you'll find Capela das Almas, also known as Capela de Santa Catarina, an 18th-century chapel covered with a casual 15,947 tiles. If you want more pictures, I've shared a whole gallery with my #TileOfTheDay blog series.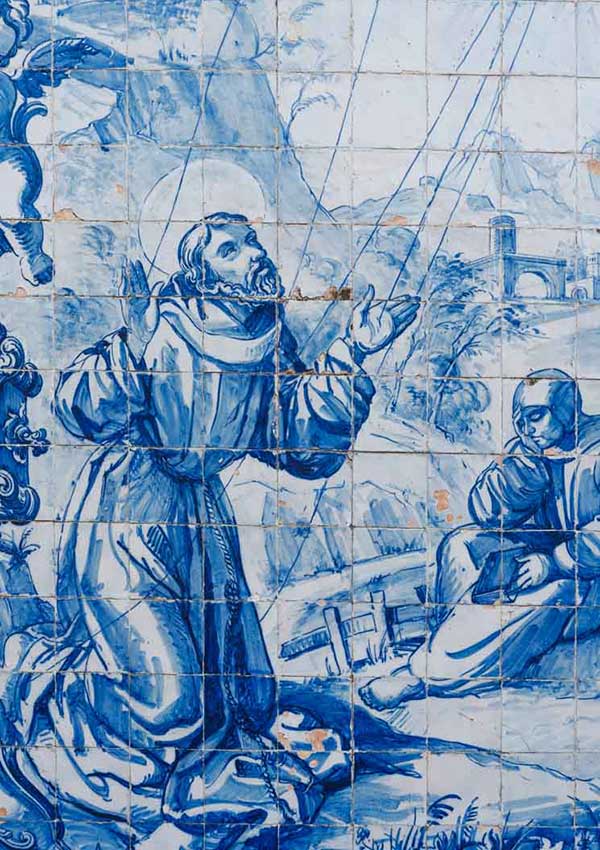 Hunt out specialty coffee (or go shopping)
From here I suggest wandering down Rua de Santa Catarina, the heart of commerce in Porto. It's a pedestrian artery loaded with local boutiques and international brands, so you can shop your way to C'alma Coffee. This blog is run and written by an Australian with an addiction to a good flat white. While I love a bica or short, sharp Portuguese espresso, I also love big cities with a great specialty coffee scene. Porto has some great cafes and local roasters, which I've highlighted in this blog for my fellow coffee lovers.
Related Blog: The best specialty coffee and cafes in Porto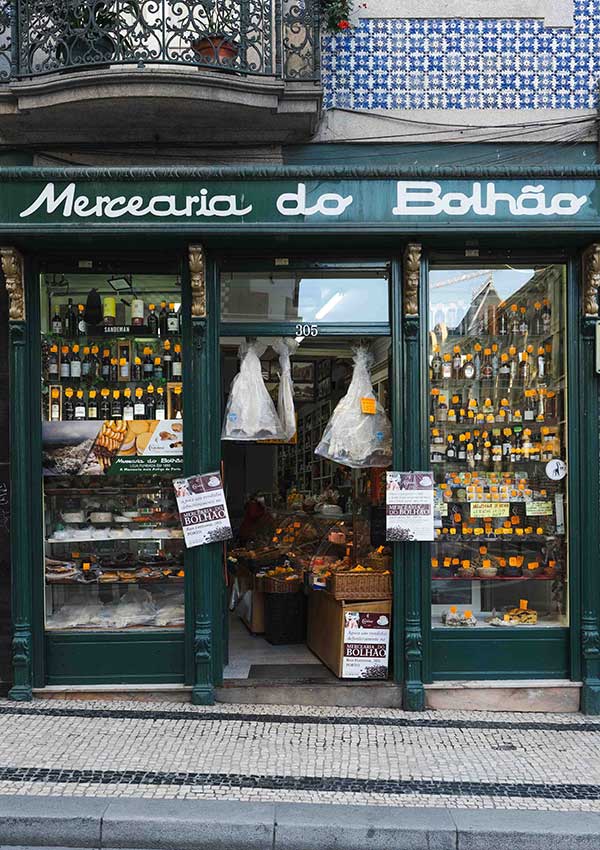 Explore charming Ribeira
Porto is a fairly compact city, so you can wander between all the sights on foot. Visiting the charming Ribeira neighbourhood is an essential stop, and while it's gorgeous in the evening, you could drop in for lunch at Adega São Nicolau (or Taberna dos Mercadores, or Restaurante Casario) and then explore the curious warren of tall houses and narrow back streets by the river.
When you reach the riverside you'll see iconic Porto scenes unfolding before your eyes, including typical Porto houses and the double-decker arching Dom Luis I Bridge, which was designed by a disciple of Gustave Eiffel, Théophile Seyrig.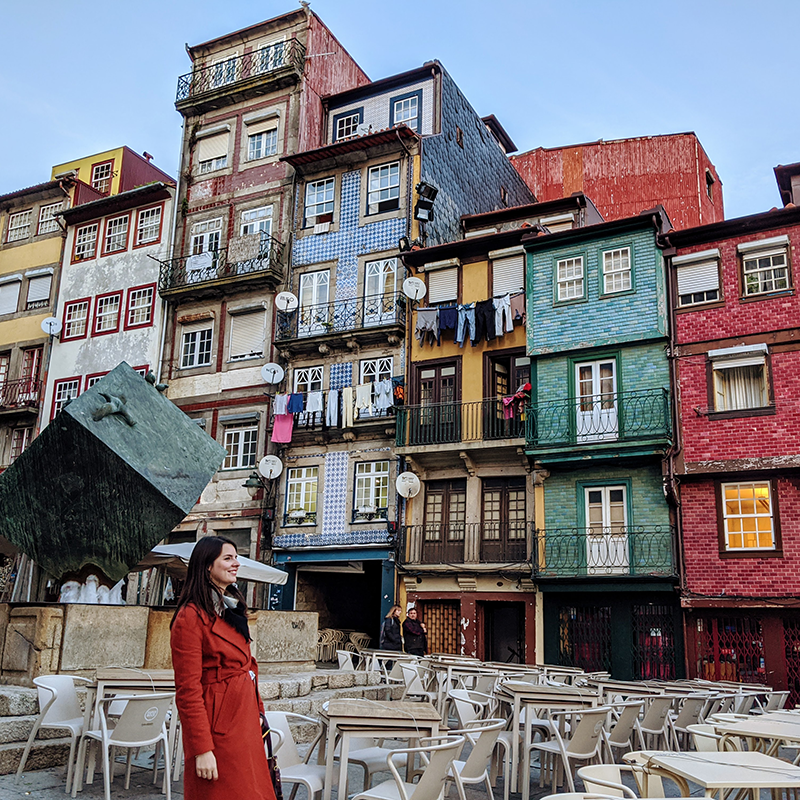 Choose your own adventure
After lunch, it's a choose-your-own adventure. By now you will have spotted plenty of skinny traditional boats putting up and down the narrow river. These barcos rabelos were used to transport port wine from upriver in the Douro Valley down to the cellars in Vila Nova de Gaia, across the river from Porto. You could jump on a one-hour river cruise and explore Porto's six bridges and cityscapes from the water (or if you're fancy, book a private boat), or continue on the tourist trail.
Things to do in Porto this afternoon
Snack your way through until dinner
Hungry? Always. It wouldn't be an Olá Daniela guide without plenty of great food suggestions. Porto is the land of sandwiches, so I hope you're not gluten intolerant. The Portuguese eat dinner between 8-10pm, so it's always a good idea to snack in the late afternoon to tide you over.
Venture to Gazela and knock back a couple of finos (small beers) and cachorrinhos (a small spicy hotdog)
Try the sandes de pernil (pork leg sandwich) at Casa Guedes, which now has a few locations
The rojões sandwich at Casa Expresso, then a cheeky late afternoon drink at relaxed bar Aduela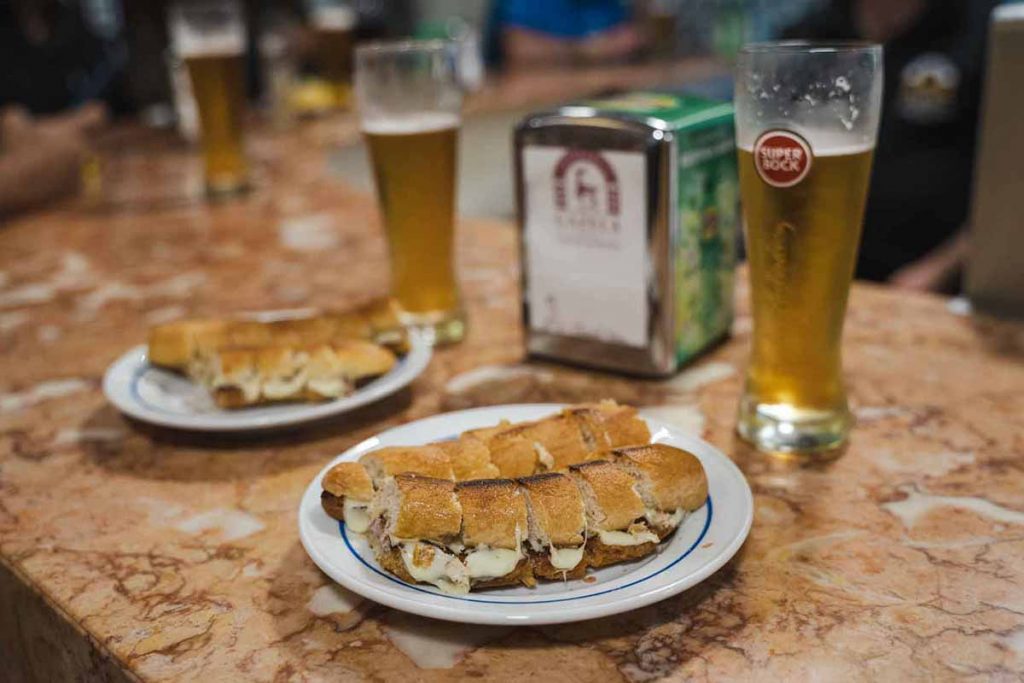 Pick your spot for sunset
Between summer and winter the sunset time varies wildly, so I have an option for both times of year. I love visiting Porto in winter when the smell and smoke of roasting chestnuts casts a haze over the city and everything feels like you're walking through a romance movie. In winter you'll also be able to see the sunset from the top of the magnificent cathedral. It stays open until after dark, so you can climb the tower of the Sé do Porto and admire the views over the city and the river – it's one of my favourite experiences in Porto and I wrote about it (and the Cathedral's tiles) here in detail.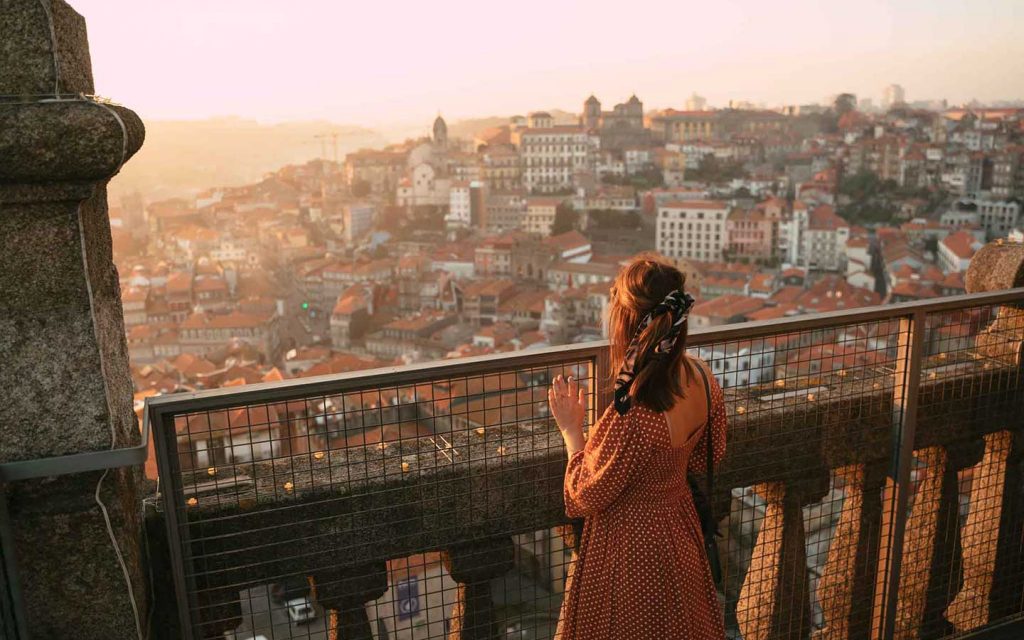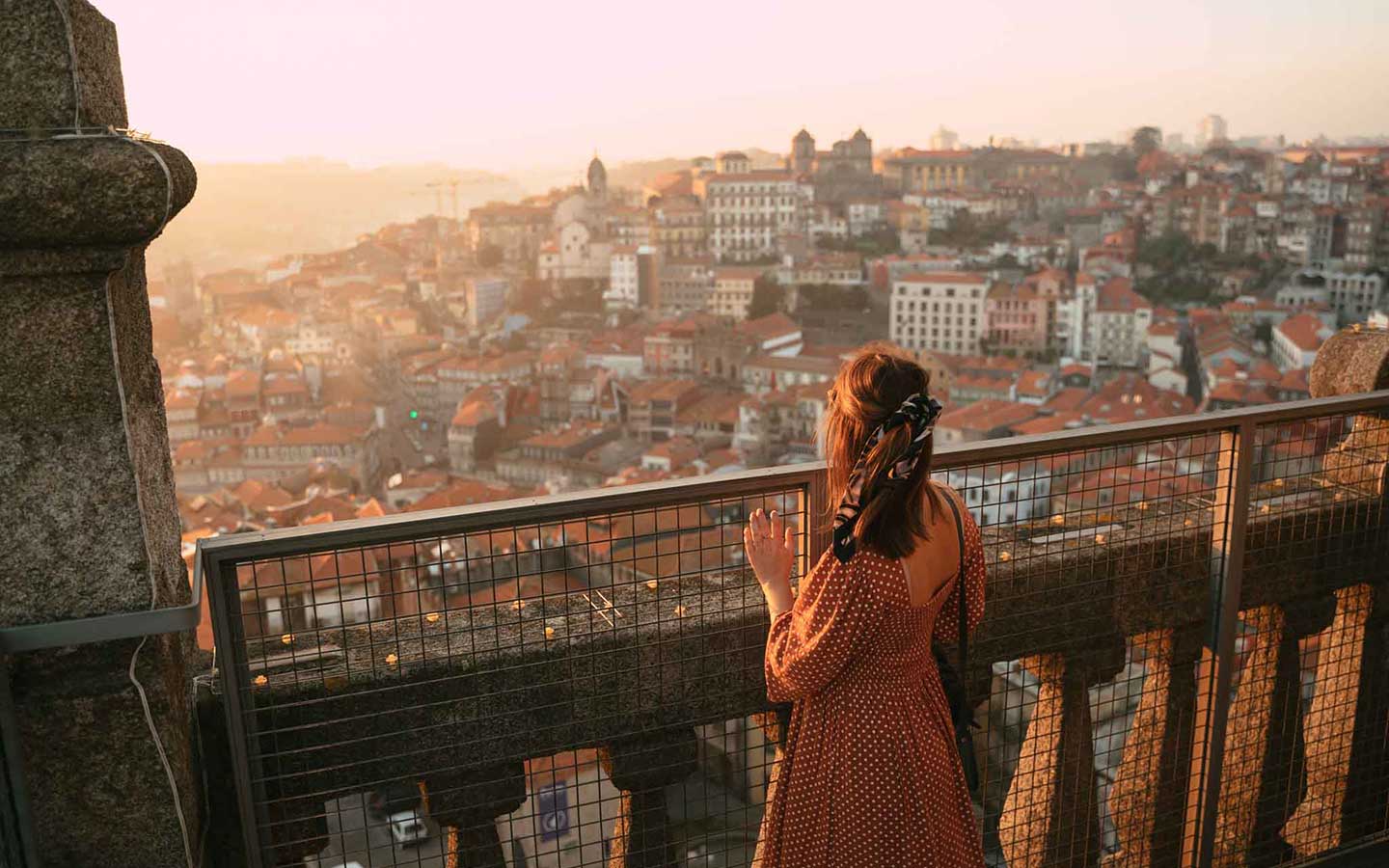 In summer, cross the top level of the Dom Luis I bridge (ideally after snacking on a few hotdogs and finos at Gazela) and venture over to Jardim do Morro where you'll be able to grab an ice-cold drink and enjoy the enchanting views back towards Porto. Most likely there will be someone busking and good vibes all year round.
Tip: if the queue for the bar near the view is too long, there are plenty of cafes (and a Mini Preço supermarket) that will sell takeaway beers and let you use their bathroom.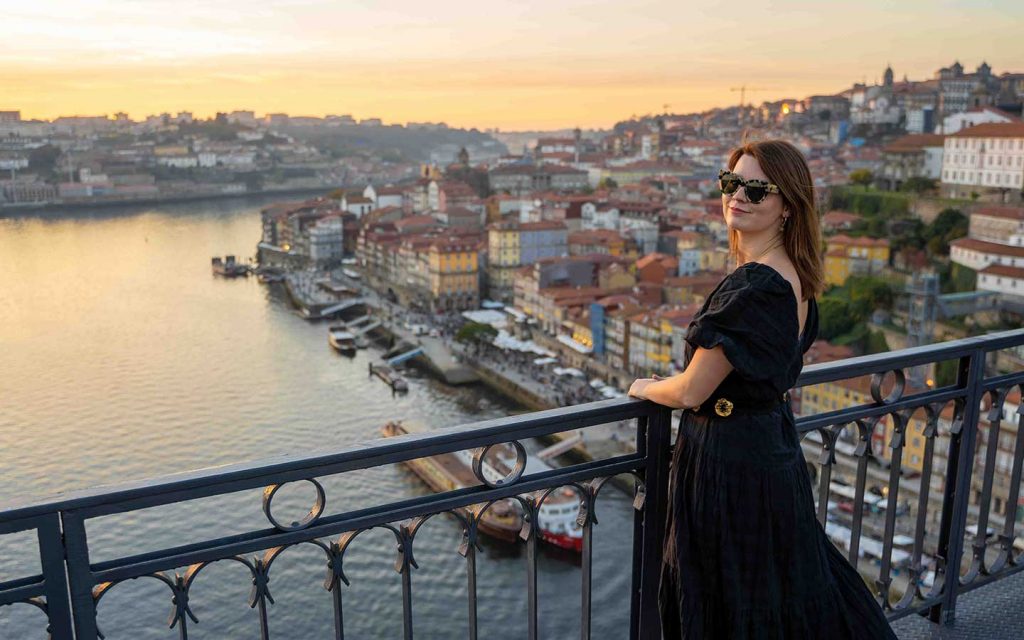 Alternatively, drop into a fun rooftop bar.
Rooftop bars in Porto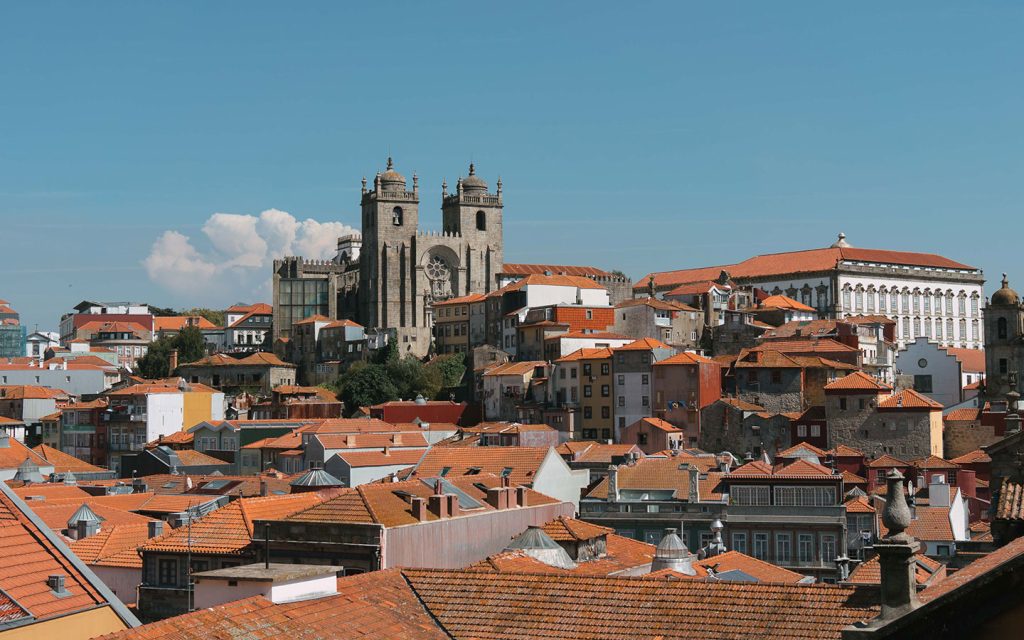 Dive into Porto's most famous sandwich for dinner
I wasn't lying when I said there would be a lot of sandwiches. If you only have space for one, make it a francesinha. This heart-stopping monstrosity is a must-eat and it grows on you. While I once thought I could only handle one per year, now I get excited to have one on every trip to Porto.
A francesinha should have toasted square white bread. Inside you'll find a thin steak (ideally cooked medium rare), slices of ham and two types of sausage (usually fresh and linguiça). The sandwich is topped with thin layers of sliced cheese and sometimes a grilled egg. Then, most importantly, a secret sauce is poured over the dish, melting the cheese and giving you plenty to dip your hand-cut potato chips into. The sauce usually uses a secret house recipe with unknown quantities of beer, port wine, brandy, tomato paste and stock. It's delicious and you can usually ask for more in a jug.
Where to eat a francesinha in Porto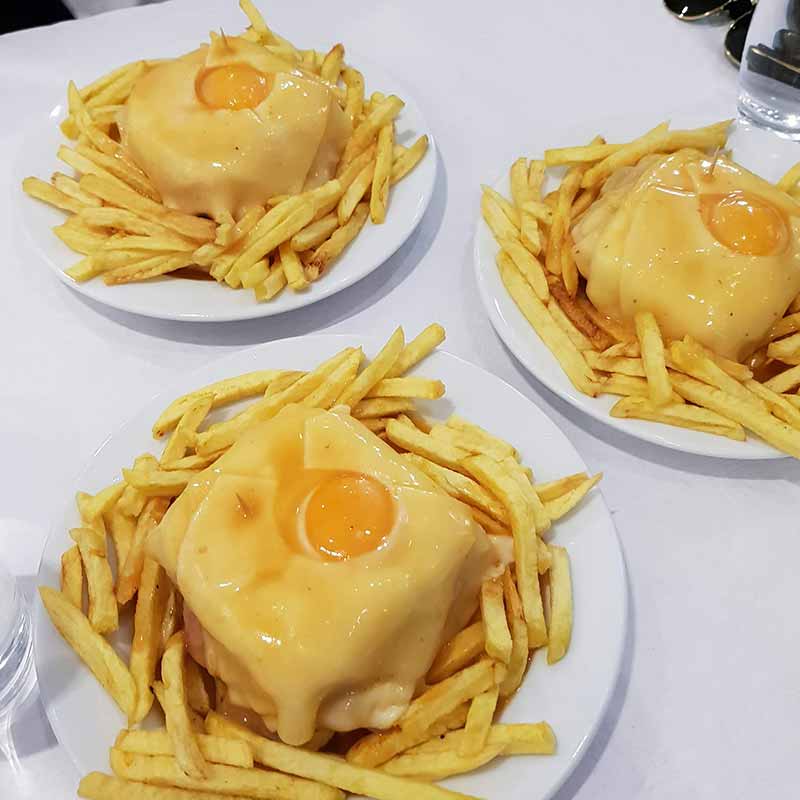 Chase the party in Porto
It's not hard to find the fun in compact Porto – and better yet, most of the city's pubs, cocktail dens and wine bars are compressed in just a couple of blocks. For a guaranteed scene head to the chic streets of Rua Galeria de Paris. Here almost every door leads to a bar and you'll find punters rolling out onto the road until late (or early). if your vibe is chic cocktail bar, try The Royal Cocktail Club. If you want natural wines, seek out Genuíno. If you're more bohemian chill, go to Aduela.
Day 2 in Porto
Your second day in Porto is all about choice. For the afternoon I'd listed a couple of day trip ideas that you could knock over in an afternoon or stretch out to a full day out. Of course, if you moved a little slower yesterday you can always stick around and enjoy the downtown vibes.
Kick off with brunch
Of course, you could repeat the basic pasteleria breakfast of yesterday with a sharp espresso, orange juice and pastry of choice. But Porto is a hip, modern city so why not venture out for a solid modern brunch. I have two picks for you that do both great specialty coffee and interesting, excellent breakfast (we're talking beyond pancakes and fried eggs here).
Where to go for brunch in Porto
Crawl the cool Cedofeita neighbourhood
The artsy inner-city suburb of Cedofeita is fun for a late-morning wander. Admire the architecture and step between boutique stores, wine shops and galleries, searching for unique mementos to take home.
Shops and galleries to explore in Cedofeita
Time for lunch, your choice
I know, I know, everything is easier when I make all the decisions, but this is your vacation and so you have to decide where to eat in Porto. Luckily I've written a food guide covering some of my favourite places to eat across Porto, from classic tascas and taverns to international food. Take your pick.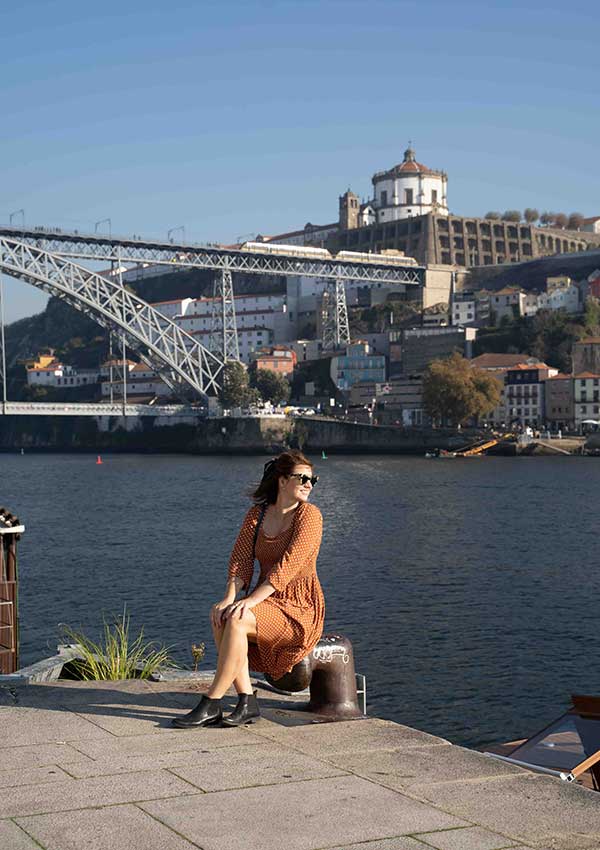 Afternoon adventure time, your choice
Option 1: Cross the river to Gaia for a port wine tasting
Go beneath the surface and discover where these famous port wine houses cellar their liquid gold. Naturally any good tour finishes with a tasting of the good stuff, then you can wander the waterfront of Vila Nova de Gaia (yes, the south bank of the Douro River is technically a different city), go explore the many museums at WOW Porto, or enjoy a coffee at local roaster 7g.
Option 2: Go to the beach at Matosinhos
Jump on the metro and head for the seaside: Matosinhos is waiting. If you choose this option, make time for a long fish lunch somewhere along Rua Heróis de França where dozens of restaurants have fish grills smoking out on the street. I like Restaurante O Lusitano.
You could also go in the morning and explore the fish market at Matosinhos and take a coffee at Booínga Roasters before finding a spot on the sand.. As a bonus, try to schedule a tour at the Pinhais tinned fish factory to see the busy factory floor in action.
Option 3: Tick off what you missed yesterday
On Day 1 in the afternoon I gave you a long list of ideas covering the sights of Porto. It's likely you only squeezed in one or two things, so take a look and bounce around the city.
Where to stay in Porto
It's hard to go wrong in Porto city centre, and on the half dozen times I've visited I try to stay in different downtown areas. Porto is easy to walk around, so you can't really go wrong but I love to stay in Bolhão and around Rua Catarina because it's near the market, which is a great morning activity. First-timers might love central and riverfront Ribeira, while I prefer creative Bomfim or Cedofeita, a cool area with lots of brunch cafes and boutique stores. Slightly further out, I've stayed in Marques a couple of times and it's easy to take the metro in or walk an extra 10 minutes and there's more of a neighbourhood vibe. I'm not a huge fan of Batalha, I just find the area doesn't have enough of a vibe in the evening.
While I've usually booked a private apartment in town, I loved my stay at The Passenger Hostel. It's set right in the famous São Bento train station with both shared and private rooms. Other good budget stays are Lost Inn Hostel and Selina, which are all new-age hostels.
If you want to splash out on a nice hotel, check out the beautiful and historic Torel 1884, Pestana Vintage or Casa da Companhia.
Don't forget to check out my other guides to Porto including where to eat in Porto and this guide to the best specialty coffee in Porto. Leave me a comment if you found this useful!