Wind whips my face and bells toll as I look out over the plains towards Spain, wondering what it was like to wait here endlessly for an attack. High on this rocky mountain top, standing on the walls of a castle built in 1171, I can see how this fortress helped hold the border when diplomacy was more about swords than handshakes.
Peering over the edge of the towering stone walls, I can see down to nearby Monsanto Village, where the villagers have built their homes around these giant otherworldly boulders too. The scenes are so unreal it's as though someone crafted a medieval Portuguese theme park, complete with fibreglass rocks. But no, these giant boulders are real. Really heavy. And it turns out using them for a roof, floor or wall was easier than trying to move them.
Behind the village the mountain collapses into open plains and fields filled with wild flowers, blooming bright yellow and purple in the spring. Other than a frosty wind picking up as the sun starts to set it's peaceful and quiet.
Before losing the light, I spy the giant fig tree sitting in the yard of my partner's aunty's ancestral home. We scramble back down to meet the rest of the family on the terrace to catch the final golden whispers of the day's sunset sink with a wine in hand. Welcome to magical Monsanto.
What is Monsanto Village, Portugal?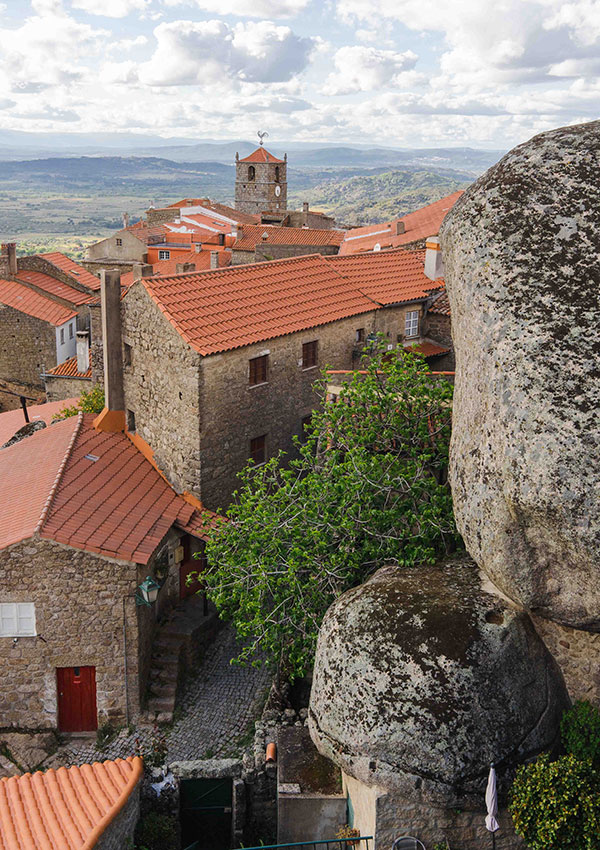 Monsanto, sometimes called the rock village of Portugal, is a small medieval village set on a mountain close to the border with Spain and near the famous Serra de Estrela mountain. Here thrifty villagers have sandwiched their homes and cottages between and around gigantic boulders. This unique landscape has shaped the identity of the village, and the winding paths up to the massive fortress or castle.
Monsanto's other fun nickname is the 'most Portuguese village of Portugal'. A title it won back in 1938 during the dictatorship. There was never a follow-up contest, and so Monsanto retains the name despite being perhaps the most unusual village in Portugal.
Most recently, Monsanto starred in the new Game of Thrones spin-off House of the Dragon. Keep an eye out for dragons perched on the castle wall. This behind-the-scenes video is super interesting, detailing how the cast and crew filmed in this remote, steep location.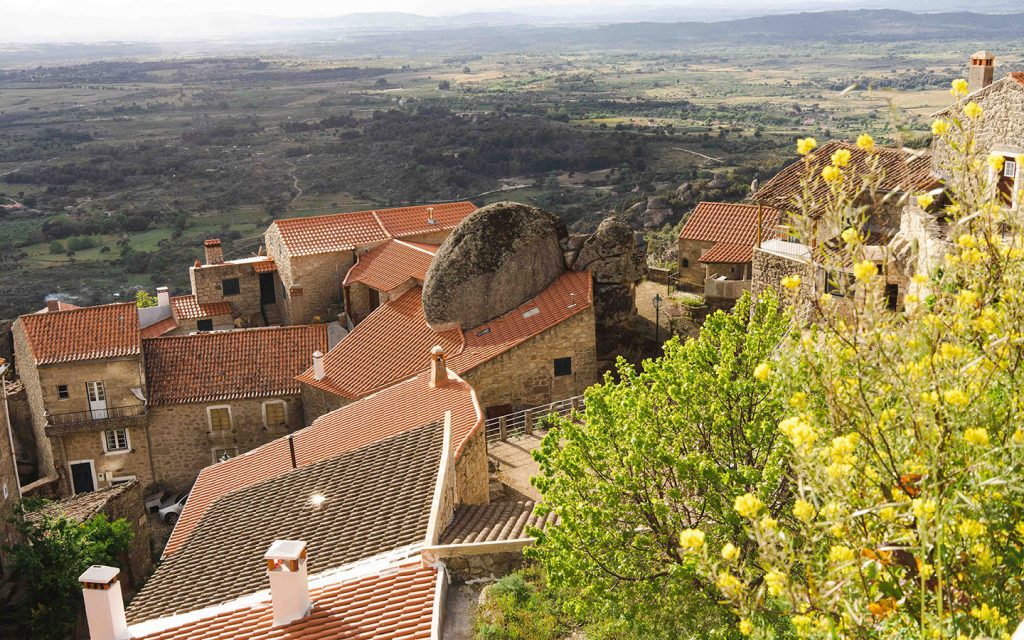 The best things to do in Monsanto
Watching the sunset from hilltop Monsanto village is a magical moment you'll remember for a long time, so I really suggest making your trip here a weekend away. That said, you could explore the village in a half-day if pressed for time.
Monsanto Castle
A short but steep hike takes you from Monsanto up to the magnificent castle, built in 1171 and reconstructed various times throughout the centuries. It's even said there was an older Moorish castle, and even foundations from before the Romans under here. And when you look at it, it makes sense. Half the castle is natural stone boulders, making defending it all the easier. This ancient beast, with views to the Spainsh border, has surely seen some things.
One of the best things about Portugal is that almost all castles are free to enter, and there's no limit on exploring. Jump up on those walls and wander the edges if you dare. The views are well worth it. Within the castle grounds you can see the Santa Maria do Castelo Chapel and one of the watchtowers. Sadly the keep exploded in 1815 while it was used to store ammunition! Whoops.
Wander the village
Boulder for a floor? Perfect. A wall? Easy. A roof? Why not. Wandering around the village you'll stop every few steps to snap another photo of this magical place that's like nowhere else. Make sure you dip into buildings where you can to see where and how people have secretly incorporated the stones into homes. You often can't see the rock from the outside!
Throughout the village you'll find old churches, manor houses and the 18th-century Lucano Tower. At the top of this clock tower sits a replica rooster trophy from the Most Portuguese Village contest.
Visit in May for a legendary party
The legend goes that Monsanto was under siege for more than a year, and with the villagers down to just one sack of grain and one calf the village leader had one final idea before surrendering. He fed the whole bag of grain to the calf, and then threw it over the castle walls. When the cow exploded the soldiers thought "wow" the village still has so much food, and they abandoned the siege.
On the first Sunday in May each year, the people of Monsanto reenact this legend in a much less gruesome way. A village woman instead carries a pot of flowers on her head, and at the top the breaks the pot and flowers spill everywhere. I've not been to this fair yet, but I suspect there is plenty of street food, wine, music and good times to be had too.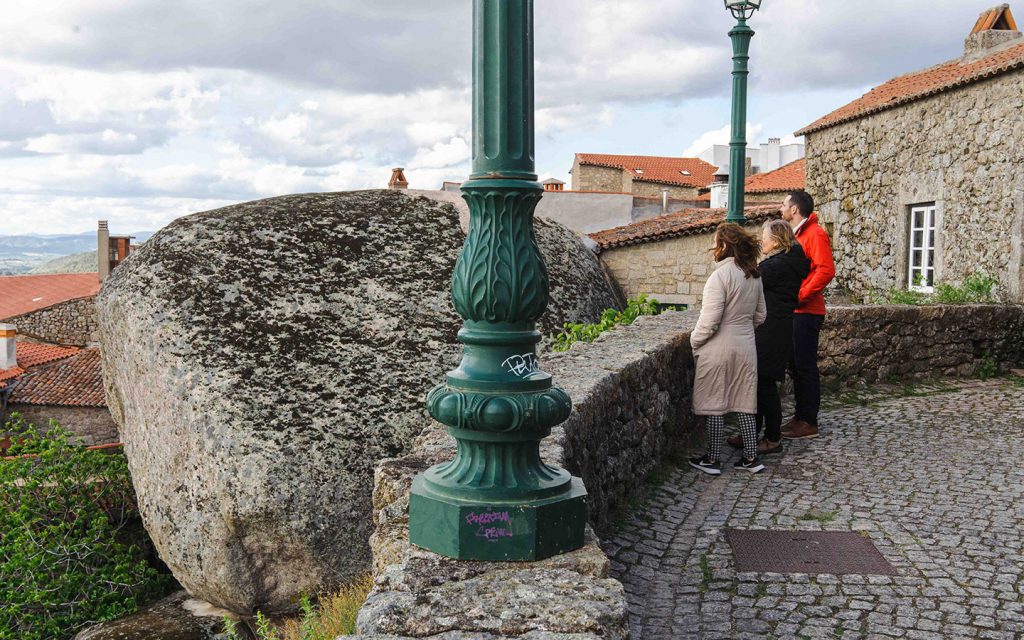 Stay for sunset
Sunsets here truly are something else. Find a balcony or viewpoint in the village, set more than 700m above sea level, or head up to the castle and witness the whole village scene glowing hues of orange, pink and purple. Magic.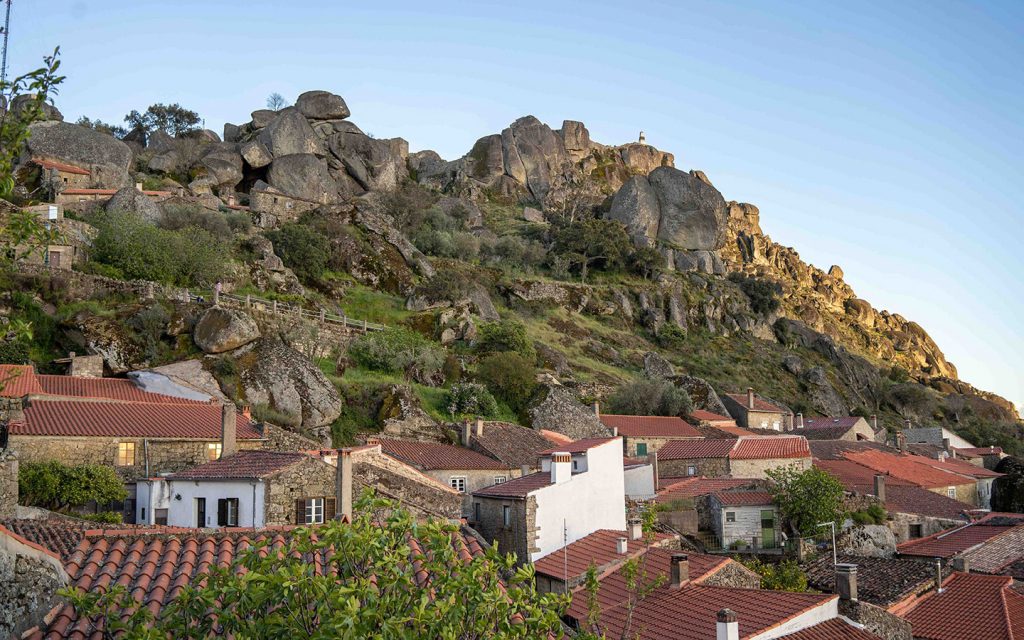 Eat lunch or dinner
Lucky me has access to a local's kitchen in Monsanto, but that means I've not had the chance to try the couple of local restaurants. If you're hungry, I've heard good things about Taverna Lusitana, which has a boulder for a roof and a panoramic terrace. Apparently they make a custard tart or pastel de nata with cherries. Nearby there is Petiscos & Granitos in the old village.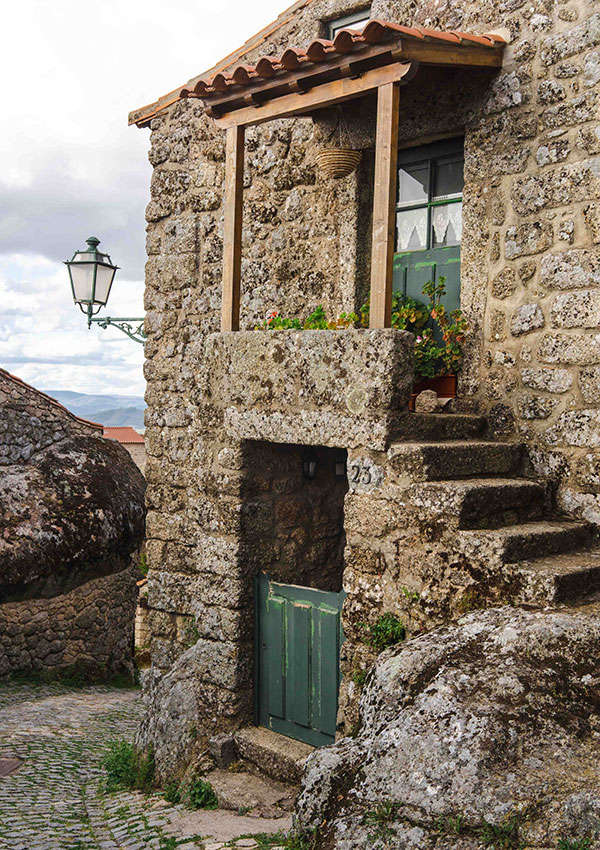 Visit nearby Idanha-a-Velha and Castelo Novo
There are loads to do and see near Monsanto, which is officially named one of 12 Historical Villages of Portugal. Also on the prestigious list are its neighbours Idanha-a-Velha (just 10km away) and Castelo Novo (45km). If you stay the night to catch the sunset, you can definitely cover all three in a weekend.
How to get to Monsanto
Monsanto is magical, peaceful and quiet for a reason – it's remote. It's not really on the way to anything and public transport is near nonexistent, so you'll need a car or to join a tour to reach the small medieval village. If you don't have a car but can make it to Castelo Branco, this full-day tour explores the best little villages in the area.
From Lisbon it's a three-hour drive to reach Monsanto village, and from Porto it takes four hours. Once you arrive, you'll need to park outside the village streets. You can drive right up to a viewpoint where it's possible to turn around. Look for the closest street park available.
Where to stay in Monsanto Village
Monsanto is the sort of destination you'll want to stay and enjoy slow travel vibes, and take in one of the magical sunsets. There are lots of little guesthouses in the village, and some villagers have been turning old, once-ruined houses into accommodation for tourists.
Long-time friends of my aunty and uncle run a few guesthouses in the village, and I was lucky enough to get a sneak peak inside. It was very cool to see the crazy way the old stone homes work around the boulders. Each spot is so unique. If you're a couple of small group of friends check out Sun Set House, Old House, and Casa da Ti Maria Pereira. Alternatively, take a look at all accommodation in Monsanto. 
Discover more cute villages in Portugal…