Our romantic weekend in Guimarães started with a disaster. My partner and I had driven 3.5 hours north of Lisbon to belatedly celebrate 10 years together.
Given the special occasion, I'd found an old convent-turned-fancy-hotel to stay at. For weeks I'd been dreaming about swimming in the pool, enjoying breakfast on the antique tiled terrace and swanning around the forest behind the convent. Usually we book more budget stays, so I was looking forward to this special splurge in Guimarães.
Sadly when we arrived at the hotel it was completely closed. We called the phones, no answer. I checked my emails, nothing. It was only when I logged into my hotel account that I found my reservation was cancelled by them, without warning. Safe to say we were not pleased.
Fortunately for us we recovered from the shock, found a cute guesthouse in town and our Guimarães long-weekend adventure was still a 10 out of 10 and here's why…
Best things to do in Guimarães
Welcome to the birthplace of Portugal. It was near here that Afonso Henriques won the Battle of São Mamede – against his own mother no less – establishing himself as the leader of the kingdom of Portugal. Its independence was recognised some years later in 1143, making him the first king of Portugal. From here, King Afonso fought his way south against the Moors, claiming land that is more or less the same borders we know as Portugal today.
Stepping into Guimarães is like stepping back in time. The entire historic city centre is a protected World Heritage Site full of architecture from the 15th to 19th centuries. As you wander up streets of large stone pavers where buildings hang over the road, it's impossible not to wonder what life was like here in the Middle Ages.
Wander the historic streets of Guimarães
Every tourist guide and blog I read before visiting was hyper-specific, telling me to wander these three specific squares, walk these two streets and look for these 14 specific churches. My advice? Just dive into the UNESCO-protected historic centre – enough aimless strolling will guarantee you see it all.
Across the weekend we sliced and diced our way across the old town on our way from the guesthouse to the castle or restaurants, taking a new route each time. Soon enough we'd criss-crossed the entire medieval layout, crossing paths with Largo da Oliveira, Rua de Santa Maria and all the other churches, streets and landmarks people consider a must-see.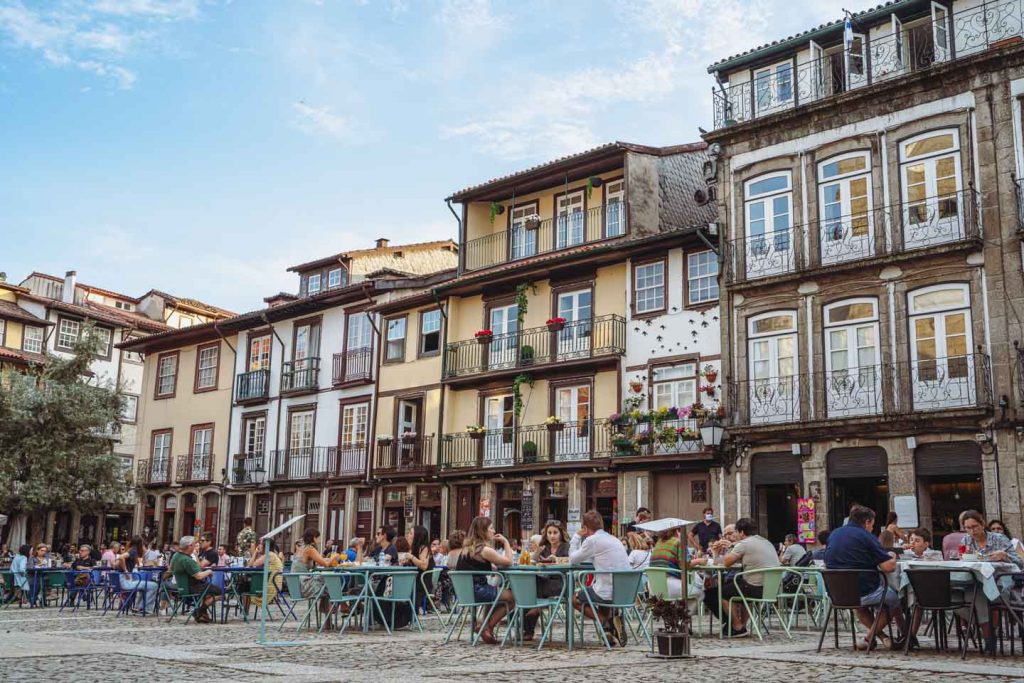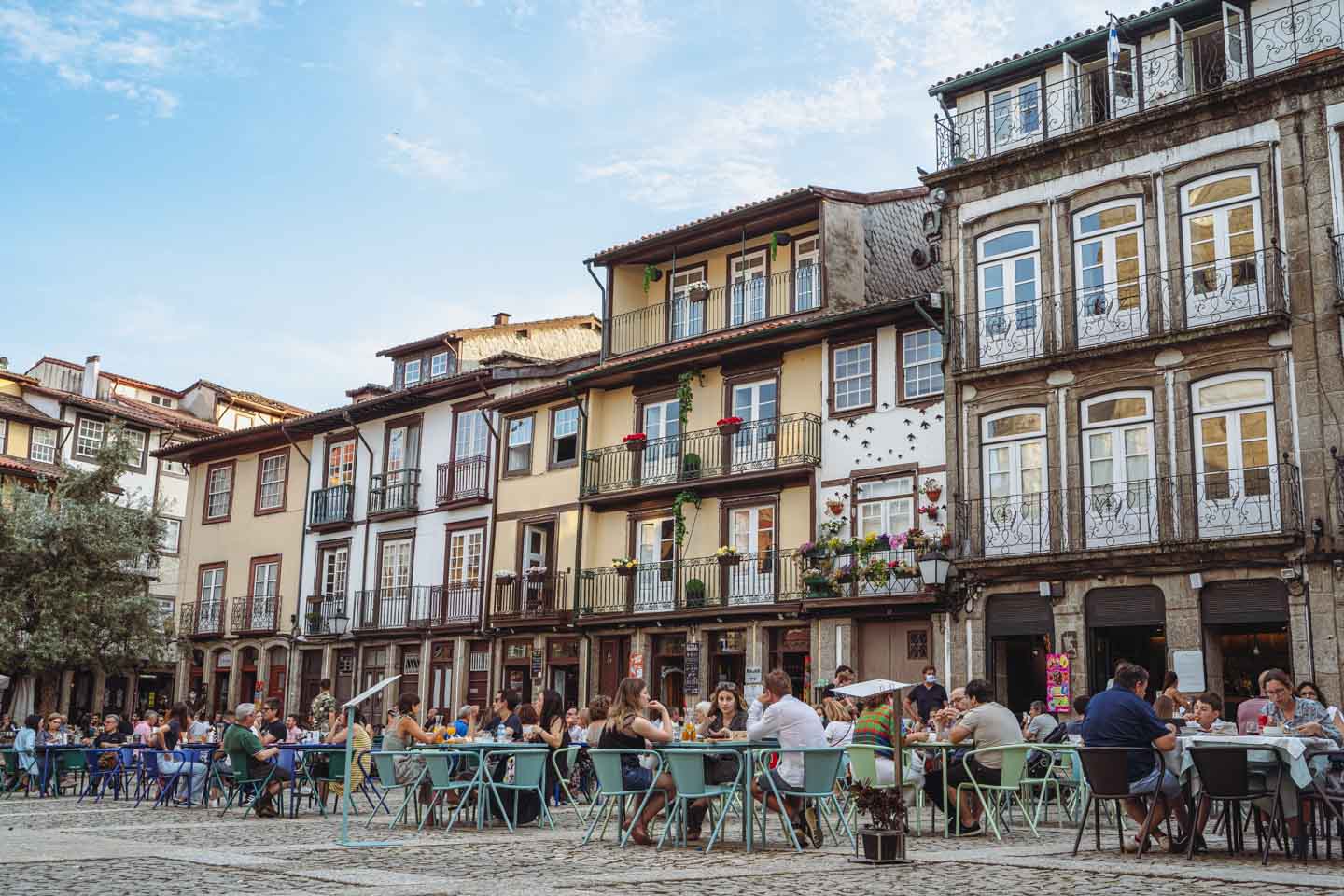 Visit the Paço dos Duques de Bragança
As we admired the courtyard of this 15th-century home, somewhere someone in the building was absolutely shredding on the piano and setting the opening credits for what we hoped would be an impressive visit. Originally built between 1420 and 1433, the 1st Duke of Bragança used the palace as his home. It was abandoned for a period, used as a military barracks during the 19th century French invasions and then relatively recently rebuilt between 1937 and 1959 to become the museum it is today.
While I loved walking through the grand stone building with its high ceilings, giant fireplaces and medieval vibe, the palace itself lacked a little something. That something might be details. While I expected to learn a little more about the Duke and family of Bragança, I was left wanting. Instead the QR codes in each room told me about the space and the 17th and 18th century objects used to dress the rooms.
Given the age and the state of decay, it sounds like some guesswork was involved in the rebuild and deciding what different rooms were used for. Criticism aside, it's a beautiful space with stunning windows, ceilings, details and atmosphere worth checking out in person.
Wander the castle
Just around the corner, Castelo de Guimarães dominates the hilltop. Considered one of Portugal's most recognisable landmarks, the castle you see today is more like that from the 13th century but there has been a defensive structure here since the late 10th century when a widowed Countess Mumadona Dias took over the County of Portucale.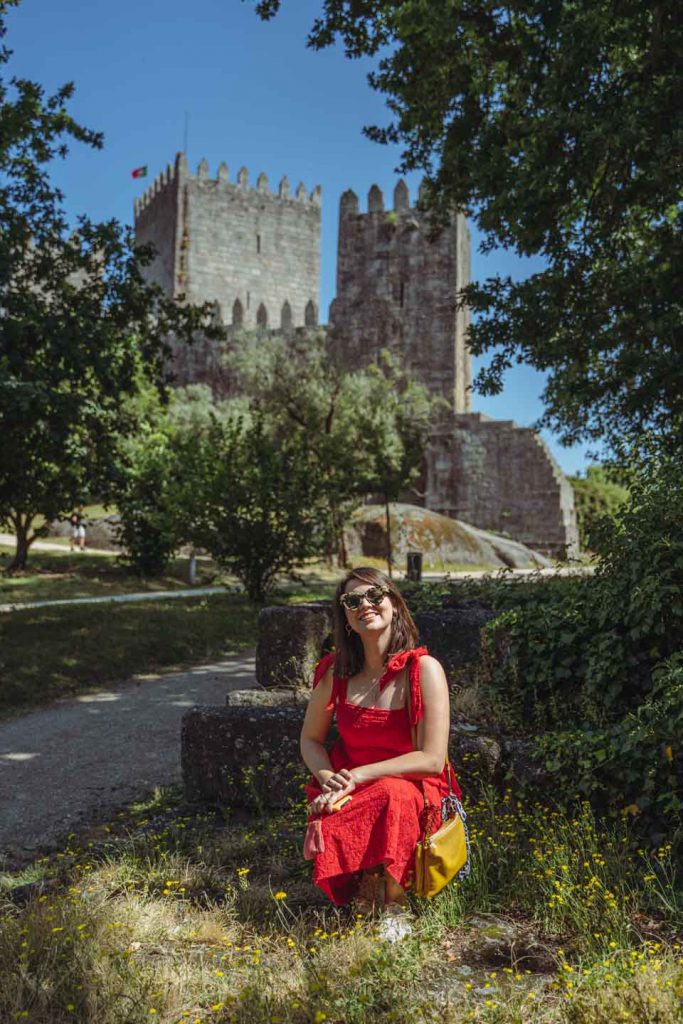 While the castle itself is absolutely stunning, it felt a little bit false. Perhaps we've been spoilt with the opportunity to visit countless other castles around Portugal where you can freely explore the ruins without paying. Here there was a staircase and boardwalk built across the castle walls. Sure, safety handrails aren't the worst thing in the world, but the turret filled with vending machines was disappointing. I would have liked to learn more about the history of the castle instead of getting a hot coffee…
Eat a Torta de Guimarães
Every town in Portugal is proud of its doces conventuais (convent sweets). Essentially, it seems the nuns had access to sugar, leftover egg yolks and ingredients like cinnamon, lemon and almonds. With that and some imagination, each village, town and region has celebrated local sweets with an eggy side.
In Guimarães we have Toucinho do Céu and Torta de Guimarães. I prefer the latter, a crunchy slightly savoury half-moon pastry with buttery layers and a stringy, rich egg and almond centre. Turns out the savoury note isn't butter, but pork fat. Vegetarians – you've been warned.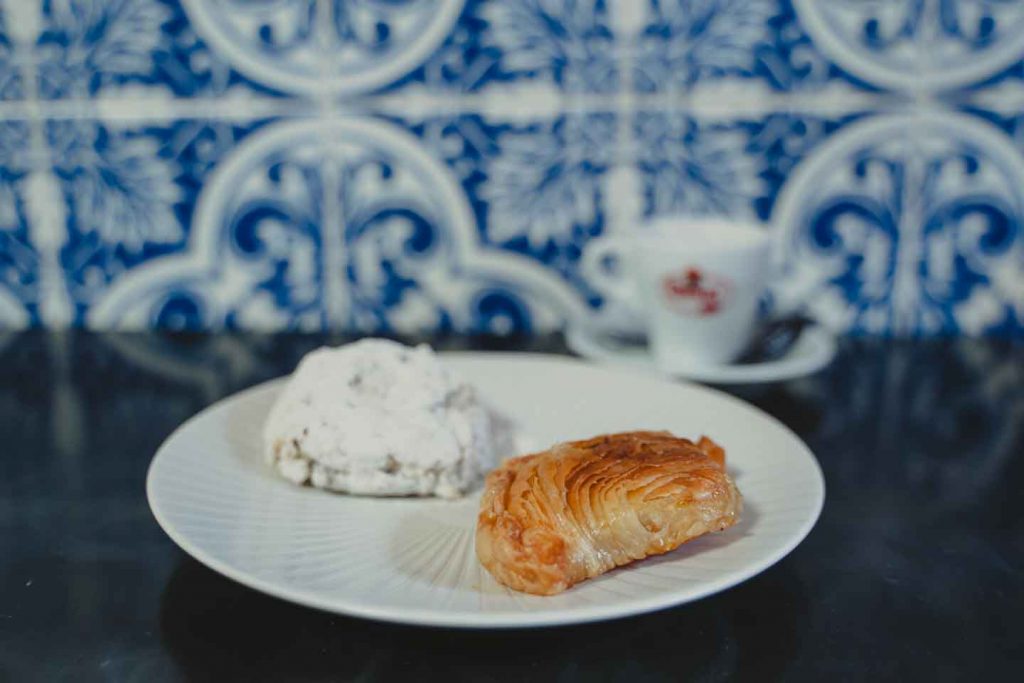 The best place to try them is at the original Casa Costinhas. Legend has it that a nun from the Convent of Santa Clara took in two orphan nieces. The establishment of the Republic meant they were no longer allowed to live in the convent with their aunt. They found a house close to the convent and the three women started baking sweets to make a living.
To market, to Mercado Guimarães
When I saw an old man standing there with two buckets selling live rabbits I realised things are different in the north.
I always visit the mercado municipal when travelling throughout Portugal. It's a chance to pick up locally-grown produce, discover regional products and spy on cute old ladies. The Guimarães market hall was actually incredible. While my local permanent market here in Lisbon is mostly empty, here in the giant hall every counter was full with vendors selling fruit and vegetables, meat, fish, baskets, flowers and more. It's the first time I've seen stalls specialising in just bacalhau (salted cod). 
What I found most interesting were the temporary vendors. In the giant enclosed balcony off the market people didn't have stalls, just a couple of metres of floor space and a few buckets of goods. You know the food miles are low when you're buying seasonal plums off a lady who only has half a dozen cabbages, a bucket of lemons and some fresh flowers to sell. It takes farm to table to a whole other level.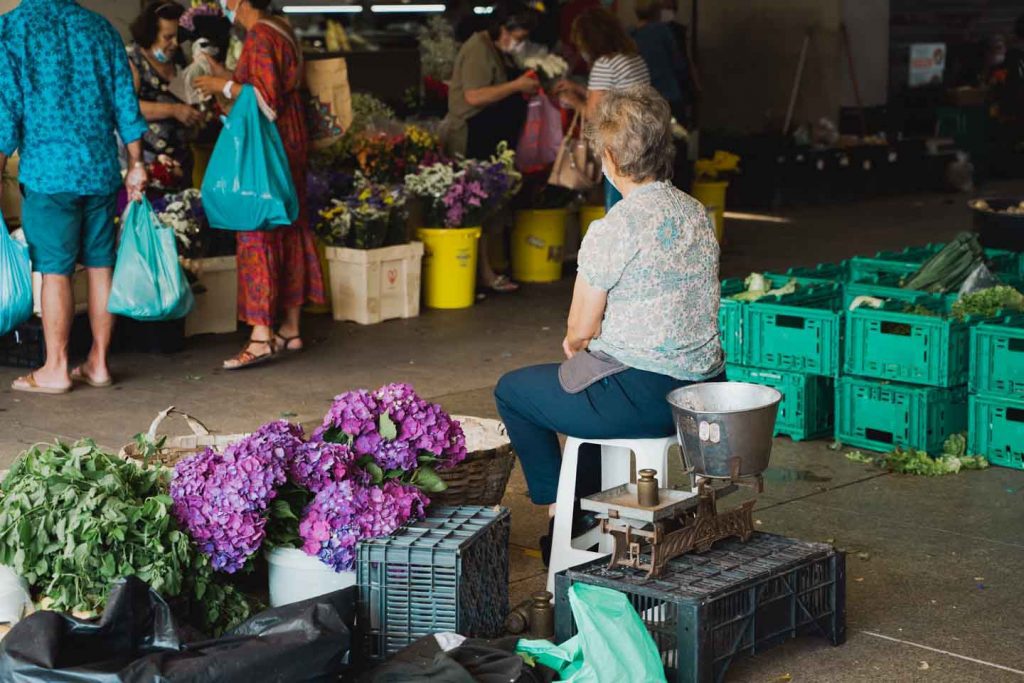 In this area it was a little confronting to find live animals. Rabbits and roosters, chickens and chicks were all there ready to be sold. Most sellers had old school balances with those solid iron counterweights. Maybe there's a specific dish that calls on you to kill and skin a rabbit yourself, but otherwise I don't know why someone wouldn't just go to one of the market butchers where you can buy prepared whole rabbit or chickens.
While the market is open six days a week, I visited on a Friday. I'm not sure if the temporary vendors are there every day or not.
Head up to Monte da Penha
Religion doesn't thrill me, so the idea of heading up Monte da Penha by cable car to visit the relatively modern Santuario da Penha was bottom of my tourist list. Our eventual drawcard for this visit was – of course – an outdoor restaurant hidden in the forest called Adega do Ermitão. 
Once we arrived though, seeing the incredible natural landscape of giant boulders and lush, moss-covered forest made us realise Penha was worth the visit. Rising 586 metres above Guimarães, the viewpoint behind the church offers stunning panoramic views back over the city and region.
Usually I'd say it's very peaceful exploring the green forest paths but on our day a classic car race was taking place. Since it was a hot 30-something-degrees that day, I didn't expect to hike the stunning mountain pathways but we became curious about the race warm ups and went for a wander after lunch, exploring some hidden caves, grottos and monuments along the way.
Other things to do in Guimarães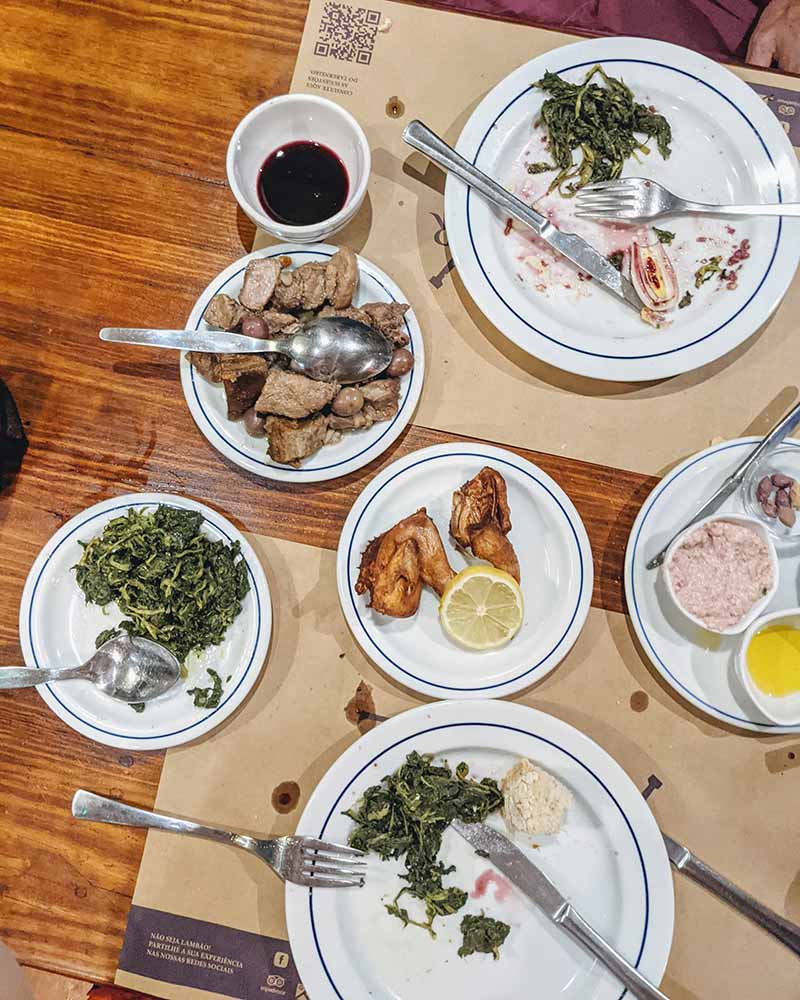 Where to eat in Guimarães
You bet I plan whole trips around where to eat. Discovering local tascas, old-man bars and where to taste the best regional cuisine is almost always top of my list. Guimarães is a surprising smaller Portuguese city that while tiny is home to brilliant taverns, a chic French-Spainish-inspired bistro, and a special Michelin-starred diner. Discover where to eat in Guimarães with my food guide.
RELATED BLOG: Where to eat in Guimarães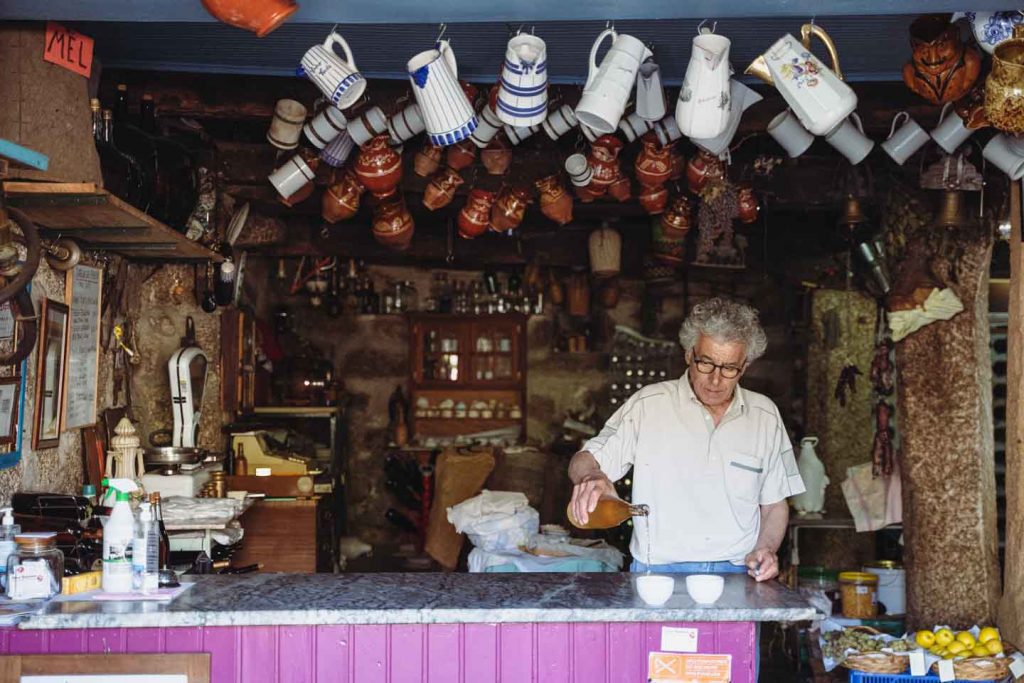 Where to stay in Guimarães
This super cute little guesthouse was the perfect base for Guimarães. Our room looked out over a square and had everything we could want: aircon, private bathroom, super comfortable bed.
How to reach Guimarães
From Porto
If you're already in the north, Guimarães is a must visit. The city is a 45-minute drive from Porto, or just over an hour by train from Campanhã Station.
From Lisbon
Guimarães is a 3.5 hour drive from Lisbon. If you wish to reach the city by public transport, you'll need to take a train to Porto and then change trains at Campanhã Station. Given that, I think you're better off road trippping from Lisbon to Porto
Related Blog: 14 best things to do in Viana do Castelo
Photos by Jorge Branco and Daniela Sunde-Brown