There's a lot more to Portuguese food than piri piri chicken and custard tarts.
In this article I've rounded up two dozen or so traditional Portuguese dishes you can easily order throughout the country.
When it comes to eating in Portugal, I'm always amazed by the wide variety of dishes, seasonal specials and regional plates, from summer sardines and snails to classics like baked octopus and salted cod (bacalhau). While vegetarians won't have much luck, traditional Portuguese food is an incredible treat to explore. This list only touches the surface of what's out there and I hope you get the opportunity to eat well and eat widely.
A note about dining out in Portugal: table snacks dropped at the start of a meal are not free. Ask them to take them away if you don't want them. Also a "dose" feeds two people (literally, I'm not just saying it's a big serving), so a half-dose is for one. Portuguese maths!
Seafood dishes
Bacalhau à Brás (salted cod a lá Bras)
How did a country surrounded by the Atlantic Ocean make a dry, old fish from Norway it's number one ingredient? Great question. I don't have space for the whole story here but the tradition of fishing cod in Norway and Iceland and salting it to bring it back home dates back 500 or so years to Portugal's seafaring history. It's said there are more than 1000 dishes with bacalhau, and since it has a strong taste I suggest you edge your way in with bacalhau à Brás or bacalhau com natas. The former is a dish of salted cod, onion, garlic, matchstick potato fries, egg and coriander. Weird, but it works.
Polvo à lagareiro (octopus with olive oil)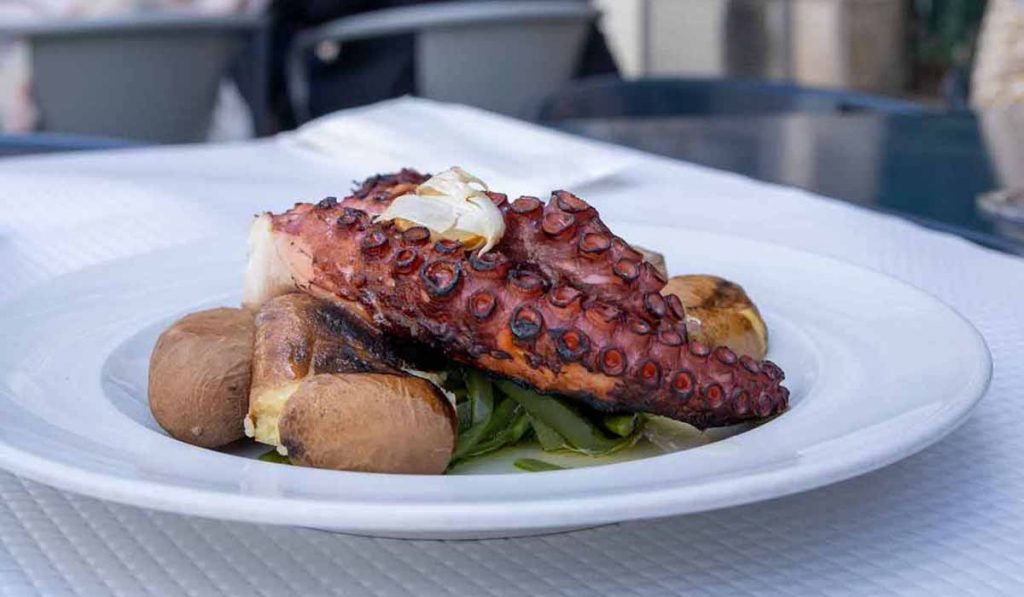 Lagareiro is the name for someone who owns an olive oil mill, and when the dish arrives you'll understand why. The delicious meal will also help explain why the Portuguese use the same verb (regar) to describe pouring olive oil and watering the garden. Served with garlicky baked punched potatoes, this is the king of octopus dishes.
Amêijoas à Bulhão Pato (clams with garlic, olive oil and coriander)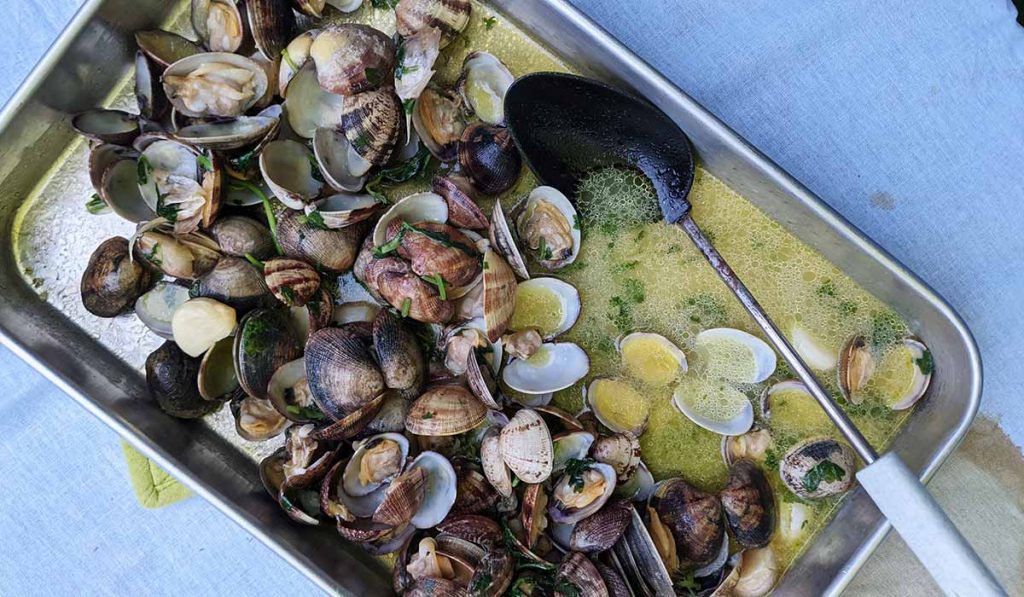 This is easily one of my favourite dishes and it's so simple. Fresh, local clams quickly cooked with garlic, olive oil, white wine and coriander. It's usually an entree or starter best shared with friends and white wine. Always order bread to mop up the juices.
My favourite spot: Último Porto
RELATED BLOG: Where to eat in Lisbon
Dourada grelhada (grilled sea bream)
Sometimes the most simple dishes are best. Most local tascas will have a charcoal grill and offer a variety of grilled fish, steak and pork. My favourite common fish to order here is dourada (sea bream), which is grilled with salt and served — as fish always is — with boiled potatoes and vegetables but you can usually swap for chips and salad.
Choco frito (fried cuttlefish)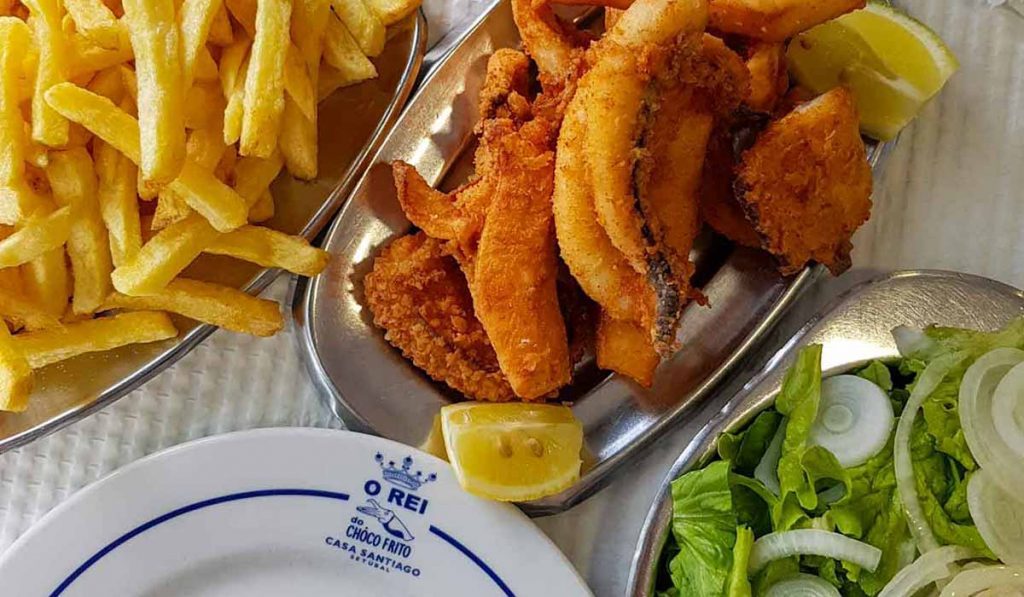 Anything deep fried is delicious, so it's easy to love choco frito. Kind of similar to calamari or fried squid, choco frito is usually a bit thicker and cut into strips. The best place to eat it is the city of Setúbal, where the dish originated but you can find it around the place as a main dish or as a snack in trendy petisco bars. You can also order grilled choco, which often comes with the black ink.
My favourite spot: Rei do Choco Frito
Sardinhas (grilled sardines)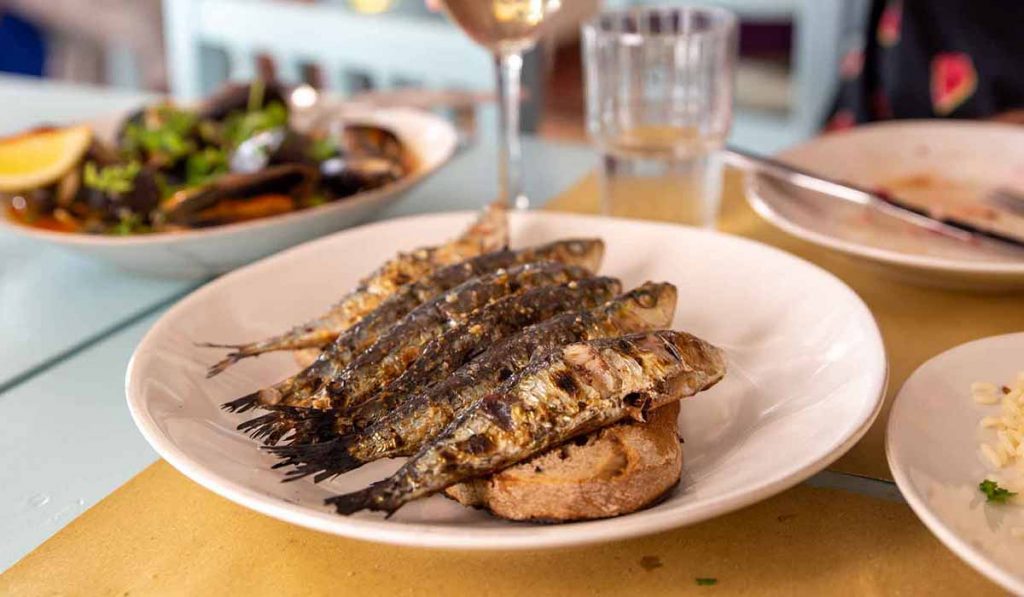 In summer you'll see the windows of tascas and restaurants around town with a piece of paper taped to the window saying há sardinhas. A staple during the warmer months, you can usually enjoy five or six grilled sardines with potato and salad for between €6-10 or, even better, on a bit of bread from someone grilling on the side of the road during summer festas.
Sapateira recheada (stuffed crab)
You'll likely need to visit a cervejaria or seafood restaurant to find this one and other specialties like carabineiros (scarlet prawns, aka sweetest best prawns of your life) and percebes (goose barnacles). Chefs will mix up the head/body of the crab with mustard, mayo and other tasty things to make a dip served in the shell. Then you'll receive little boards and hammers to smash open the legs. It's messy, and fun.
Cataplana (Algarve seafood stew)
If you visit Portugal's southern coast, keep an eye out for cataplana on the menu. The clam-shaped copper or metal dish is filled with potatoes, vegetables and seafood — fish, prawns or clams — and the flavours steam together within the closed pot.
Arroz de marisco (seafood rice)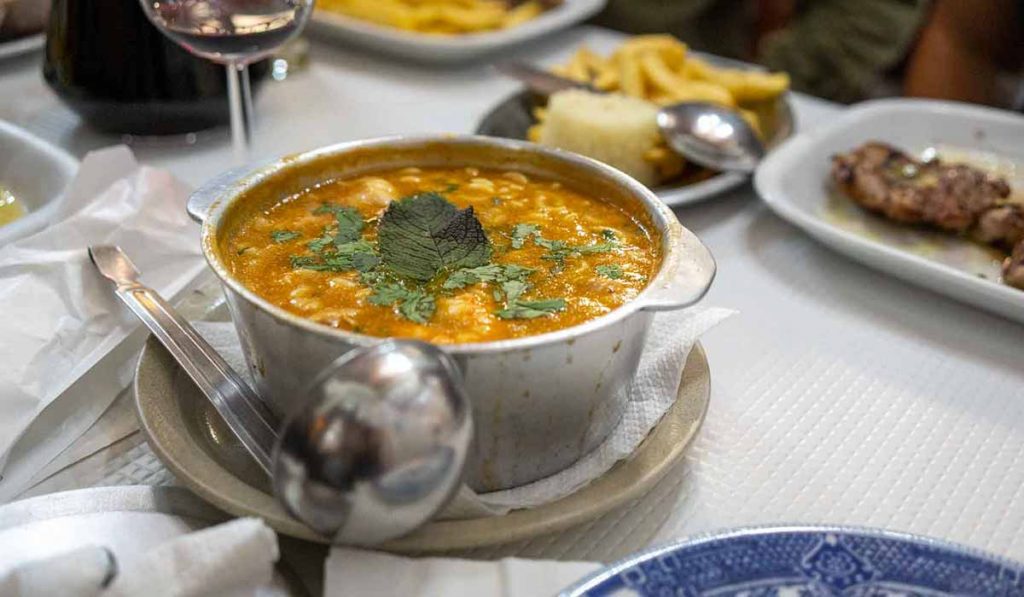 Pretty simple, this dish is rice filled with prawns, mussels, clams and more. Expect a wetter consistency than risotto with longer grain rice.
Carapauzinhos com arroz de tomate (fried small horse mackerel with tomato rice)
Little horse mackerel are coated in flour and dropped in boiling oil for a few minutes to cook. The final result is a dish of light, fresh fish that you eat whole. It's usually accompanied by tomato rice or other fancied up rice.
My favourite spot: O Cacué
Meat dishes
Secretos de porco preto (Black pork "secrets" cut)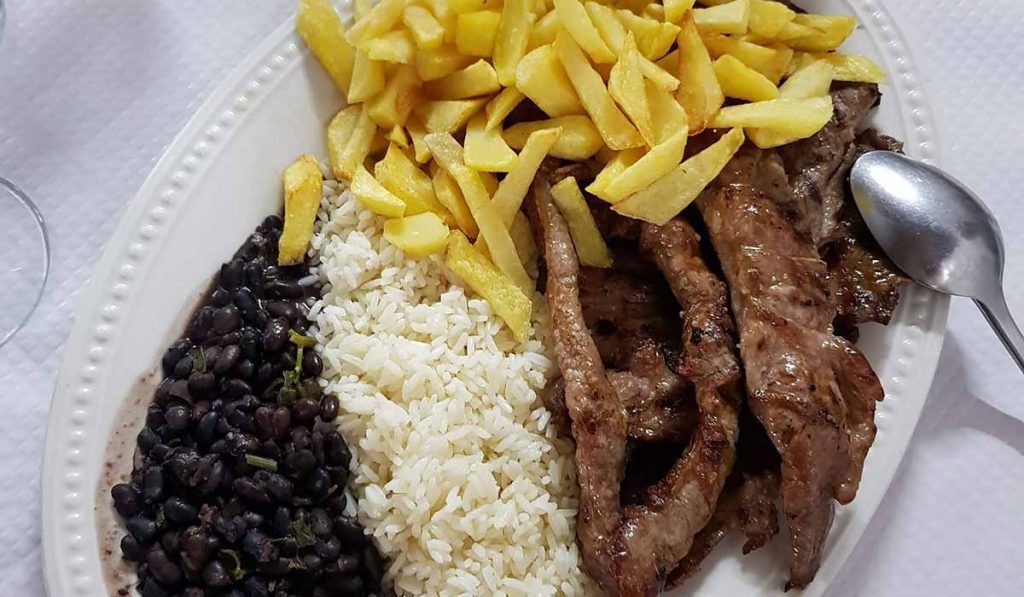 Black pork is truly something else. This special breed of pig is used to make the prized presunto or jamón ibérico. They're usually fed acorns for the final months of their life, and I find the meat itself is richer and darker with layers of fat, like a pork wagyu. "Secrets" is the cut and I'm yet to find anyone who can point out the English equivalent. It's best grilled on charcoal so the thin layers of fat render. Grilled meats are almost always served with hot potato chips and rice.
Arroz de pato (duck rice)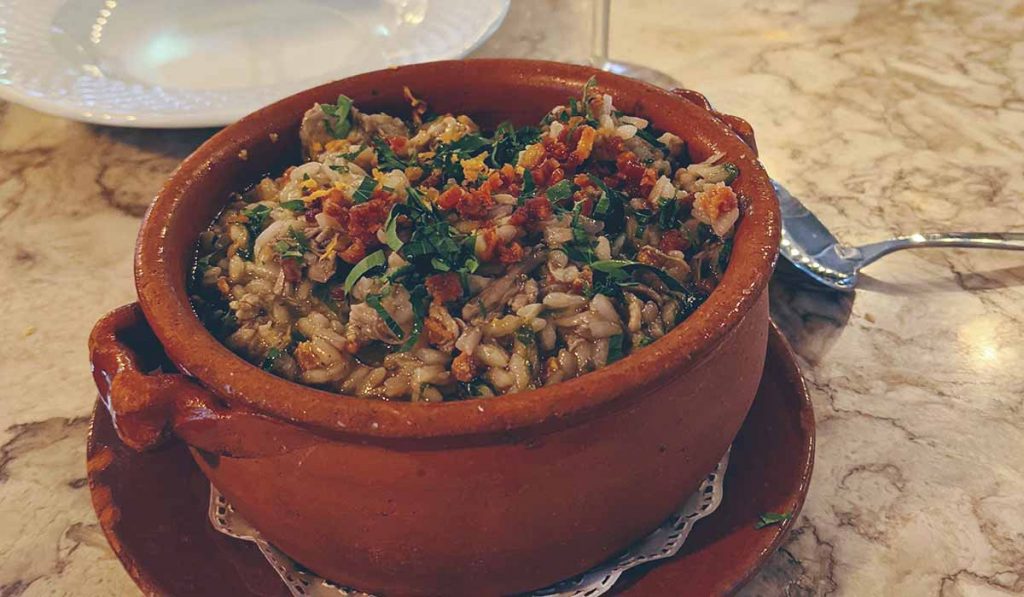 Seafood rice is great, but duck rice is the king of rice, for me at least. This one is a baked rice dish, so the cooked rice and duck is thrown in the oven, topped with chorizo and baked to give it a crunchy top.
My favourite spot: O Velho Eurico (and Jorge's Tia Amelia's place)
Frango piri-piri (grilled spicy chicken)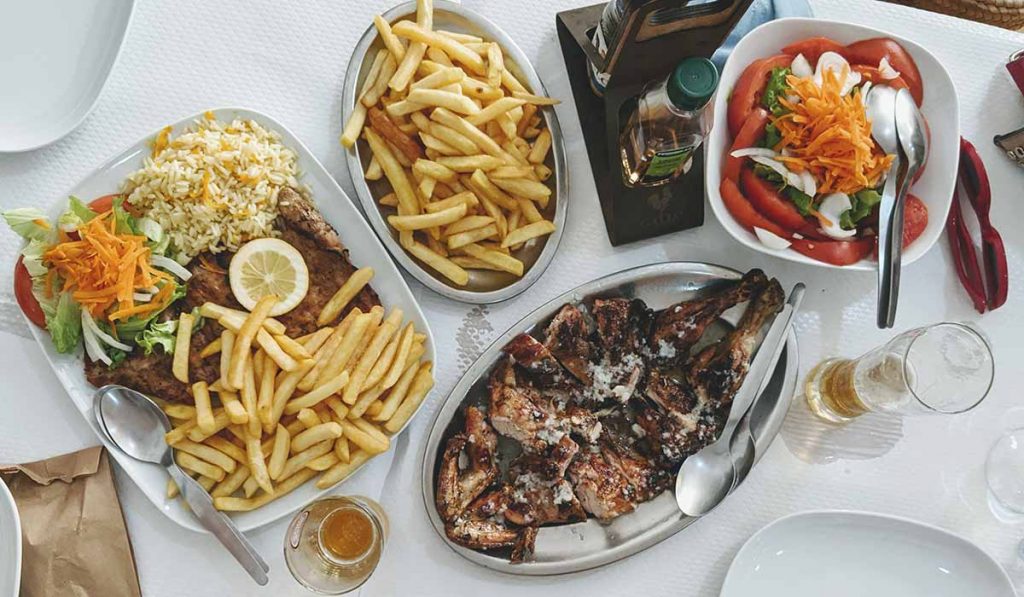 Not Nando's. It's about the charcoal grill flavour rather than the spice. You're less likely to find piri piri chicken on menus in restaurants because frango no churrasco is more a Friday night takeaway kinda meal. There are shops in every neighbourhood and town that specialise in grilling chickens over charcoal. Each has their own take, with garlic olive oil or spicy sauce (or both) to throw over at the end. Famously the best grilled chicken is found in the Algarve. The Portuguese do spice on the side, so you might need to ask for the piri piri sauce.
Cozido à Portuguesa (Portuguese boiled dinner)
Want to eat all the meat, sausages and offal of different animals boiled? On paper, it sounds weird. In reality, it's weird but delicious. Basically, the meat is cooked and then the water from the meat is used to make rice and beans and boil potatoes, carrot and cabbage. While that's cooking, the meat is sliced and it's all plated up ready to eat. Of course, there's plenty of olive oil, garlic, bay leaves and salt involved.
Bitoque
Eggs can be found in so many Portuguese dishes, from all traditional sweets to soups to steak. A Bitoque is a thin steak served with a fried egg on top. It's basic, it's comforting, and – like all grilled meat dishes – it's served with chips and rice. Personally. I prefer my steak a little thicker so I tend to go for a costeleta de novilho (veal steak)or bife da vazia (sirloin). Hot tip: bife means steak, not beef.
Piano grelhado (grilled pork ribs)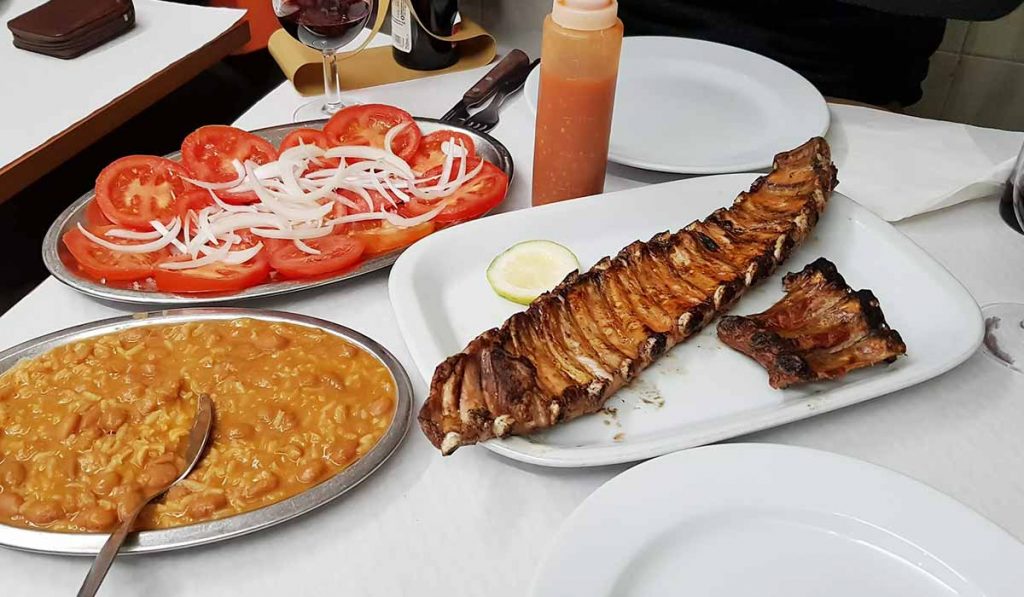 Barbecue ribs are great, sure. But the taste of savoury ribs grilled over fiery hot charcoal? The best. Keep your sugar sauce away from these beauties.
My favourite spot: Zé dos Cornos
Francesinha (heart attack in a sandwich)
Picture this: grilled steak, two types of sausage and sliced ham jammed between two fluffy slices of white bread. Add a fried egg, top it with cheese slices and bake it. Then pour over a delicious top secret sauce and cram the dinner plate with french fries. I eat a Francesinha once a year, you need to tackle it with cutlery and I recommend enjoying one in the north, where it's famous. If you run out of sauce you can ask for more.
My favourite spot: Cervejaria Brasão in Porto, Taberna Belga in Braga
Alheira (bird sausage)
In 1497, the Jewish population was given a choice: leave the country or convert to Christianity. Of course many converted but secretly retained their beliefs, so to avoid being caught, the "alheira" was born: a non-pork sausage for them to hang in their windows to avoid suspicion. Alheira is usually made from a mix of poultry and game, like chicken, duck, quail or rabbit, plus breadcrumbs and garlic. You'll see it on the menu either grilled as is or crumbed and fried (the best!). It's usually served with a fried egg on top and accompanied by potato chips and rice.
Snacks
Bifana (pork sandwich)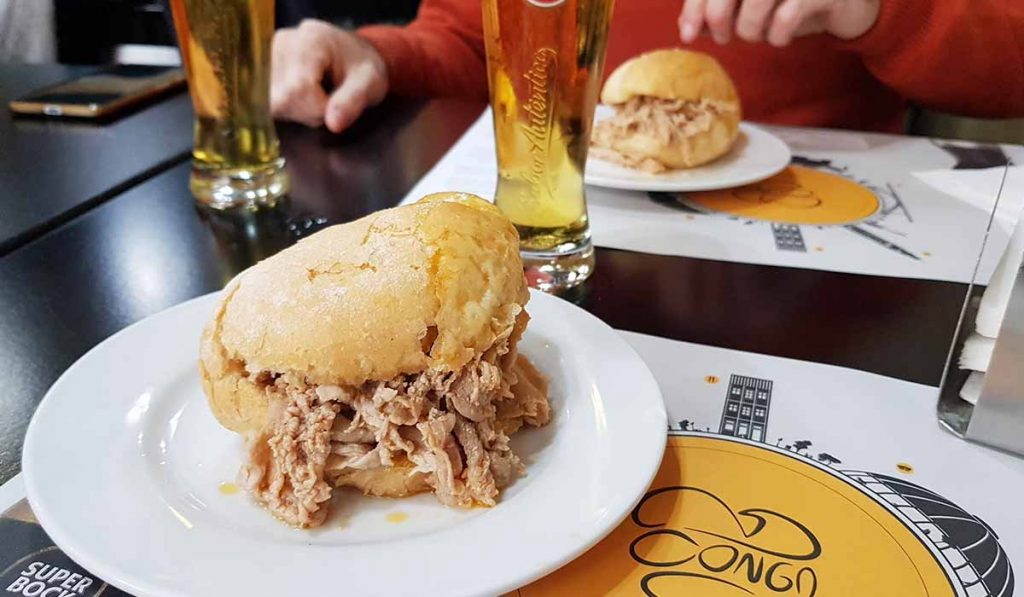 Gordon Ramsay has recently been making a mockery of Portuguese food with his cooking videos. His so-called traditional bifana included cheese, ham and rocket, causing controversy with the polite Portuguese people who firmly told him: "that's definitely not a traditional bifana but it looks delicious, I would definitely eat it". A real bifana is just an excellent bread roll filled with thinned slices of pork that have been grilled with salt and garlic or left cooking in a pan with garlic, lard, paprika, wine and bay leaves. In the north, it's slightly spicy and more tender. You're allowed to add mustard but I usually break all the rules and combine mayo and piri piri sauce because – unpopular local opinion – Portuguese mustard is bad.
My favourite spot: O Trevo in Lisbon, Conga in Porto
Pica pau (chopped steak with pickles)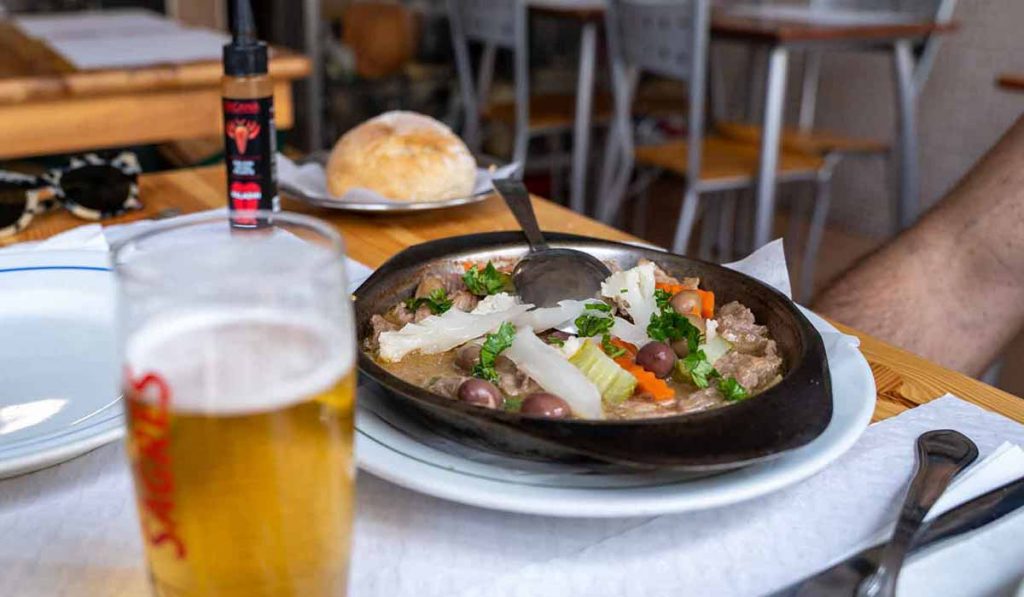 This is the ultimate rich, vinegary snack dish to share with friends over beers. Essentially, cubed seared steak or pork is cooked in a frypan with garlic, bay leaves, white wine, butter and mustard. The dish is served topped with pickles and your waiter will ask if you want chips (yes!) to dip into the saucy sauce.
My favourite spot: Petisco Saloio
Queijo de Azeitão (cheese)
There are dozens of famous, delicious Portuguese cheeses but if I had to pick just one to try it would be the gooey, stinky, buttery wheel from Azeitão. This sheep's cheese is the sort you slice the top off and dive into with a teaspoon.
Caldo Verde (cabbage soup)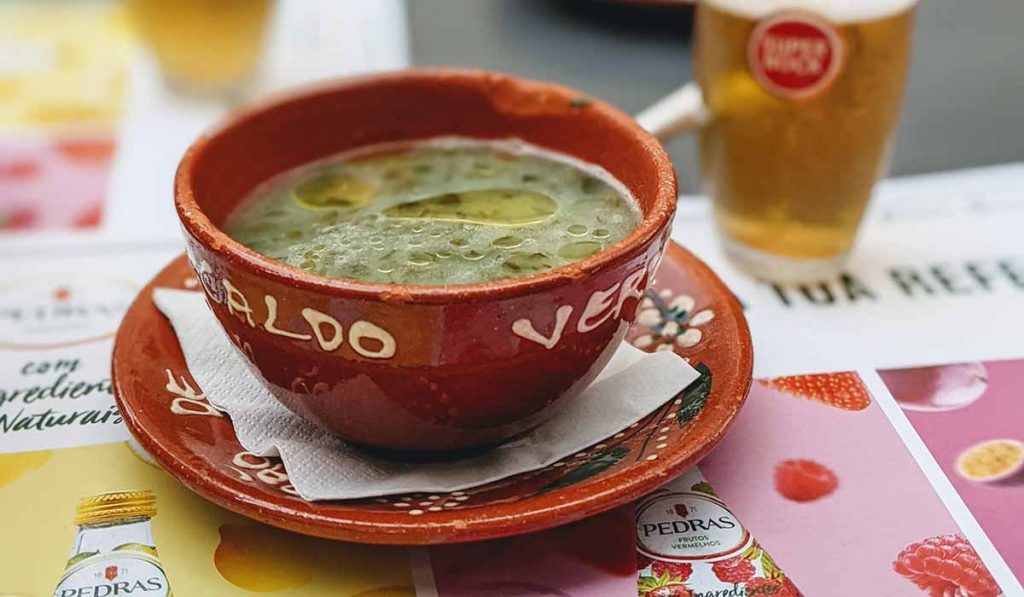 Soup is a staple in Portugal, so much so that you'll often see the locals tucking into a steaming bowl of caldo verde after a few too many cervejas or vinhos. You'll find a legume, vegetable or seafood soup on the menu almost anywhere you go and they're always cheap, delicious and a great way to eat vegetables. Caldo verde is probably the most famous soup of all, combining potato, Portuguese cabbage and garlic and topped off with a single slice of chouriço (chorizo).
Caracóis (snails)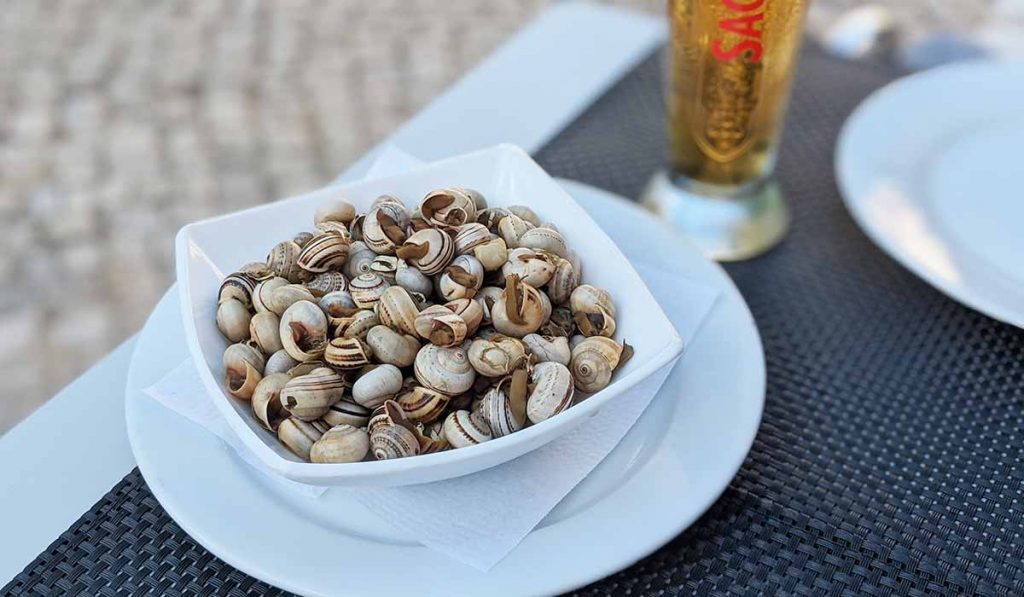 It wouldn't be summer without a post-beach beer and plate of snails. Once you get over the fact you're eating garden snails, throwing back dozens of the tiny critters over beers with friends will make you forget chips ever existed. They're usually stewed in olive oil, garlic, onion, oregano and piri piri but every recipe is slightly different. You can only eat them in the months with an "R": Maio, Junho, Julho, Agosto (May – August).
My favourite spot: O Lutador
Peixinhos da horta (tempura green beans)
The direct translation is "little garden fish" but it's actually one of Portugal's only vegetarian traditional dishes. This petisco (snack) is the original tempura recipe. Around 500 years ago the Portuguese introduced it to Japan during their maritime trading period. The dish is having a bit of a renaissance, so it's getting easier and easier to find it around town.
Salada de polvo (octopus salad)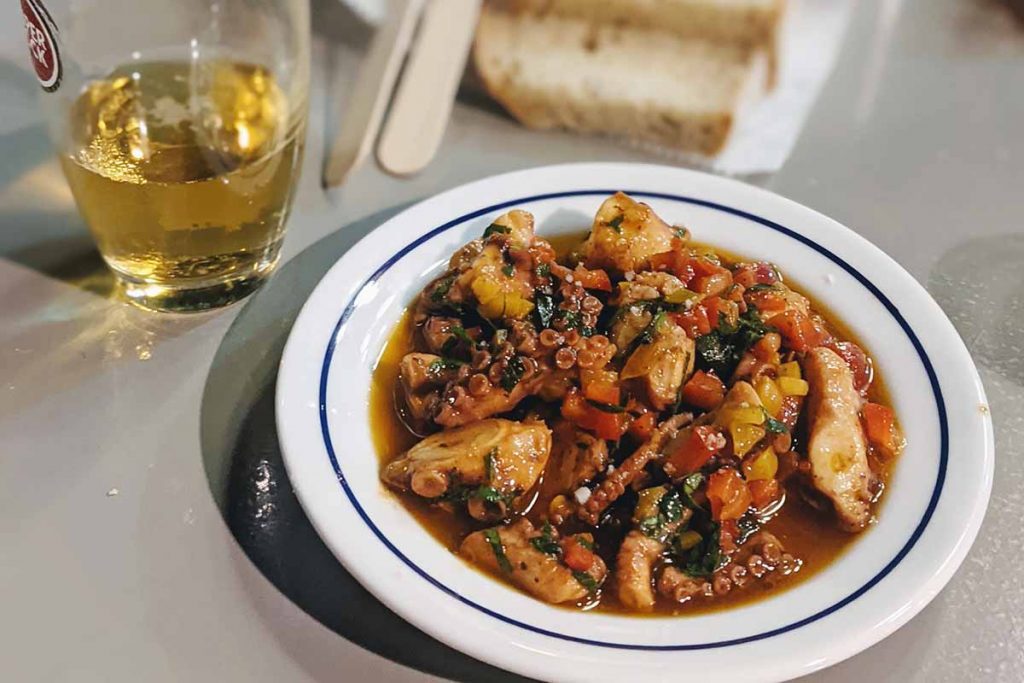 Expect chopped up cold octopus with onion, peppers/capsicum, coriander and an olive oil and vinegar dressing. It's a fresh, delicious starter to share.
My favourite spot: Quiosque São Paulo
This is truly just the tip of the iceberg of traditional Portuguese cuisine. Travel around the small country and you'll finish new dishes in each region from slow cooked pork cheeks to a vinegary fish soup to Portuguese gazpacho to Porto's famous Francesinha sandwich.