They say Lisbon is the city of seven hills, which is a lie. There's more than seven, a fact you quickly learn while walking up what feels like non-stop staircases on your first day in the city. But many hills means many viewpoints and lookouts. At the top of any Lisbon hill you'll almost always be rewarded with a stunning miradouro with its quaint kiosk, a scattering of chairs, ice-cold beer and incredible views of Lisbon.
You don't need a lot of money to enjoy this city, just an appreciation for the simple things. A refreshing drink and uninterrupted sunset views is a perfect evening in this city of seven hills. Here are my favourite miradouros and lookouts in Lisbon.
Miradouro de Santa Luzia
It's hard to choose a favourite lookout in Lisbon, but this one features a vine-topped, tile-covered boulevard and a landscaped garden filled with oversized purple bougainvilleas. From here you look out over the twisted narrow lanes of Lisbon's oldest neighbourhood, Alfama, with the church of Santo Estêvão poking up above. There's usually someone busking with an acoustic guitar, young women reading while taking in the view, and old Portuguese men simply existing. Sadly there's often also hawkers trying to give you "gifts" so don't fall into that trap.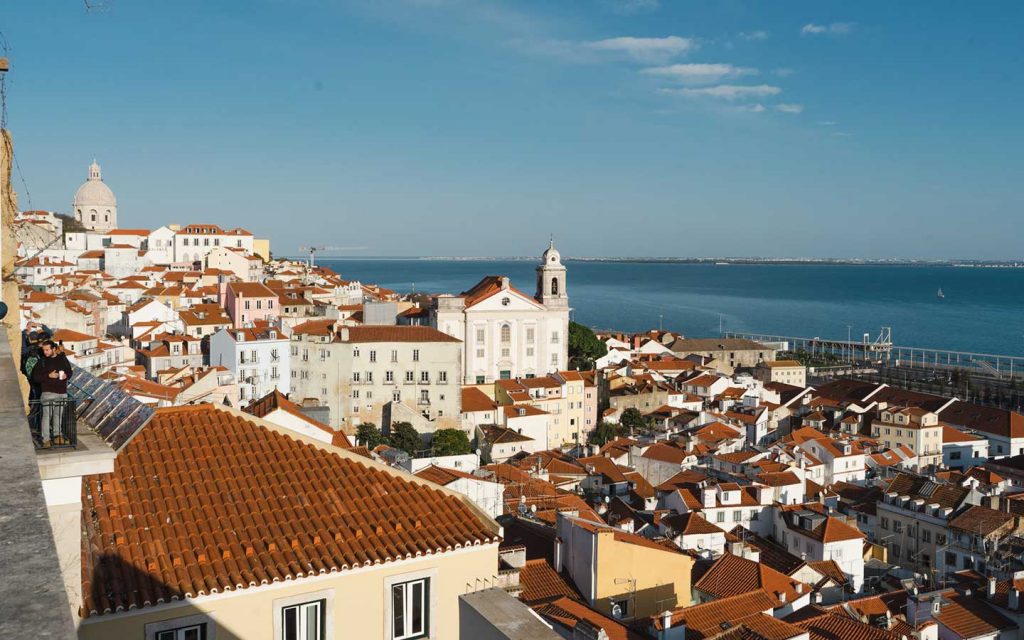 Miradouro das Portas do Sol
After you've finished at the Miradouro de Santa Luzia, wander 50 metres around the corner to the Portas do Sol lookout. Here there's a great little kiosk with snacks, ice-cold SuperBock and a totally new perspective on Alfama. It's always fun to sit here in the sunshine and watch the yellow trams pass by. If you venture down the stairs between the lookouts, there's a handy public toilet that's always clean.
Miradouro da Senhora do Monte
This one is, in my opinion, the best view of Lisbon. High on the hill, this incredible panoramic lookout gives you a full perspective of the Portuguese capital. It's not the easiest viewpoint to reach, but it's worth the upwards trek. From here, trace the valley from the rivermouth inland, spotting Lisbon's great landmarks like the São Jorge Castle, Praça do Comércio and the ruins of Carmo cathedral.
Miradouro da Senhora do Monte is also one of the city's most important historical landmarks. It was here that the first king of Portugal, D. Afonso Henriques, installed a camp to conquer the city.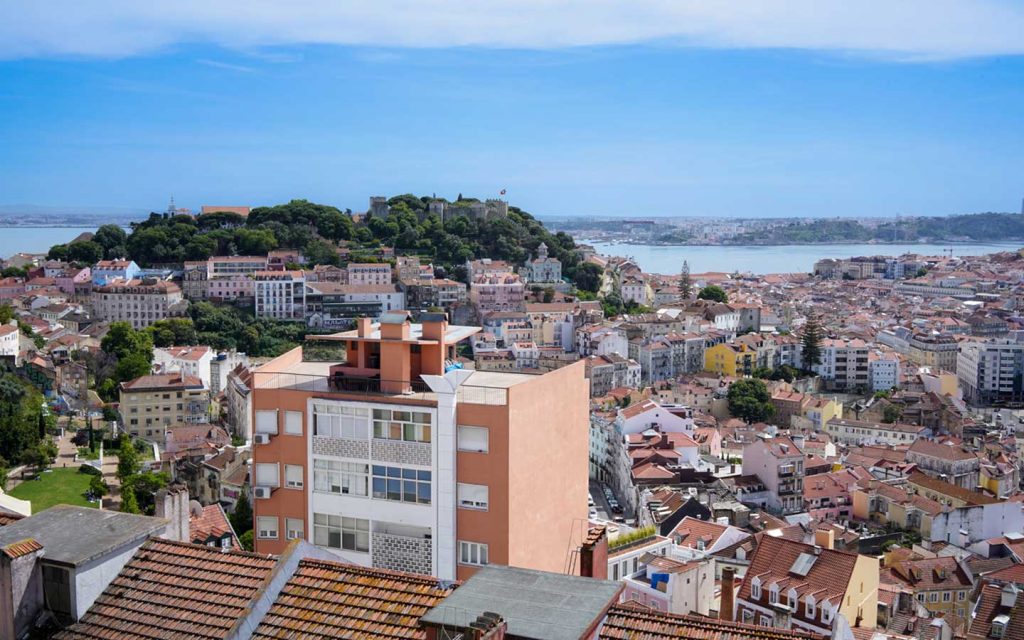 Miradouro da Graça
Combine a €5 lunch with million dollar views at Miradouro da Graça. The permanent kiosk here has a neat little kitchen, making it a simple, no-fuss spot to stop for lunch in the sunshine. While I think the views from Miradouro da Senhora do Monte are better, the panoramic views from Miradouro da Graça are almost as good. Plus, it's more likely you'll stumble upon this one while exploring on foot or riding the famous Tram 28.
While you're there, try to pop into Convento da Graça, which is just behind the lookout. There's a huge hall filled with stunning scenes of blue-and-white tiles. Heaven.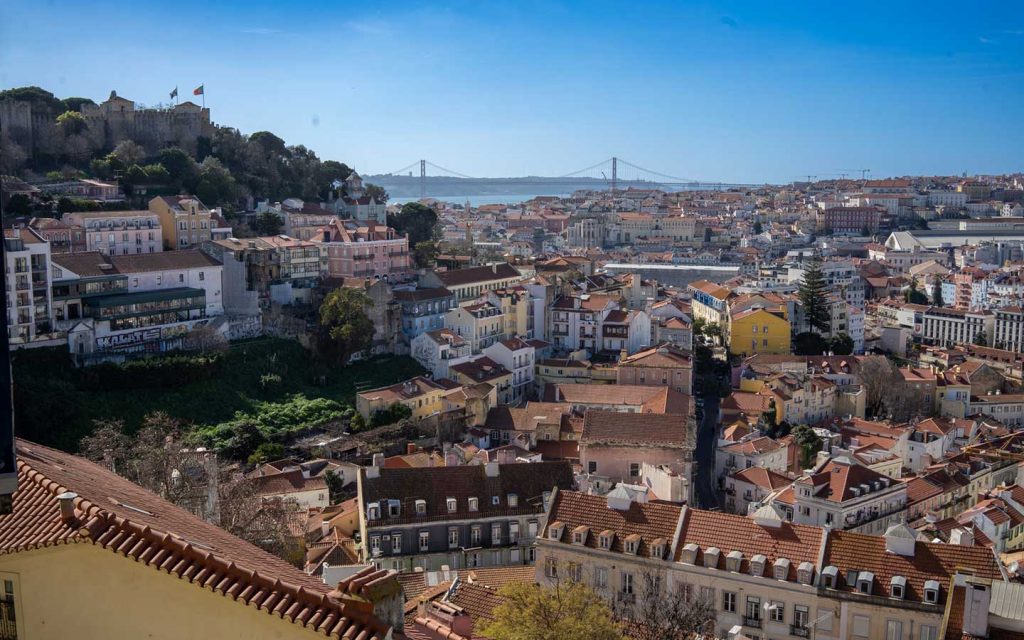 Castelo de São Jorge
There's something magical about climbing these 11th-century castle walls and tower keeps high above the skyline of Lisbon. A visit to São Jorge castle is essential if you want to step back in time and imagine what it was like when the Moors ruled these lands. It's free for Lisbon residents to enter, or €8 for visitors.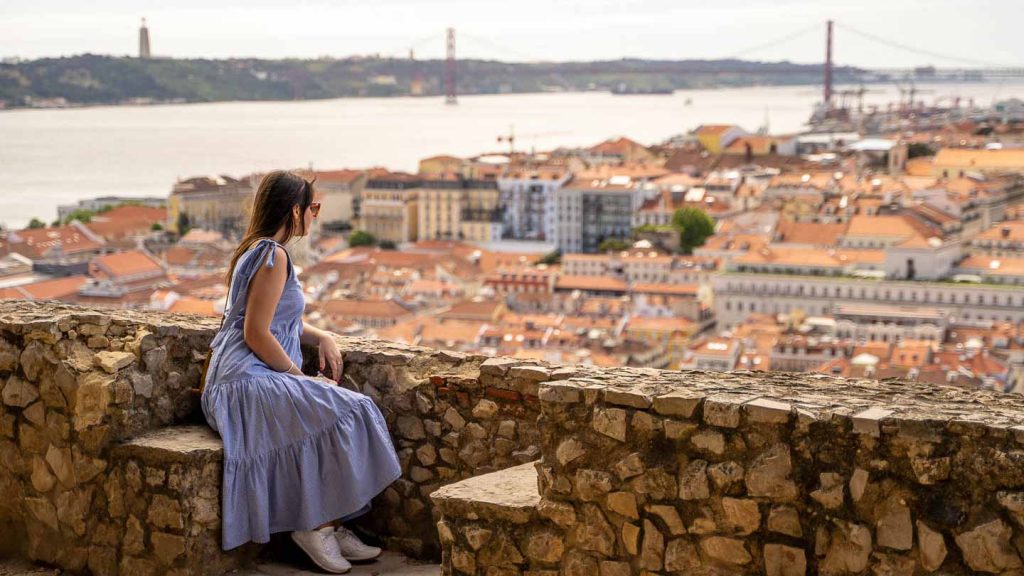 Miradouro do Jardim do Torel
Gaze over Lisbon's terracotta rooftops from the lesser-known local favourite, Jardim do Torel. Two unsuspecting gates open up into one of the greatest lookouts to spend some time. Bring a picnic rug and enjoy the lawns, or pack your swimmers and dive into the fountain – it's often maintained as a semi-pool in the summer.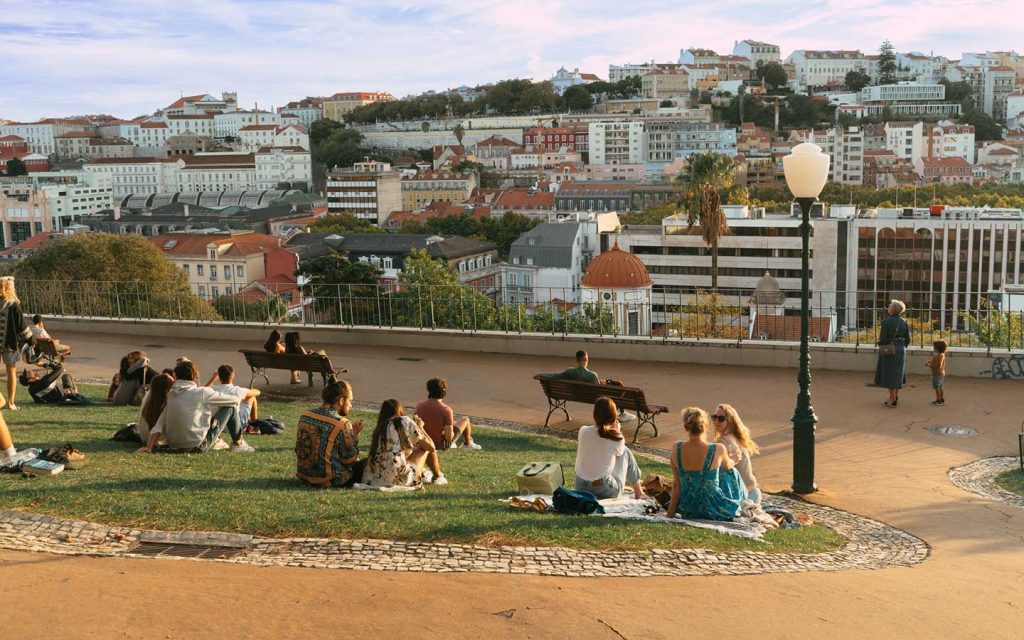 Panorâmico de Monsanto
If you're a fan of glorious abandoned buildings, get a taxi up to the Panorâmico de Monsanto. Sitting in the heart of Lisbon's "green lung", a 900-hectare forest to the city's west, this grand restaurant is now splashed in graffiti but still has an air of its former luxury. From the top there's 270-degree views back across the city. While the site itself is quite wild, there is a gate that gets locked each day around 6pm so make sure you plan ahead and don't go for sunset.
Jardim de São Pedro de Alcântara
While standing at one miradouro try and spot the others. This two-level Lisbon viewpoint is directly opposite Jardim do Torel, plus from the west side of the city you should be able to spot São Jorge Castle, Senhora do Monte and Graça lookouts too. Sitting at the edge of Principe Real and Bairro Alto, there's a good chance you'll stumble on this panorama while exploring the city centre. There's plenty of benches to rest or work and a big kiosk for an icy cold cerveja too.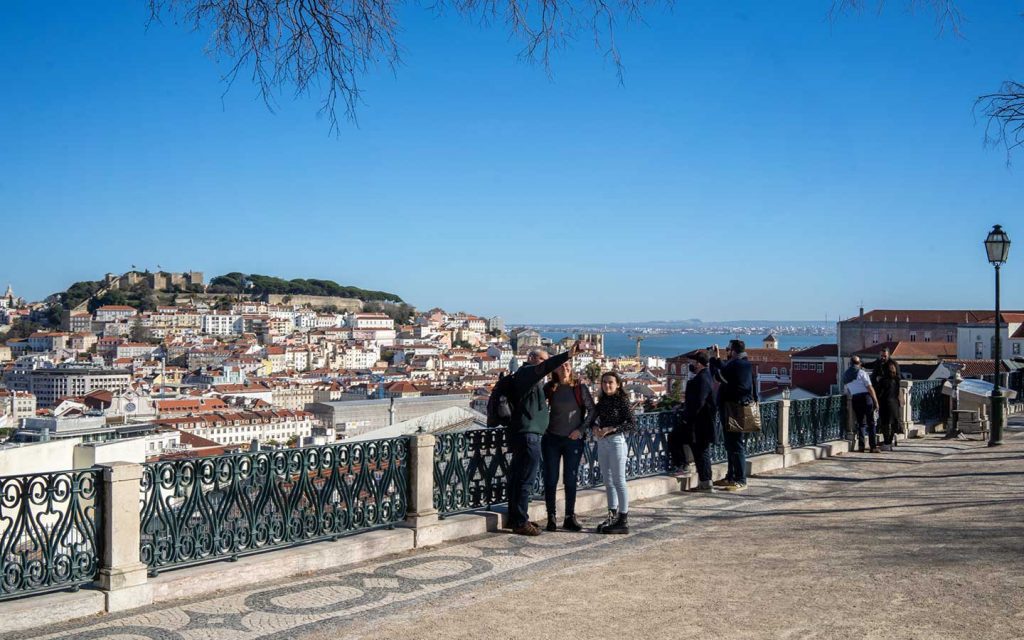 Miradouro de Santo Amaro
Welcome to my local miradouro where there's a small hexagonal chapel that dates back to 1549, according to the doorway. It's a curious and unusual building and one of the oldest in Lisbon, yet few people know about it. The chapel itself is tiny and surrounded by an enclosed veranda lined with very old tile murals depicting the work of Saint Amaro – he was said to heal limbs and so at the centre of most azulejo panels you'll spot arms and legs. But, you're here for the view, so turn around and soak in a spectacular sunset with the locals. Bring beers, sit on the wall and watch the boats sail past on the river beneath the red 25th of April bridge. Maybe best of all, it overlooks a dog park too, and sunset is prime puppy time.
Padrão de Descobrimentos
There's a good chance you'll wander past the towering Padrão de Descobrimentos monument in Belém. More than just a giant statue glorifying historical figures involved in the Portuguese Discoveries, this tall skinny building has a rooftop viewing platform too. You have to pay to get to the top, but from the top there's a stunning view back over the landscaped gardens and monuments of Belém, a local football stadium, the river and bridge.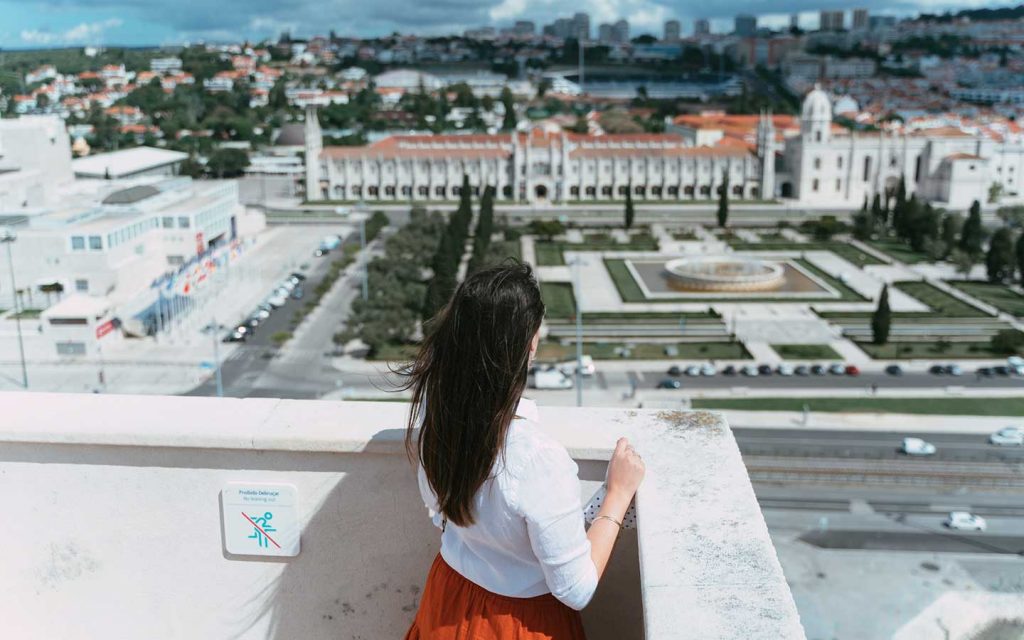 Rossio Gastrobar
In the heart of the city, Rossio Gastrobar offers an upmarket viewpoint over the downtown. Here on the seventh floor kick back on a soft lounge with a glass of wine or cocktail. It's certainly more pricey to enjoy the views from here over a viewpoint kiosk, but it makes a relaxing pitstop while running between points near Chiado and Avenida da Liberdade.
As one of Europe's sunniest cities, Lisbon is, as you can imagine, full of rooftop bars. I'll write up a full rundown of Lisbon's best rooftop bars soon, but in the meantime you can also check out Lumi, Java, Park, SEEN and Topo.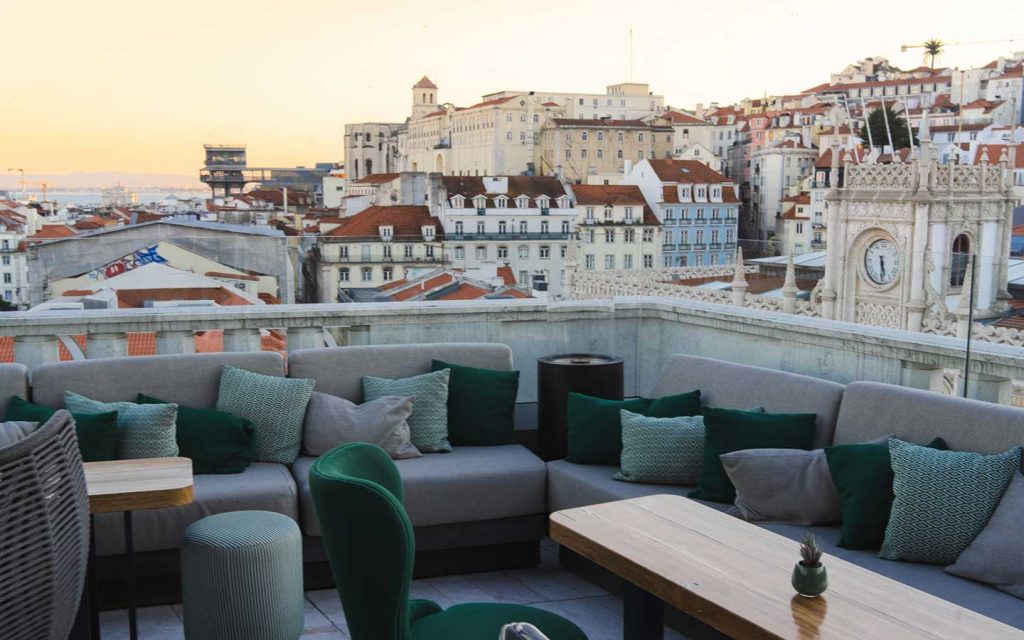 Explore Lisbon further with my 48-hour itinerary and guide on where to eat in Lisbon.