Fine dining fans could spend the week knocking back degustation menus at Michelin-starred restaurants and emptying jugs of white sangria at beach bars priced for the British crowd.
Me? With my tasca budget and Michelin palate, I hunt for the best tabernas, cervejarias and marisqueiras that locals love as much as blow-ins like us. These are the best places to eat in the Algarve. The spots that know how to perfectly grill a salty sardine fresh from the sea, honestly plate local produce, and will drop fresh jugs of white table wine onto your paper tablecloth with no more than a nod.
Below you'll find my grilled-fish-filled, house-wine-drenched, tried and tested suggestions on where to eat in the Algarve.
I've only included places I've personally been to and can attest as the very best spots to eat in the Algarve, so if you have any suggestions please drop a comment below or reach out. I'm always hungry.
Best places to eat in the Eastern Algarve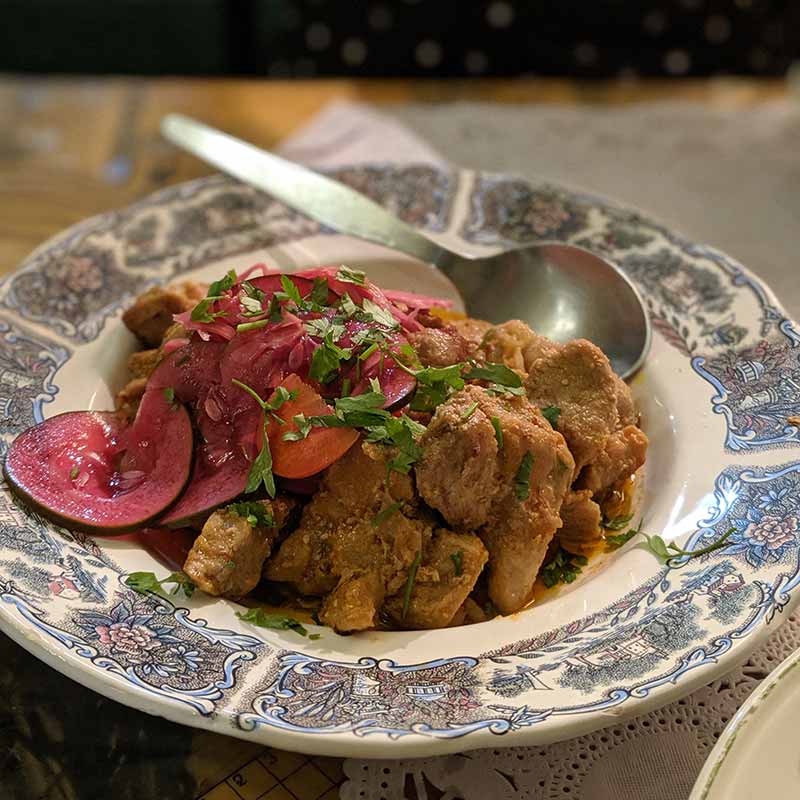 This sweet little rustic restaurant in Faro feels more like someone's grandmother's lounge room and dishes up small plates and small prices, making it easy to split and share half a dozen snacks over wine. Portugal doesn't do tapas, these are petiscos. It's cosy, comforting and everything is made from scratch.
Price: $
Where: Rua do Compromisso 60, Faro
Reservation: Recommended
Nearby: Wander the old town, visit the Capela dos Ossos, take a ferry to Ilha Deserta or Ilha do Farol, go dolphin watching.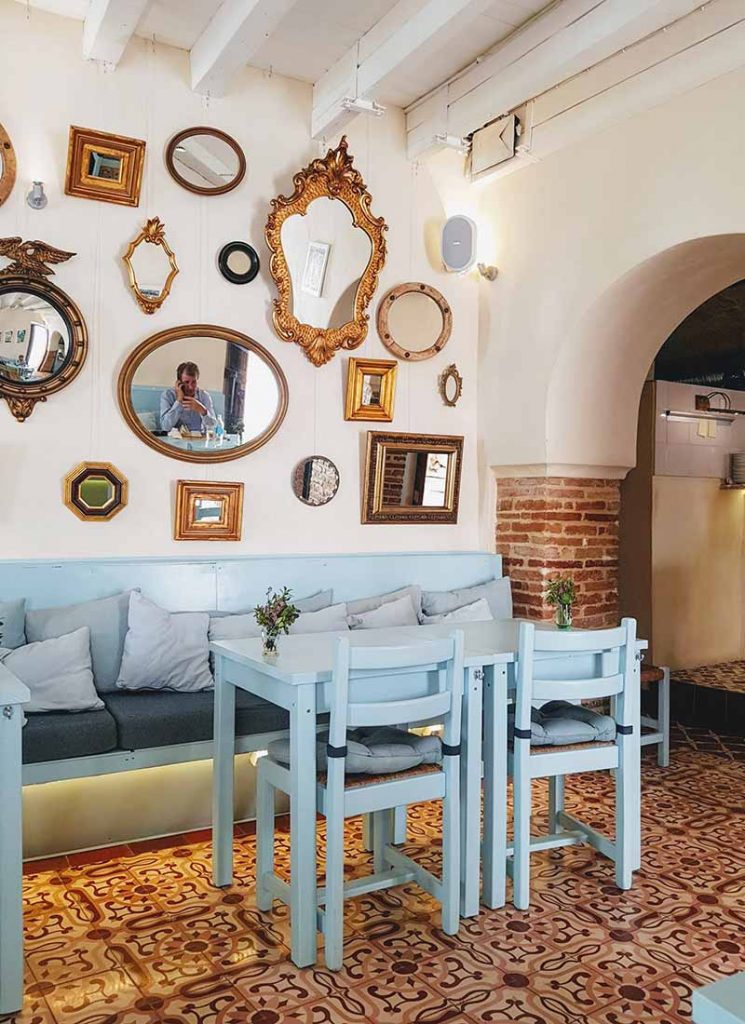 Summer here means a handwritten menu full of sardines, mussels, figs, tomatoes and anchovies, all collected from the local market by the Ria Formosa each morning. Fresher than fresh, this is the best place in the Algarve to taste the seasons. Former journalist Kevin Gould shipped himself to Olhão in 2018, renovating a heritage space and opening this relaxed diner. Simplicity is key here and good local ingredients are left to shine.
Price: $$
Where: Travessa do Gaibéu 19, Olhão
Reservation: Essential
Nearby: Wander the charming old neighbourhood, explore the local market and catch a ferry to a sand island. Next door is Santa Maria Madalena, a little gluten-free bakery cut of the same cloth.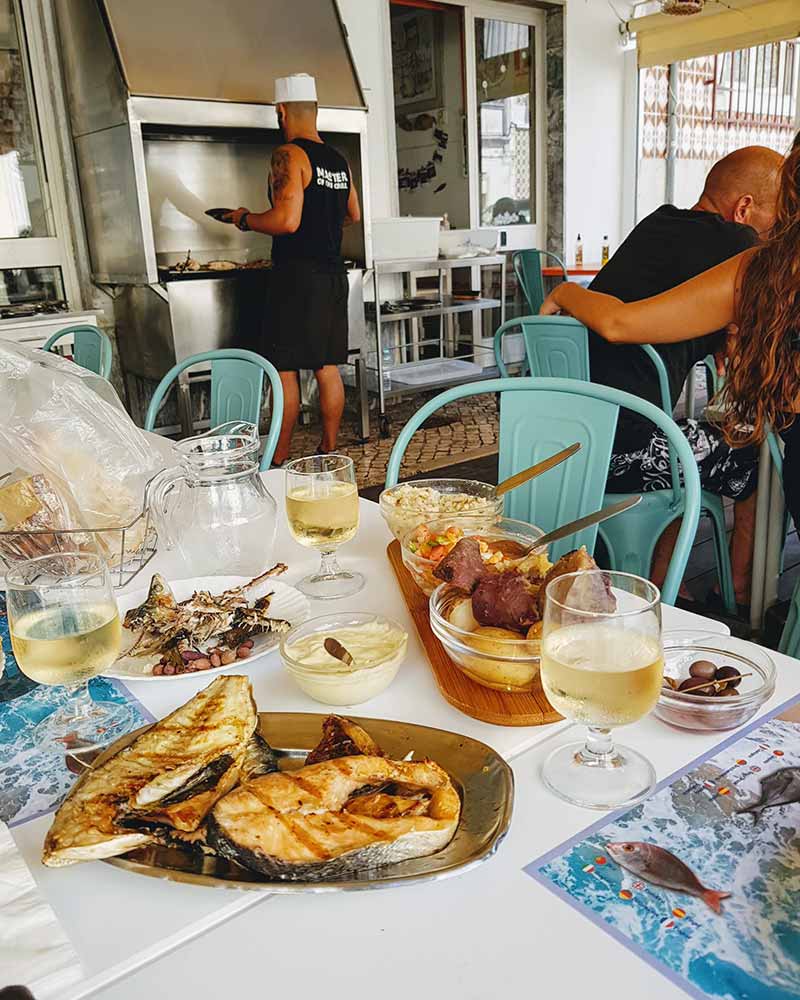 If you love freshly grilled local fish, this all-you-can-eat fish barbecue is the spot. Taste your way through half a dozen types with sides of sweet potato, tomato salad and açorda (like mashed potato, but with bread) for about €12. The fish and the sides keep coming until you say stop.
Price: $
Where: Largo do Grémio Nº2, Olhão
Reservation: Not needed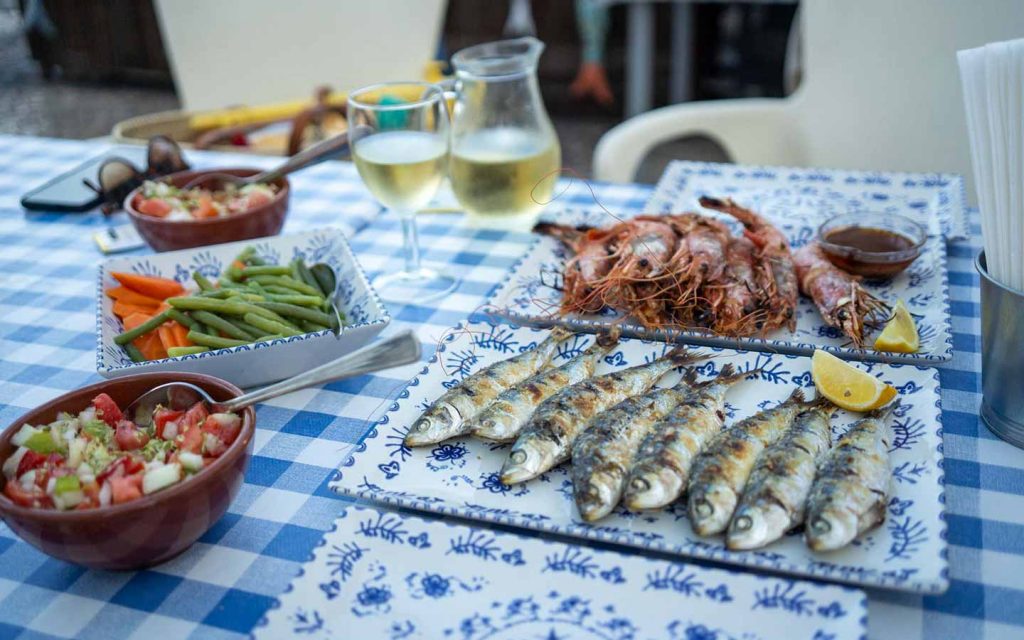 I've never tasted prawns so sweet and magnificent as at Casa Corvo. They were so good we returned the next night to repeat the experience just to make sure we weren't dreaming, and then again two days later. Set in the small unpretentious fishing village of Fuseta, what this fish grill lacks in ocean views, it more than makes up for with perfectly grilled seafood and the friendliest of staff. Former Masterchef Australia judge Matt Preston calls the restaurant next door, Cafe dos Mestres, his favourite place to dine in the world. We went there the night before discovering Casa Corvo, and thought he might have almost been onto something. Then we discovered Casa Corvo and boy, Matty, you were so close to finding actual heaven on earth. An essential stop.
Price: $
Where: Largo 1° de Maio, Fuseta
Reservation: Walk-in only. Arrive early because the waiting list fills up quickly
Nearby: Visit the local market, laze about at Fuseta's beach, or take a short ferry to the sand island bank.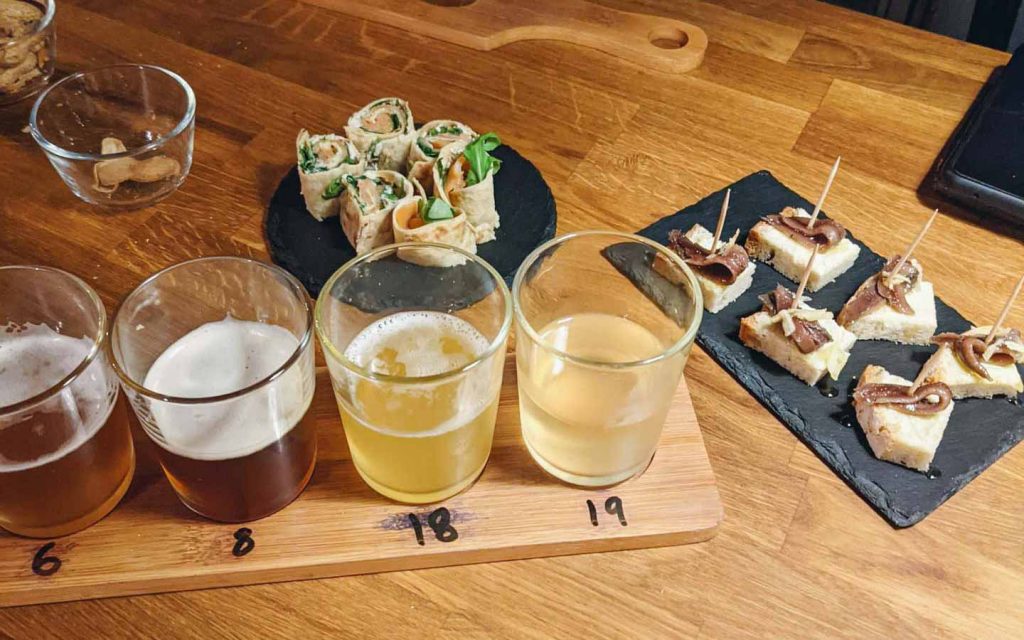 A tiny Norwegian craft brewpub in a Portuguese fishing village? You bet. NanoBrew was a surprise find in Fuseta. It's open just three nights a week and yet the list has 16+ different beers all brewed on premises. Beer tasting plus Norwegian petiscos, sold. P.S. they do take away beer.
Price: $
Where: Rua Dr. Virgílio Inglês 114, Fuseta
Reservation: Not needed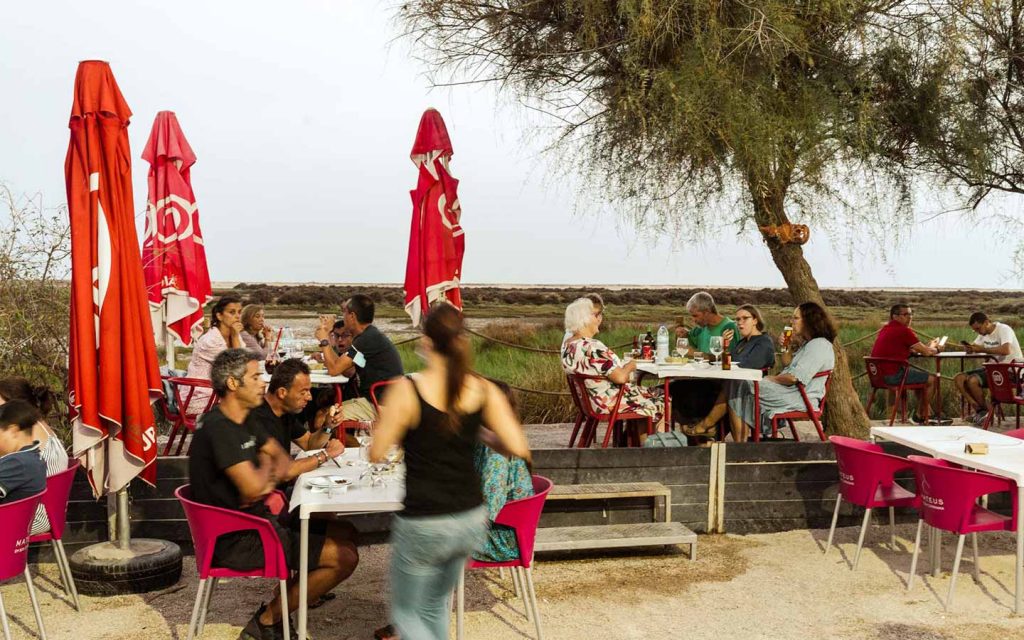 Spend a day in the eastern Algarve and you'll spot people bent over, hands digging at the sand looking for clams. Given the perfect location by the Ria Formosa, it's surprising to see so few places serve fresh oysters, clams, mussels and pipis. But you can get your shellfish fix at this relaxed waterfront spot.
Price: $$
Where: Pinheiro, Luz
Reservation: Recommended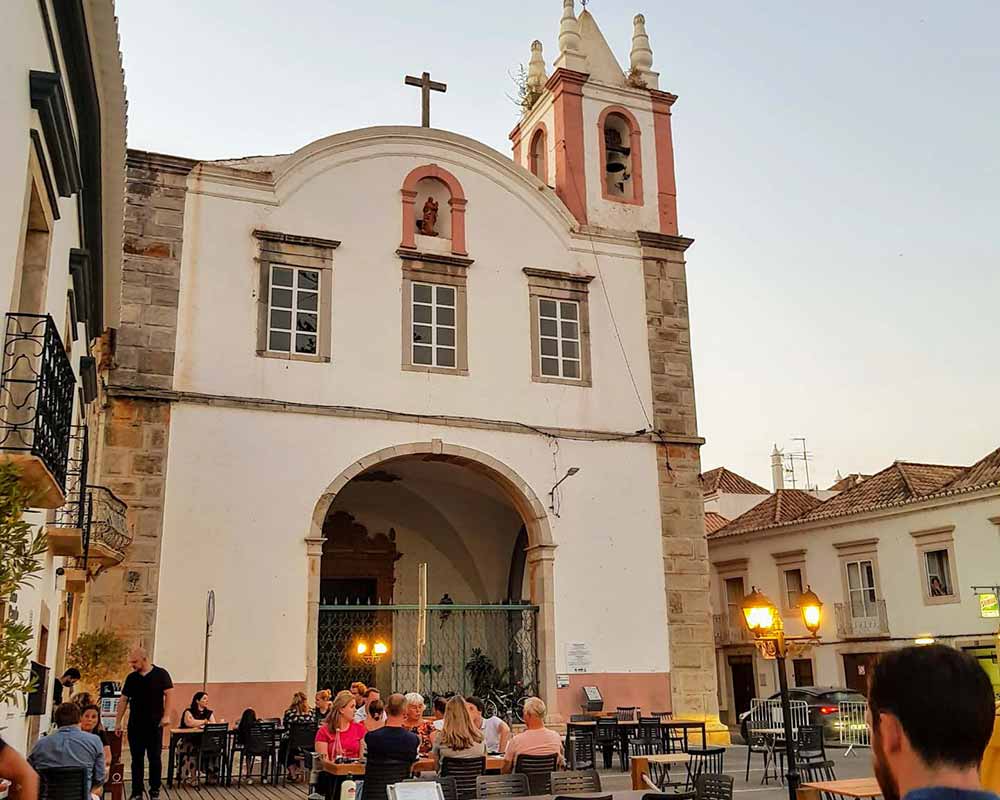 Often winning acclaim as the most beautiful town in the Algarve, Tavira is worth staying the night or at least spending the day. Popular with French-speaking tourists, there are plenty of chic restaurants worth booking a table at around the historic centre. À Mesa is one of those, offering a menu of upmarket share plates where its terrace spills out beneath an old church on one of the main squares.
Price: $$
Where: Pinheiro, Luz
Reservation: Recommended
Nearby: Walk the castle gardens, explore half a dozen churches, see Roman ruins, visit the local market, take a ferry to Ilha de Tavira.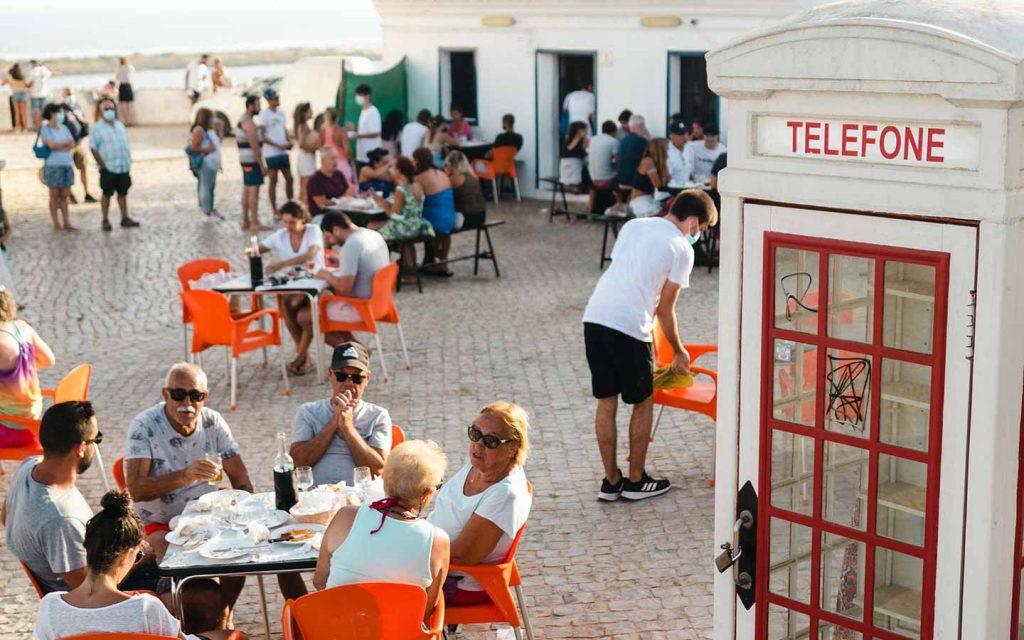 The door burst open at 4.30pm sharp and three young men waltzed out with more tables, ready for the non-stop onslaught of orders. Oysters, clams, fresh presunto, flaming chouriço, bottles of white wine and generous mounds of bread fly across the square. A white cat stalks between the tables, artfully avoiding children while lurking for scraps as the sun sets on another amazing day.
We'd heard about this popular seafood shack that spills out over the church square. Eager not to miss a table, show up 10 minutes early like we did and wait with dozens of others in a religious-like silence for the show to begin. Definitely some of the best seafood I've eaten in the Algarve.
Price: $$
Where: Rua de Cacela Velha 2, Cacela Velha
Reservation: Walk-in only
Nearby: Time it for low tide and walk across the sand flats to the oceanfront, or take a small ferry boat.
RELATED BLOG: 14 best things to do and see in the Algarve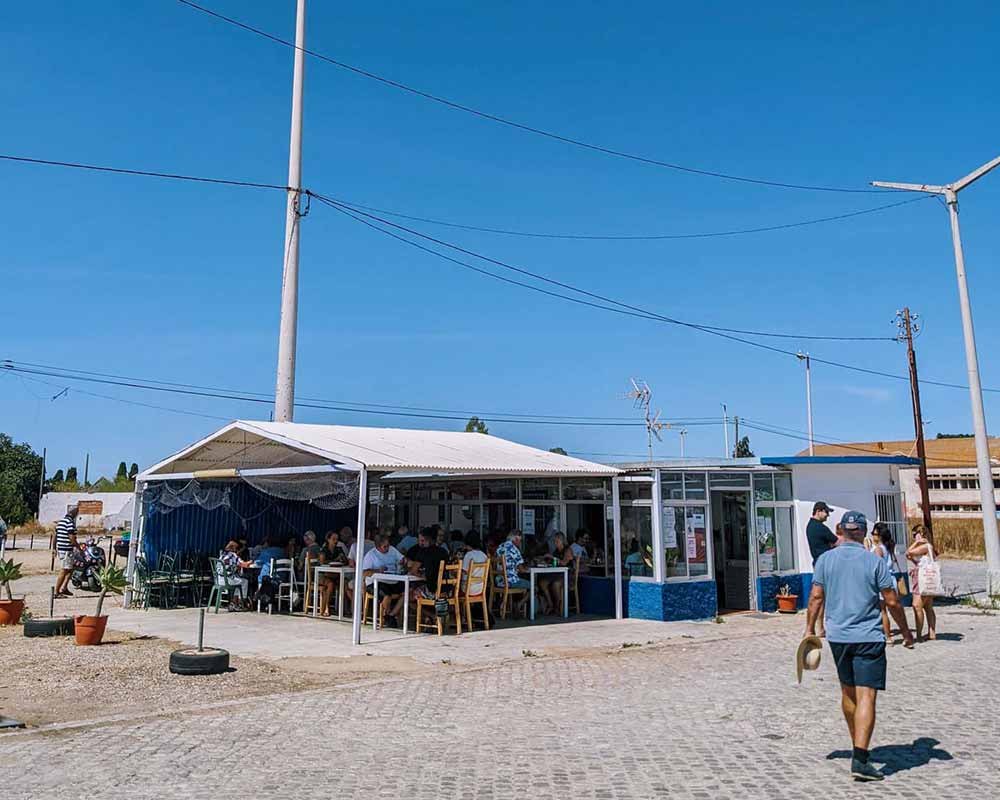 Raw, rough and rustic, this fish shack came as a welcome suggestion from Chá Chá Chá's Kevin Gould. After waiting some time for a table, I got in trouble for peeping at the fish counter. You see, once you get your table you have to wait your turn to order. Choose your fish from the counter, once it's weighed it'll be grilled and at your table in no time.
Price: $$
Food: Fish
Where: Dodgy spot down by the riverfront
Reservation: Walk-in only
Nearby: The beach by VRSA is super lovely, or better yet cross the bridge into Spain and visit Ayamonte.
Best places to eat in the Western Algarve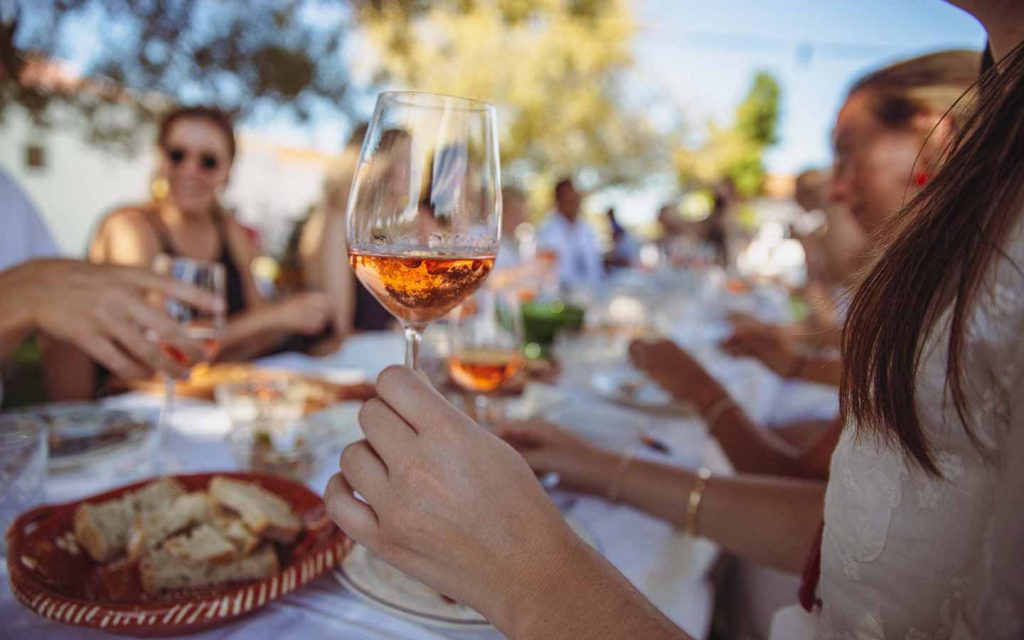 Clink glasses at a long white-clothed table beneath a 2000-year-old olive tree and taste the terroir behind you. The Algarve isn't known for its wine, but Morgada do Quintão is trying to change that. Founded by the Count of Silves in the early 1800s, the estate is still owned by the same family and while a long legacy ties some down that's not the case here. Disrupting the status quo, for the past four years they've been making wines that speak to the land.You can taste them over lunch or a board of local cheese and charcuterie.
Price: $$-$$$
Food: Mediterranean
Where: Morgado do Quintão, Lagoa
Reservation: Essential
Nearby: Nada. You don't need anything else when you're on this estate, but Silves isn't far.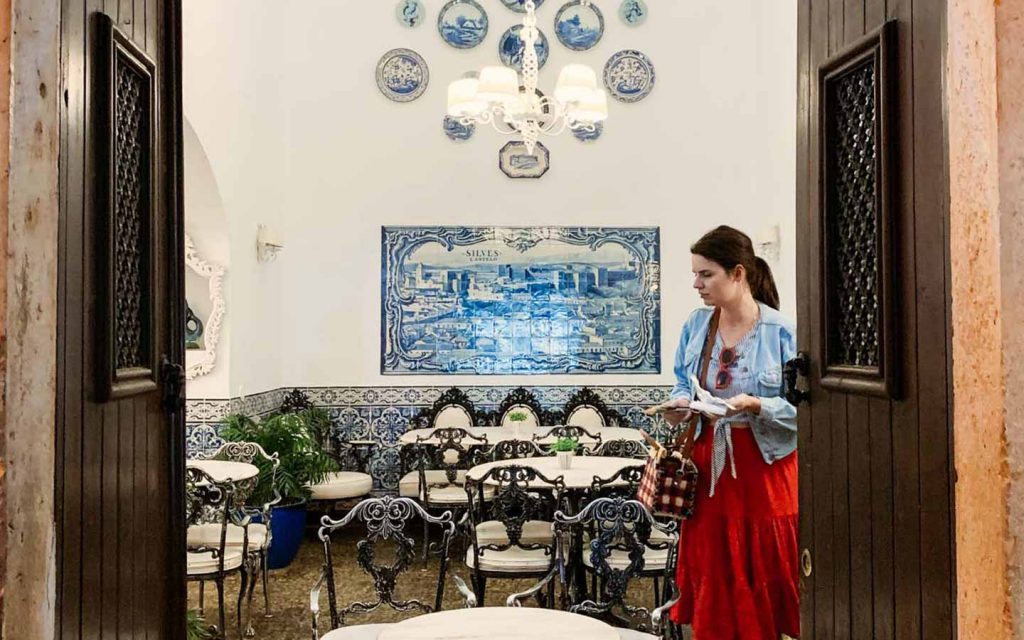 Those with a sweet tooth should drop into the Algarve's prettiest cafe. With plenty of blue-and-white azulejos, this little cafe in the historic centre of Silves dishes up a great Dom Rodrigo (typical Algarvian dessert) and on a regular day the terrace spills out onto a square. On the day we went, it spilled out into the middle of a medieval fair. We bought grilled meats from a man wearing hessian and drank wine from specially made terracotta tumblers – no details spared for Silves' Medieval Fair.
Price: $
Food: Sweets
Where: Largo do Município 7, Silves
Reservation: Not needed
Nearby: Wander the historic centre and ancient castle of Silves.
A Ria, Ferragudo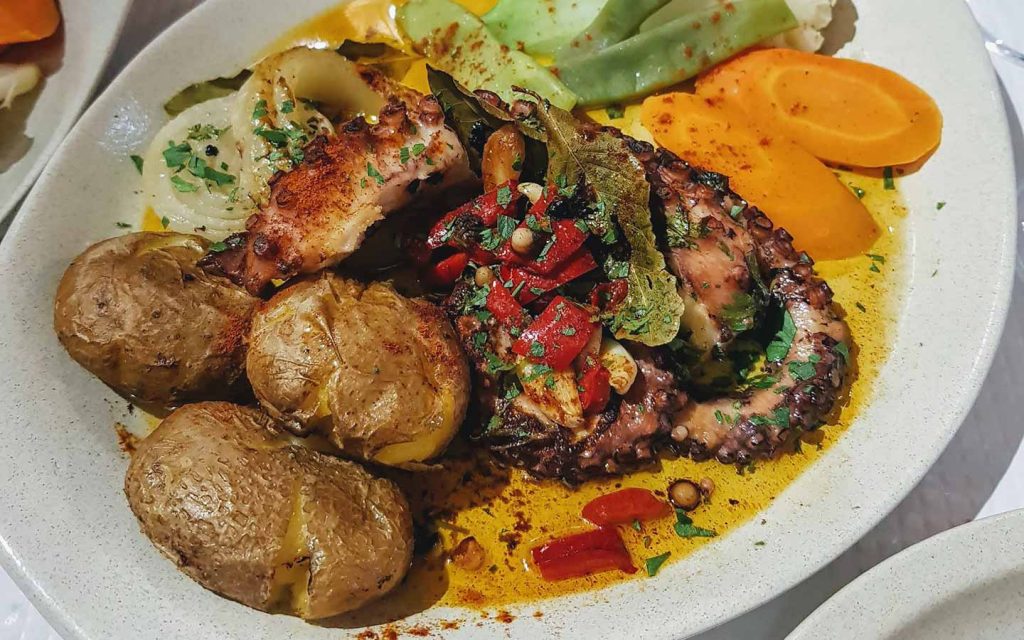 In photographs the tiny fishing village of Ferragudo looks like a dream, and in reality the photos don't lie. Tiny boats bob in the harbour, a castle overlooks the beach to one side and small white-washed houses with colourful doors snake up cobbled streets covered in blooming purple bougainvillea. Along the Arade River, every restaurant seems to have a huge outdoor grill on the street where the catch-of-the-day is salted and left over charcoal. A Ria is one of those spots.
Price: $$
Food: Grilled fish and meat
Where: Rua Infante Santo, Ferragudo
Reservation: Recommended
Nearby: Wander the village and check out Castelo de São João do Arade and the beaches that fall either side.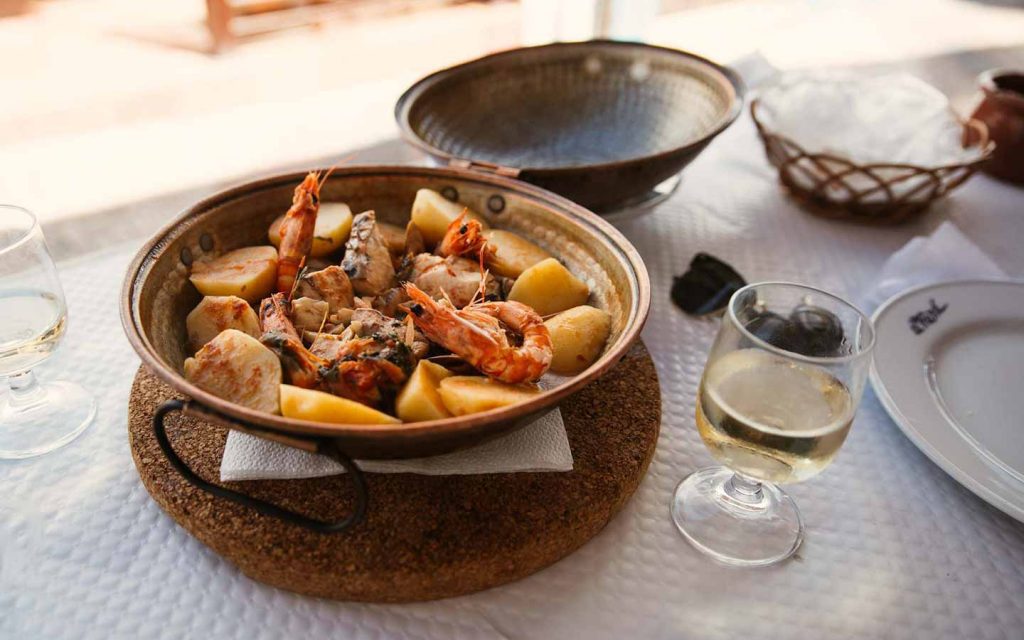 You should eat seafood out of a giant copper clam in the Algarve. Called a cataplana, this cooking pot and method is unique to Portugal's southern coast. With a hinge at one end and clasp at the other, the copper clam-like pan is closed up with fish, seafood, potatoes, vegetables and liquid to make it all steam while cooking. We figured this well-known seafood restaurant would best one of the best places to try cataplana, and it was.
Price: $$
Food: Seafood
Where: Largo da Barca 9, Portimão
Reservation: Recommended
Nearby: Portimão's main beach, Praia da Rocha, is overrun in the summer. Around the corner Praia dos Três Castelos is more peaceful.
Outside the big cities finding specialty coffee is a challenge, but of course, Lagos is where the Australian crowd flock to in the Algarve and it's here you'll find a handful of new-wave cafes. Black & White is one of them. Great coffee, excellent breakfast burrito and top avocado toast, Aussie style.
Price: $
Food: Brunch
Where: Rua Marreiros Netto 40, Lagos
Reservation: Not needed
Nearby: Lagos historic centre, explore the local market, then head out to famous beaches like Praia dos Estudantes, Praia do Camilo and Ponta da Piedade.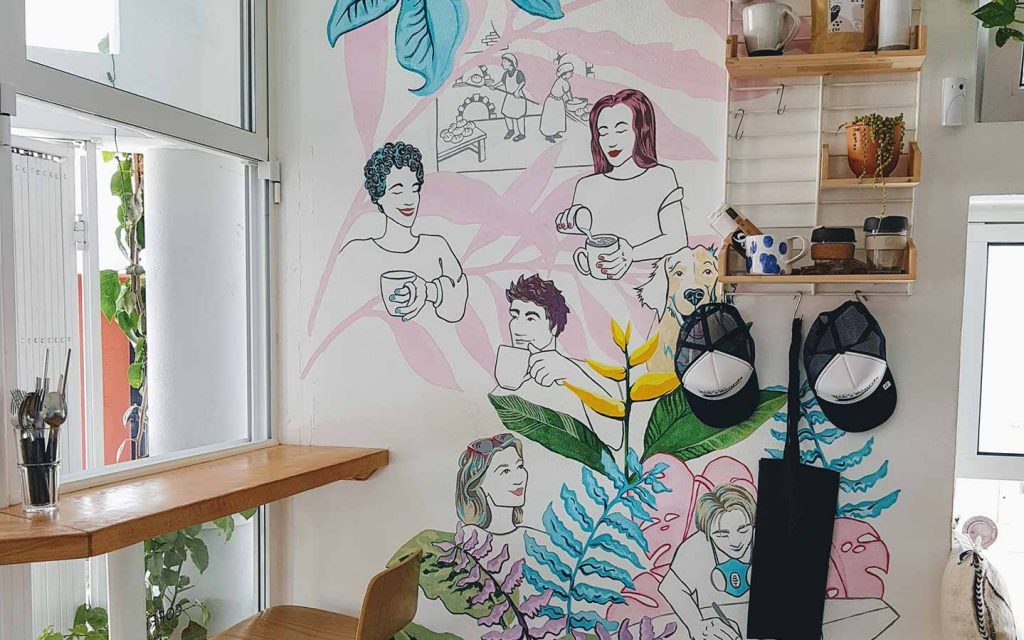 The other Lagos coffee shop I'm a fan of is Coffee & Waves. This one makes cold brew too, perfect for taking to the beach and for adventures further afield. Apparently now they're popping bottle of natural wine too.
Price: $
Food: Brunch
Where: Travessa do Cotovelo 10, Lagos
Reservation: Not needed
As the name alludes to, this spot is all about petiscos so arrive ready to share. This unsuspecting little restaurant just outside the old town walls is a worthy stop. The place itself is chic, but the prices and people are local. At lunch, €10 gets you the prato do dia, soup, a drink and coffee.
Price: $
Food: petiscos
Where: Rua José Afonso 12B, Lagos
Reservation: Not needed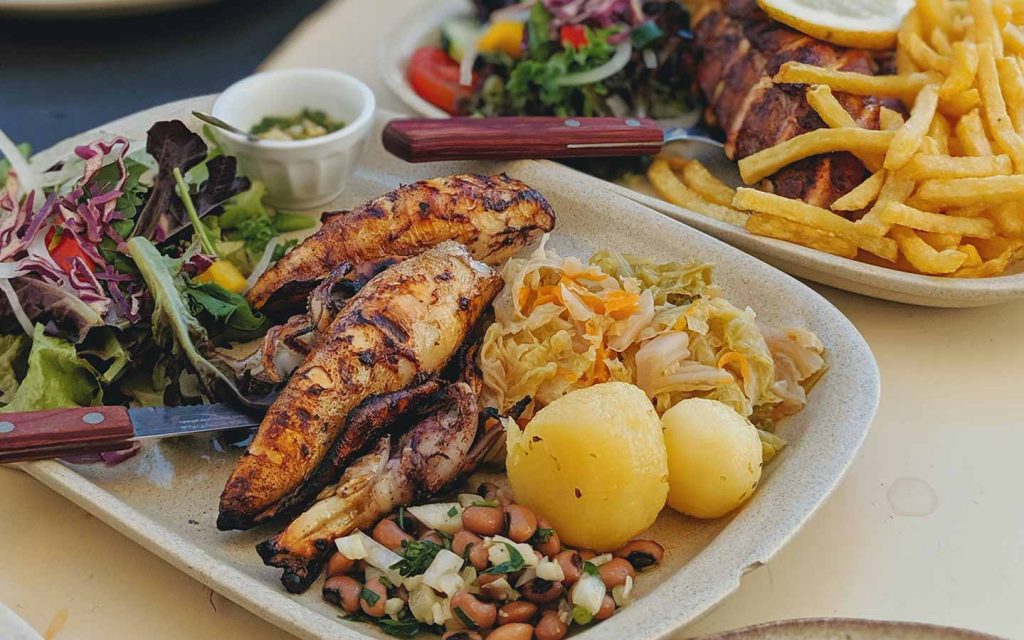 Sagres is a town that feels like it's at (or perhaps even slightly beyond) the end of the earth. Often windy and cold, even in summer, the most south-western village in Portugal dramatically juts out into the Atlantic Ocean atop sheer rock cliffs. We stayed on this suburban street in Sagres at a surf hostel that happened to be next to the town's only nightclub. We never went clubbing, but we did see crowds milling around this restaurant every lunch. A takeaway frango no churrasco (grilled chicken) purchased for a cliff-top picnic was so good we returned the next day for an equally delicious lunch.
Price: $$
Food: Portuguese
Where: Rua dos Murtórios 4, Sagres
Reservation: Recommended
Nearby: Stand at Cabo São Vicente, explore the Fortaleza de Sagres, learn to surf, shop ceramics at Paraiso.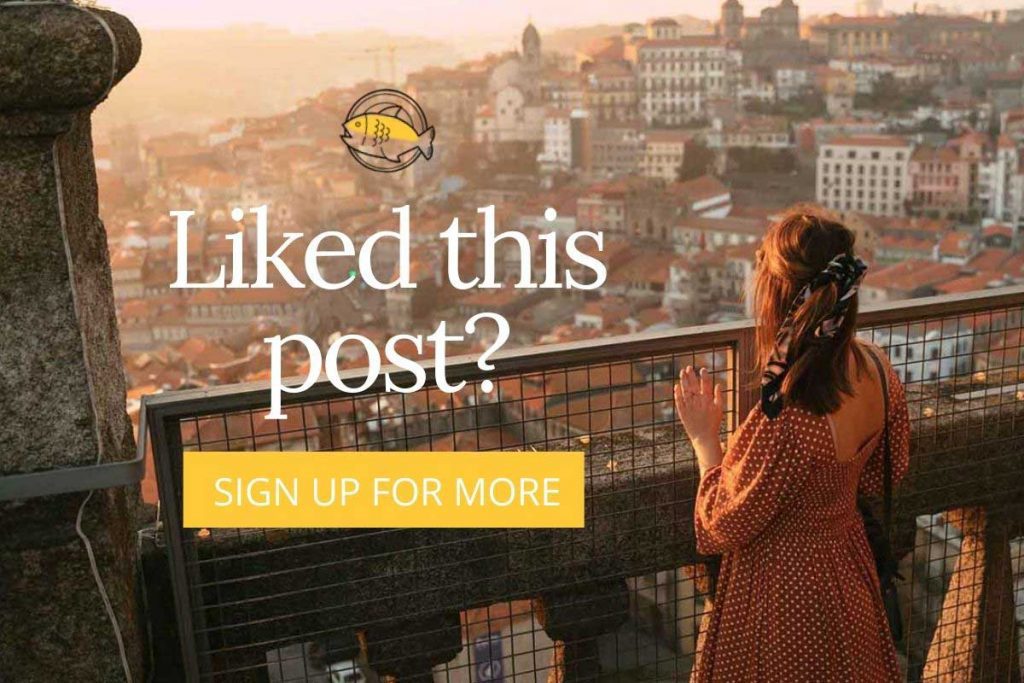 That's my list of the best places to eat in the Algarve. Have I missed anywhere good or added new spots to your own list? Leave me a comment <3