Portugal's sixth largest city has ended up with an unfortunate nickname: the Venice of Portugal. Aveiro is a beautiful, charming little city but it's not Venice and if you arrive expecting endless canals and a romantic city revolving around water, you'll be disappointed.
But forget the tragic marketing attempt and imagine this fantasy instead: a petite old city where traditional brightly coloured moliceiro boats traverse a handful of wide canals lined with picture-perfect pastel art nouveau buildings. University students clink beers in the sunshine, tourists snack on golden ovos moles sweets, fishermen bring in the catch of the day and locals pile into cars headed for the seaside.
The Portuguese city of Aveiro has a soft spot in my heart. Beyond being absolutely stunning and full of incredible architecture and unusual tiles it's where some of my partner's family live. That means I've spent a fair chunk of time in this small university city.
Here are my favourite things to do and see in Aveiro.
1. Explore Aveiro's canals by moliceiro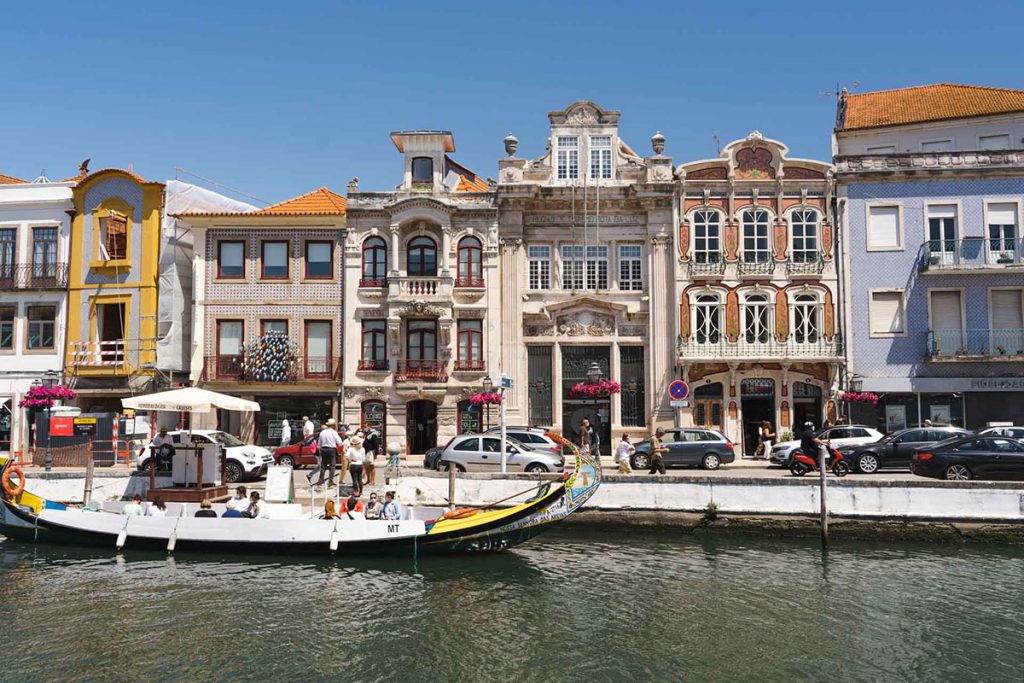 Again: not Venice. But do take delight in exploring the handful of pretty canals that divide Aveiro's old town centre. Fed by the nearby tidal sea lagoon, they are a unique part of the city and are lined with some of the most incredible art nouveau houses.
You can wander alongside the canals, of course, but why walk when you can cruise about in a colourful and historic moliceiro boat. Originally made to harvest seaweed in the lagoon, which was once used for fertiliser on nearby farms, they're now just for tourists and a ride will set you back about €13. Take a close look at the artwork at the tip of each boat… some pieces are quite risque.
2. Wander the historic centre of Aveiro
You never know what you'll find in Portugal. One January day we stumbled on a festival in the city centre and joined the locals in a square surrounding a small hexagonal chapel (Capela de São Gonçalinho). A restless crowd was gathered with fishing rods, basketball hoops and umbrellas. From the roof of the chapel, someone started throwing cavacas (basically stale bread coated in sugar) into the sky. I've never seen old ladies move so fast, using their elbows to muscle their way into prime position. Jorge managed to catch one of the inexplicably highly prized breads and an 80-something-year-old woman demanded he give it to her, even though she had a whole bagful of them. He didn't.
Without celebration, there is still plenty of beauty to behold. At the start of the 20th century emigrants who made fortunes in Brazil returned to the city and built lavish art nouveau-style homes for themselves. Wander through the old centre or follow the Art Nouveau trail to check out the most special and ornate buildings including the Art Nouveau museum. Aveiro also has some incredible azulejos unlike those found in Porto or Lisbon too.
3. Eat ovos moles
Every town in Portugal has unique egg-based sweets linked to the local convents or religious sector. Here in Aveiro the sweet egg and sugar treat is ovos moles, which literally means "soft eggs". Super simple and delicious, a golden, creamy egg yolk and sugar filling is stuffed inside thin wafer paper, which is shaped to resemble things such as clams, seashells, fish and barrels. I adore them and my favourite store is the oldest in Aveiro. Started in 1856, Peixinho's ovos moles are worth buying for the packaging alone.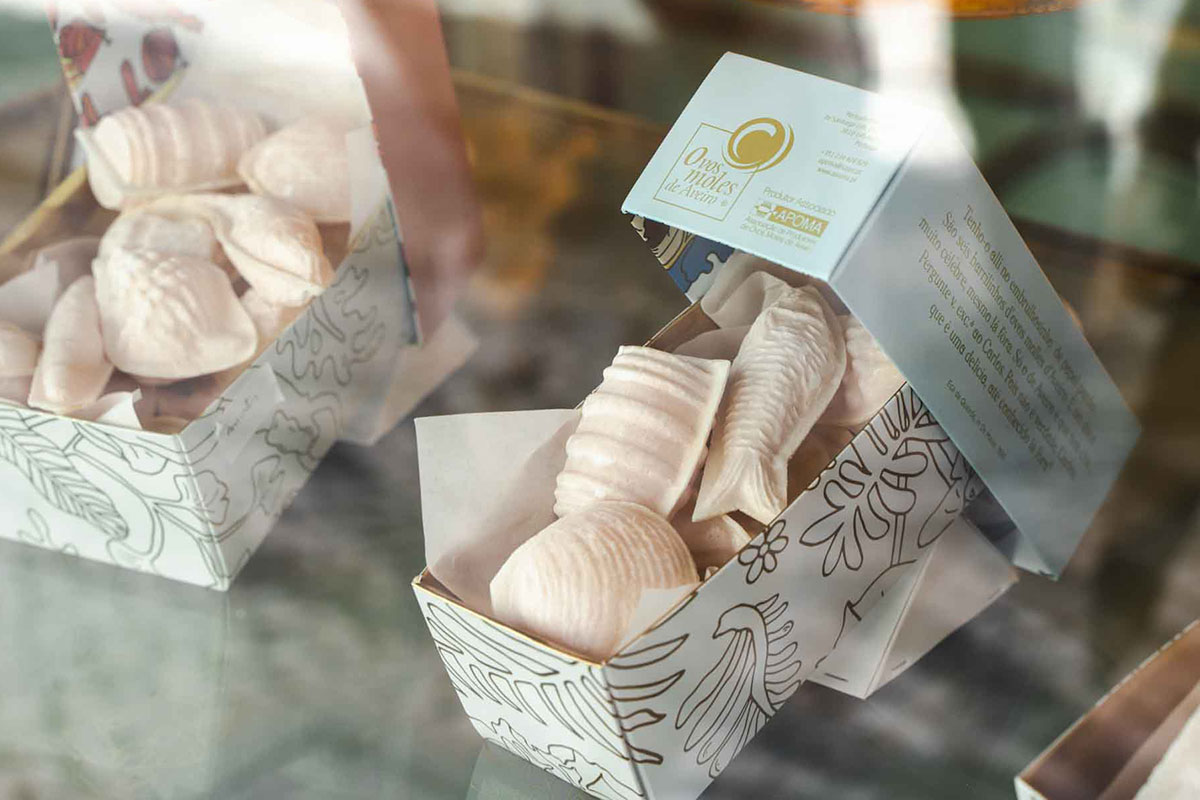 4. See the striped houses of Costa Nova
The vibrant striped old fisherman's cottages of Costa Nova are one of my favourite sights in Portugal. These old shacks used to house fishing gear, but now house tourists. Make time to head over to the thin strip of land that divides the wild Atlantic Ocean and the calm Aveiro lagoon, to explore the brilliant life-size doll houses, ideally with a tripa de Aveiro in hand.
The best houses are found on the lagoon side, where many are now guest houses or seafood restaurants. The sunset from the wild beaches beyond the dunes is incredible.
While Aveiro is a popular beach destination, you'll need a car (or patience for the bus) to drive the 10km between the city and Costa Nova, or the other beachside area called Barra.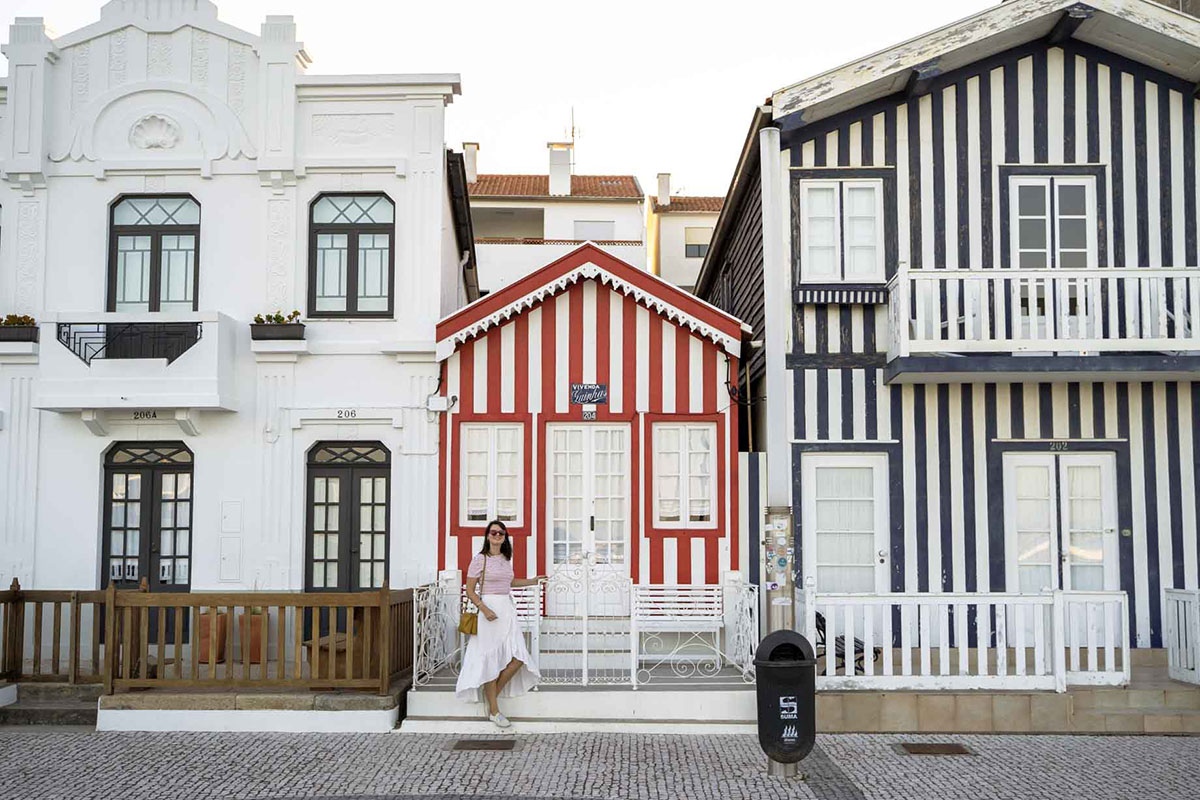 5. Eat tripas de Aveiro
Don't confuse tripas a moda de Porto with tripas de Aveiro. Order the former and you'll receive a hearty dish of stewed tripe and offal. Order the latter and enjoy a soft, freshly cooked crepe filled with chocolate or ovos moles filling and dusted with cinnamon. It's a tradition of the Costa Nova area and you'll see little stands along the roadside.
6. Learn about local life at the train station
Aveiro is well placed about an hour south of Porto and around 2.5 hours north of Lisbon, regardless of whether you drive or take the train. Arriving by train gives you the chance to check out the recently refurbished Aveiro train station, which has an exterior of magnificent tiles from 1916. Okay, it's nothing like São Bento Station in Porto but well worth a look to see the blue-and-white scenes of Aveirense life back in the early 20th century.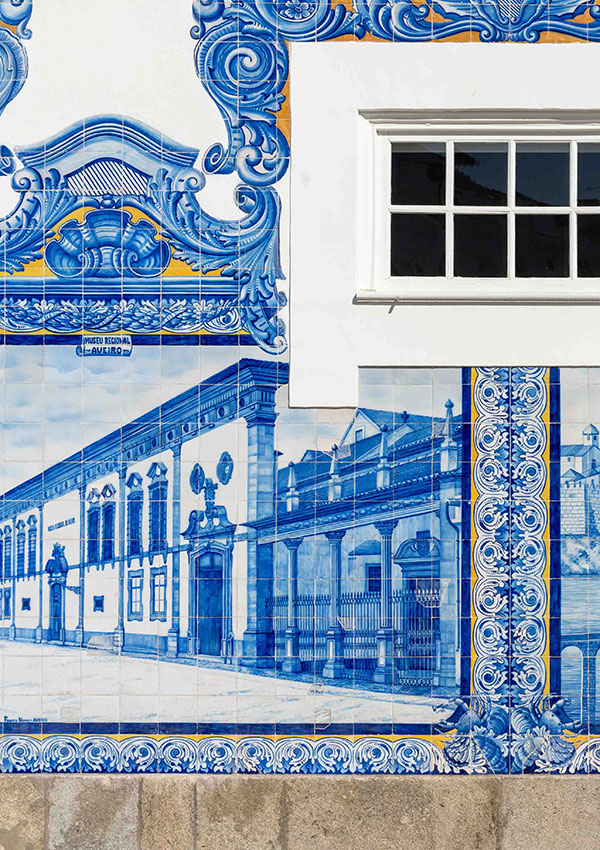 7. Seek out the market
I love nothing more than wandering through a busy Portuguese market hall. Early morning is the best time to seek the catch of the day at Aveiro's Mercado Manuel Firmino and witness the hall heaving with busy vendors and customers. Inside you'll find everything from fruit and vegetables to fish, meat and cheeses, to biscuits, beans and booze.
8. Visit the Art Nouveau Museum
Housed in arguably the most beautiful and ornate of the Aveiro's Art Nouveau buildings, the Museu Arte Nova de Aveiro is well worth a look and inside you'll find a super cute cafe. Spend an hour exploring the history of art nouveau design and culture, then stop for a coffee and cake in the super cute courtyard. When I popped through there was a great temporary exhibit that covered art nouveau advertising, print design and typography, and the permanent exhibition had a brilliant video covering the social and political landscape that gave birth to this style.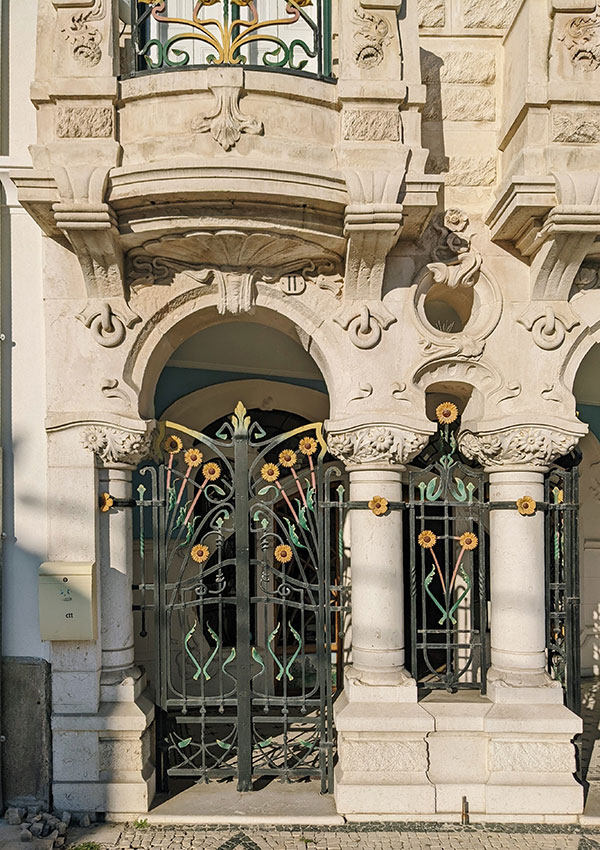 9. Explore the Vista Alegre factory and museum
If you're interested in the history of ceramics, just outside Aveiro is the original, still functional Vista Alegre factory. The pottery workshop has been producing some of the finest china for more than 200 years and it still employs some 700 people. There's a 17th-century palace, small chapel and whole village (complete with a theatre) originally built for the workers, plus the museum has 30,000 pieces on display including old kilns.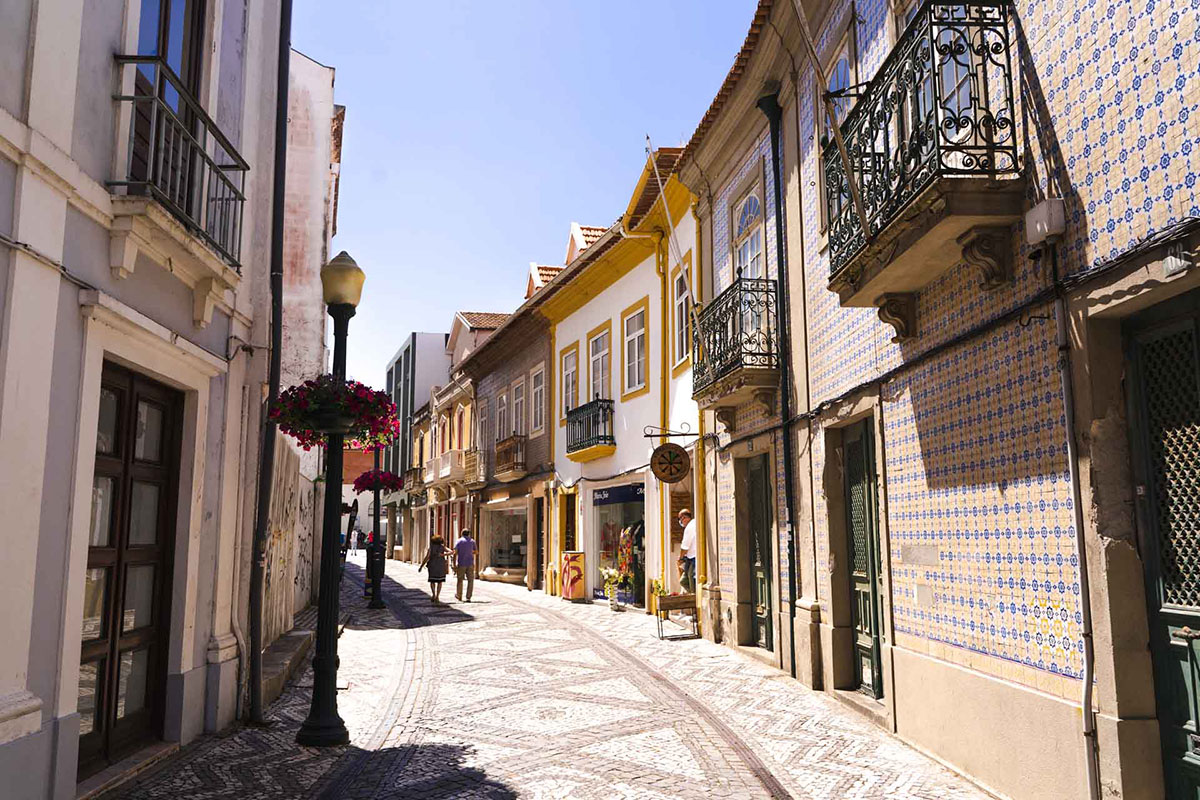 10. Wander an enchanting city park
If you love the romance of a great city park, wander through the enchanting 19th-century Parque Infante Dom Pedro. With a huge pond, little bridges, a historic tea house, covered walkway, art nouveau bandstand, tiled panels, fountains and a cave there is plenty to explore and lots of grass for a picnic.
11. Bath in the salt pans
With the wide, tidal lagoon it's no surprise that Aveiro is a salt city. Here businesses still produce flor de sal and table salt with the tides, which you can learn more about at Ecomuseu Marinha da Troncalhada or Cale do Oiro, where you can also strip off and dive into a salt pan yourself. We did this once in the Algarve and while Jorge enjoyed it, the salt tingled my skin so much I found it quite uncomfortable. But you do leave the minerally salty water feeling like a new person and it's worth trying at least once.
Other things to do in Aveiro
Where to stay in Aveiro
Aveiro is super walkable, so I'd still suggest somewhere in the historic centre where you can be close to all the action. Or if you're after a beach escape, the nearby Costa Nova is only a short drive or bus ride away.
In Aveiro's art nouveau centre  I'd look at Avenida 60 Premium Apartments, Sleep in Centre, Vera Cruz Suite Apartment or Aveiro Rossio Bed & Breakfast. 
Or if you want to stay in Costa Nova by the beach, check out three-star Costa Nova Hotel, apartment Villa Rafa, or even sleep in one of the iconic striped fishermen's huts at Palheiro Costa Nova.
How to get to Aveiro
From Porto
Just south of Porto, Aveiro is a 50-minute drive or train ride from the centre of Porto. It's cheap to visit with public transport as you can use the Porto transport card.
From Lisbon
Aveiro is a 2.5 hour drive or train ride from Lisbon. Any train to Porto will stop at Aveiro, so take your pick from Santa Apolonia Station.
Photos by Jorge Branco and Daniela Sunde-Brown