One question I get asked a lot is where is the best spot to eat octopus in Lisbon. It seems every traveller coming to visit wants to try great octopus dishes in Portugal, whether that's a traditional Polvo à Lagareiro or a simple octopus salad.
It's true – octopus is a favourite ingredient in Portugal. There are stacks of traditional recipes, and even more modern ones, that make use of the unusual seafood. You'll never find it raw here, always cooked.
While it's common to find octopus on menus across the country, not everywhere offers it and not every restaurant cooks it well. Cooked octopus should be tender and delicious, not tough and chewy. It's quite common to freeze the sea creatures before cooking to tenderise the meat (the modern equivalent of bashing it against a boat for hours).
If you want to guarantee a great octopus meal in Portugal, read on to discover my favourite modern and traditional octopus dishes and the Lisbon restaurants, tascas and bars that serve them.
Have an octopus suggestion for me? Leave a comment at the bottom of the post…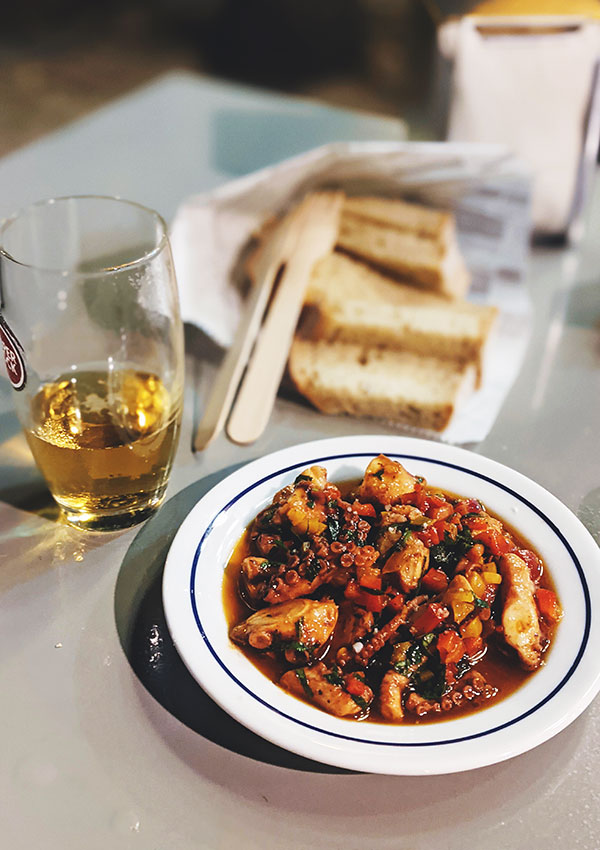 Traditional octopus salad – Quiosque de São Paulo
This little red kiosk in downtown Cais do Sodré isn't like the others. It's run by the same people behind the beloved Taberna da Rua das Flores and hours of real kitchen prep must go into the snacks that are served from this tiny space. One of the top things to order is the octopus salad, which I'd argue is easily one of (if not) the best octopus salads in Lisbon. Think pieces of cooked octopus chopped up with finely diced red and green peppers, onion, coriander/cilantro, olive oil, white wine vinegar and salt. Quiosque de São Paulo serves a small portion, but the price reflects that, and you could order a second if that's not enough (or top up with the legendary fried squid sandwich).
Related Blog: Where to find the best Portuguese street food and snacks in Lisbon
Modern octopus salad – Corrupio
While the traditional octopus salad is hard to beat, I recently loved the modern take at Corrupio. This small restaurant, also in Cais do Sodré, is absolutely beautiful inside with a huge wrap-around bar covered in custom tiles. The octopus salad here is served with pureed purple sweet potato that pops on the plate.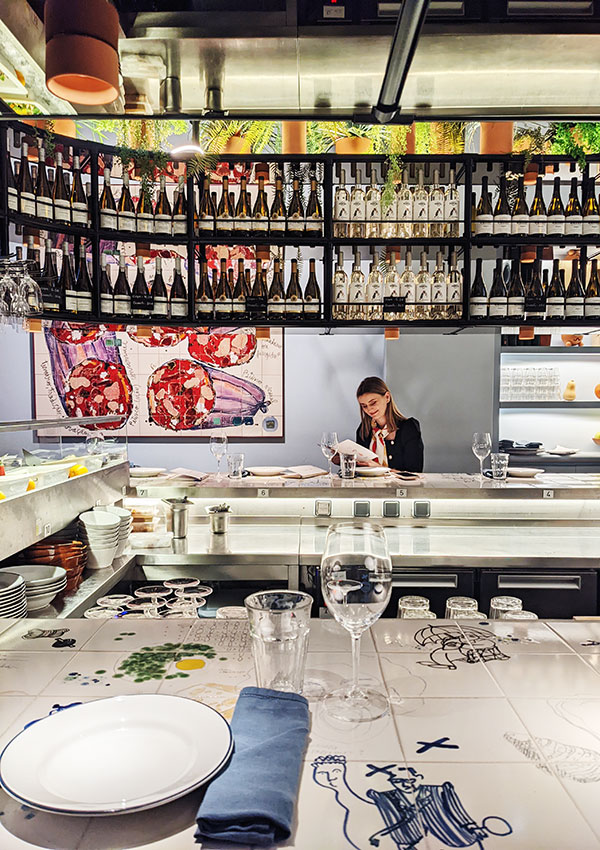 Classic Polvo à Lagareiro – Adega das Gravatas
It's said Adega das Gravatas serves the best Polvo à Lagareiro in Lisbon – and who am I to argue? At this famous spot on the outskirts of the city you'll find a dining hall filled with ties (gravatas) and a local crowd diving into the house specialties, including the octopus with olive oil and potatoes.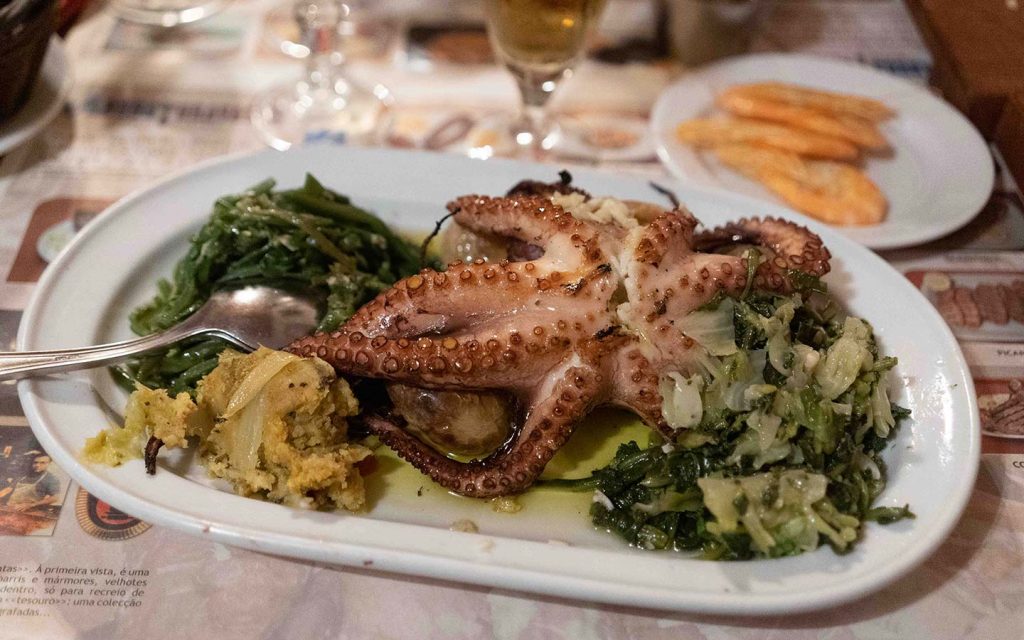 Octopus with potatoes – Petisco Saloio
This small Portuguese restaurant often flies under the radar but it's one to book for some of the best petiscos (small plates) in Lisbon. At Petisco Saloio you'll find slightly modern twists to very traditional recipes. On our most recent visit we ate a dish of delicious octopus tentacles with baked potatoes and enchidos (smoked sausages).
Not-your-Avó's octopus rice – O Velho Eurico
The original O Velho Eurico might have been the first place I tried Polvo à Lagareiro, a very traditional dish where whole tentacles are roasted in the oven with seemingly unlimited olive oil and garlic, and served with crunchy baked potatoes. While Mouraria spot is now a sought after modern tasca, its heart and soul are still of the people. Most recently young chef Zé Paulo Rocha is serving up crispy chunks of octopus with sticky Carolina rice and bay leaf dust. Phenomenal, but seasonal.
Baked octopus – Tasca Baldracca
In Galicia, the region of Spain that shares the far north border with Portugal, they commonly catch octopus in the rough Atlantic Ocean. There they slice each tentacle into bite-sized pieces and dress it with olive oil and paprika. Recently we ate octopus here that had a Galician feel crossed with Portugal's classic Polvo à Lagareiro. Super good. Tasca Baldracca is one of Lisbon's brilliant modern tascas (bistros, taverns) that offers good value eating and traditional recipes. It also serves up a deep-fried pastry pocket filled with octopus that is meant to be excellent.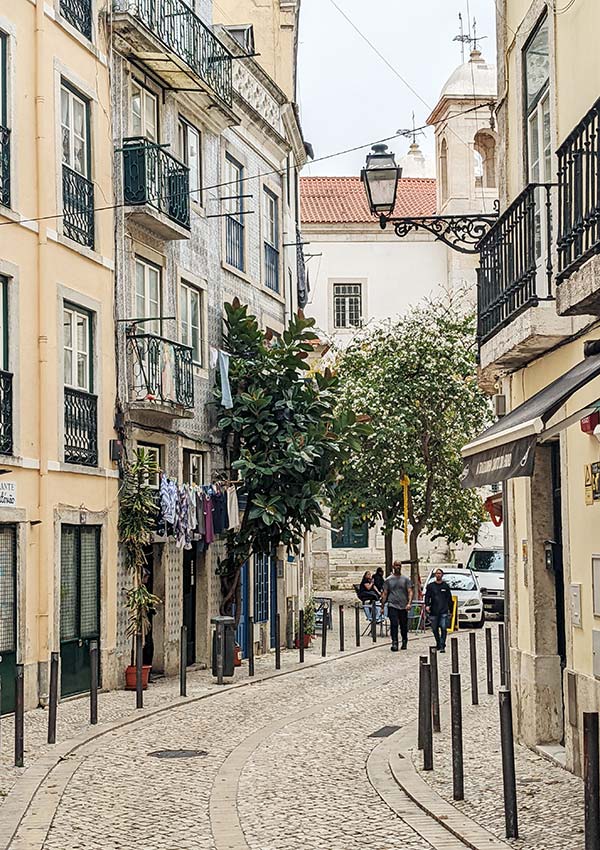 New style Polvo à Lagareiro – Marlene Vieira, Time Out Market
Portugal's top female chef, Marlene Vieira, has a stall at the popular Time Out Market. While I usually avoid the big food hall these days, it's eternally popular with visitors (and for good reason). Here under one roof you can try dishes from dozens of top restaurants and chefs. Marlene serves up a new version of a classic octopus dish: Polvo à Lagareiro. Instead of baked potatoes she serves a huge oven-roasted octopus tentacle on a bed of mashed potato with spinach.
Azorean octopus stew – Espaço Açores
If you can't make it to the islands of the Azores, eating the local food in Lisbon can be your consolation prize. An Azorean friend took us here to taste more of the Atlantic archipelago. The polvo guisado (octopus stew) is a must try. It might not be pretty, but it's damn delicious.
That's my list of the best octopus dishes I've eaten in Lisbon. Have you been somewhere awesome not on this list? Let me know!