Caldas da Rainha, a small city about one-hour drive north of Lisbon, is known for two things: hot springs and ceramics.
Sometime in the 15th century, Portugal's Queen Leonor established a hospital and church here, hence the name, which means "Queen's hot springs". By the 19th and 20th centuries spa towns had become all the rage with aristocracy but it didn't last. Now you're left with a cute heritage town centre that speaks of former grandeur.
These days Caldas da Rainha is a great off-the-radar Portuguese city that's brimming with creativity, culture and history.
Here are my favourite things to do and see in Caldas da Rainha.
1. Visit the Bordallo Pinheiro factory
Caldas da Rainha has a grand reputation for ceramics and it's here that Rafael Bordallo Pinheiro, the famous cartoonist turned ceramicist, opened his pottery factory in 1884. To this day they still make his famously fun lines of tableware, sometimes still using the 19th century moulds.
Within the factory store there is an outlet, so head upstairs to hunt down bargains. I'm always on the lookout for his cabbage collection, so message me on IG if there's anything good in there!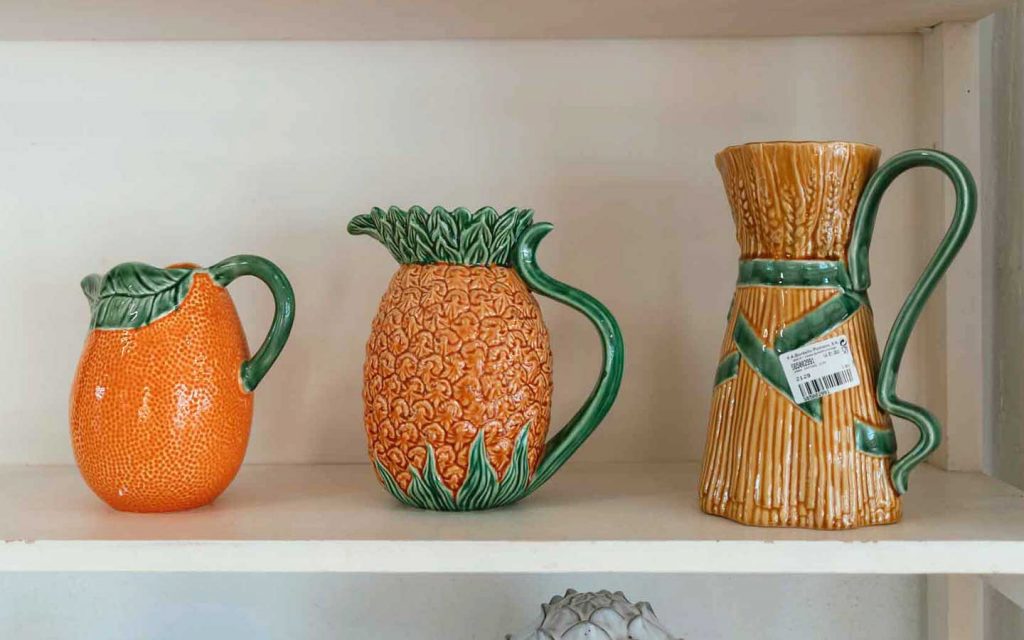 As you walk around Caldas, keep an eye out for nods to his work around town.
2. Wander Parque Dom Carlos I
There's an old-world European air about this grand city garden in Caldas da Rainha. Hire little boats and paddle on a small lake, enjoy a coffee in the sunshine or stroll beneath towering hundred-year-old trees. Just remember to look up, you might spot ceramic Bordallo Pinheiro monkeys in the trees. Vineyards and olive groves were cleared in the late 1700s to make way for this park, named after Portugal's King Carlos I. It was designed so that guests at the thermal hospital had space to take peaceful walks. At the centre of the park sits the unmissable abandoned pavilions. These curious and creepy buildings were last used for the internment of German soldiers in World War I but will soon be a five-star hotel.
3. Visit the famous open-air market
Caldas da Rainha's central square hosts Portugal's largest open air farmers' market, which has apparently been running since the 15th century. Every morning the black-and-white cobbled Praça da República is transformed by a sea of colourful umbrellas. No surprises why the locals call this place Praça da Fruta. Expect stalls and vendors pushing seasonal produce, honey, nuts, cheese and other local goods until lunch.
4. Walk the Rota Bordaliana sculpture trial
So our cartoonist and ceramicist friend Rafael is famous across Portugal and the world. Some of his designs are so well known they represent Portuguese culture and people, like his character Zé Povinho, who is a symbol for the working class. His tableware and caricatures have a strong sense of fun and humour.
You can find an oversized Zé plus other giant ceramic characters, frogs, lizards, snails and more dotted around the old centre of Caldas as part of the Rota Bordaliana. Pick up a map at the tourist information point and bounce between 22 statues while exploring the small city and its heritage along the way.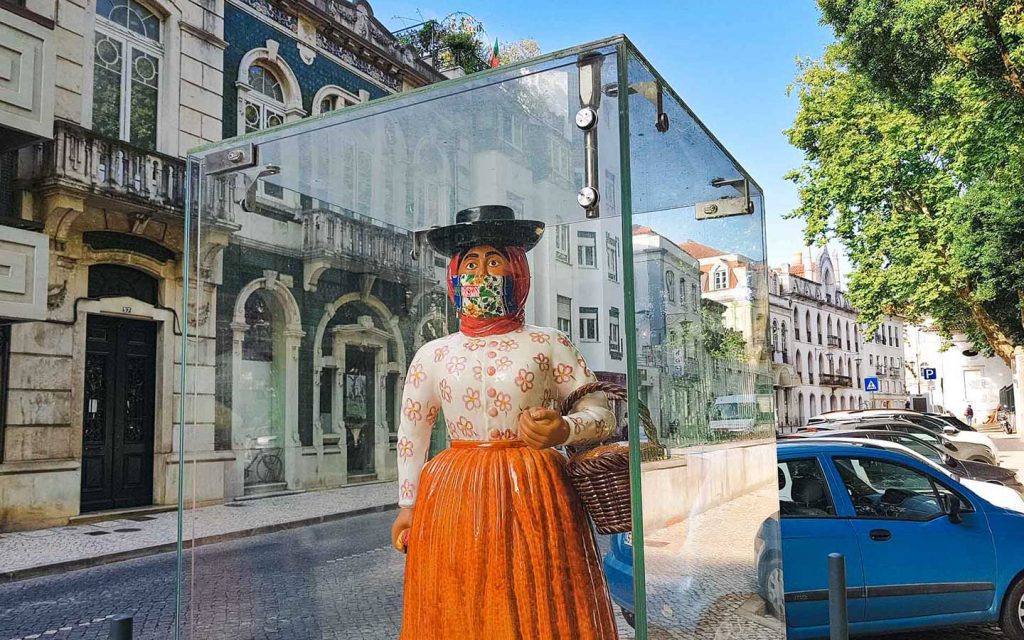 5. Nerd out at the Museu da Cerâmica
Caldas da Rainha's reputation for ceramics goes beyond Bordallo Pinheiro. Pop into the Museu da Cerâmica, which is aptly set on a 19th-century estate built for the 2nd Viscount of Sacavém.
The Viscount was a ceramics collector and creator and so the garden is filled with tiles and ceramic treasures. On my visit we didn't have time to visit inside the house, but I'm told it houses examples that go back to the 1600s and pieces from major factories around Portugal.
It's free to wander the garden, but the museum asks a small fee.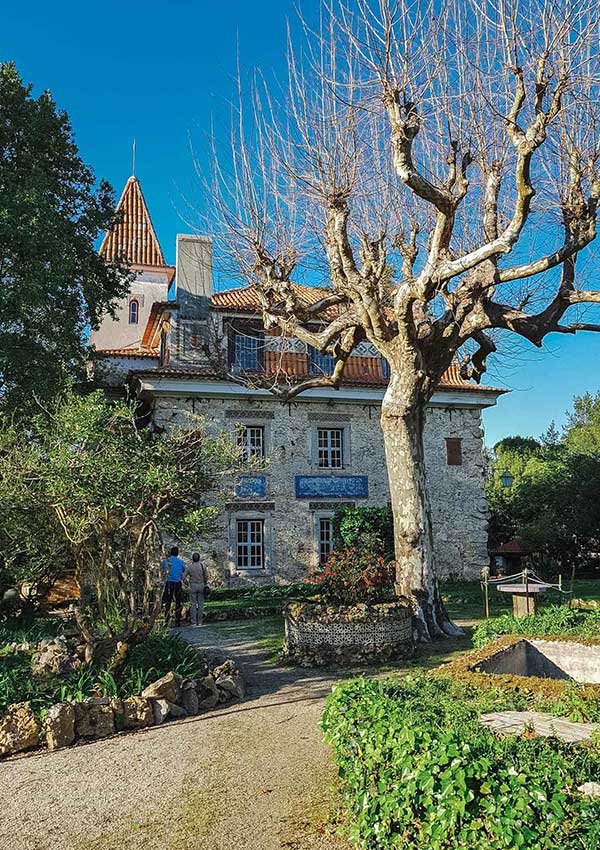 6. Hit the beach at Foz do Arelho
Where the expansive Óbidos Lagoon and the wild Atlantic Ocean meet is a stunning and wide beach perfect for warm summer days. Just a 10-minute drive from Caldas da Rainha, drop by Foz do Arelho for a cafe in the sunshine or to swim in the salty lagoon sans waves.
7. Eat at Solar dos Amigos
There's nothing I love more than a brilliant regional restaurant and Solar dos Amigos is one of my favourite lunch destinations. A 10-minute drive north of the city, this restaurant, which opened in 1976, is the only thing in a tiny rural village called Guisado.
Here a "dose" feeds four people, so come hungry or order half sizes. The kitchen makes good use of a charcoal fireplace in the front room, so anything grilled – like the lamb cutlets or secretos de porco preto (black pork) is always brilliant. For dessert they bring over a tray with more than a dozen choices to select from and every meal finishes with biscuits and ginjinha liqueur on the house. Just brilliant.
8. Explore the museums of Caldas
Caldas da Rainha is a creative city with a long history and fair share of museums.
9. Visit the town of Óbidos
On the way into Caldas you'll whiz past an ancient walled city. That Óbidos. This charming village is a little like stepping into a fairytale. Within the high stone walls is a village of white washed houses. Wander up and down the tiny cobbled streets, popping into bookstores, bakeries and tasting ginjinha, a sour cherry liqueur made famous by the town. Leave time to climb the walls and circle the town from above – it's particularly spectacular at sunset.
10. Buy a Caldas dick
Look, I try to keep things classy here on this blog but some things can't be avoided. And if I send you to Caldas da Rainha and you see shop windows full of penises you're going to have questions, so let's just clear it up here like adults.
For some, quite unknown reason, penis objects are a local tradition that can be traced back to the 19th century. Around town you'll spot ceramic dicks, fridge magnets, pastries and more shaped like genitals.
Other things to do in Caldas da Rainha
Drink specialty coffee at local cafe – the only place for a flat white in Caldas. They also serve amazing food and sell natural wines and artisanal cheese.
Visit the old Mercearia Pena – this traditional grocer opened in 1909.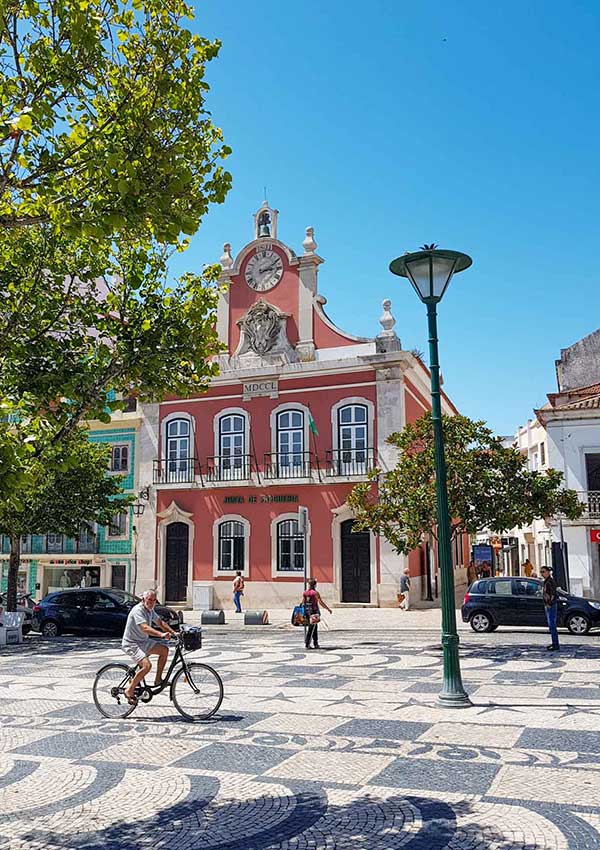 Where to stay in Caldas da Rainha
It's easy to walk around Caldas da Rainha, but I think the nicest area to stay would be closer to the beautiful park. Check out the four-star SANA Silver Coast Hotel, book a room with 19 Tile Ceramic Concept (which is also a ceramics atelier where you can do workshops!), or try Bordallo's Prime Apartments or Bordallo's Lodge.
How to reach Caldas da Rainha
From Lisbon
Caldas da Rainha is an easy 60-70 minute drive from Lisbon. If you need to take public transport, the train pops you out at a cute tiled train station but takes around 2.5 hours.
From Porto
Caldas da Rainha is just over two hours drive from Porto. Unfortunately there is no direct train so the best public transport choice is a Rede Expressos bus that takes about three hours and a quarter to reach. If you want to take the train, the journey is a minimum four-and-a-half hours with a change at Coimbra.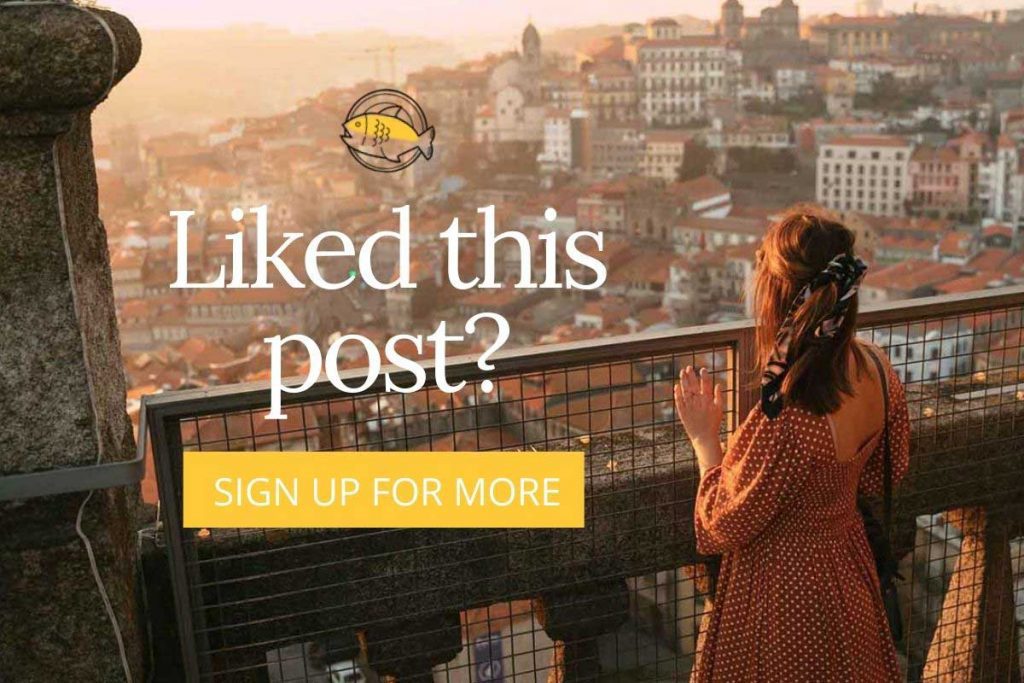 Want even more Portugal inspo? Check out the best things to do in Aveiro, a weekend in Guimarães and roadtrip Lisbon to Porto.