Portugal's southern coast is well known for its stunning beaches and holiday resorts, but the 155km stretch also boasts plenty of unique local dishes and produces some of the country's best seafood, oranges, figs and almonds.
I've told you where to eat in the algarve, now find out what to eat.
Algarve seafood
Fish
Step inside any local mercado and you'll see the sheer variety or fresh local fish on offer. The best way to eat any fish is salted and grilled over charcoal, which you'll be able to find just about anywhere. One of my favourite things to do in the Algarve is eat at a fish buffet, where for a truly reasonable set rate you can eat limitless platters of small whole fish and fillets. Vai e Volta in Olhão is the best I've tried.
You can also buy fish conserves and tins from local factories in Olhão. Pick up tins of tuna, sardines and horse mackerel from Manna and Fides. I love the retro covers and flavours of the Good Boy brand.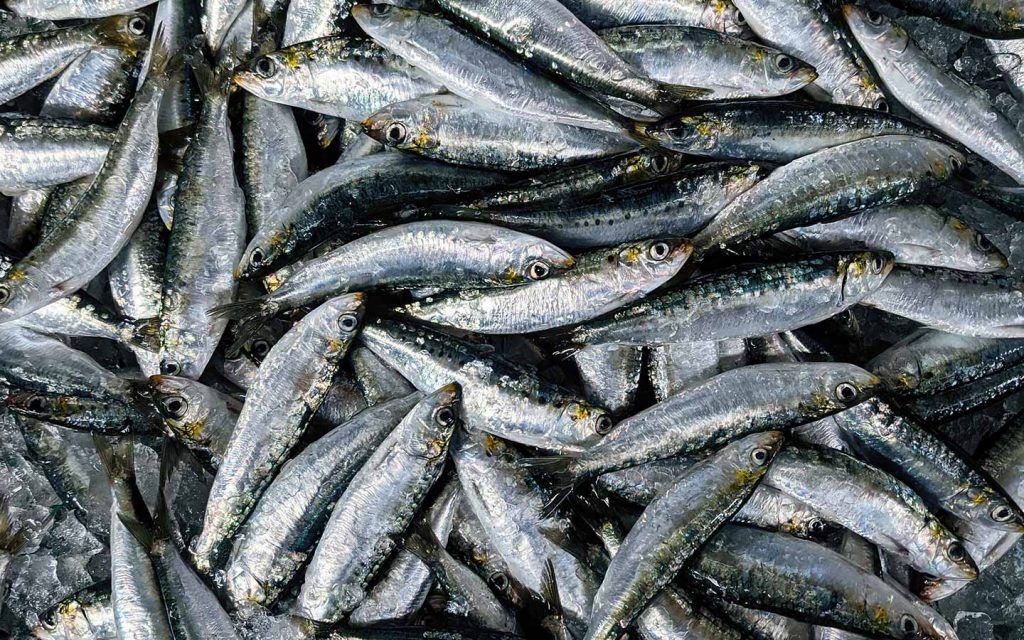 Oysters
The Ria Formosa estuary produces some of the best oysters in Europe thanks to amazing geography and natural tides. The Portuguese will eat almost anything dredged up from the sea (e.g. limpets, crackas, goose barnacles) but are only just starting to take an interest in these precious bivalves. A huge percentage of oyster production is shipped off to France, so you may have to hunt around to find them. The ones from the Ria Formosa and Alvor in the Algarve are saltier (but still delicious) than those from Setubal or Aveiro.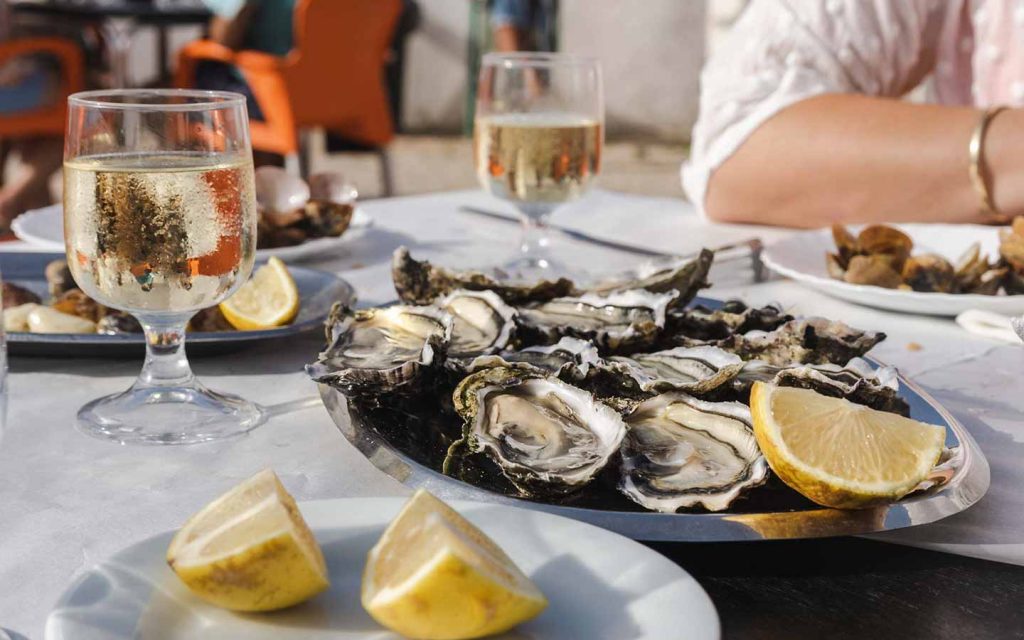 Clams
When the shallow tidal flats of the Ria Formosa empty, you'll spy professional and amateur clam pickers getting to work digging up sand and pocketing the little morsels. Found on the Algarve's eastern end, clams sold commercially go through a cleaning process to purify them from any nasties. For this reason it's better to purchase them from a market or restaurant.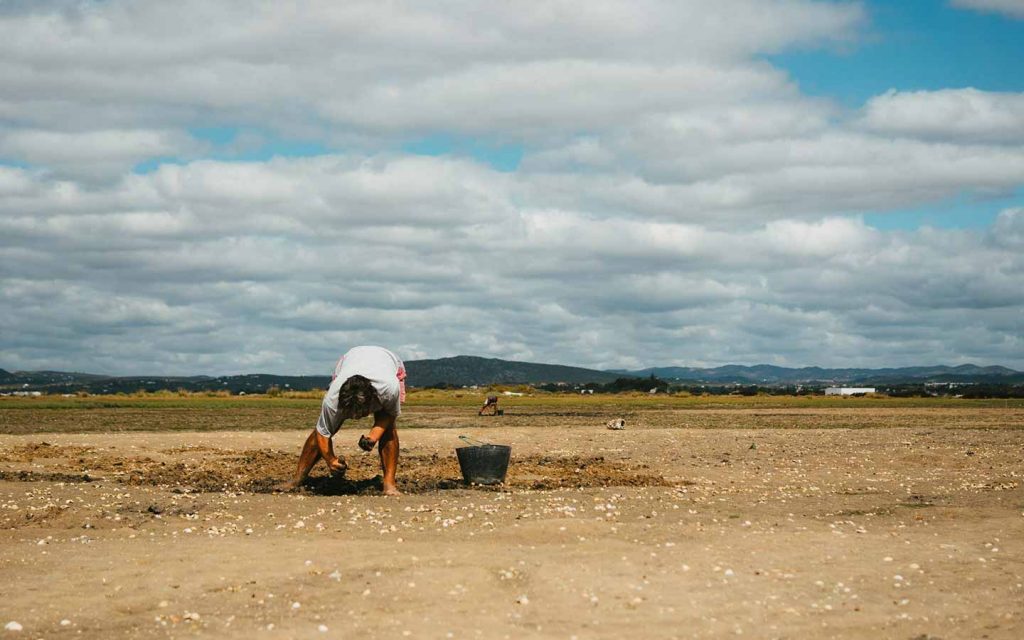 Octopus
The town of Santa Luzia, just outside Tavira in the east, claims to be the Octopus Capital of Portugal. And rightly so, it seems every restaurant in this tiny town serves polvo or has it in the name. Try Casa do Polvo Tasquinha or Polvo & Companhia where they serve octopus stewed, grilled, battered and in more ways than you ever imagined.
RELATED BLOG: Where to eat in the Algarve
Algarvian dishes
Muxama
This tuna jerky was apparently invented some 2000 years ago and Portugal's recipe dates back to the Arab occupation of the Iberian Peninsula. Muxama is made with fresh tuna loin, which is cleaned, slathered in sea salt for 24 hours, washed and then left in a controlled environment for 10 to 12 days. This salty, dry tuna is only found in the Algarve region of Portugal (and in southern Spain) so if you see muxama as a snack on a menu, try it.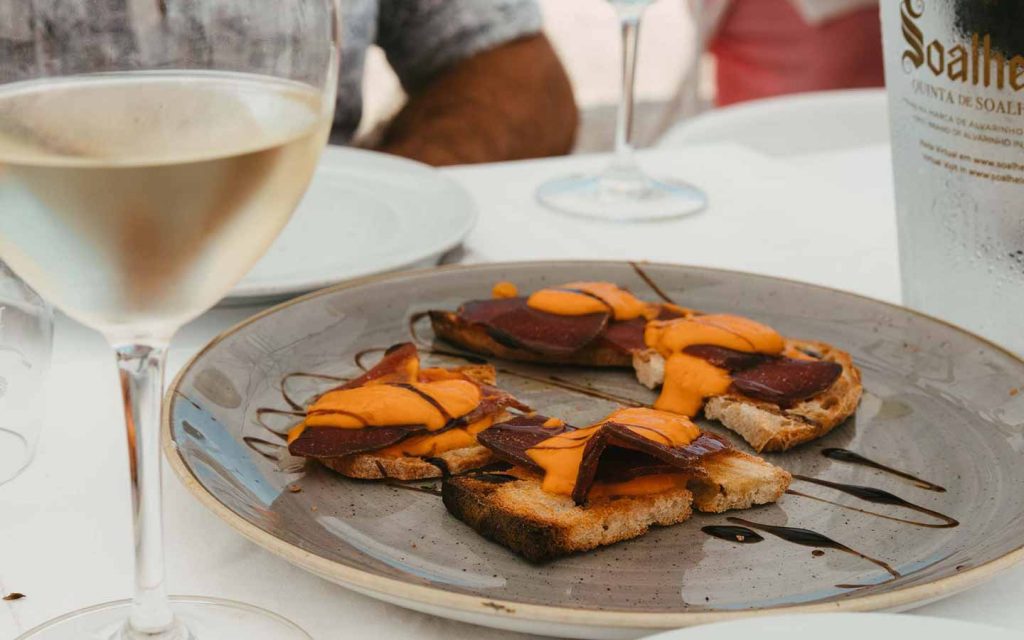 Cataplana
Unique to the southern coast of Portugal, this is not an ingredient but a dish, pot and method of cooking. With a hinge at one end and clasp at the other, the copper clam-like pan is closed up with fish, seafood, potatoes, vegetables and liquid to make it all steam while cooking. Usually it's filled with fish, prawns and clams, but sometimes includes pork.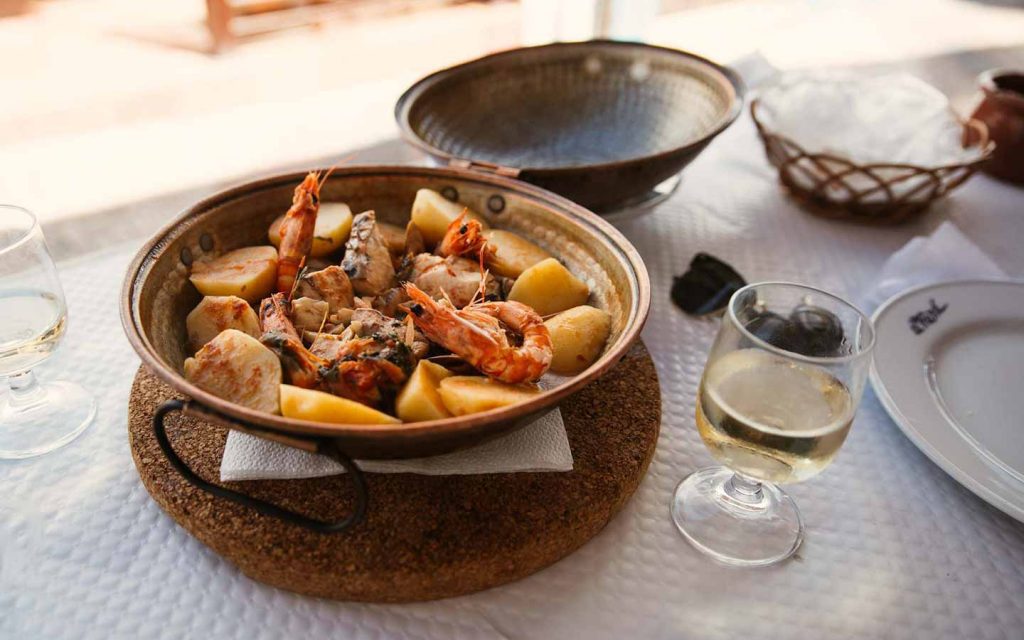 Xarém
Thought to have medieval origins, Xarém is a traditional porridge made from cornflour, white wine and usually shellfish like clams, or pork meat. It can be hard to find and I think you'll have more luck tasting it at modern Portuguese restaurants and finer diners who are reinventing the dish.
Grilled piri piri chicken
Frango grelhado or piri piri charcoal chicken is globally one of the most famous Portuguese dishes. But don't expect Nando's — it's about the charcoal flavour more than the spicy sauce. The spiritual home of barbecued chicken is Guia, a town near Albufeira in the Algarve, and the restaurant that made it famous is still open. Ramires has been grilling frango da Guia since 1964 using a recipe from the Portuguese African Colonies. I've tried plenty of charcoal chicken in Portugal, and this spot is next on my list.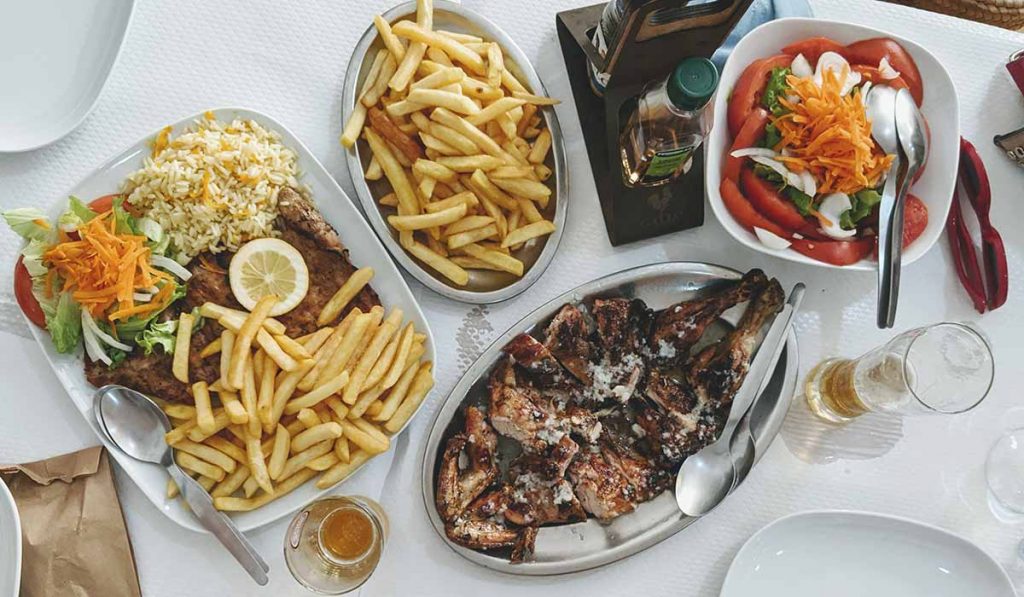 Algarve carrots
Keep an eye out for this super simple starter: boiled carrots seasoned with garlic, coriander, vinegar, olive oil and salt. It's left in the fridge for a few hours or days and makes for a healthy snack.
Salada Algarvia
Salad in Portugal is super simple: just lettuce, tomato and white onion. In the Algarve this chopped summer salad is a little different. Ripe red tomatoes, onion and green peppers are diced and mixed with olive oil, sea salt, vinegar and dried wild oregano.
Regional Algarve sweets
3 Delícias do Algarve
This is one of my all-time favourite Portuguese desserts and it makes the most of traditional Algarvian ingredients: figs, almonds and carob. I thought I hated carob — blame the health food shops of my childhood trying to disguise the bitter bean as healthy chocolate. The base cake layer is made of dried figs, Maria biscuits (plain sweet biscuits) and almonds. The filling is egg, almond, carob and flour and then it's usually topped with a dusting of carob or a thin layer of fig jam.
If anyone has a good recipe, please send it to me!
Dom Rodrigo
Step into a pasteleria and you'll spot colourful little foil pyramid parcels inside the counter. These little mystery packages are an Algarve specialty, filled with fios de ovo (egg yolk and sugar threads) and an almond, egg yolk and cinnamon paste.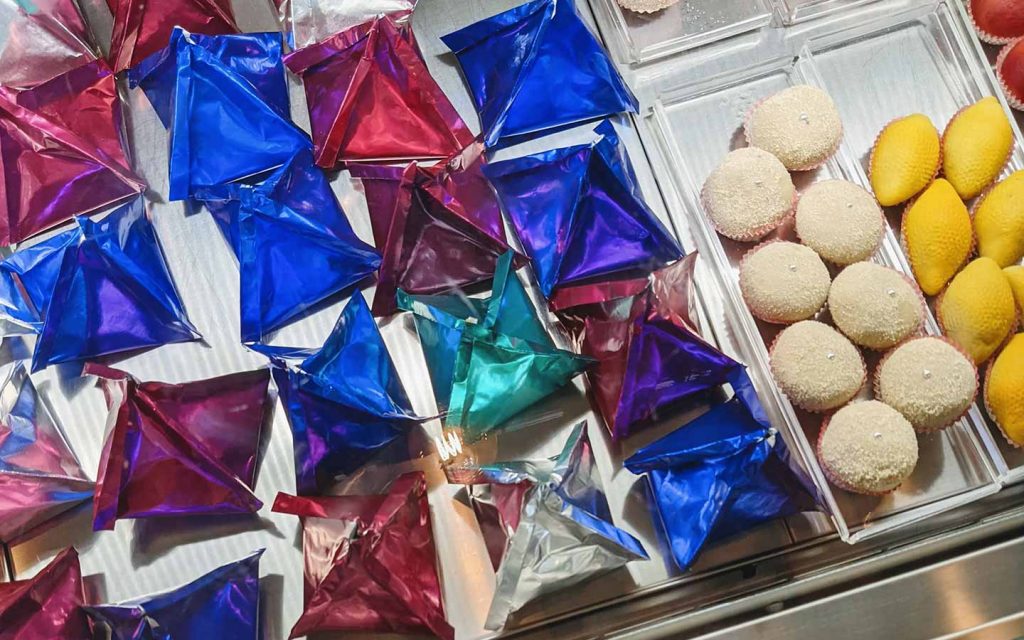 Bolo de Berlim
Sugary, custard-filled doughnuts and the beach are a match made in Portuguese heaven. These are not Algarve specific but if you're at the beach during summer you'll see people with cooler boxes wandering the sand, shouting or ringing bells to sell these doughy delights.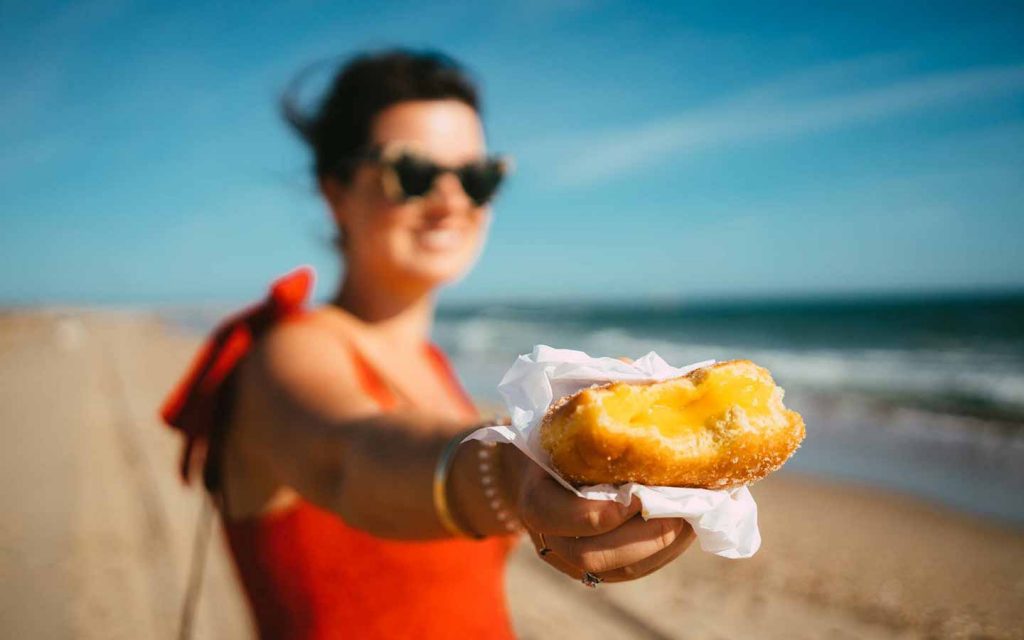 Algarve fresh produce
Oranges
It turns out the word for orange in Arabic, Greek, Romanian, Bulgarian, Turkish and Persian is some variation of "Portugal". It seems that the Portuguese first introduced the fruit to these places. These days Algarve oranges are so good they have a fancy European label: PGI or protected geographical indication. Growing under 300 days of sunshine and in mineral-rich soil, Algarve oranges are apparently left on the tree for longer, letting them sun ripen and get all sweet and juicy.
Salt
What would a freshly grilled sardine or ripe summer tomato be without salt? Salt production and the Algarve go way back. Like, wayyyyy way back to the 8th century when the Phoenecians started preserving fish. Then came the Romans who gave their armies salt rations as salary. Salt financed the Portuguese maritime discoveries, it paid Holland to leave Brazil, and salt repaid Portugal's debts to those that helped expel the Spanish in 1640. Maybe if Portugal could still pay for things with salt it would be the richest nation on Earth. If you want to see the salt pans, there are plenty just outside Faro airport, around Tavira or at Castro Marim, where you can also float in salt water at Agua Mae salt spa.
I'll let Tio Jel finish this love note to salt.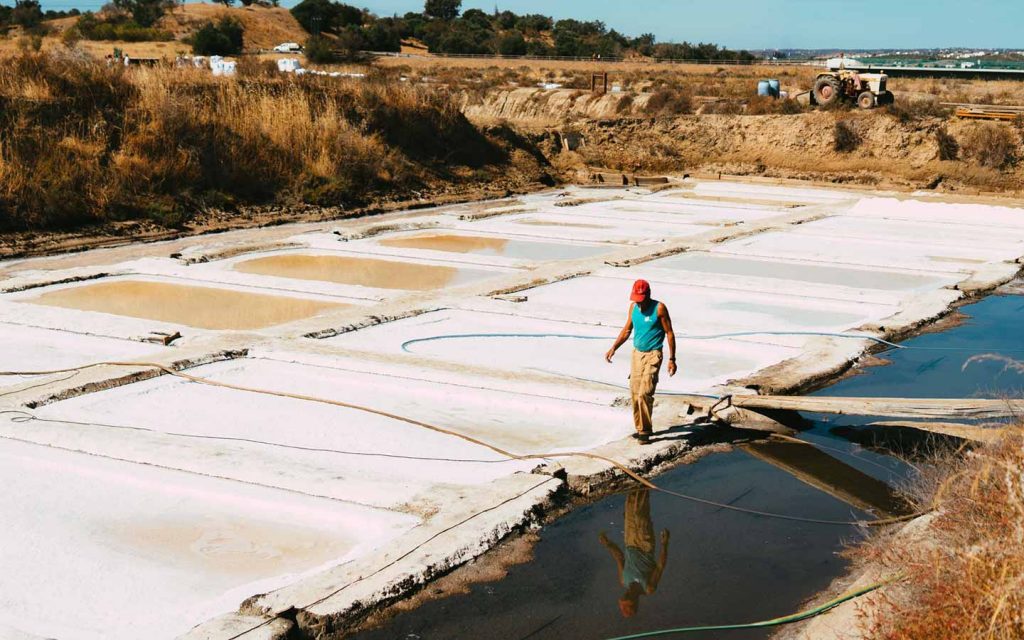 Almonds
The closest thing to snow in the Algarve is a blossoming almond tree. There's a legend about a Nordic princess marrying an Arab prince. She misses the snow, he plants thousands of almond trees, and then she's no longer sad – hooray! Get your mitts on a bag of toasty Algarve almonds.
Figs
Summer is fig season and there's no better time to visit the Algarve. Towards the west there are plenty of wild fig trees you can forage from… but I didn't tell you that. In the markets you'll see dried figs turned into various things like figo de estrela (fig star with almond spikes) and queijo de figo (fig "cheese" puck made of dried figs, almonds, sugar and medronho liqueur).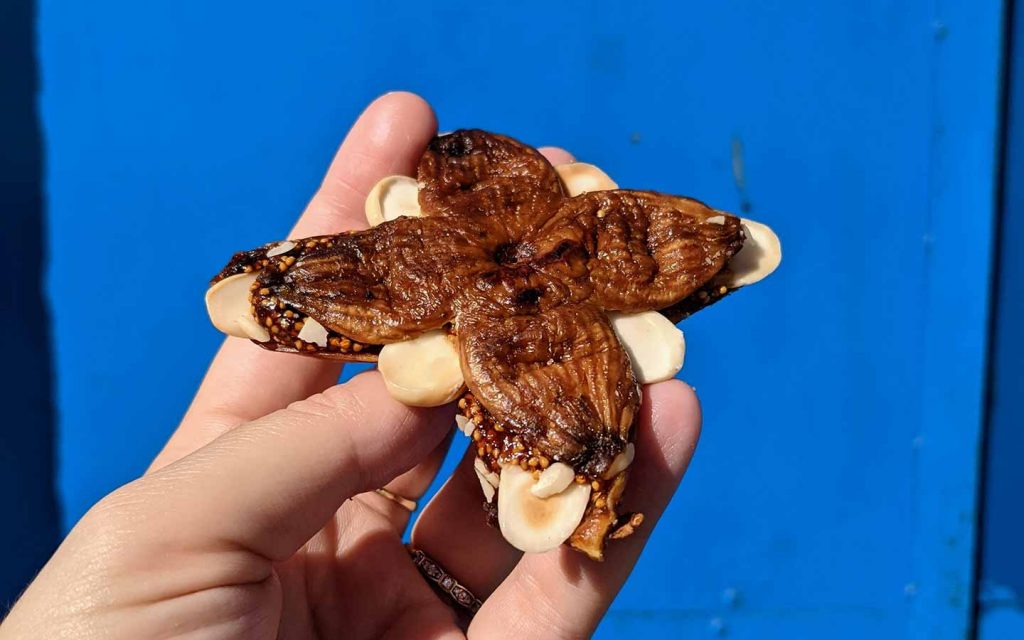 Olives
You'll be hard pressed to find a dish without olive oil or a restaurant without table olives. All food in Portugal revolves around the humble olive and while the Algarve is not the biggest producer, you'll see plenty of trees. Better yet, get yourself to Monterosa Olive Oil in Moncarapacho to taste their best and learn the secrets of picking out a good oil, even in the supermarket. Book an experience with this small producer like we did and you'll tour the farm and taste up to five different single varieties.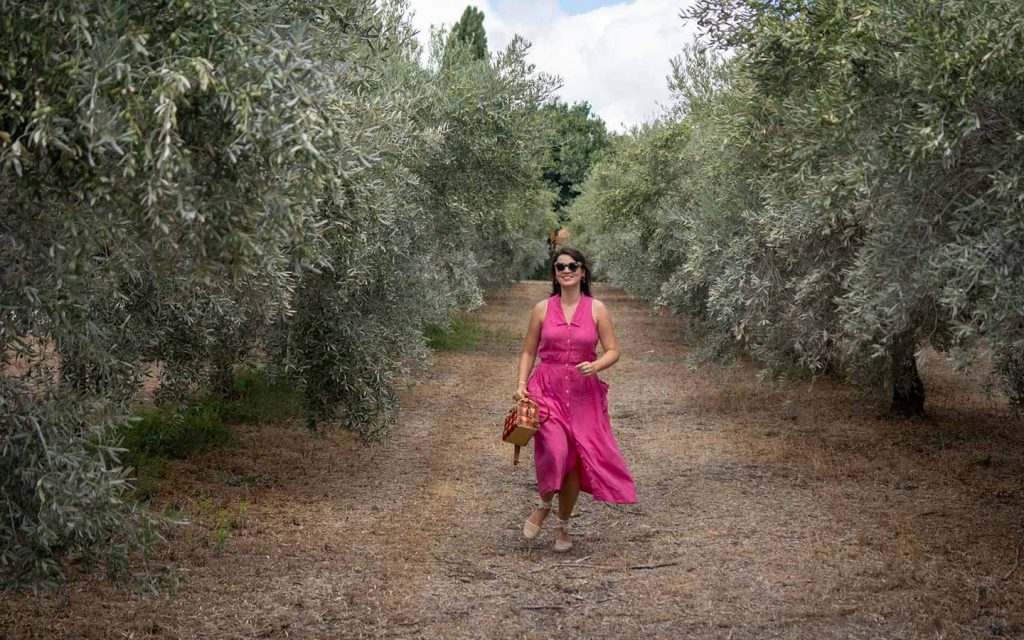 Algarve drinks
Medronho
Sip a glass of this strong traditional brandy made from the fermented fruit of the medronho (wild strawberry) tree. The fruit looks less like a strawberry and more like a lychee and is picked, fermented for a few months and then distilled. The final spirit is clear, fiery and usually taken neat after a meal. Think aguardente or firewater/moonshine but a bit sweeter.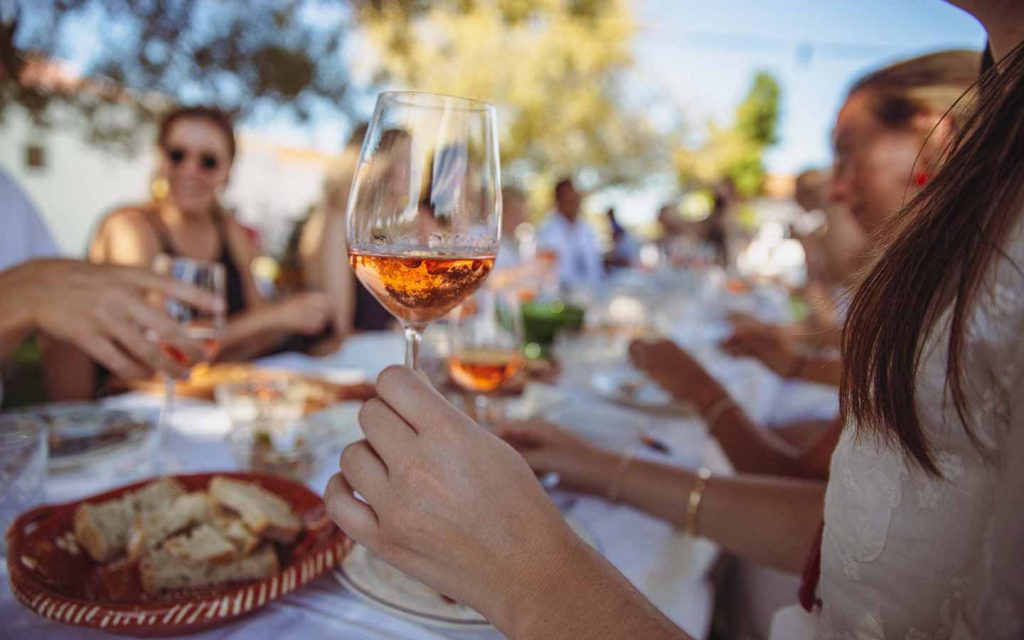 Wine
Warm weather, sunshine and sea breezes are three things that both tourists and vines thrive on. Along the Algarve coast there are apparently more than 2000 vineyards and 30 producers. It's definitely one of the lesser known regions of Portugal, but there are some interesting wines being made down south. A favourite of mine is Morgado do Quintão, a historic family estate that has been disrupting the status quo for the past few years with wines that speak to the land. You can visit and taste them over lunch or a board of local cheese and charcuterie.
If you find yourself down south, that's what to eat in the Algarve and here's where to eat. If you found this helpful, let me know in the comments…